Best Beer Gardens in San Francisco
Whether it's summer evenings, weekend shenanigans or beer by a nicely lit fire pit, these are the beer gardens to turn to.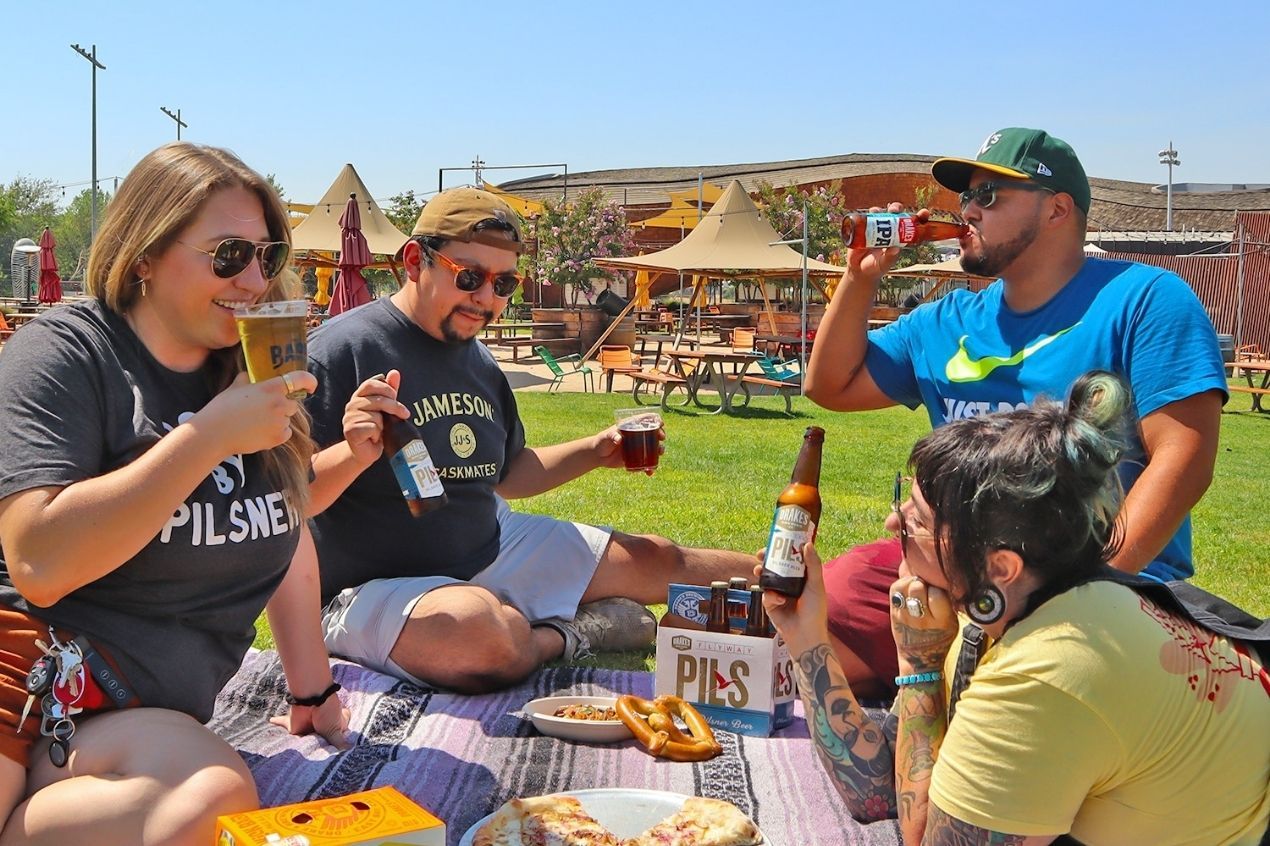 The Californian craft beer scene is among the most well-known across the country. The craft beer paradise has a lot to offer to avid beer drinkers who are always on the hunt to try something new. The ideal place to get some of the fanciest and the freshest of brews, both Californian and national are the amazing beer gardens present all across San Francisco.
Some of these beer gardens are packed with crowds turning the atmosphere from quiet to electric in a matter of minutes, others are well known for their cheap offerings and tales that date back decades. Paired with savory side dishes and a very helpful serving team, these are the beer gardens in San Francisco that should be on your beer drinking itinerary at all times.
Spark Social SF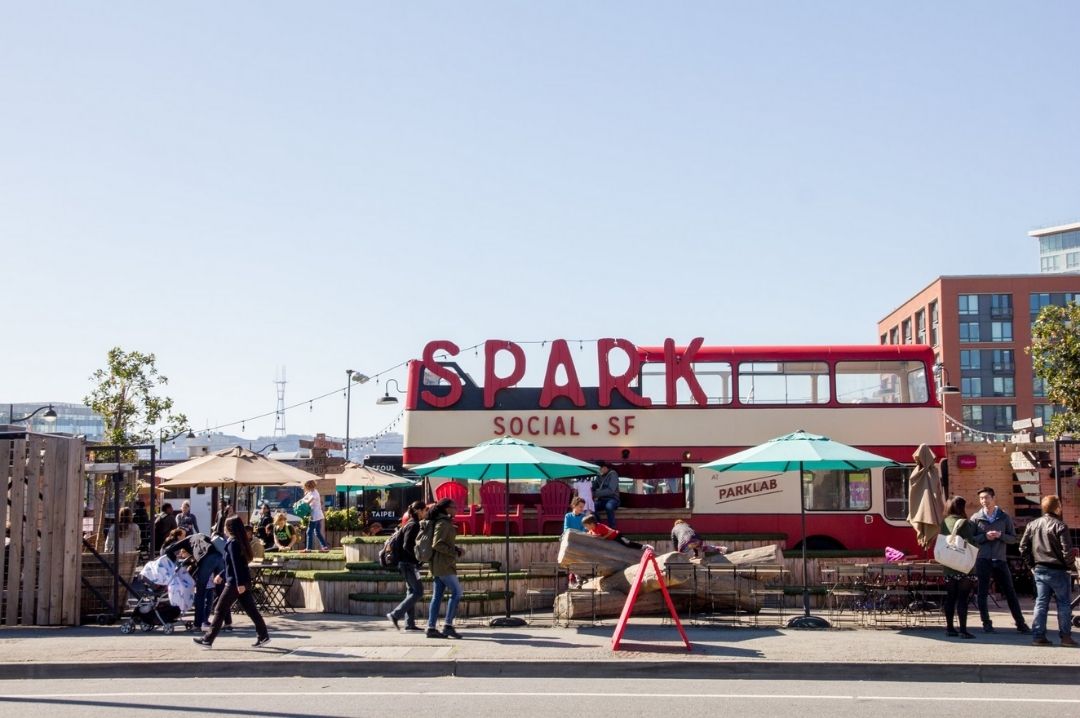 North San Francisco's Spark Social SF, Source Facebook
San Francisco's Mission Bay neighborhood houses Spark Social SF, a beer and sangria garden that also doubles up as an event space. Attracting diverse crowds from all over the city, Spark Social SF feels like a lively backyard party that underwent an upgrade by a level or two. The dishes and brews are available in abundance with food trucks pulling up to the spot every night. Spark's drinks menu consists of craft beer, wine selections, and wine cocktails that can be paired with the delicious food local producers bring to the beer garden.
Spark Social SF also runs a happy hour from Monday to Friday between 4 to 7 pm and on Saturdays from 8 pm to closing hours. The affordable pitchers, ample seating space and rotating food and beer options make Spark Social SF a great group hangout spot in the Bay area.
Location- 601 Mission Bay Boulevard, North San Francisco, CA 94158
Southern Pacific Brewing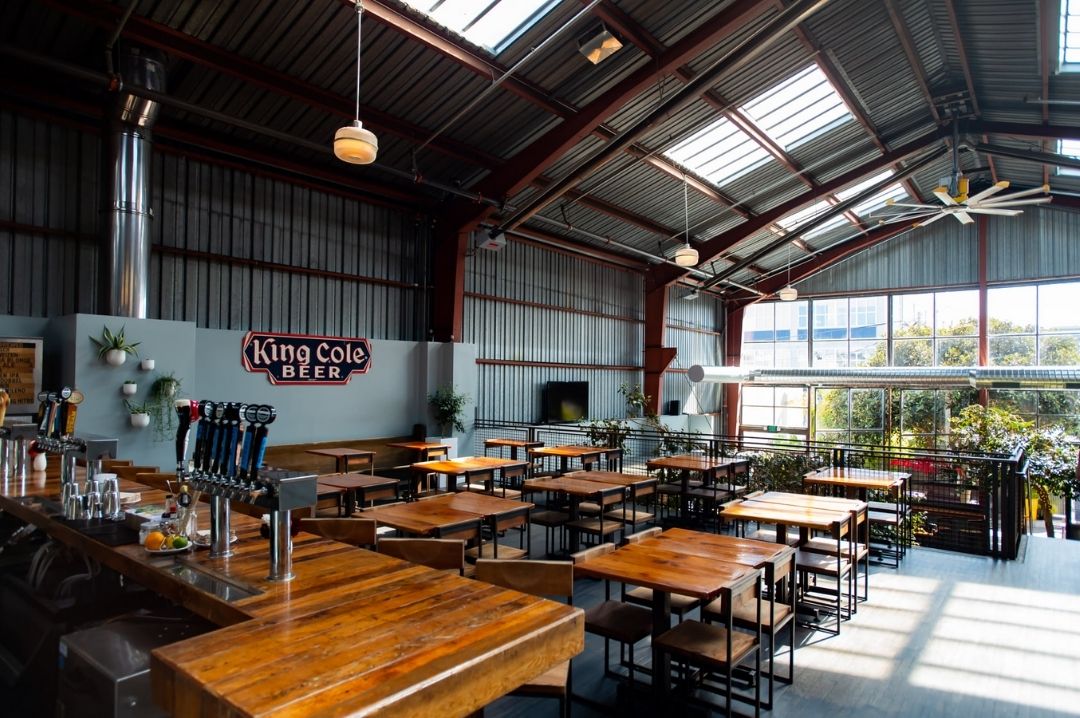 Southern Pacific Brewing, Source Facebook
A tribute to the Southern Pacific railroad that once connected much of the West, Southern Pacific Brewing is a spacious warehouse turned into a bright brewery and restaurant with outdoor seating. The brewery produces six beers and along with it also serves guest beers which can be enjoyed in cans and pints. They also have a menu of specialty cocktails that can be paired with bar bites, sandwiches, and entrees. An ideal location for those looking to enjoy rotating beers produced and served fresh on the spot.
Location- 620 Treat Avenue, San Francisco, CA 94110
Zeitgeist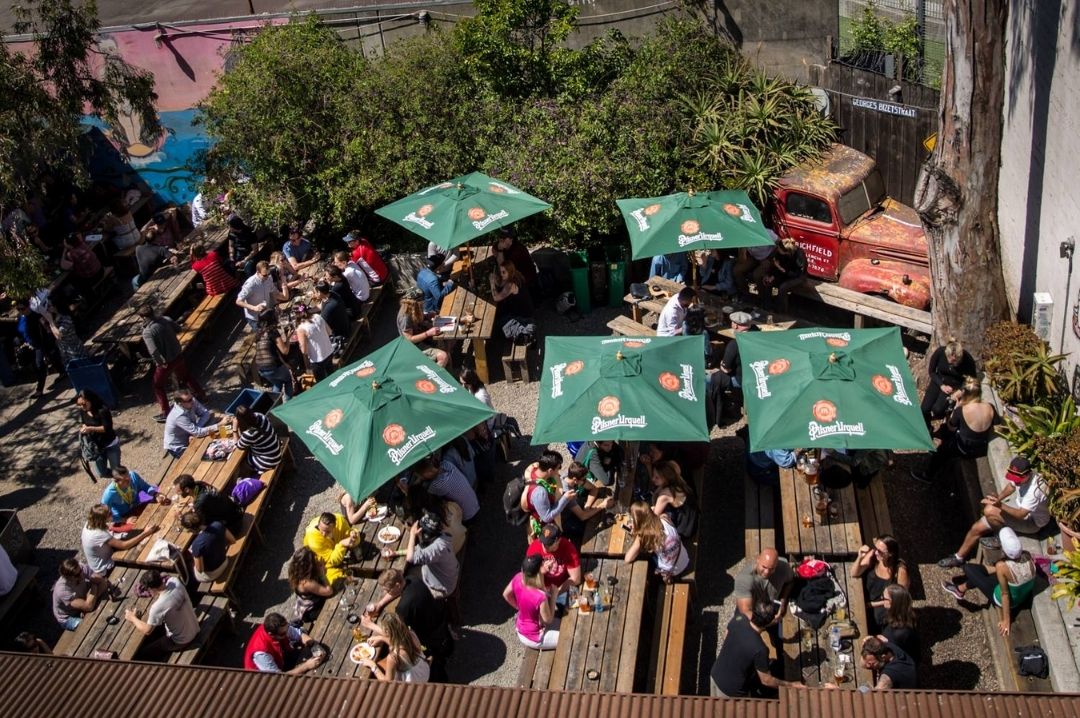 Zeitgeist Beer Garden, Source Facebook
Established in 1977, Zeitgeist is among San Francisco's most popular beer gardens and dive bars. The beer garden is a staple for Bay area residents having gained popularity through its time in the city as a place that attracts people from all walks of life. On a regular day at Zeitgeist, you will find a group looking for a proper throw down party, those looking to enjoy a cheap pint and everyone else in between. They have an awesome 64 beers on tap, and if these 64 reasons aren't enough, their lip smacking food choices like the BLT sandwich or the BBQ chicken sando add bites of crunch to the place.
Location- 199 Valencia Street, San Francisco, CA 94103
Biergarten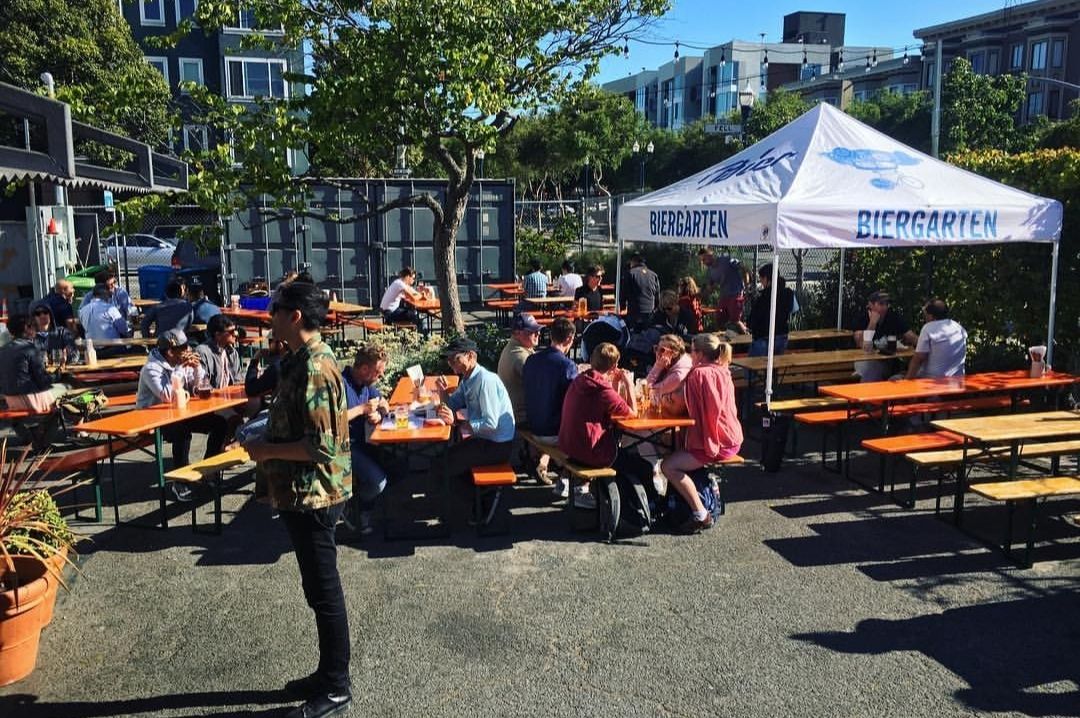 Monday Sunshines at Biergarten, Source Facebook
Hayes Valley's beer haven, Biergarten, is a beer garden that usually attracts people finding their feet through their 20s. Half-litre draft options and another four bottled beer options make for a small but effective beer menu. Pretzels, bratwurst, burgers, potato salads and more make up small plates of food that you can pair with the beer.
The drinks menu isn't just limited to beer, however. Prosecco, Zweigelt, and two other pink and white wine options are followed by four soda options. The long wooden tables are perfect for enjoying a pint with your group, sharing some fond memories and creating new ones.
Location- 424 Octavia, In Hayes Valley, San Francisco, CA 94102
Westbrae Biergarten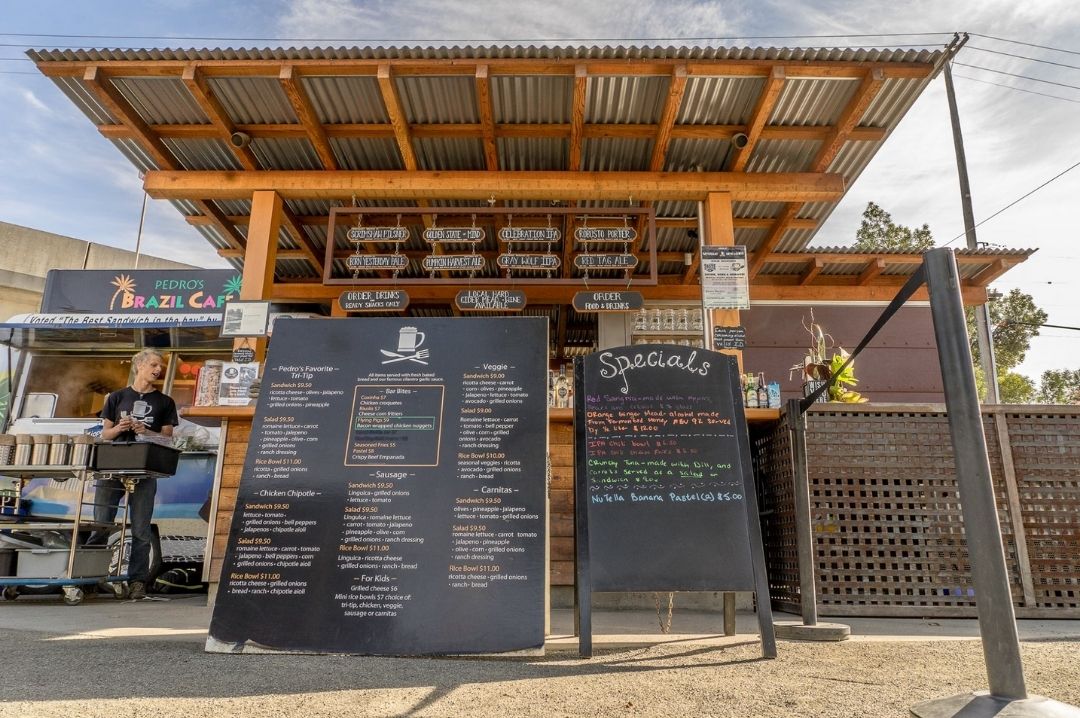 Specials at Westbrae Biergarten, Source Facebook
If you were ever looking to make a list of places that serve a variety of hand-selected California craft ales and lagers, Westbrae Biergarten would be a good place to have that. Long picnic tables, fire pits, and chairs make for a cosy decor, giving the place a homely vibe. Serving beers from more than 20 local craft breweries like 21st Amendment, Almanac Beer Co., and more, Westbrae Biergarten is the perfect place to sit down and sip a pint in peace. Ciders, wines, hard kombuchas and housemade cocktails complete a very catchy drinks menu.
Location- 1280 Gilman Street, Berkeley, CA 94710
Finnegans Wake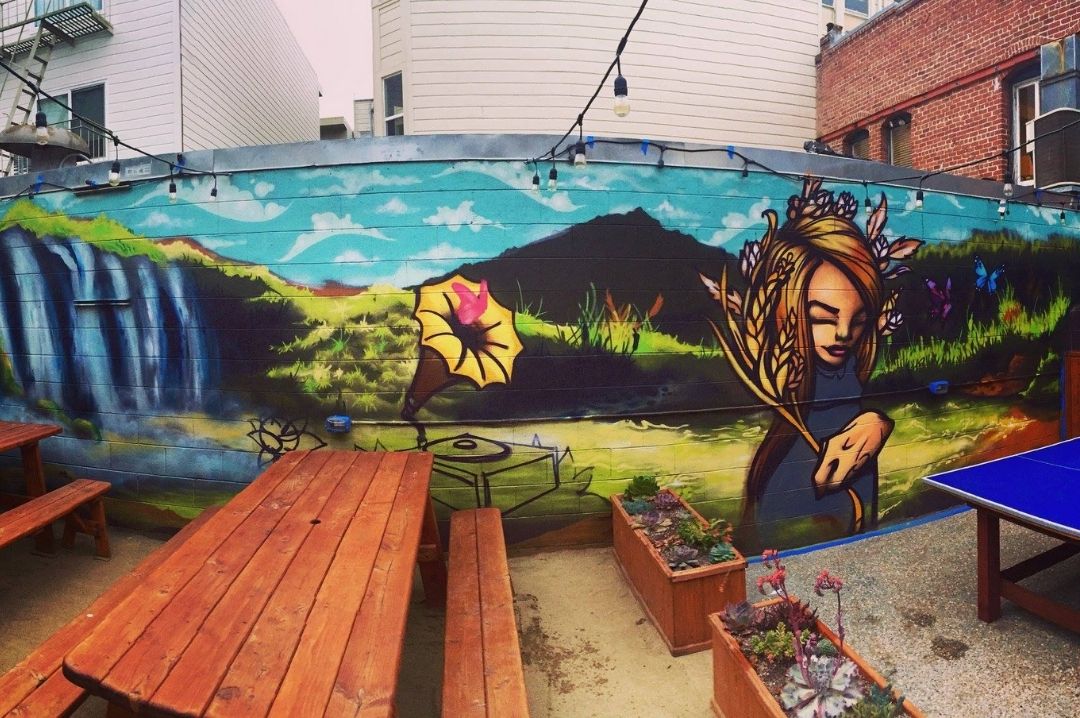 Backyard Mural at Finnegans Wake, Source Facebook
Originally founded in 1976 in Noe Valley, Finnegans Wake moved to Cole Valley in 1989 when owner Tom Frenkel purchased Maud's. Three large TVs make for a very comfortable and cheerful sports game (if your team is winning that is). The patio also has ping pong tables which you can turn to for a competitive loser pays all game. Completing the experience at Finnegans Wake are the events that you can attend from time to time. Maud's was San Francisco's first-ever lesbian bar and the team at Finnegans Wake took over this place with a piece of history and added their charm to maintain the traditions of a loving neighborhood bar, San Franciscans would love to visit.
Location- 937 Cole Street, San Francisco, CA 94117
Drake's Dealership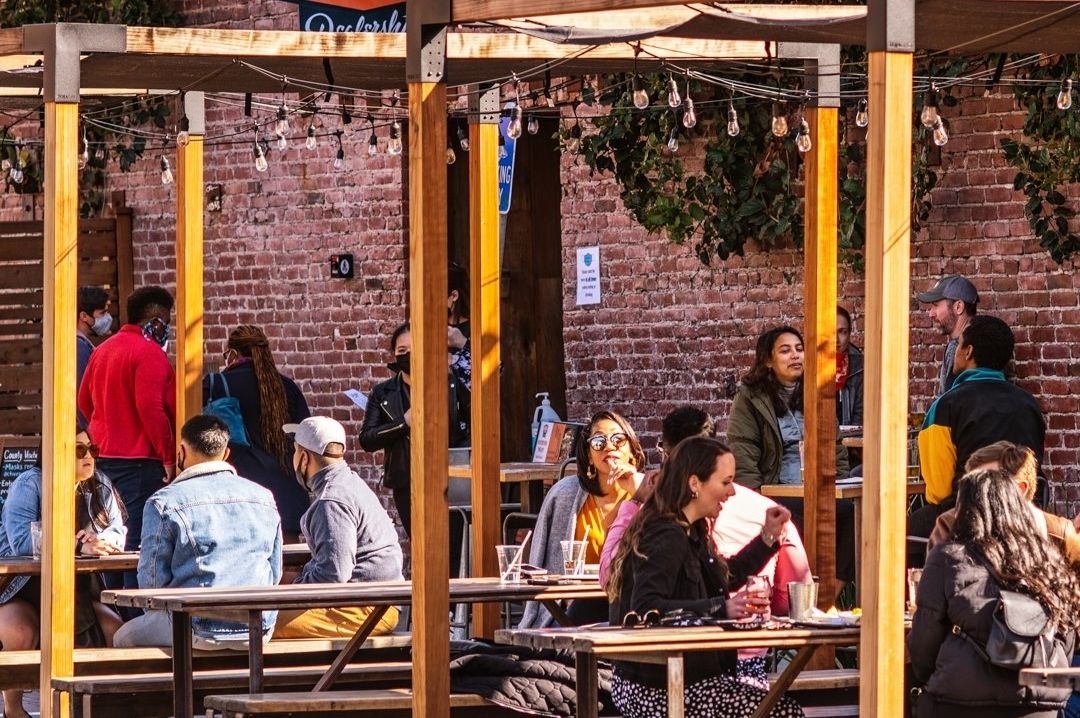 Oakland's Drake Dealership, Source Facebook
This brick laden building in Oakland was once the sales and service department of an old Dodge Dealership. Today, it is a very busy beer garden and a full-service restaurant that features a good 32 beers on tap. Fire pits, Adirondack seating with plenty of space, wood-fired pizzas and the freshest beer brewed in East Bay, Drake's Dealership offers a great deal for all those looking for a good time with a glass of beer in their hand.
Location- 2325 Broadway Oakland, CA 94612
Jupiter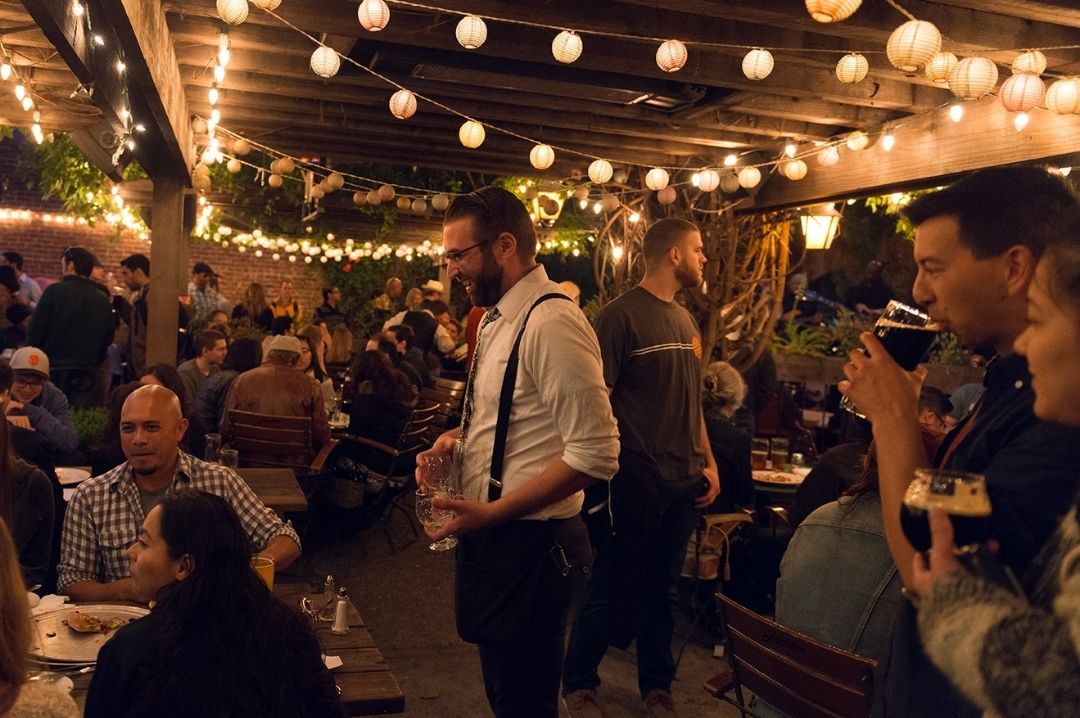 Jupiter Beer Garden, Source Facebook
Another East Bay paradise for beer lovers, Jupiter was founded by John Martin in Berkeley in 1992. The two-storied venue that also houses an outdoor garden and patio, Jupiter has been serving fresh and handcrafted ales to all those who come through their doors. Ever since its founding, Jupiter has been a hotspot, attracting beer enthusiasts from the city. Customers are often greeted by the smell of pizza dough and servers rushing through to serve beer hungry patrons, both old and new.
Location- 2181 Shattuck Avenue, Berkeley
String lights and trumpet vines are accompanied by live music sessions on the outdoor patio for as many as six nights of the week, creating an enchanting atmosphere for everyone to enjoy their sud. Check for their vaccination and dining policies before heading out to enjoy a glass or two with a wood-fired pizza or a freshly made salad and appetizers. The beer hub also has a couple of non-alcoholic beer options to choose from.
Header Image- Drake's Brewing Co., Source Facebook