25 Halloween-inspired cocktails
Find all the Halloween cocktails you think you know, as we raise our curtains to unveil some spooky sensations.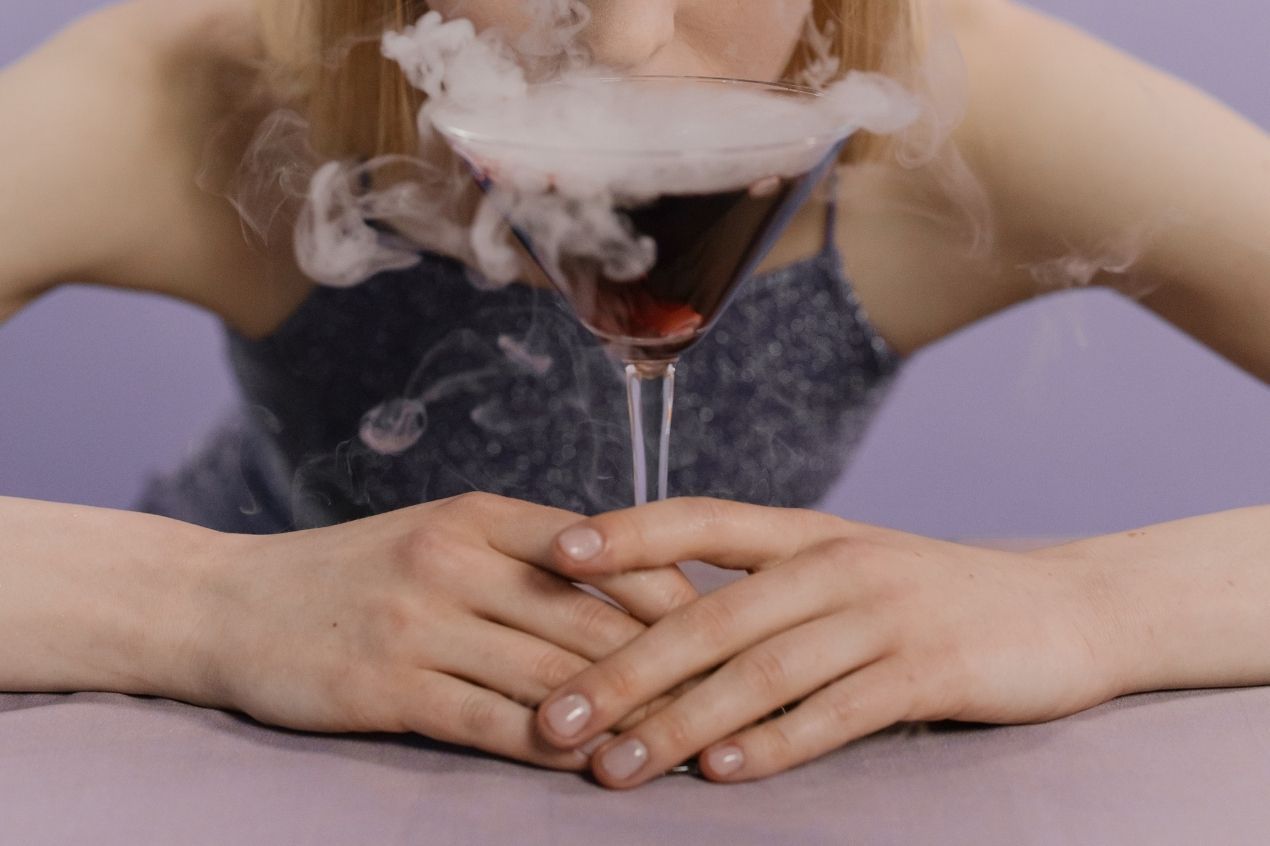 While you're occupied with choosing the right costume this Halloween, we have been working on compiling some Halloween themed cocktails that are spooky and eye-catching.
Take your pick from spooky eyeball elixirs, blood bags, dark sensations, to high octane absinthe based drinks, as we plan to make your Halloween scarily delicious.
Black Fig Vodka Martini
Recipe by Little Figgy
Black Fig Vodka Martini, Source: Website
Layered with tones of blackcurrant and figs, the Black Fig Vodka Martini expresses dark fruit nuances. Sip on this delicious cocktail and start your Halloween weekend like all the great sorcerers do, by relaxing on an armchair with the drink in one hand.
Ingredients:
1/2 oz black vodka (try Blavod Black Vodka)
1/2 oz fig vodka (try Figenza)
1 1/2 oz Crème de Cassis
1/2 oz of dry vermouth
Figs, sliced in half, for garnish
Fill a cocktail shaker with ice, and add all the ingredients.Shake to chill, and strain into a glass. Garnish with a halved fig.
Vampire Vodka
Recipe by Martha Stewart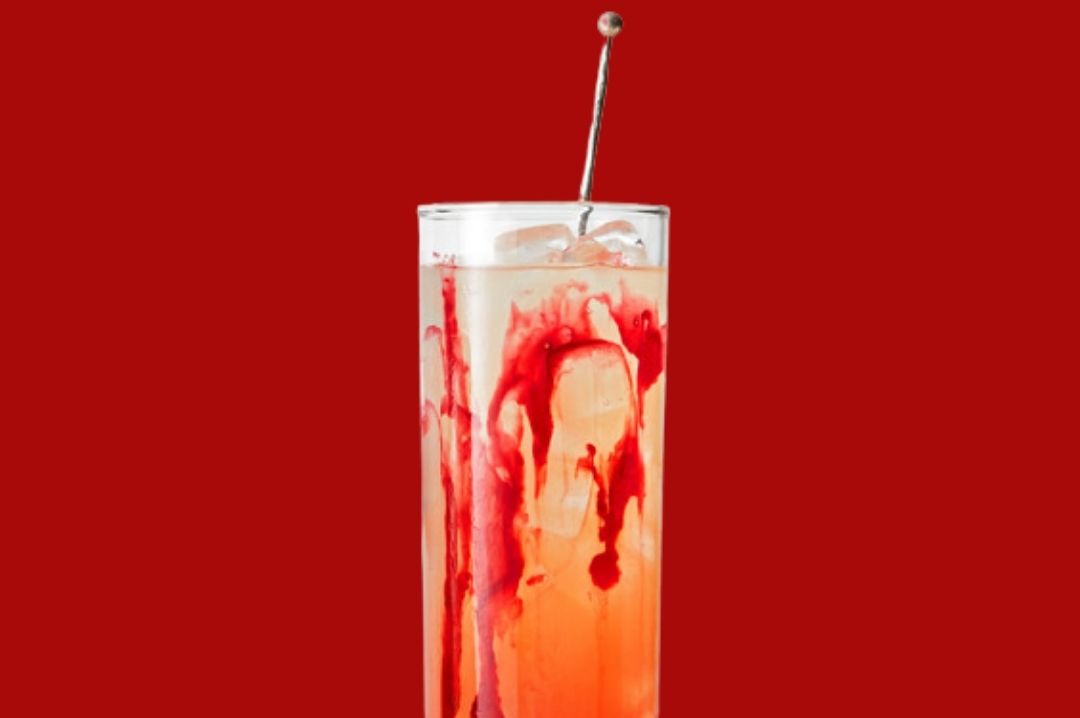 The red syrup adds a spooky effect to the sweet drink, beautifully balanced by the light bodied Barr Hill Vodka. If you were wondering, what's the go to drink for a vampire, then this is the answer, a cocktail dripping with blood syrup.
Syrup
Ingredients:
1/2 cup light agave syrup
1/2 cup pomegranate juice
1/2 cup grated red beet
Bring the agave, pomegranate juice, and beet to a boil in a saucepan. Strain, and then return mixture to pan and bring to a boil. Cook over medium-high heat until the syrup has reduced to 3/4 cup, for 5 minutes. Let cool completely. Syrup yields enough for 8 and can be refrigerated for up to 1 month.
Cocktail
Ingredients:
Pour the vodka and both the juices over ice. Sweeten with syrup to taste.
Spicer Cider
Recipe by Who Needs A Cape
Spider Cider cocktail, Source: Website
Spider Cider is a great option for those hosting a Halloween bash at home. Prep the glasses and cool the mixers in the refrigerator, so all you need to do is pour the drinks when the party starts. The cocktail has a bit of everything from the sweet and tart cider, spiced rum, caramel, and sprinkles.
Ingredients:
Dip the rim of your glass in caramel and dip into sprinkles for a fun touch. Decorate the glasses ahead of time and refrigerate. Mix the liquids together ahead of time and refrigerate. Multiply ingredients to make more servings. Mix liquids together. Pour over ice and serve.
Halloween Punch - Blood Bag
Recipe by Gastronom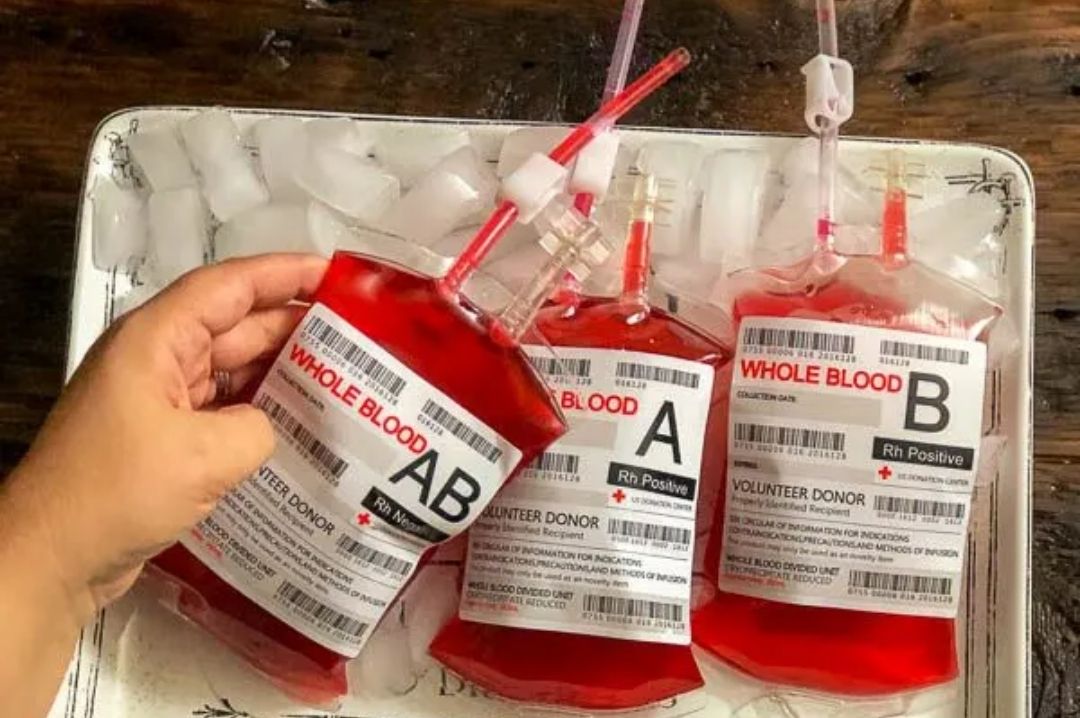 Halloween Punch - Blood Bag cocktail in iv bags, Source: Website
Spooky and tasty, Halloween Punch - Blood Bag is mixed with strong flavors of two flavored rums and the dryness of a blanco tequila. Sip on the blood bag punch that is covered in hues of red, thanks to the sweet and sour raspberry lemonade.
Ingredients:
Mix all the ingredients in a shaker and fill up the cocktail in iv bags for a spooky effect.
Dracula's Blood
Recipe by The Kitchen is my Playground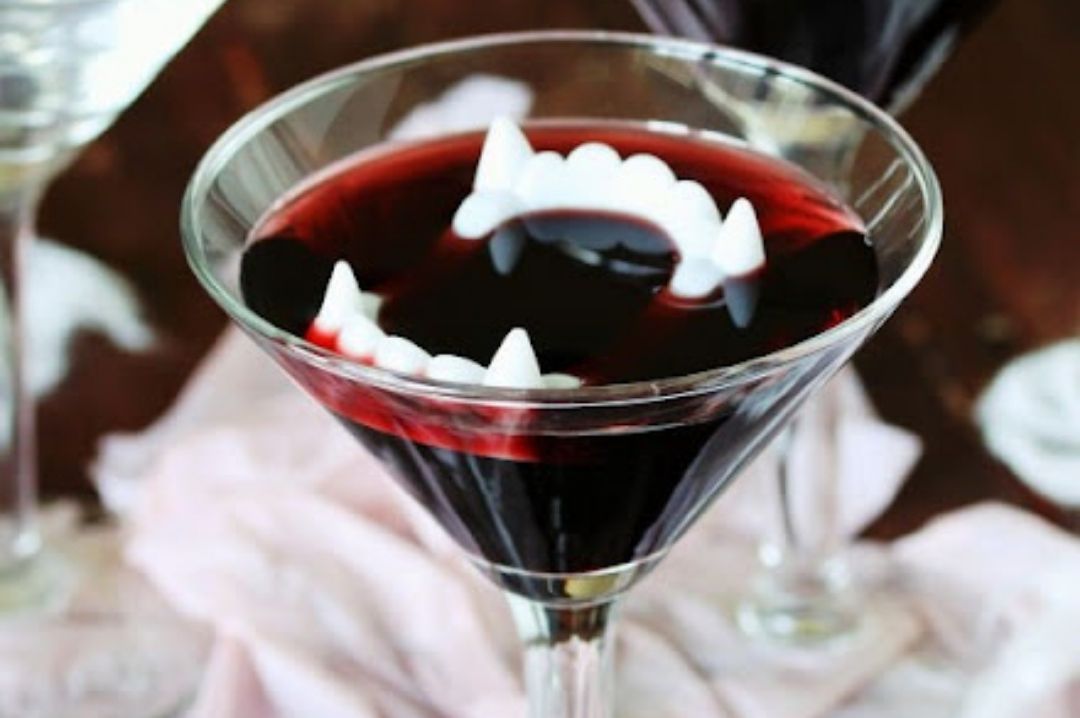 Dracula's Blood cocktail, Source: Website
Its dark color comes from the black cherry juice and grenadine, adding sweetness to a palate driven by green notes of charred pepper, juicy pineapple, and caramelized bananas. Ten To One White Rum brings a dry finish to Dracula's Blood with its spicy and herbal components on the palate.
Ingredients:
Add the rum, peach schnapps, black cherry juice, and grenadine in a cocktail shaker with ice. Shake for about 10 seconds to mix and chill. Strain into a martini glass. Drop in a set of plastic vampire teeth and garnish with a fresh or maraschino cherry, if desired.
Vampire
Recipe by Self Proclaimed Foodie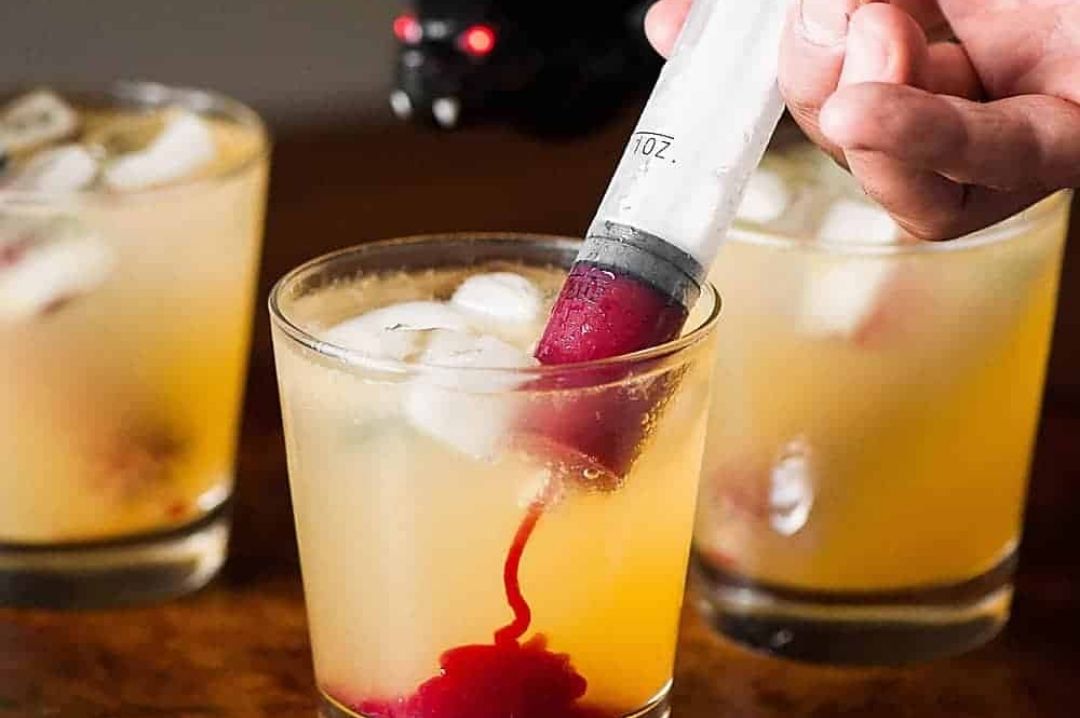 Vampire cocktail, Source: Website
Cocktails themed on vampires, dracula, and blood never run out of fashion during Halloween. We couldn't help but add another vampire cocktail to our list because, why not? Only, this one is more complex as you will need to add some raspberry sauce into the mix through a syringe, as shown in the picture above.
Raspberry sauce
Ingredients:
2 cups raspberries
¼ cup sugar
Puree the raspberries in a blender or food processor. Press the puree through a fine mesh strainer to separate the pulp from the seeds. Discard the seeds.
Combine the puree with the sugar in a small saucepan over medium high heat. Stir frequently and cook until mixture darkens and thickens, for about 10 minutes. Chill until ready to use.
Cocktail
Ingredients:
Add vodka and amaretto to a shaker with ice and shake until very cold, for about 20 seconds. Stir in orange juice and club soda. Pour into iced glasses.
Fill syringes with equal parts of the raspberry syrup and place in glasses before serving.
Toxic Tonic
Recipe by The TipToe Fairy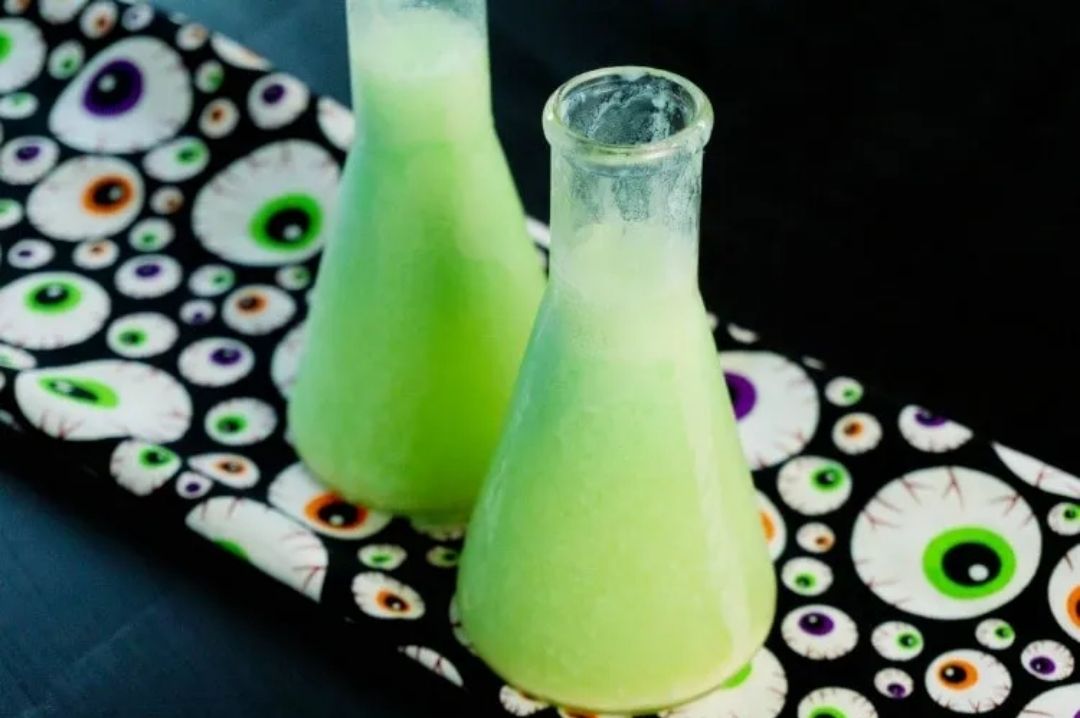 Toxic Tonic, Source: Website
For those looking to don the mad scientist look, we've got you covered with a perfect drink. Glowing in light green color, Toxic Tonic expresses ripe Meyer lemon, grapefruit rind, lemon blossom, yogurt, light butter, and subtle nutmeg nuances.
Ingredients:
1 tbsp key lime juice
1 tbsp sweetened condensed milk
4 tbsp of lime sherbet, softened
5 oz Pinot Grigio (try Alb de Purcari, Best in Show by Country, 2021 USA Wine Ratings)
Spoon the key lime juice and sweetened condensed milk into a flask. Add the lime sherbet and swirl the flask to combine. Fill to the neck with Pinot Grigio. Gently swirl again. Serve immediately!
Marshmallow Web Chocolate
Recipe by HGTV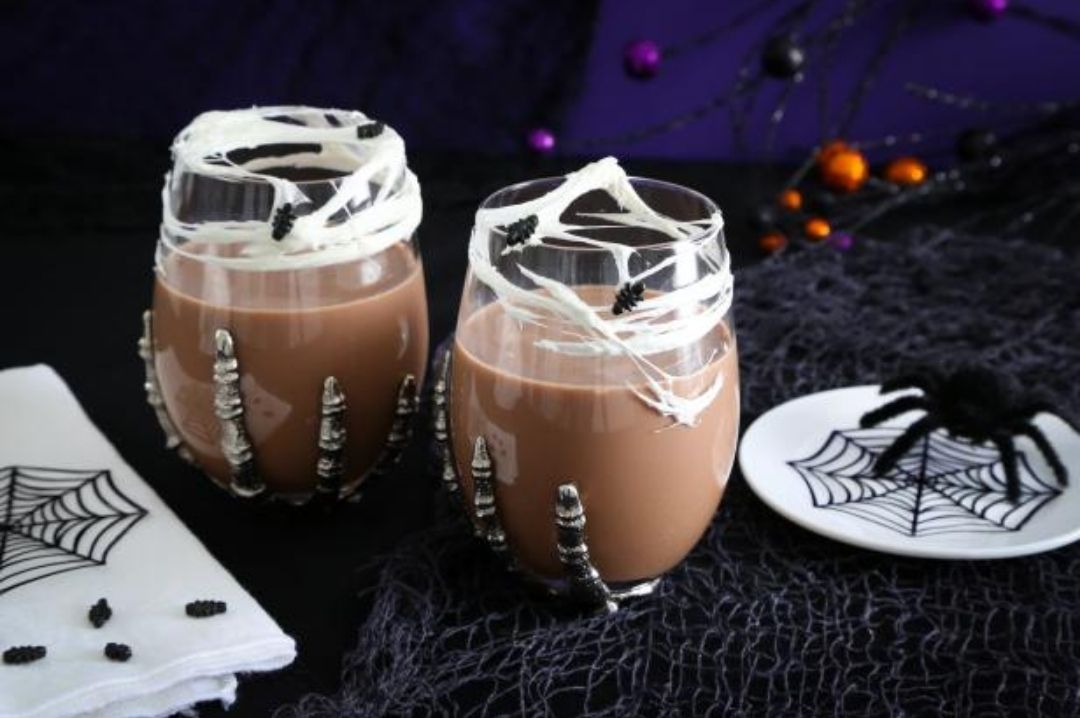 Marshmallow Web Chocolate, Source; Website, image by Heather Baird
Blossoming with chocolate, mocha, and hazelnut on the nose, Marshmallow Web Chocolate derives a smooth and creamy texture from Sunora Cream de Bacanora Mocha. Nykur Premium Organic Vodka adds to the richness of this creamy delight, decorated with marshmallow webs and spider candies.
Ingredients:
3 oz chocolate liqueur (try Sunora Cream de Bacanora Mocha, gold medal, 2021 USA Spirits Ratings)
1 oz vodka (try Nykur Premium Organic Vodka, gold medal, 2021 USA Spirits Ratings)
2 oz milk or cream
1 jumbo marshmallow
Candy spider sprinkles
Add the chocolate liqueur, vodka and milk or cream to a cocktail pitcher. Stir well. Pour into an 8-ounce stemless wine glass.
In a microwave-safe bowl, heat the marshmallows for 30 seconds until puffed. Stir briefly and let cool slightly. Pick up some of the marshmallow with your thumb and forefinger and stretch across the top of the glass. Do this repeatedly until there is considerable webbing across the opening of the glass.
Ghoul's Blood
Recipe by West Via Midwest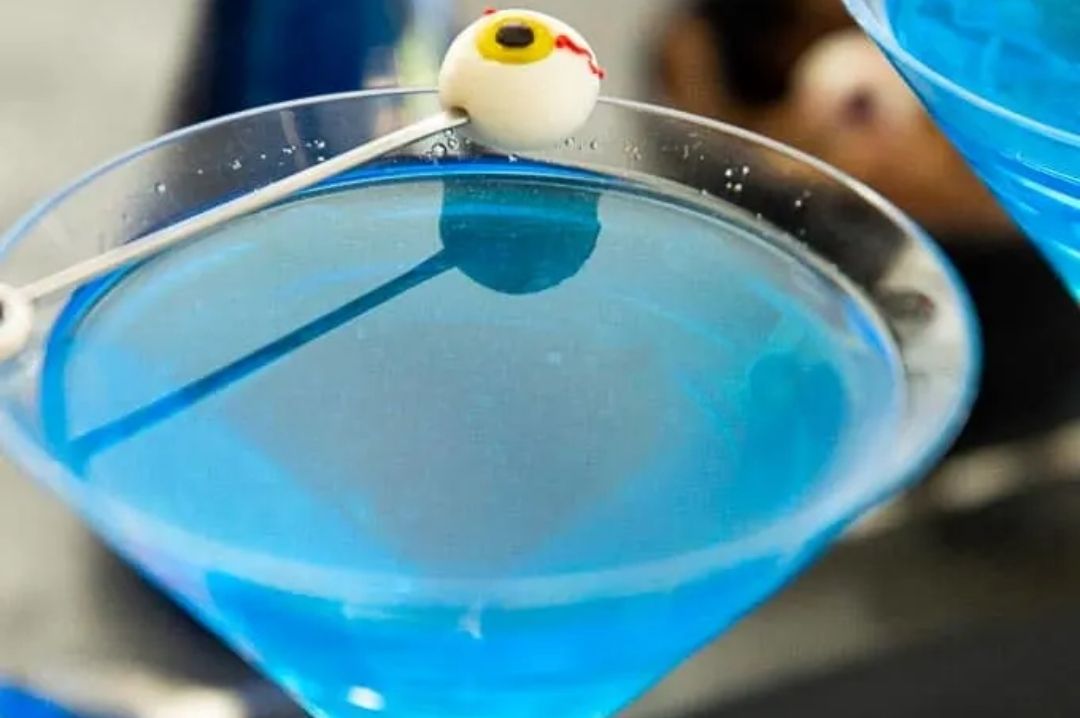 Ghoul's Blood cocktail, Source: Website
Easy to make, Ghoul's Blood displays refreshing notes of tropical fruits. Emperor Lily White rum's rich palate leads to a warm tone and finish, making this one an absolute favorite amongst the ghostbusters.
Ingredients:
Blue curaçao
White rum (try Emperor Lily White, silver medal, 2021 USA Spirits Ratings)
Pineapple juice
Gummy eyeballs, for garnish
Put all the ingredients together. Stir gently. Pour into a martini glass. Put a gummy eyeball on a skewer for garnish.
Zombie Brains
Recipe by Burrata and Bubbles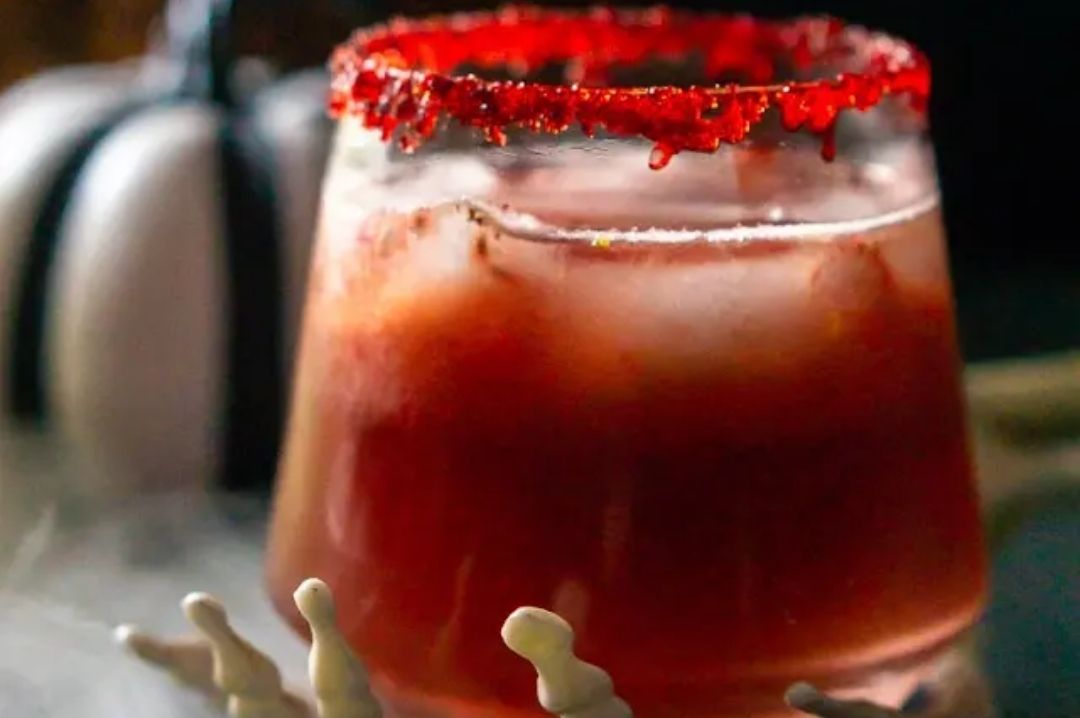 Zombie Brains cocktail, Source: Website
Imitating a blown up zombie brain, Zombie Brains bursts with sweet cranberry flavors and raspberry nuances. Wildroots Cranberry Infused Vodka encompasses the elements of tartness, dryness, and boldness to the drink.
Ingredients:
In a cocktail shaker, muddle raspberries until they break down.
Add the pomegranate juice, orange juice, vodka, Chambord and ice. Put on the top and shake vigorously for 15 seconds.
Strain into ice-filled glasses if just using regular ice. If using dry ice, use gloves and tongs (not your bare skin) to drop in a piece of dry ice. Let guests know not to ingest the dry ice -- sip from the top until it stops steaming or wait until it stops steaming completely before sipping. Top with ginger ale. Enjoy!
Frankenstein Green
Recipe by Brooklyn Active Mama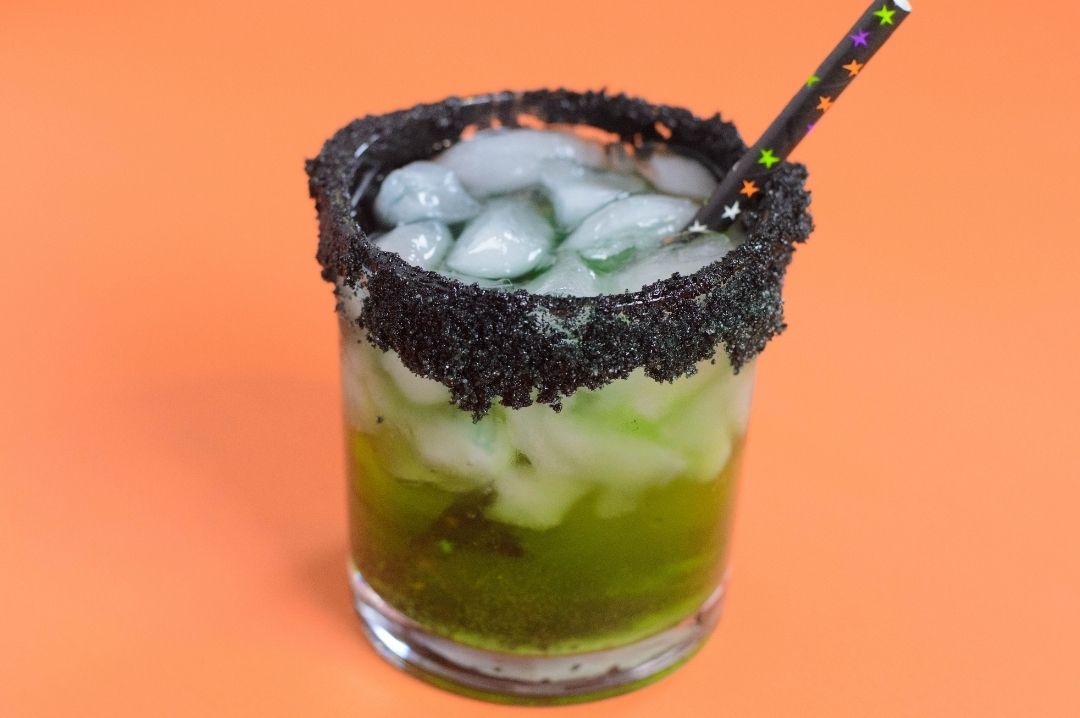 Frankenstein Green cocktail, Source: Website
Big, green, and intimidating, Frankenstein Green is made up of apple and melon liqueurs that add sourness to the cocktail. Sip on this green biggie, inspired by Frankenstien himself.
Ingredients:
Place sugar in a bowl and mix in black dye. Wet rim of glass. Roll glass in sugar. Set aside.
In another glass, pour in melon liqueur, apple liqueur, and ice. Add in lemon sparkling water to the top. Stir. Pour into the glass with black sugar. This allows the liquors to mix without knocking the black sugar into the glass. Serve!
Pumpkin Margarita
Recipe by Ocean Drive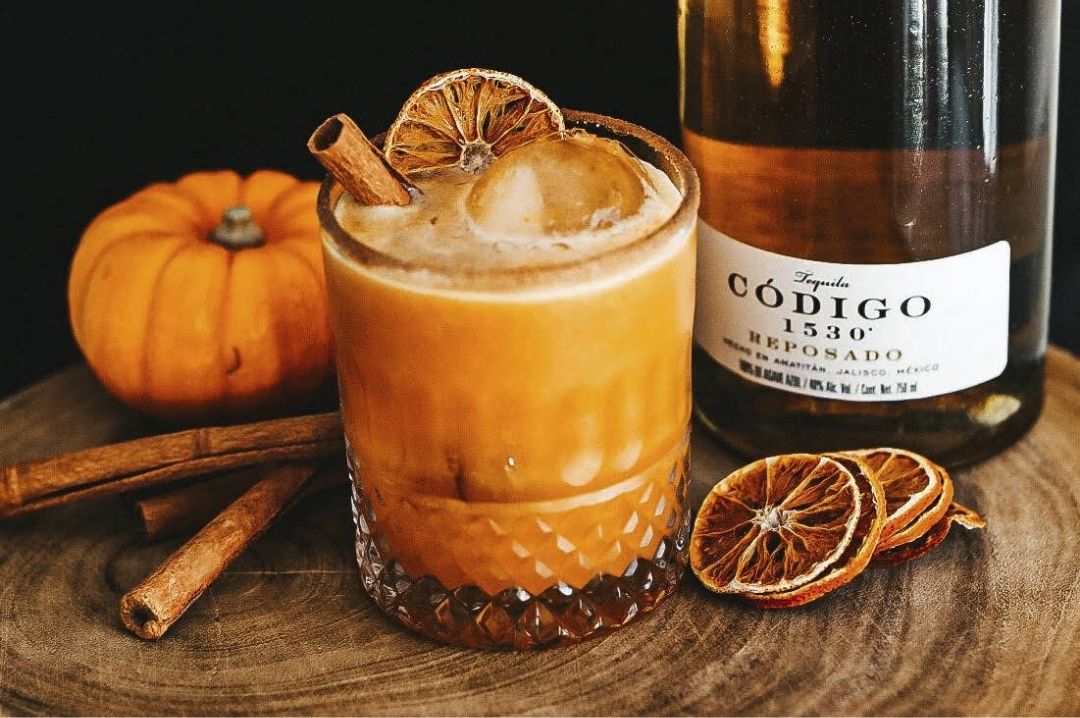 Pumpkin Margarita made with Código 1530 Reposado, Source: Website
A list of Halloween cocktails is incomplete without a pumpkin flavored drink. The Pumpkin Margarita beautifully combines the sweet maple syrup and spicy pumpkin purée, while Código 1530 Reposado's smooth texture integrates the complexity with ease.
Ingredients:
Shake the ingredients and strain over ice. Wet the rim in maple syrup and dip in cinnamon sugar. Garnish with a cinnamon stick and a dried orange.
Eyeball Snot-Tail
Recipe by BBC Good Food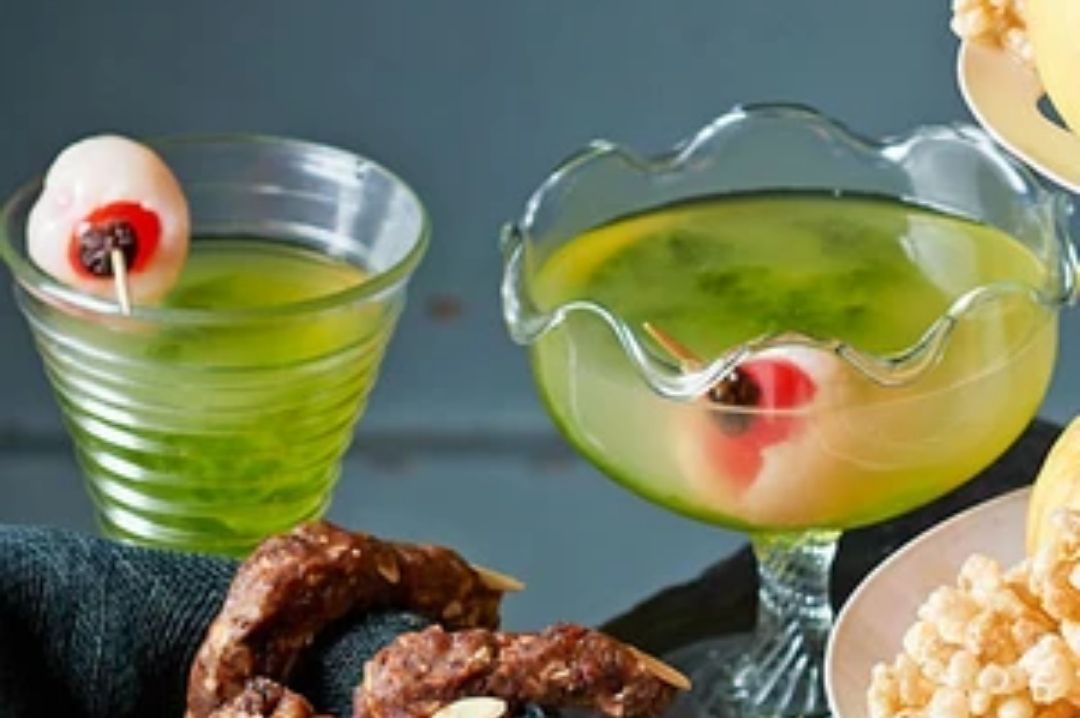 Eyeball Snot- Tail non-alcoholic cocktail, Source: Website
A non-alcoholic cocktail for those aiming to go booze free this Halloween, Eyeball Snot-Tail can be enjoyed by kids and adults alike. The slimey lychee eyeballs keep flavors of apple, pear, and lemon intact.
Ingredients:
135 g pack lime jelly
700 ml apple & pear juice
300 ml lemonade
425 g can lychees in syrup
10-15 cocktail cherries from a jar
10-15 raisins
Make the jelly following pack instructions and chill until set. Combine the apple & pear juice with the lemonade in a large jug and chill in the fridge.
To make the eyeballs, drain the lychees and poke a hole in each cherry with one of the cocktail sticks. Put the cherry inside the lychee, then push the raisin into the cherry. Press the eyeball onto the end of a cocktail stick and set aside until serving.
When the jelly has set, use a whisk to break it up into small chunks. Spoon into the cocktail glasses and top up with the apple juice mixture. Put an eyeball into each glass before serving.
Butterbeer
Recipe by Heather Bailey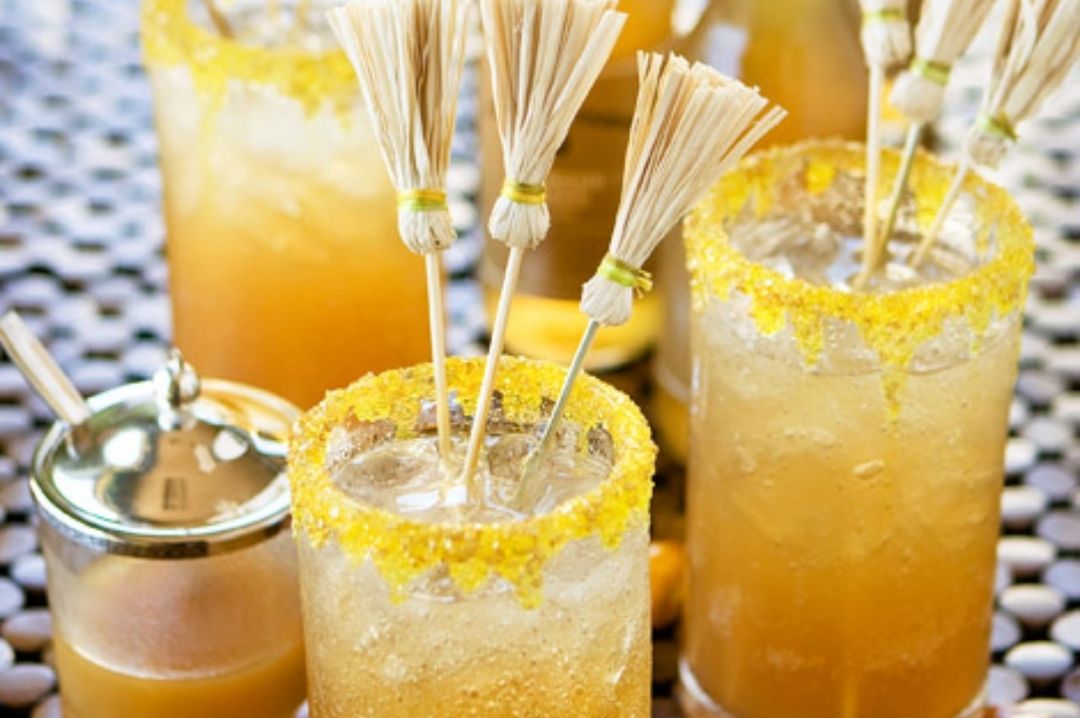 Butterbeer, Source: Website, image by Heather Bailey
One for Harry Potter fans to geek out on, Butterbeer has gained popularity from the world of wizardry. Despite having zero ABV content, expect a dash of magic to soar through your veins with the legendary Butterbeer.
Ingredients:
12 oz ginger beer
36 oz cream soda
3 tbsp butterscotch ice cream topping
Thoroughly chill unopened ginger beer and cream soda in the refrigerator until icy-cold. Refrigerate an empty, glass pitcher as well. Once beverages are chilled, in a small mixing bowl or tall glass, stir 1-2 oz of cream soda into butterscotch topping till thoroughly combined. Pour all remaining soda into a chilled pitcher. Quickly add butterscotch mixture to the pitcher. Stir till just combined; do not over-stir. Pour over ice and serve immediately.
For a frothy sparkle, dip the rim of each glass in corn syrup, pulling drips of syrup downward with a toothpick. Then dip each glass rim in a mixture of colored sugar. Before dipping, spread the corn syrup & sugar mixture each onto a separate, flat-bottomed plate.
For an old-world, textured effect, mix fine, yellow sugar with coarser, gold sugar.
Creepy Eyeball Martini
Recipe by Pineapple & Coconut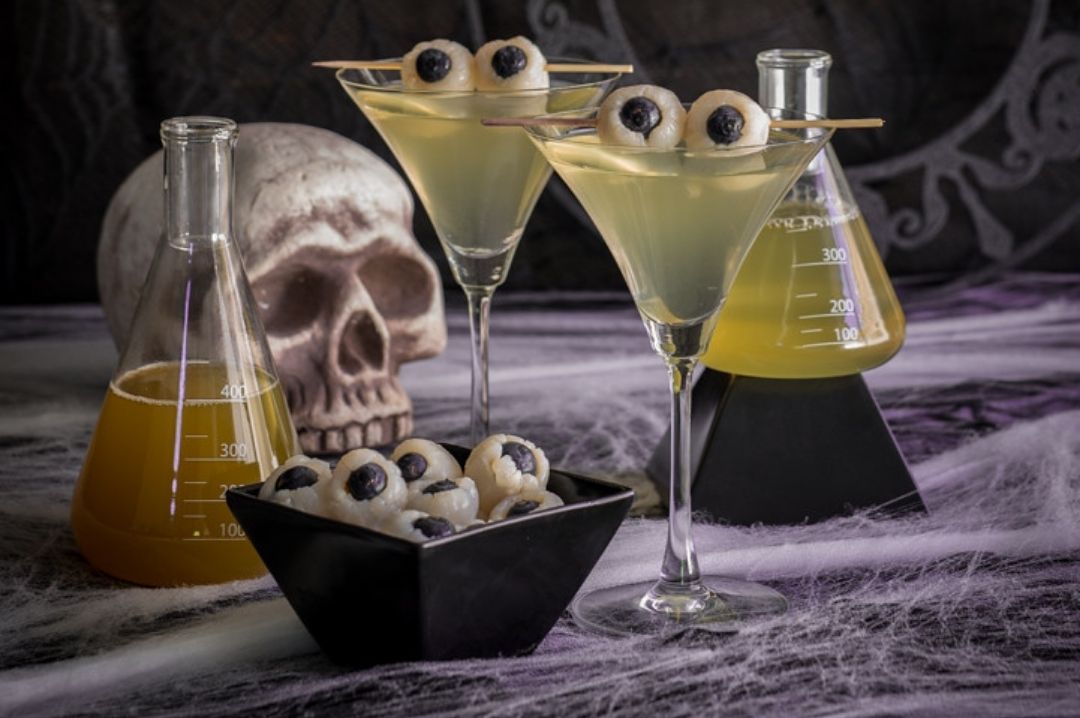 Creepy Eyeball Martini, Source: Website
Popping up with a fine texture, Creepy Eyeball Martini is a clean and crisp concoction, breathing subtle notes of lychee and blood orange.
Green tea simple syrup
Ingredients:
6 oz water
6 oz cup sugar
1 matcha green tea bag
Bring water to a boil and pour into a glass measuring cup. Let sit for one minute then add the green tea bag. Let steep for 3 minutes. Remove the bag and add in the sugar, stir until dissolved then chill completely before using. This makes more than the drink calls for, store the remaining simple syrup in an airtight container in the refrigerator. Use it to sweeten other cocktails or even just a cup of green tea.
Cocktail
Ingredients:
4 oz vodka (try Cascade Street Potato Vodka, gold medal, 2021 USA Spirits ratings)
3 oz lychee juice
2 oz Solerno blood orange liqueur
1 oz green tea simple syrup
Lychees
Fresh blueberries
Fill a cocktail shaker with ice, add all the cocktail ingredients, shake well and divide between two martini glasses. Take a couple of the lychee fruits and put blueberries in them to make the eyeballs. Either sink a couple into the drinks or skewer and rest on top. Serve drinks chilled.
Jack-O'-Lantern
Recipe by The Spruce Eats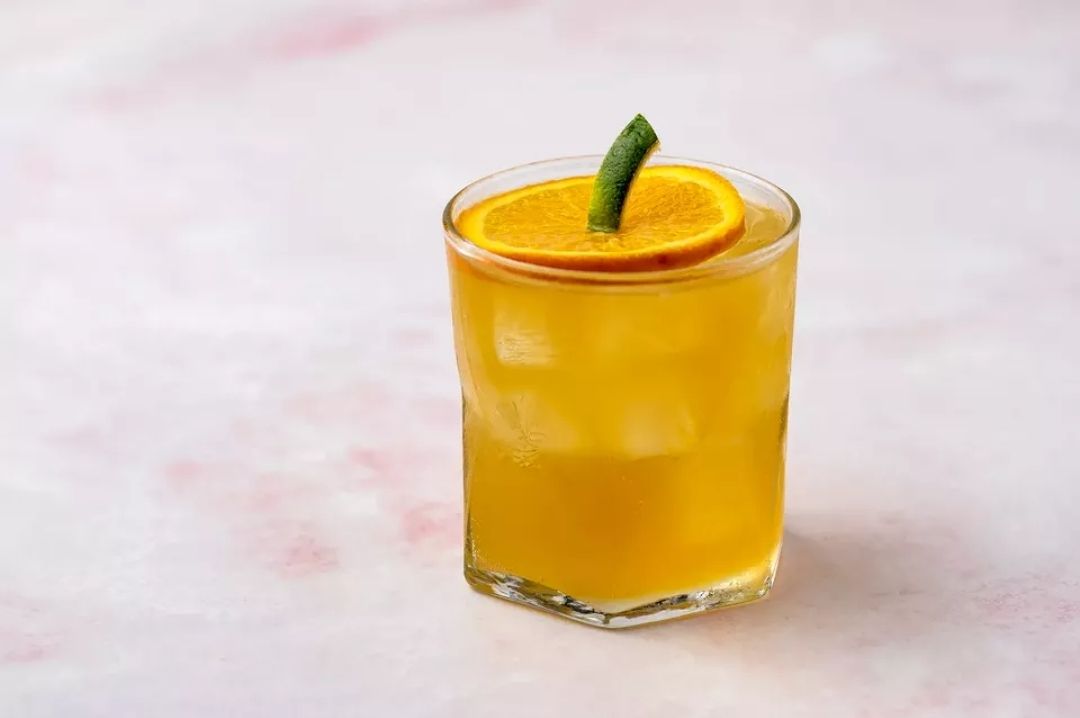 Jack-O'-Lantern cocktail, Source: Website, image by Madhumita Satishkumar
Enjoy Jack-O'-Lantern's orange and vanilla scents, leading to a remarkably smooth orange zest, honey, and marshmallow palate. Whiffing off orange nuances, the drink disguises itself in pumpkin attire or as we like to call it, Jack-O'-Lantern.
Ingredients:
Gather the ingredients in a cocktail shaker filled with ice, shake the cognac, orange liqueur, and orange juice.
Strain into a large old-fashioned glass over fresh ice. Top with the ginger ale.
Place the lime twist into the top center of the orange wheel and float on top of the drink.
Melted Witch Martini
Recipe by 3 Yummy Tummies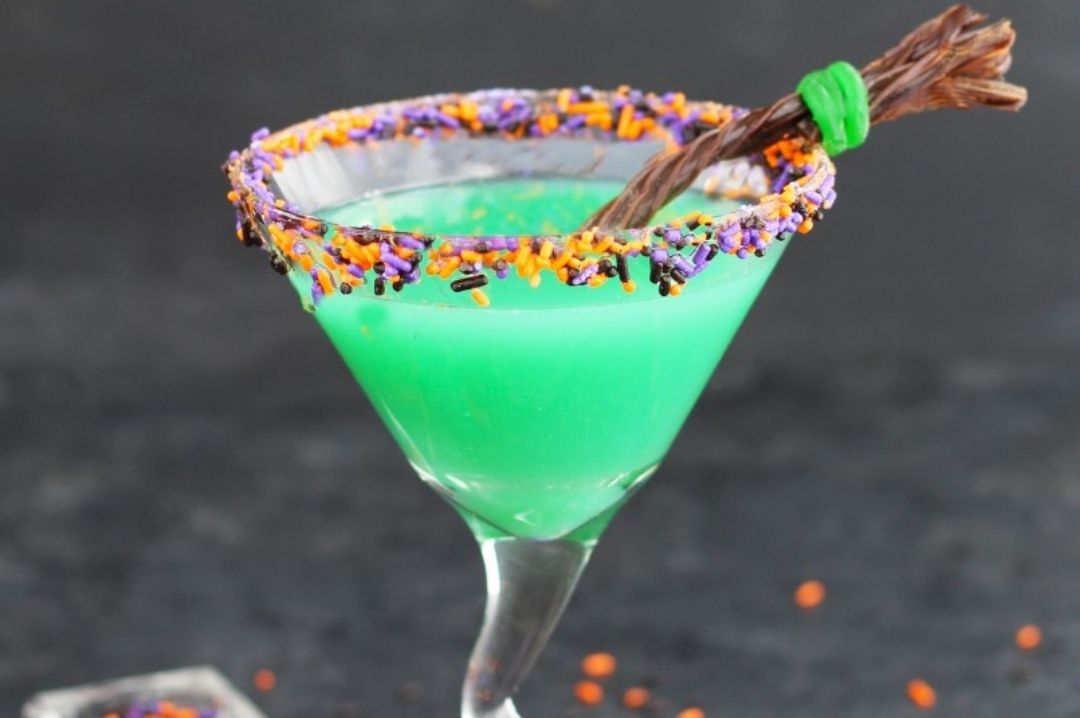 Melted Witch Martini, Source: Website
Catching the eye with its unique color, Melted Witch Martini builds up the intensity with peppery overtones from Rolling Still Green Chile Vodka. Tangy pineapple and orange juice balance the hotness of the spirit along with the sweet blue curaçao and chocolate twizzlers.
Witch broomstick
Ingredients:
Chocolate Twizzlers
Pull N' Peel Twizzlers
Halloween Sprinkles
Honey
Make your witch broomstick by shredding the end of a chocolate Twizzler with kitchen scissors. You may cut an extra piece and tie it to the end for a thicker looking bristle. Use a Pull N' Peel Twizzler to tie around the base of the broom as pictured.

Dip the rim of a martini glass in honey, followed by sprinkles until the rim is coated.
Cocktail
Ingredients:
To a shaker; add the vodka, blue curaçao, orange juice, pineapple juice and a cup of ice.
Shake vigorously until cooled.
Strain into the prepared cocktail glass and garnish with a Twizzler broomstick.
The Grave Digger
Recipe by Boulder Locavore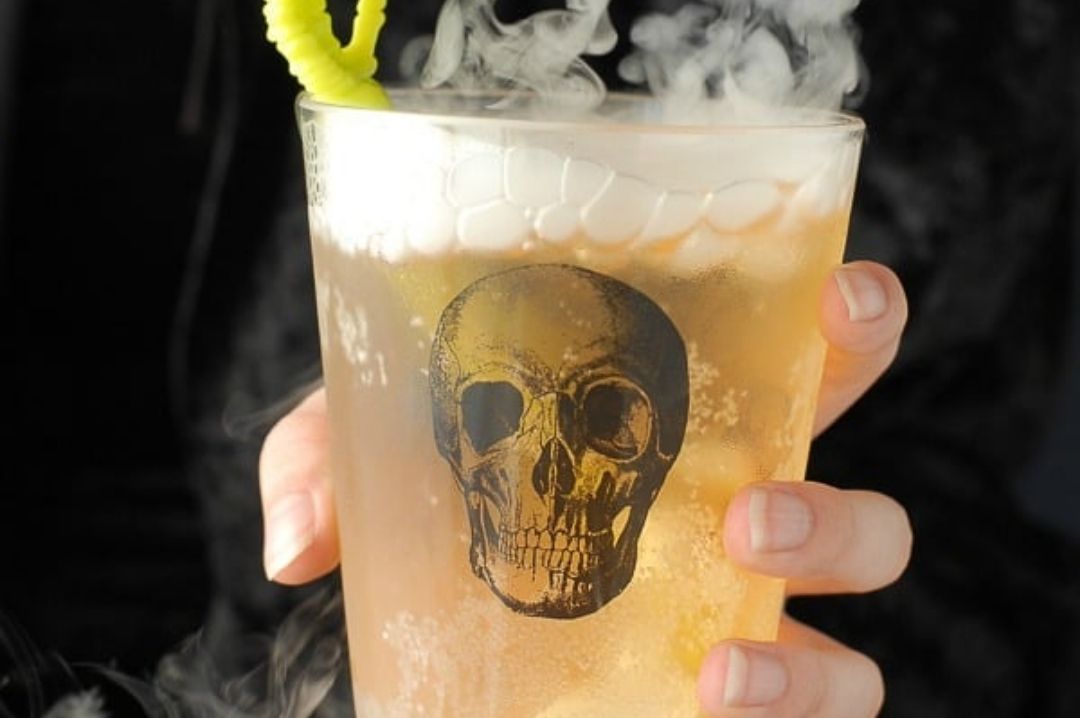 The Grave Digger cocktail, Source: Website
Tailor made for all the undertakers of the world, The Grave Digger is simple but deadly. The full bodied Cowboy Bourbon Whiskey showcases its 131 proof cask strength with cinnamon and clove flavors on the palate. Add some ginger ale and cider for an injection of robustness to the drink.
They don't call it The Grave Digger for no reason!
Ingredients:
2 oz hard cider (try JK's Scrumpy Orchard Gate Gold)
1 oz whiskey (try Cowboy, gold medal, 2021 USA Spirits Ratings)
Ginger ale , to fill
Crushed ice
In a highball glass, combine the hard cider and whiskey. Fill the glass with crushed ice. Top with ginger ale.
The Drake Daiquiri
Recipe by Willy Shine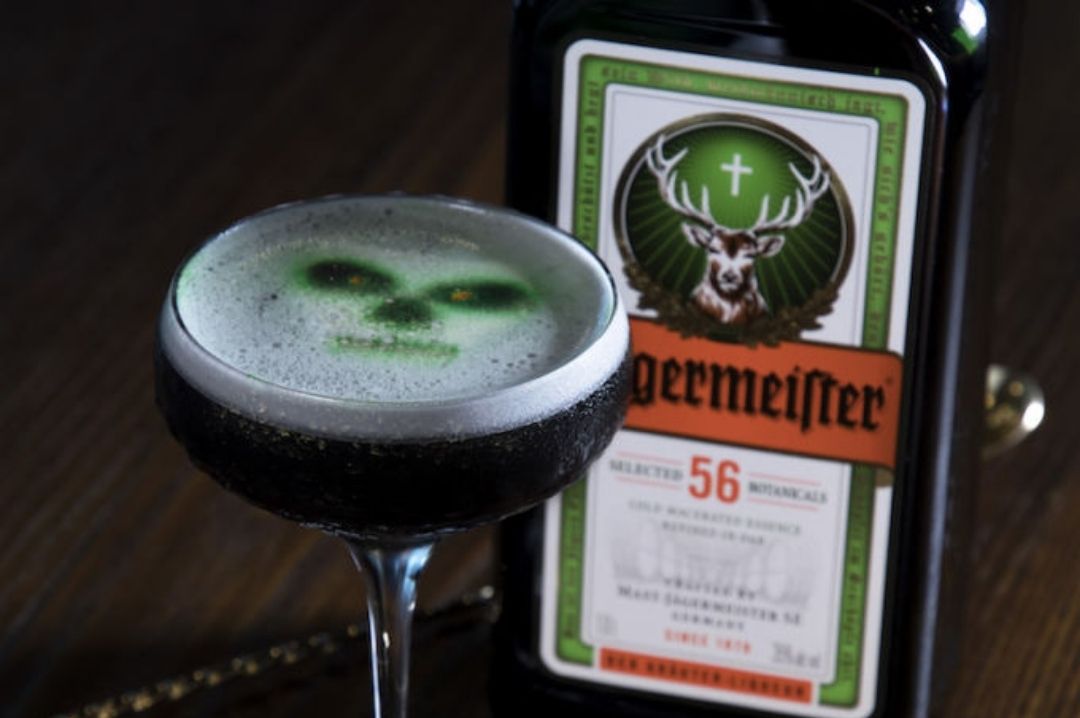 The Drake Daiquiri, Source: Website, image by Willy Shine
Haunting with its dark and imperious looks, The Drake Daiquiri is a blend of Jäger and rum which seamlessly work together as a sinister duo. The egg white adds a layer of froth and creaminess to the cocktail.
Ingredients:
1 oz Jägermeister
1 oz rum (try Emperor Heritage, gold medal, 2021 USA Spirits Ratings)
0.75 oz fresh lime juice
0.75 oz simple syrup
0.5 oz egg white
1 Capsule activated charcoal
Shake all ingredients with ice, and strain into a coupe.
If you've got edible ink and a skull stencil, feel free to tackle that garnish. Otherwise, just spritz some orange oil on top, and drop in the peel.
Hocus Pocus
Recipe by When Piggy Fly Events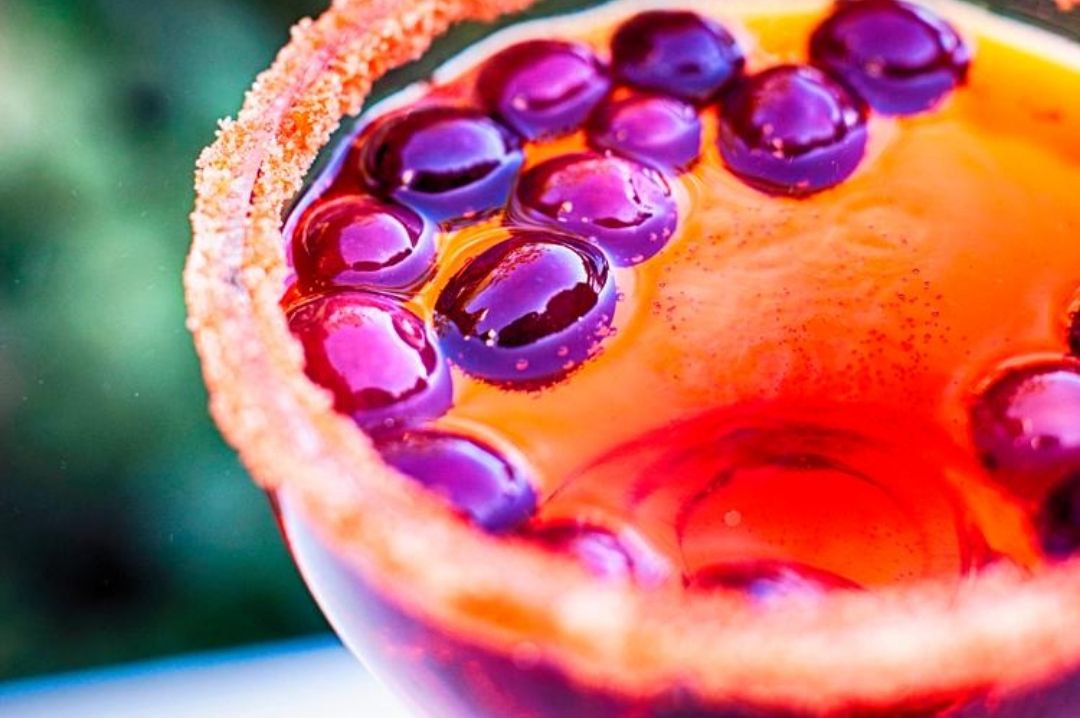 Hocus Pocus cocktail, Source: Website
The sweet and effervescent Hocus Pocus is made to dazzle even the most obstinate drinkers. Although, crafting this potion can be a bit tricky, so we have broken it down in two steps for you.
Ingredients:
1 1/2 cups pineapple juice
1/2 cup aged rum (try Cutwater Barrel Aged Rum, silver medal, 2021 USA Spirits Ratings)
1/4 teaspoon Imitation Coconut Extract
3 drops McCormick Red Food Coloring
2 drops McCormick Yellow Food Coloring
1 bottle sparkling white wine (try Bellissima Zero Sugar Sparkling White Wine, silver medal, 2021 USA Wine ratings)
Cranberries
2 tbsp sugar
5 drops red food coloring
5 drops yellow food coloring
Step 1
Mix pineapple juice, almond extract, coconut extract and food coloring in a small picture or large measuring cup.
For each drink, pour 2 oz pineapple juice mixture into a beverage glass. Top with 4 oz sparkling white wine.
Step 2
Place 2 tbsp of sugar in a small resealable plastic bag. Add 5 drops McCormick Red Food Color and 5 drops Yellow Food Coloring. Seal the bag. Knead sugar until the color is evenly distributed. Pour out onto a shallow plate. Dip the rim of the beverage glass in water, then into Orange-tinted sugar to lightly coat.
To top it off, drop cranberries into the glass to float on top.
Liquid Web
Recipe by Country Living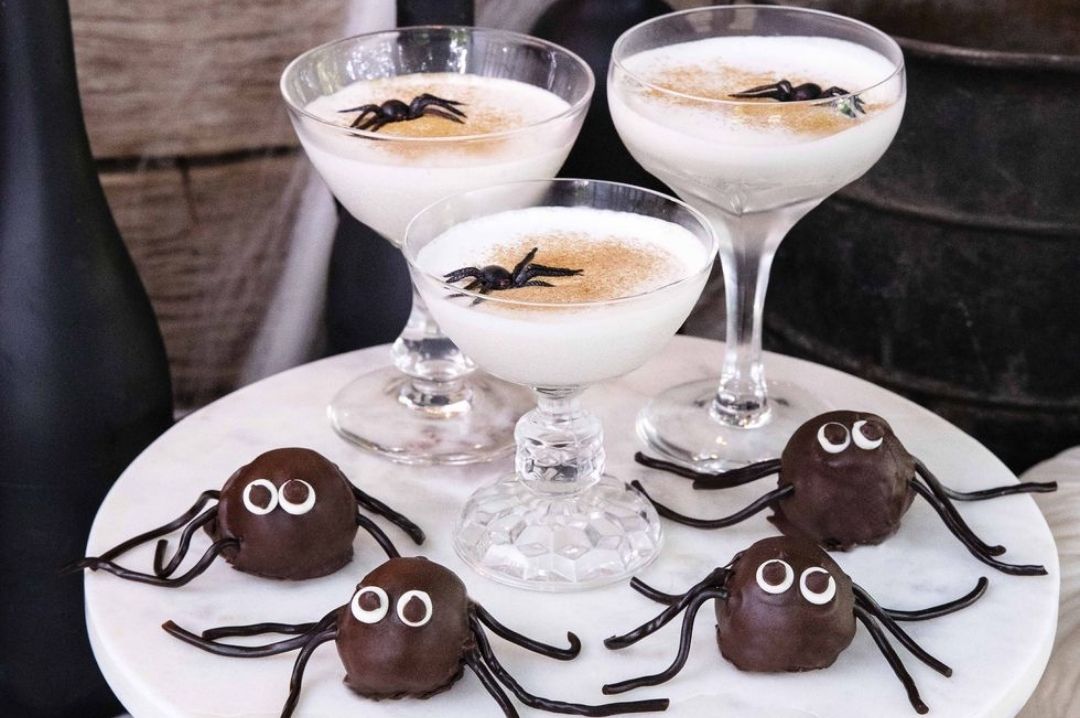 Liquid Web cocktails with chocolate spiders, Source: Website, image by Evin Krehbiel
Entangle yourself in Liquid Web's roasted coffee and caramel flavors, intermingling with chocolate notes from the liqueur. We plan on kickstarting Halloween on an early note this year, and Liquid Web will be our arachnid companion.
Ingredients:
3 oz chocolate liqueur
3 oz coffee liqueur (try Mr Black Cold Brew Coffee Liqueur, silver medal, 2021 USA Spirits ratings)
2 oz milk
Lightly sweetened whipped cream
Pumpkin pie spice or nutmeg
Combine the chocolate liqueur, coffee liqueur, milk, whipped cream, and ice in a cocktail shaker; shake until chilled. Strain into cocktail glasses. Garnish with pumpkin pie spice or nutmeg. Top with small plastic spiders.
Flaming Dragon's Blood
Recipe by The Flavor Blender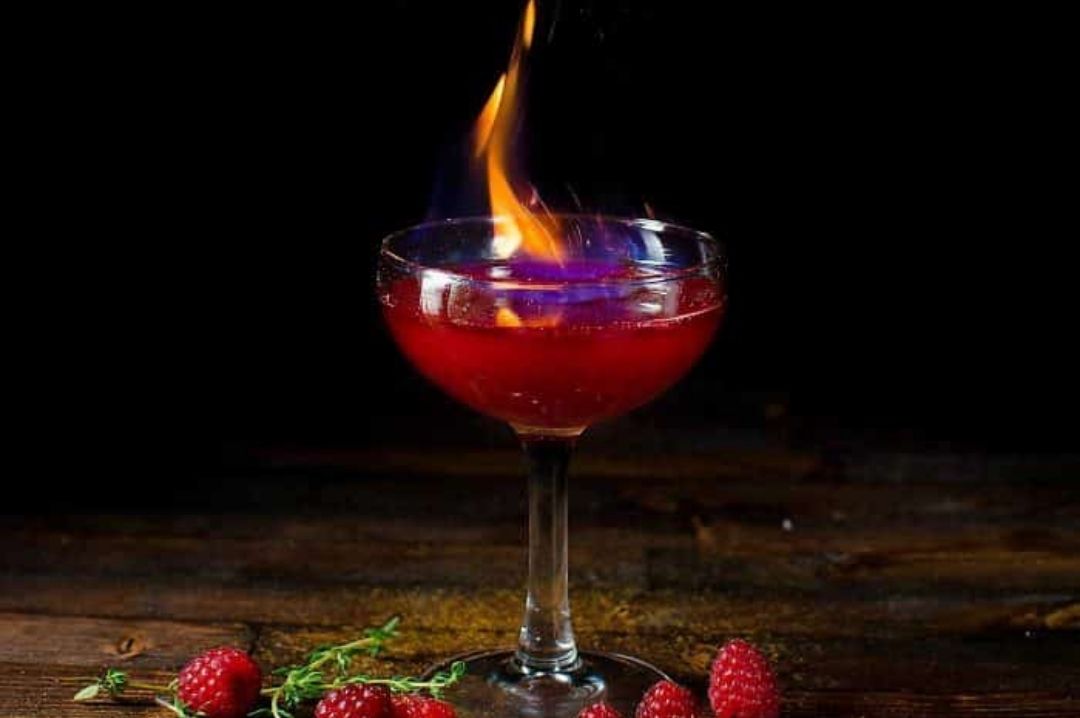 Flaming Dragon's Blood, Source: Website
While igniting the flame on a cocktail and sprinkling some cinnamon for magical sparks can be fun, don't forget to extinguish it before you start sipping on Flaming Dragon's Blood. The thyme and raspberry syrup scales the cocktail to a different level, elevating the mood of all the Targaryens out there.
Thyme and raspberry syrup
Ingredients:
12 oz frozen raspberries
3 sprigs of thyme
½ cup of white sugar
½ cup of water
2 drops of brown food coloring
Place all the ingredients in a saucepan (except the brown food coloring). Cook the mix over medium - medium high heat.
Stir until the sugar has dissolved and bring the mix to a boil. Stir frequently until the raspberries have softened. Remove the syrup from the heat and let it cool down completely.
Strain the mix through a fine sieve to remove pulp and seeds. We strained the mix through a nut milk bag as well to remove any smaller pieces of the syrup, but this is optional.
Pour the syrup into a bottle and store in the fridge.
Cocktail
Ingredients:
2 oz Bacardi Superior rum
1.5 oz thyme and raspberry syrup
Freshly squeezed lemon juice
2 ice cubes
⅛ th of a tsp of white luster dust or red luster dust
2 tsp Bacardi rum 151
Place all the ingredients in a cocktail mixer (luster dust as well, if you want a shimmery cocktail).
Shake for a few seconds to chill the cocktail.
Strain the cocktail into a coupe glass.
Place a cocktail spoon over the surface of the cocktail and carefully layer the rum 151 over the cocktail.
Sweet Poison
Recipe by Jekyll and Hyde Club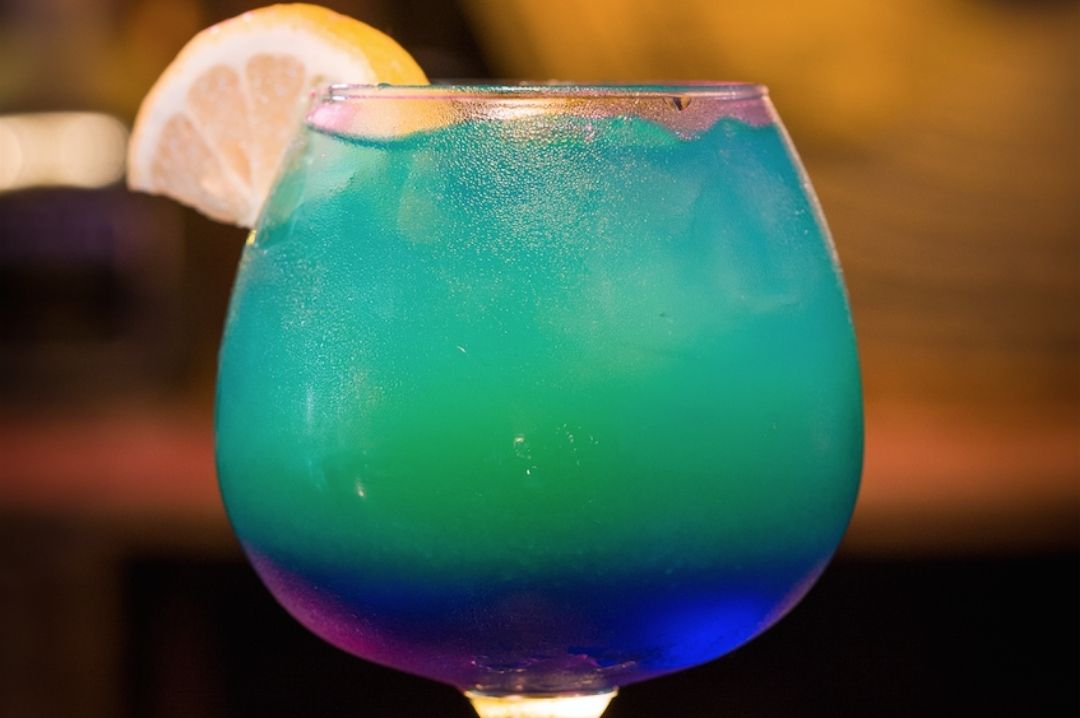 Sweet Poison cocktail, Source: Website, image by Ethan Calabrese
One of the most popular cocktails at Jekyll and Hyde Club in New York, Sweet Poison illuminates in different shades of blue. The drink expresses tropical fruit nuances with zesty pineapple tones and a fruit forward palate.
Ingredients:
1 oz light rum (try Puerto Angel Anejo, Rum of the Year, 2021 USA Spirits ratings)
2 oz coconut rum
1 oz blue curaçao
Pineapple juice
Pineapple wedge, for garnish
Combine both the rums and blue curaçao in a cocktail shaker filled with ice. Shake, and then pour into a cocktail glass.
Fill the rest of the glass with chilled pineapple juice. Garnish with a pineapple wedge.
Death in the Afternoon
Recipe by A Couple Cooks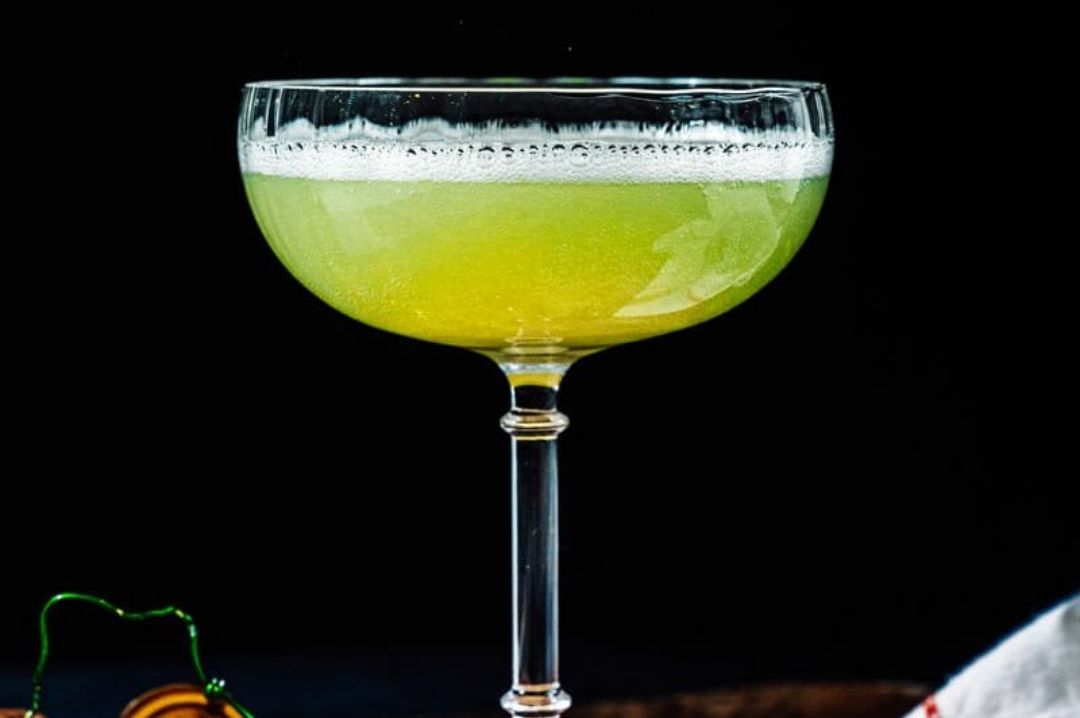 Death in the Afternoon, Source: Website
Invented by Ernest Hemingway, Death in the Afternoon strikes a venomous bite, courtesy of La Fée Parisienne Absinthe Supérieure. We do recommend you to slowly sip on this one, but who are we to stop you from having a bit of fun?
Ingredients:
Pour the absinthe and simple syrup into a cocktail glass. Top it off with the prosecco.
Witch's Brew Skinny Margarita
Recipe by Eating Well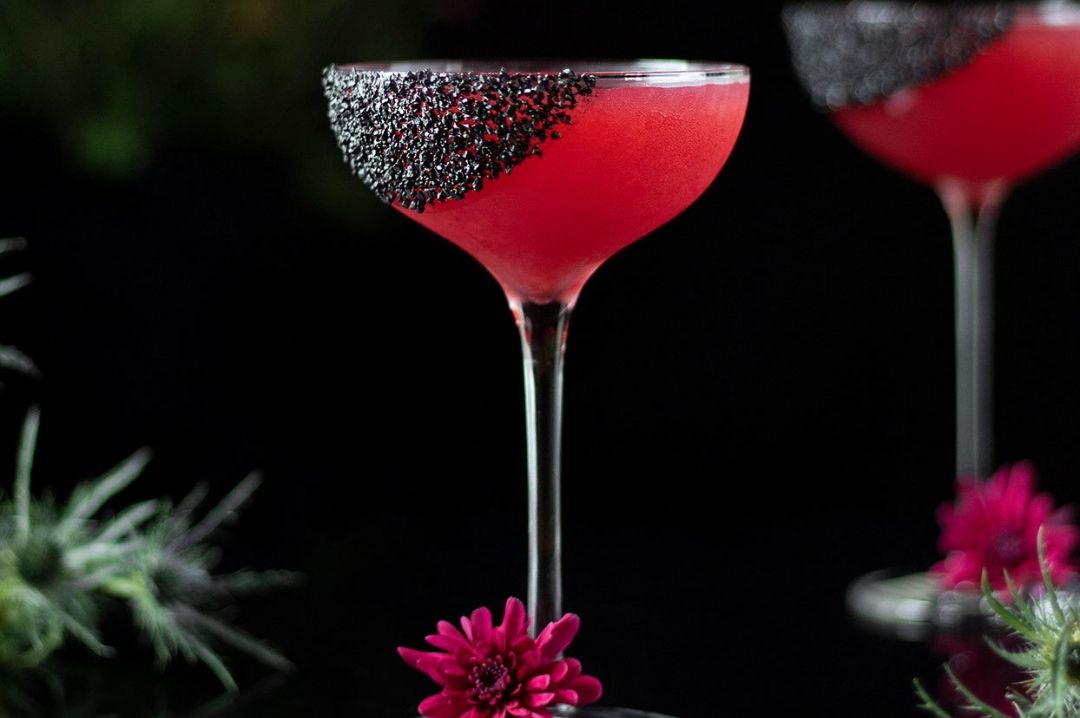 Witches' Brew Skinny Margarita, Source: Website
Dressed up in red of pomegranate and black of lava salt, Witches' Brew Skinny Margarita is an elegant Halloween party cocktail that exudes hibiscus aromas. The acidity of citrus juices effortlessly simmer down the potency of blanco tequila. Add some agave nectar for some sweetness.
Ingredients:
2 hibiscus tea bags
1 cup blanco tequila (try Gran Centenario Plata, silver medal, 2021 USA Spirits Ratings)
½ cup unsweetened pomegranate juice
½ cup freshly squeezed orange juice
½ cup freshly squeezed lime juice, plus 1 lime wedge
1 tbsp agave nectar
2 tbsp black lava salt
Combine the tea bags and tequila in a pitcher; stir gently. Let the mixture infuse until the tequila turns bright red, for about 10 to 15 minutes. Discard the tea bags.
Add pomegranate, orange and lime juices to the pitcher. Stir well to combine (If you like a sweeter cocktail, add agave nectar to taste, starting with 1 tbsp).
If using salt, place it in a small shallow bowl. Rub lime wedge along half of the rim of each of 6 cocktail glasses and dip each in the salt.
Add ice to the pitcher and stir until chilled. Pour into the glasses and serve immediately.
South San Francisco Conference Center, 255 South Airport Boulevard, South San Francisco, CA 94080, United States.
Register Now
South San Francisco Conference Center, 255 South Airport Boulevard, South San Francisco, CA 94080, United States
Register Now