What to do in San Francisco this Halloween
Put your drinking caps on and celebrate the spooky season in San Francisco.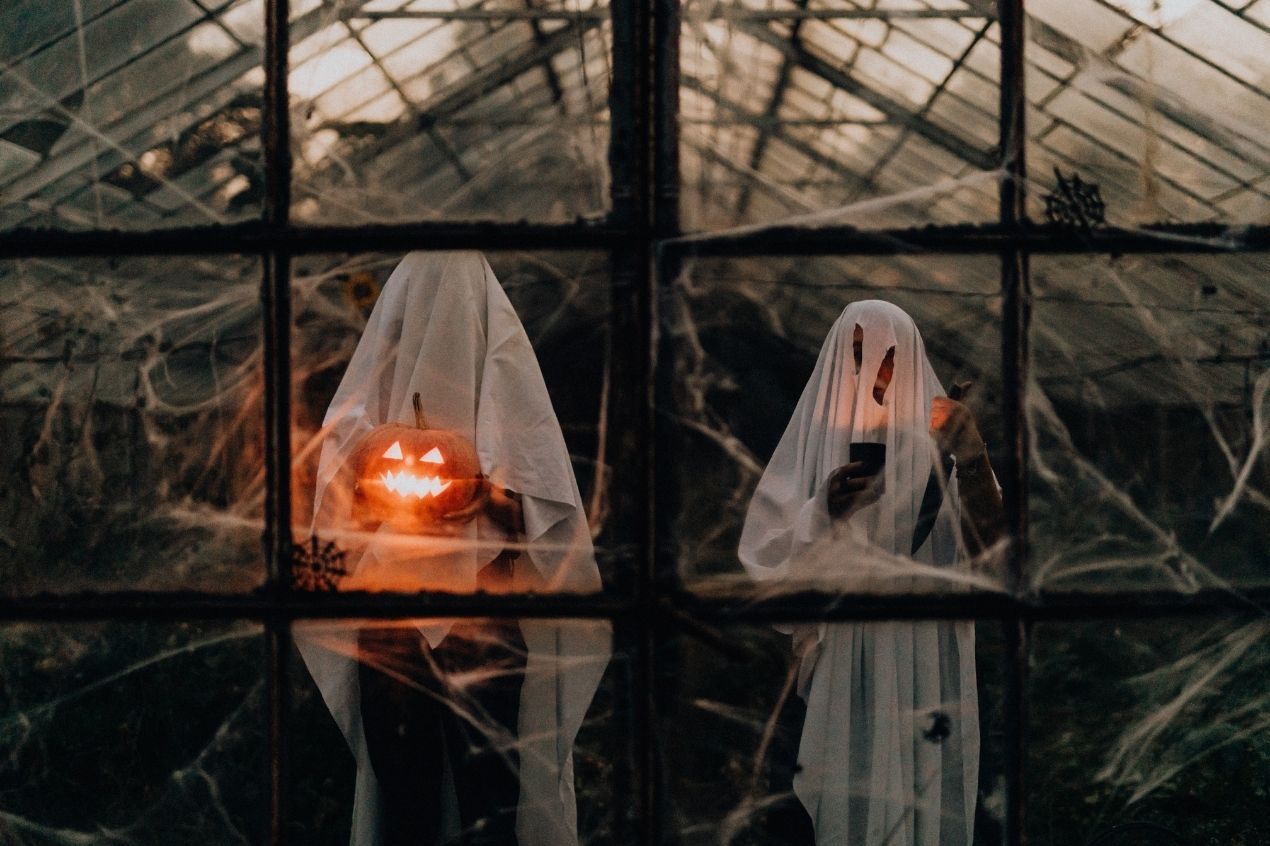 Every year on Halloween, ghouls, goblins, and ghosts come together to make it a night to remember. This year will be no different, as the city is filled with spooky pub crawls, ghost hunts, and more. Pick your poison for the night, and get ready to be spooked.
San Francisco Halloween Club Crawl 2021
(October 29 - 31, 2021)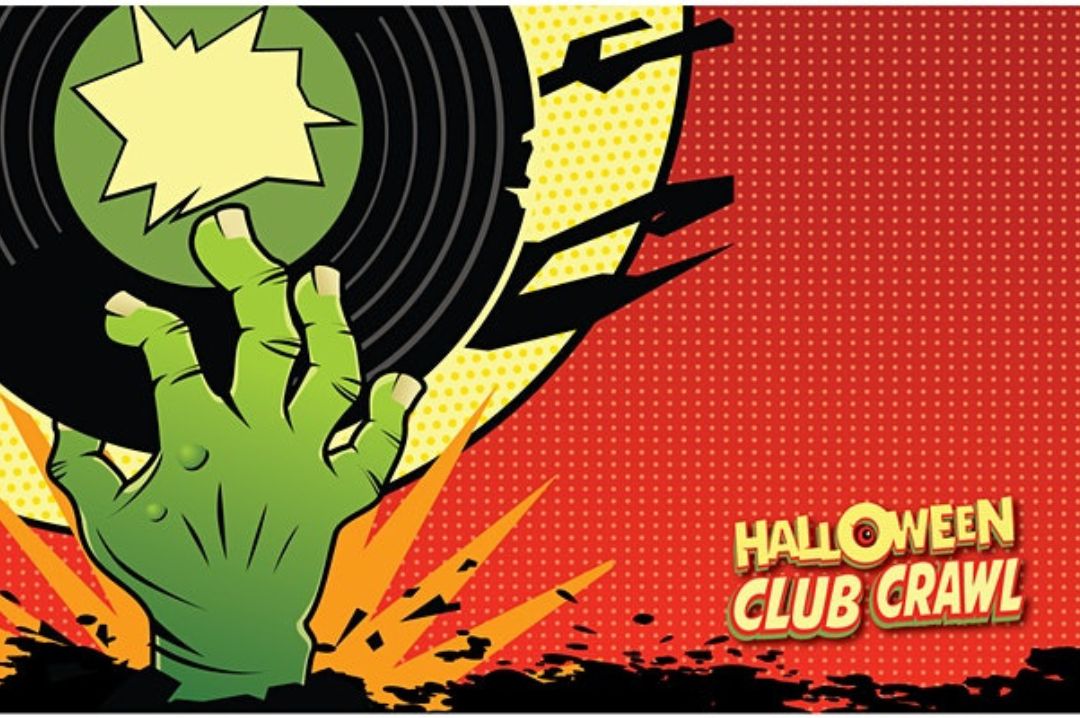 Halloween Club Crawl 2021, source: website
You can spend all your night dancing and drinking at pubs and nightclubs. Join the Halloween Club Crawl with hundreds of costumed crawlers and enjoy the drinks specials, DJs, and many more at some great bars in the city. Start from Mayes Oyster House and receive your wristband and Pub Crawl Map, you can choose your own path. During the event times, all the bars will be serving specials at cheap prices. Head out with your group and go bar hopping and drinking all night.
Price - $5 - $35
Where - Mayes Oyster House, 1233 Polk Street, San Francisco, CA 94109
Hours - Fri - Sun (6 pm - 11 pm)
Halloween Cruise Party
(October 29th, 2021)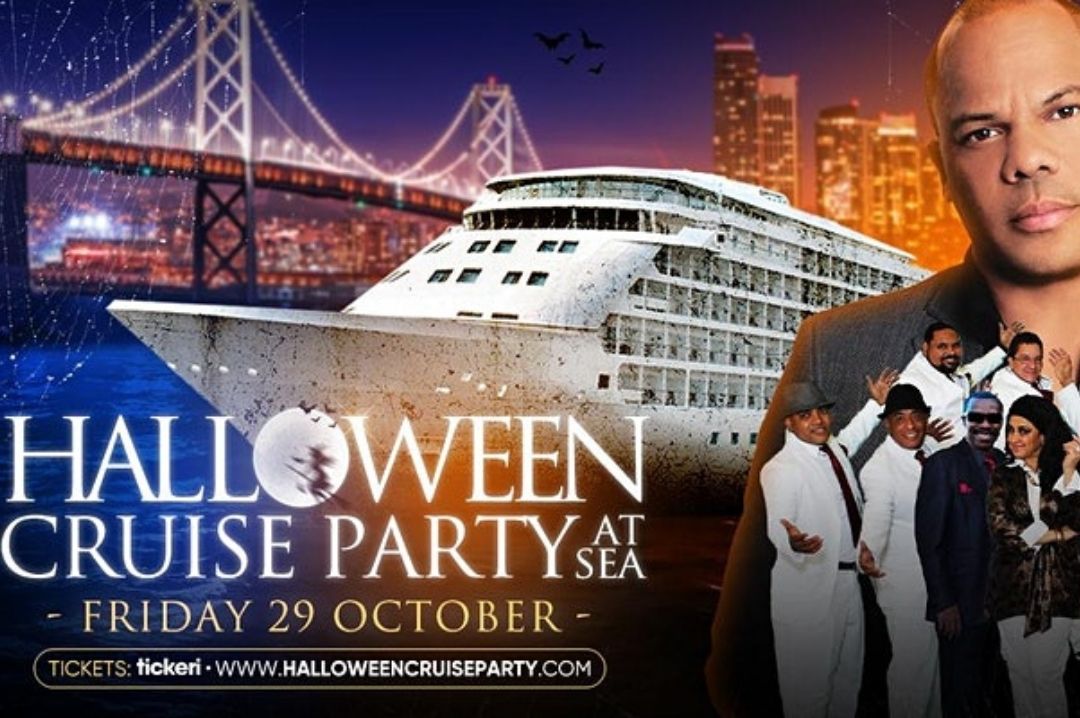 Halloween Cruise Party, source: website
Turn around your regular Halloween routine and join Hornblower Cruises for a Halloween cruise party. The perfect way to kickstart your spooks before Halloween. Aboard the cruise and dance with fellow werewolves and witches to top hits mixed by their live band and DJs. During the cruise, you will be able to sightsee spectacular views of the Golden Gate, Bay Bridge, Treasure Island, Alcatraz & more. Also, enjoy the refreshments and cocktails at their 7 full-running bars at 4 four different levels of the cruise. Music will be played differently on each level of the cruise:
First floor with La Sonora Dinamita.
Second floor with Oro Solido.
Third floor with Orquesta Saboricua.
Fourth floor with top 40/ 70'/ 80's/ 90's.
Don't forget to pull out your freakiest costume for the ultimate cruise costume contest.
Price - $60 - $140
Where - Hornblower Cruises & Events, Pier 3 Hornblower Landing, San Francisco, CA 94111
Hours - Friday (8 pm - 1 am)
San Francisco Ghost Hunt
(October 19 - 31, 2021)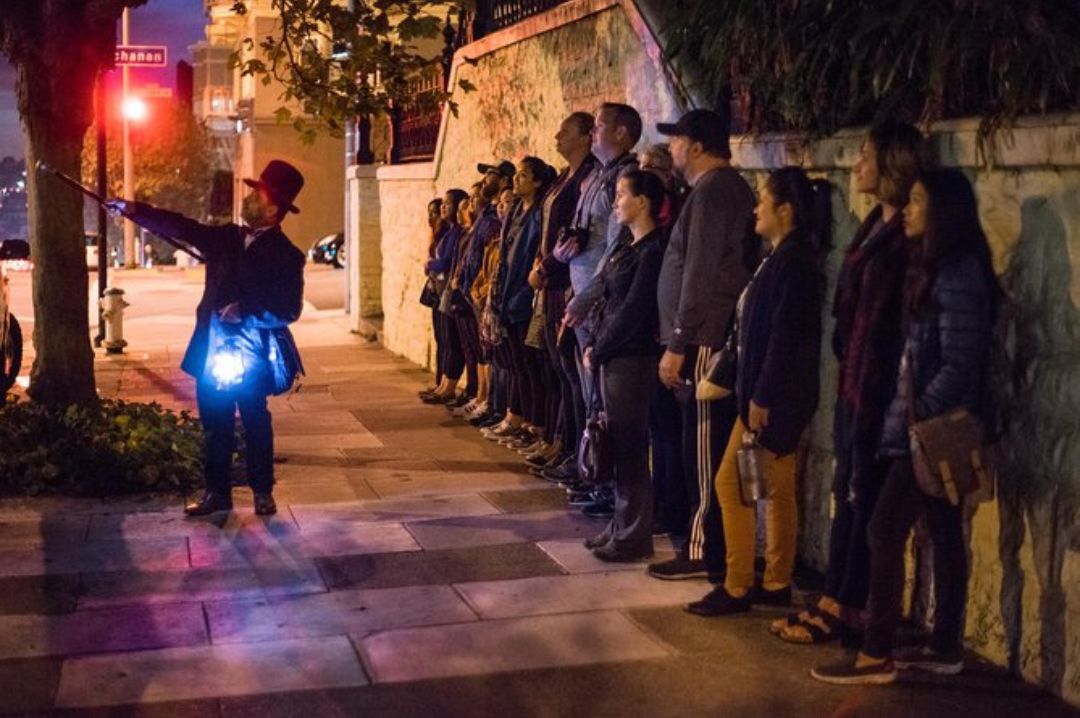 Ghost hunt walking tour, source: website
When you take this ghost tour in the Pacific Heights district, you'll learn about spooky stories from San Francisco's history and pass-by spots that are supposed to be haunted. Walk one mile at a reasonable pace with your guide, who will tell you about spirits, unsolved crimes, and hauntings that remain in Pacific Heights' ghostly world. You'll go down scenic streets dotted with Victorian buildings, taking in the scenery and taking in the vistas. The tour will completely cover the history of supernatural San Francisco.
Price - $30
Where - 1801 Bush St, San Francisco, CA 94109
Hours - 7 pm onwards
Halloween Costume Extravaganza
(October 23, 2021)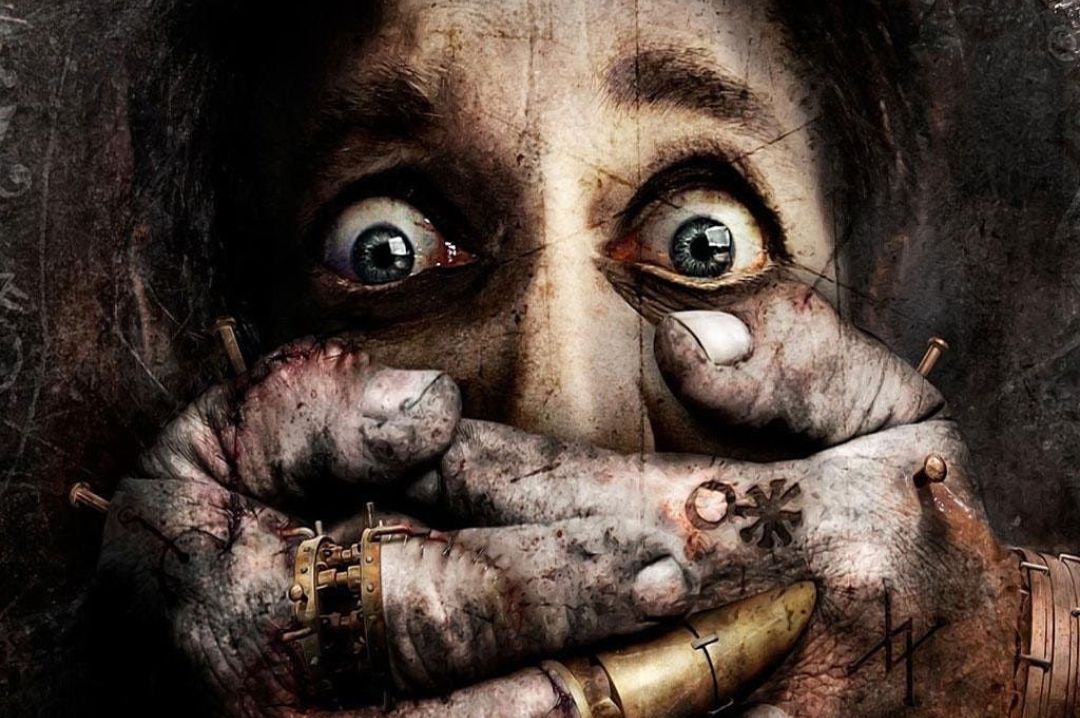 Halloween Extravaganza Party, source: website
Urban Butterfly ENT invites you to the Halloween extravaganza and costume contest. The event is going to be a paid Halloween costume contest and a launch party. During the event, there will be two live performances. Turn up with your friends and be a part of the contest.
Price - $30
Where - Bayview Hunters Point, 5 Leland Ave, San Francisco
Hours - 6:30 pm - 9:30 pm
W San Francisco Halloween Masquerade Party
(October 30, 2021)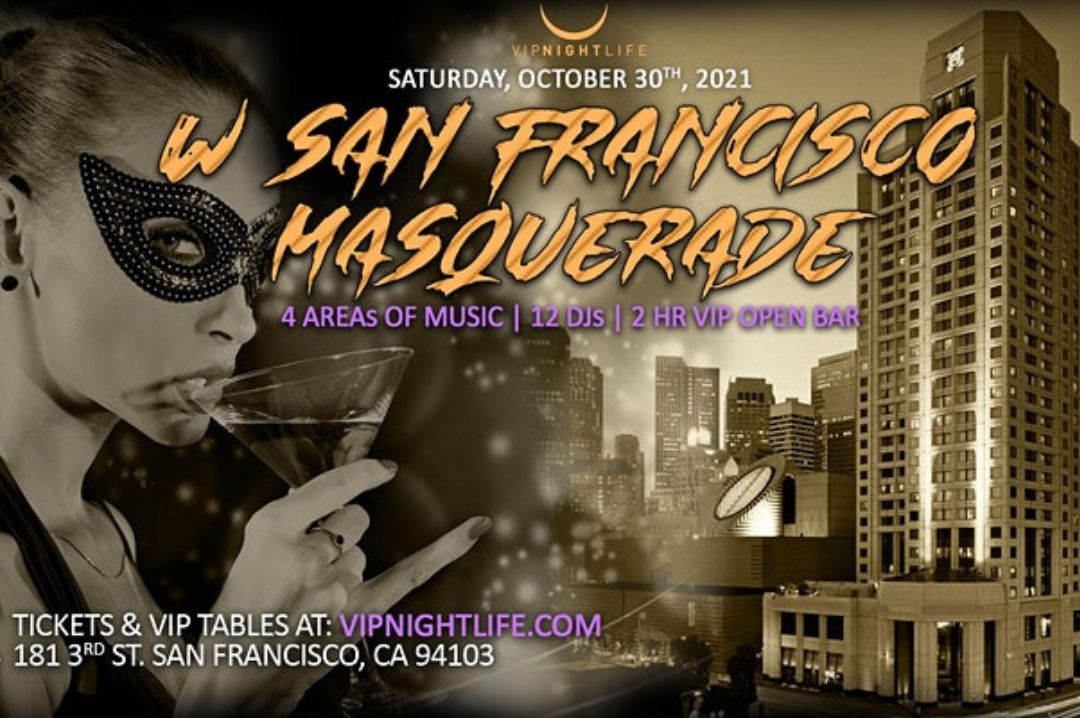 San Francisco Masquerade Party, source: website
Don your favorite trendy, scary, silly, or seductive costume and travel to W San Francisco's "sinister chic" Halloween Happening. The highlights of the event will be:
4 rooms of music.
12 world & locally renowned DJs; featuring DJ Felli Fel.
4 separate areas to find your perfect party atmosphere.
Open format music for everyone: EDM, house, top 40, hip-hop, reggaeton.
Inviting and chic table service lounge.
Bottle service packages.
Dynamic group rates.
With 1500 anticipated guests, tickets are selling out fast so book them fast.
Price - $49 – $2,195
Where - W San Francisco, 181 3rd St, San Francisco, CA 94103
Hours - Saturday (9 pm - 2 am)
Freak Fest
(October 30, 2021)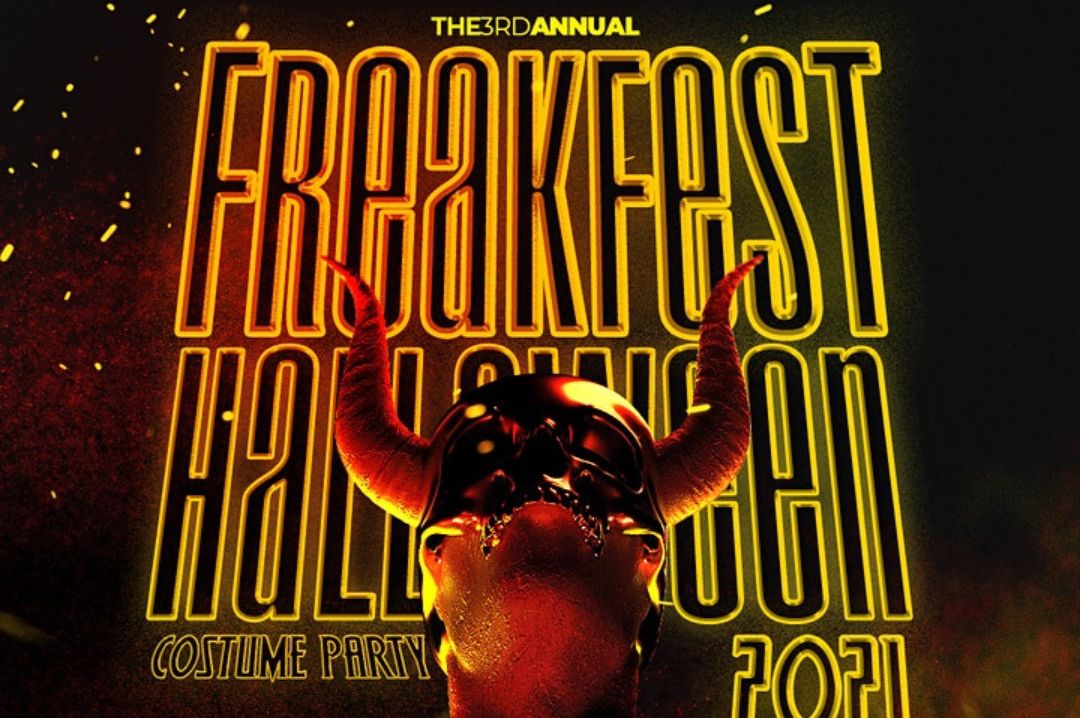 Freak Fest, source: website
This spooky season, join Morevibes for an ultimate costume party at Zanzi Lounge. The event is hosted by Cashrules21 and Kamal. There will be two floors dedicated to epic vibes provided by Daghe X Red Corvette & friends. You can shake your leg on hip-hop, R&B, reggae, and afrobeats. Get your costumes ready as they will charge an additional fee to attendees who will come without costumes.
Price - $20 – $35
Where - Zanzi Oakland, 19 Grand Avenue, Oakland, CA 94612
Hours - Saturday (10 pm - 2 am)
Beats, Boos, & Brews: Halloween Day Party
(October 31, 2021)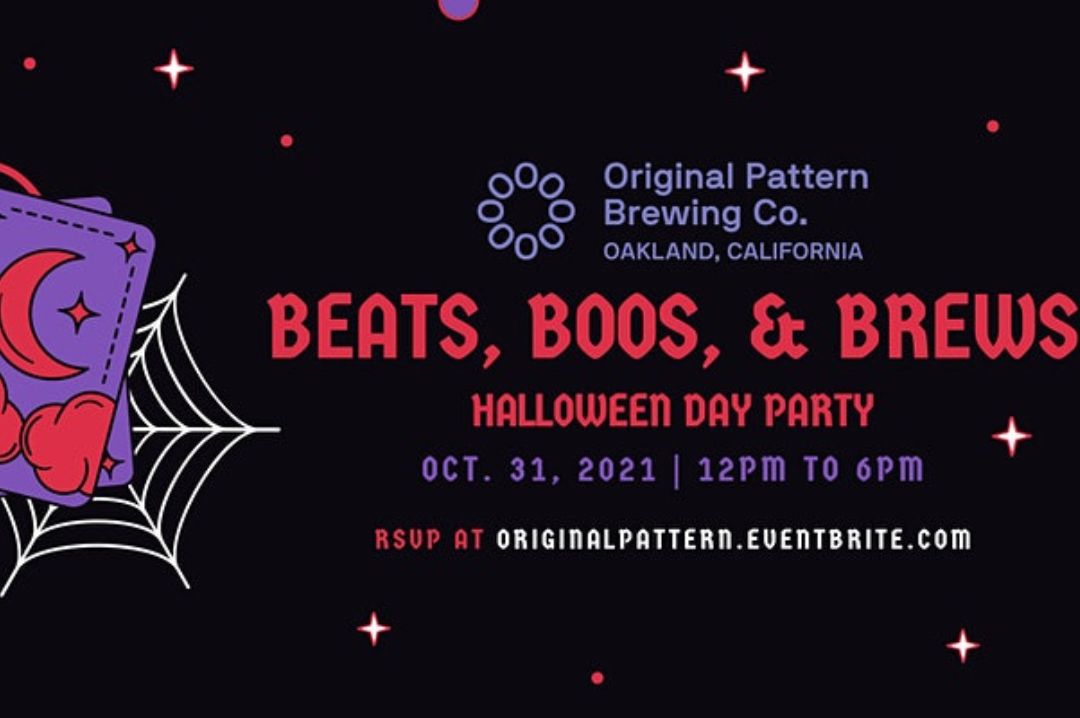 Halloween Party, source: website
Original Pattern Brewing Co. welcomes you to the Halloween Day Party organized at their brewery itself. At the event, they will be tuning groovy house music throughout the afternoon and the music will be played by some of the local DJs. You can enjoy special beer releases, prize giveaways, and their first-ever canine costume competition. During the event, Good to Eat Dumplings will be serving delicious bites to all the attendees. Show up at the brewery with your creative costumes and win prizes.
Price - Free
Where - Original Pattern Brewing, 292 4th St, Oakland, CA 94607
Hours - Sunday (12 pm - 6 pm)