What to do in San Francisco on New Year's eve
Celebrate New Year's Eve in San Francisco for a night full of glitz, glamor, and surprises.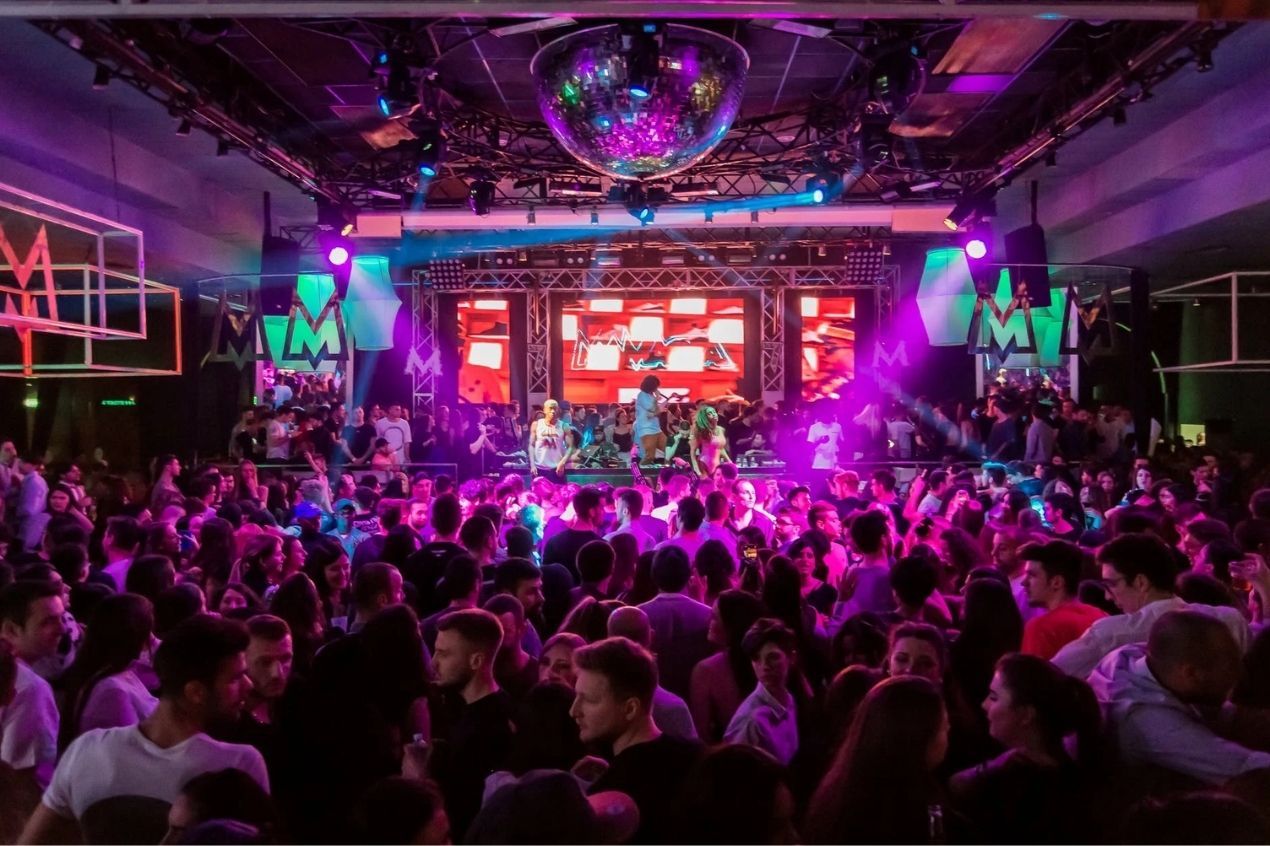 Haven't figured your New Year plans? Don't worry we've got you covered. From sitting by the water and admiring the fireworks to sipping Champagne on a cruise, here are SF's most happening NYE parties.
[[relatedPurchasesItems-28]]
NYE at Waterbar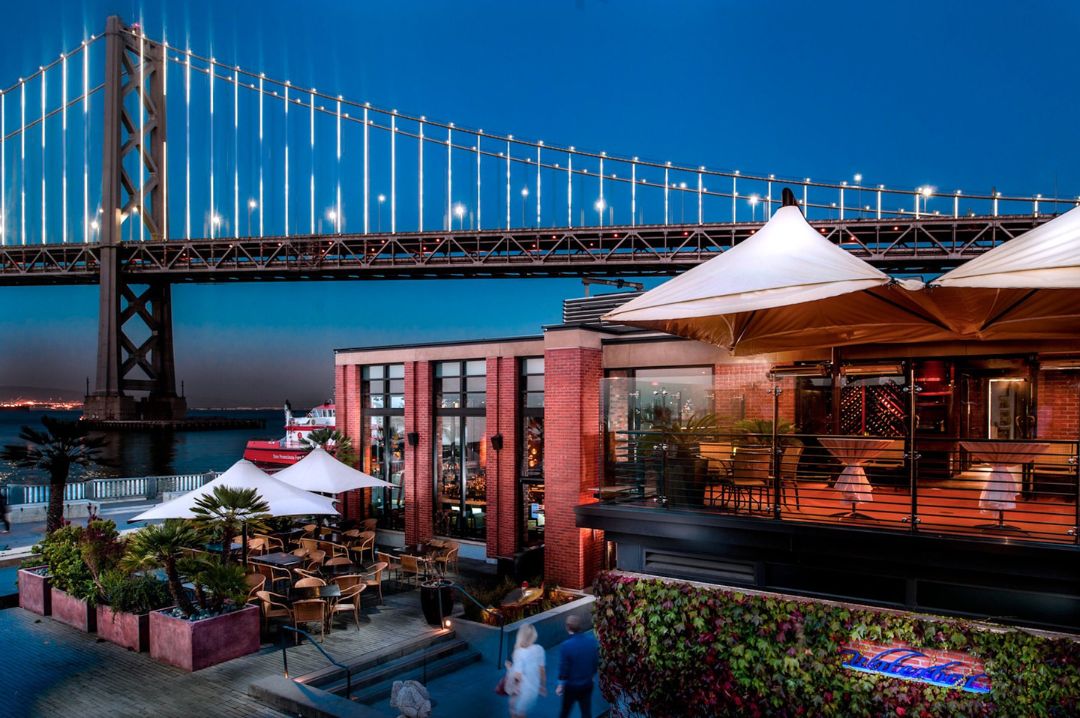 Waterbar, source: Facebook
Ring in 2022 by the water at the Waterbar. This impeccable seafood spot gives stunning panoramic views of the SF skyline, along with a menu of some of the best seafood out there. Party with your friends or family in their restaurant featuring floor-to-ceiling circular aquariums packed with an eye-catching collection of fish and marine life from the Pacific Ocean, a casual ambiance, and a waterfront patio for outdoor dining.
At the New Year's Eve event, you will be offered an extensive list of wines made using organic and biodynamic practices. In addition, they also serve cocktails, dessert wines, beers, ciders, and spirits. Try the Sirena cocktail made with Gray Whale Gin, Den Sake, Shiso, and lime. Don't miss the opportunity and just reserve the seats on their waterfront patio, as the bay lights, party favors & hats, a midnight champagne toast and fireworks will be an addition on New Year's eve.
Price - $135 onwards
Where - 399 The Embarcadero, San Francisco, CA 94105
Hours - 6 pm - 1 am
MOANY New Year's Eve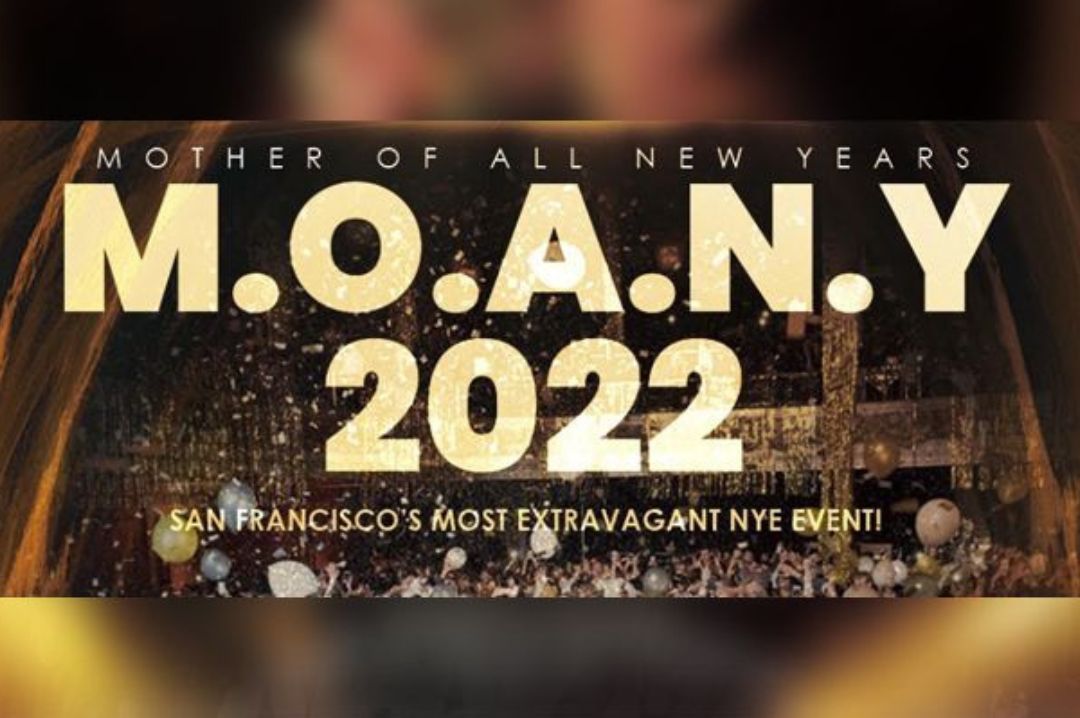 Event poster, source: Website
New Year's Eve deserves some glitz, so celebrate with the Mother Of All New Years (M.O.A.N.Y.) team. Take advantage of the glitz and glam of this unique evening. The trademarks of an outstanding experience that only MOANY San Francisco New Year's Eve countdown can deliver are over-the-top production, a lively party environment, and an element of surprise. The venue is close to several hotels, so gather your friends or that special someone and make a night of it as you bid farewell to 2021. The party features:
Grand Ballroom - Nano The DJ, DJ Papi Chulo, and Nosa.
Social Hall - DJ Suave, DJ Gio, and Ed Blzveer.
Parlor Room - Ronny Romero and DJ 3nzo.
8 Master Class DJs.
Silent Disco inside VIP Annex.
Premium Bar featuring Tito's vodka, mezcals, domestic beers, wines, and more.
Countdown experience with massive confetti and ball drop.
Price - $50 - $165
Where - The Regency Center, 1300 Van Ness Avenue, San Francisco, CA 94109
Hours - 9 pm - 2 am
New Year's Eve Fireworks Dinner Cruise on San Francisco Bay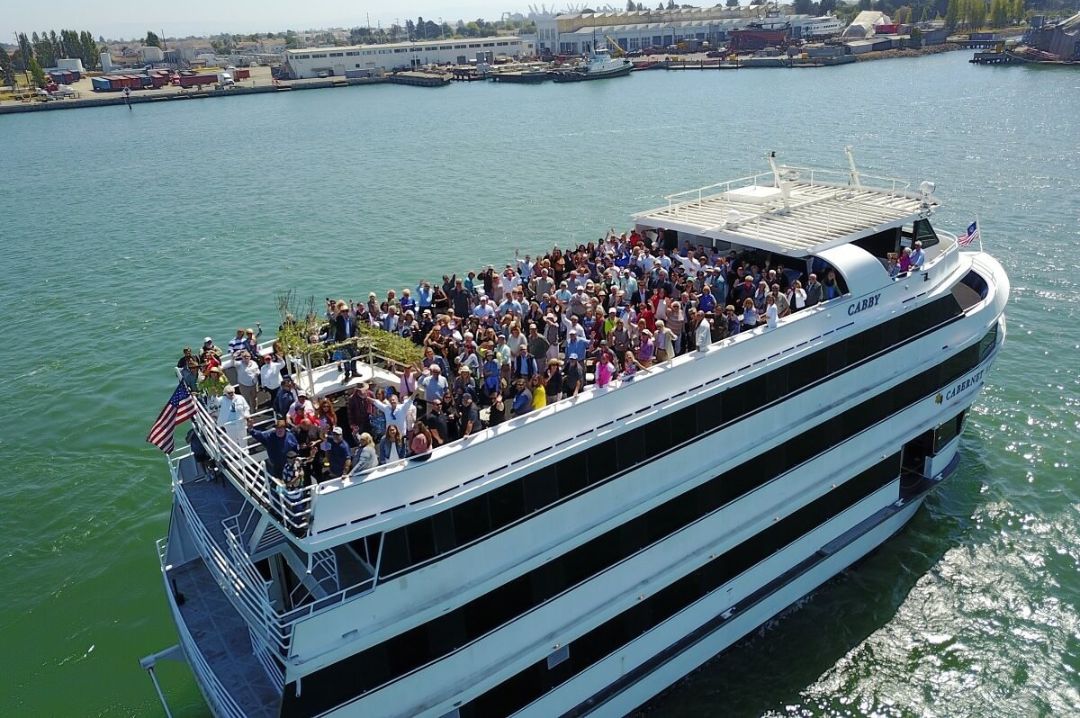 Cabernet Sauvignon Yacht, source: Website
Celebrate New Year's Eve with Luxe Cruises and Events on a multi-leveled Luxury, the Cabernet Sauvignon Yacht, and bid farewell to 2021 in style. Cruise San Francisco Bay while enjoying a delicious dinner buffet, hosted standard bar, and a midnight display of fireworks along the San Francisco City Front. The cruise will offer cocktails, beers, wines, champagne, sodas, and juice, along with a dinner buffet.
Take in views of the Golden Gate Bridge, Bay Bridge, Alcatraz, and Treasure Island. Snap pictures with your family and friends as you sail then get ready to take over the dance floor! Onboard, you will enjoy a live DJ spinning nothing but the best tracks all night long!
Price - $279 onwards
Where - LUXE Cruises | Cabernet Sauvignon Yacht, 2394 Mariner Square Drive, Alameda, CA 94501
Hours - 8:30 pm - 1:15 am
Sens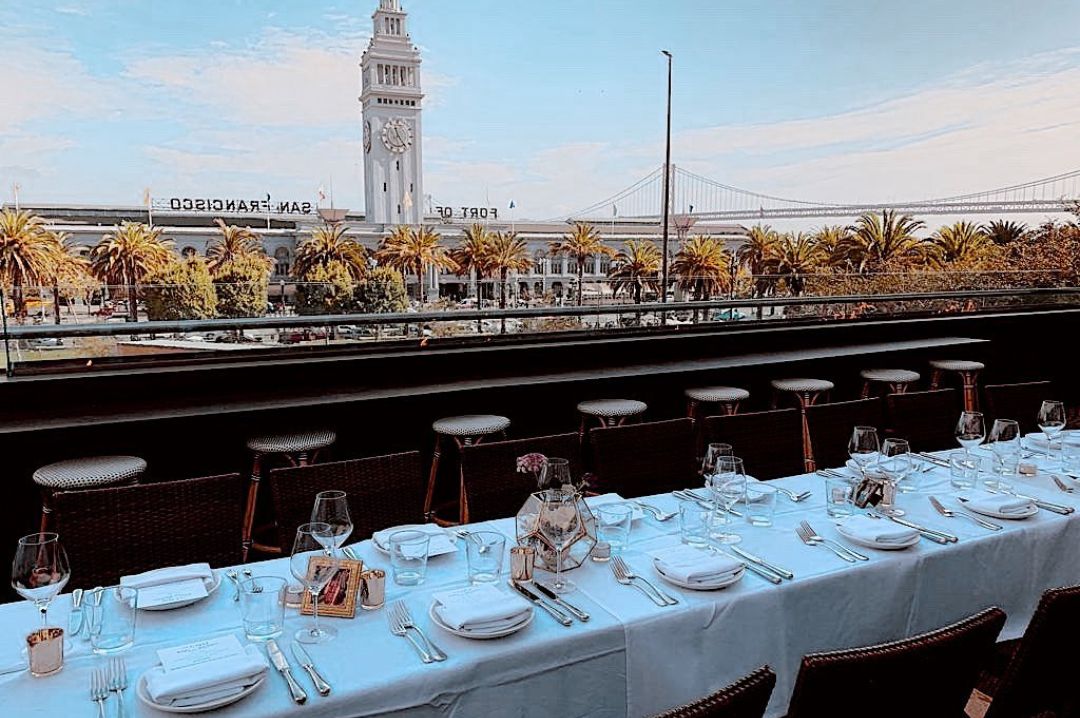 View from Sens Restaurant, source: Facebook
Located on the 2nd floor of Embarcadero Center, Sens is a bistro that offers Mediterranean dining & dramatic views of the Ferry Building & the bay. Prep yourself for one of the best New Year Eves parties with the Premium open bar at Sens. The party will offer:
Front row view to San Francisco's spectacular fireworks shows on the Embarcadero.
Overlooking the Bay Bridge and the Ferry Building.
Private VIP tables with bottle service.
2 different dance floors of music & entertainment.
P.s - The event is strictly 21+
Price - $94 onwards
Where - 4 Embarcadero Ctr, San Francisco, CA 94111
Hours - Mon-Fri (3:30 pm - 8 pm)
New Year party hours - 9 pm - 2 am
New Year's Eve Yacht Party - Alameda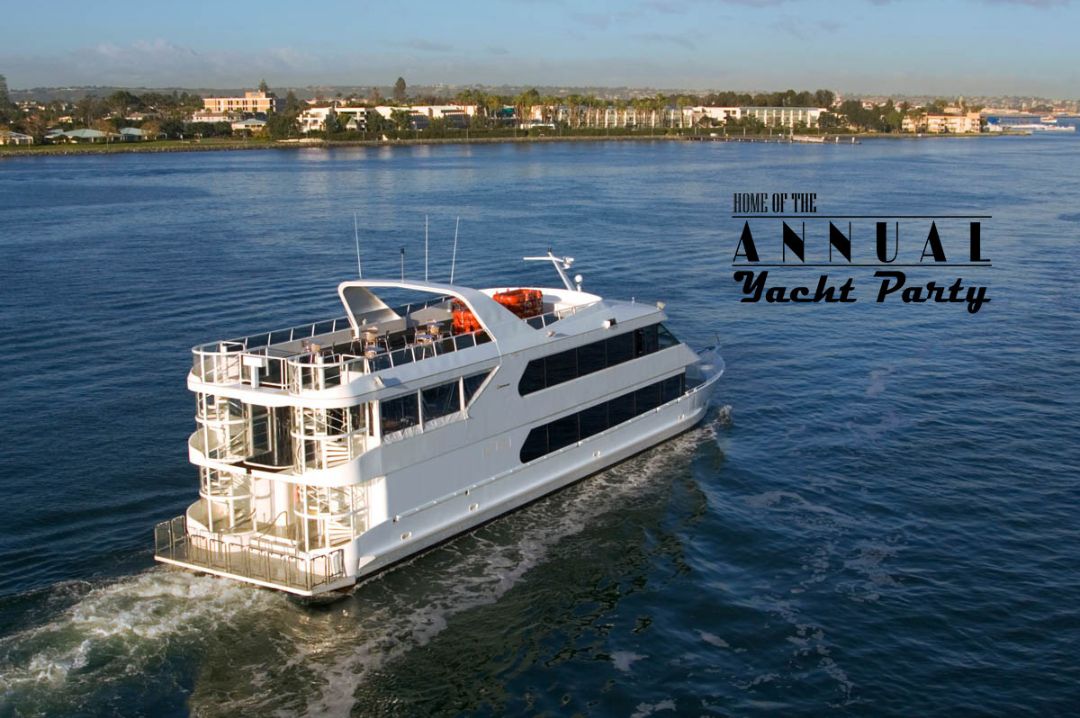 Cruise for New Year's yacht party, source: Facebook
Join one of San Francisco's most elegant oversized luxury yachts to celebrate this New Year's Eve. Head over to the Pinot Noir Yacht for this extravaganza midnight cruise party and you will be offered the following things:
Level 1: bar & lounge with a scenic outdoor deck.
Level 2: main room, bar, dance floor, and DJ spinning Hip Hop, 80's, dance, and top 40.
Champagne Greeting.
Taco Bar Dinner.
New Year's Eve Party Favors.
NYE Countdown.
Firework Show.
Note - Boat begins boarding at approximately 8:30 pm, returns at approximately 1:00 am.
Price - $229 onwards
Where - Pinot Noir Yacht, 2394 Mariner Square Drive, Alameda, CA
Hours - 9 pm - 1 am
NYE 2022 Masquerade Ball at Origin Nightclub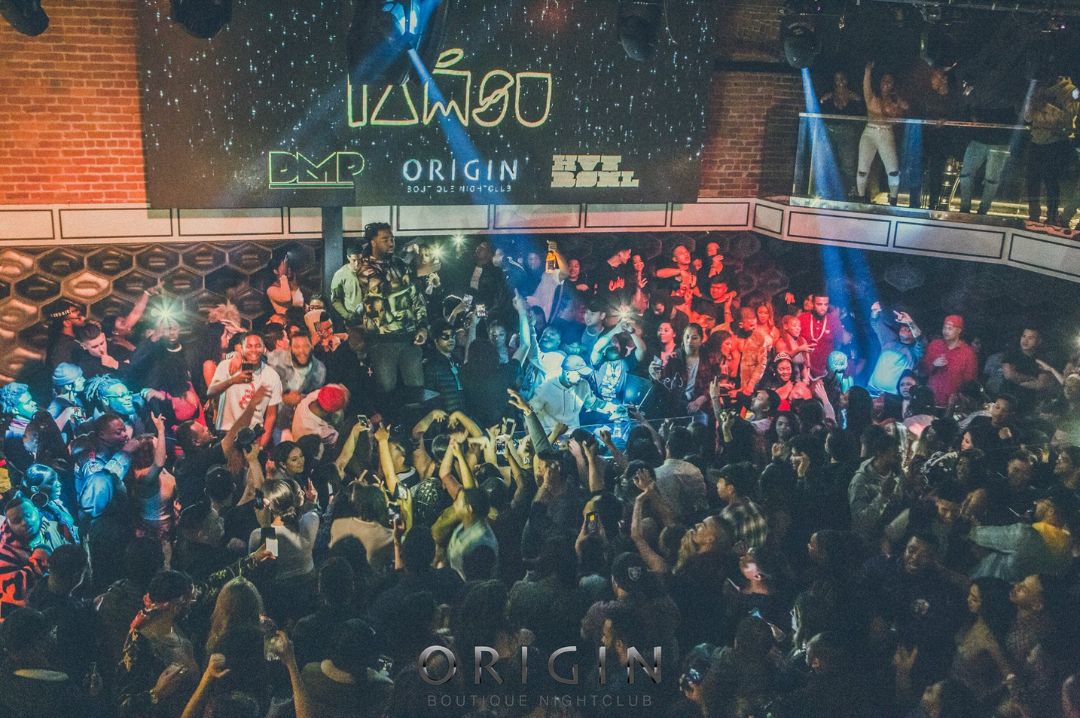 Party at Origin Nightclub, source: Facebook
Welcome the New Year at Origin Nightclub's NYE 2022 Masquerade Ball. In their 8,000 square feet of timeless elegance, enjoy the high-energy nightlife experience as they countdown to 2022. The party will be all about glitz and glam, so you need to dress to impress.
They will be getting the festivities started by hitting the dancefloor starting at 9:30 pm with sounds by the best Persian and International DJs from around the world. At the event, you can enjoy complimentary party favors and cocktail specials all night/ Wait for the celebratory ball drop and champagne toast. Artists performing this year will include:
Moeen (Los Angeles).
Deejay PS (Toronto, Canada).
Kia (San Diego).
Mian.
Deep Pedi.
Note - The event is strictly 21+
Price - $50 onwards
Where - 1538 Fillmore St, San Francisco, CA 94115
Hours - 9:30 pm - 2 am
San Francisco New Years Eve Pub Crawl Party 2022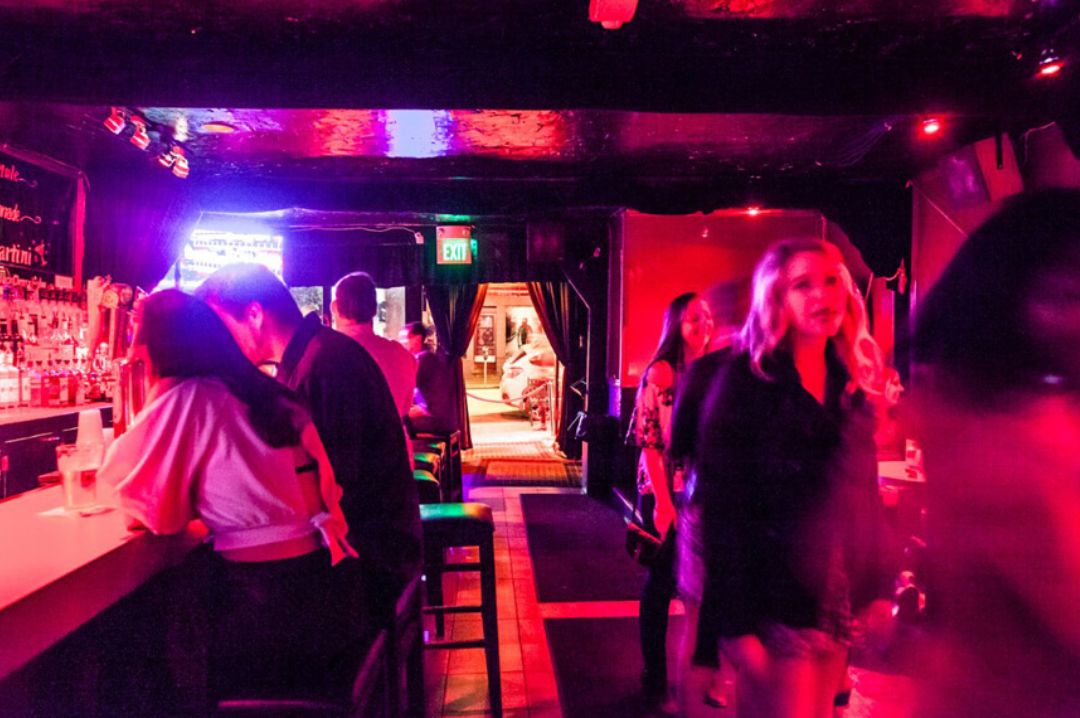 Comet Club, source; Website
Sticking to a particular bar for New Year's Eve will be boring, instead go pub crawling and experience the late-night fun in San Francisco. If you're not sure where to start when it comes to the biggest night of the year, simply head out to the Comet Club in the Marina District and get yourself registered for the SF Pub Crawl Party. At the event you can experience the following things:
Bay Area's most famous bar hopping destinations.
VIP entry to fantastic venues.
Exclusive deals and drink specials as low as $4 Drafts + 2-for-1 premiums and champagne.
Experience the local nightlife with a professional party leader.
Enjoy exclusive drink deals throughout the night.
Note - You must be 21+ to attend this event and please bring a valid photo ID.
Price - $20 onwards
Where - 3111 Fillmore St, San Francisco, CA 94123
Hours - 6 pm - 2 am
Zeki's Bar NYE Bash 2022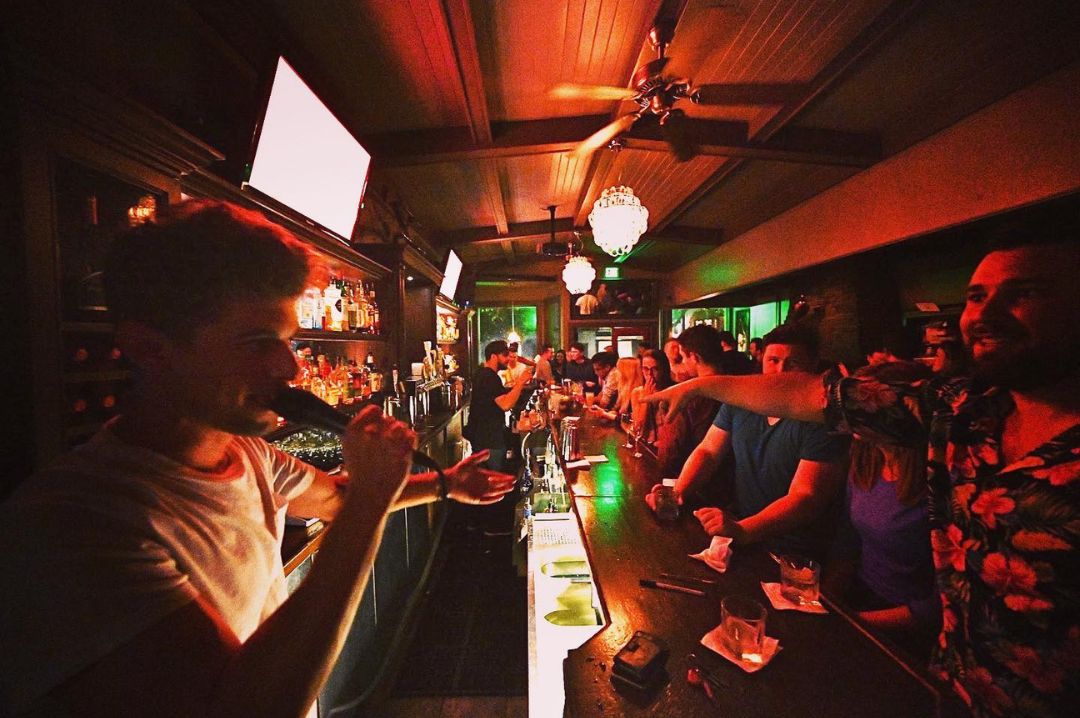 Zeki's Bar, source: Facebook
Zeki's Bar is back with its annual New Year's Eve Bash and is ready to welcome in 2022. Join them for their annual party and you get the ultimate premium open bar all night. At the event, you can hit the dance floor to show your moves, get photographed at their epic photo booth to save the memories of the night, and welcome 2022 by champagne at midnight. If you are planning to attend this event, please buy your tickets early, as they are limited.
Note - Attendee must be 21+ and has to bring a valid picture ID.
Price - $75 onwards
Where - 1319 California St, San Francisco, CA 94109
Hours - 8 pm onwards
Header image, source: Edoardo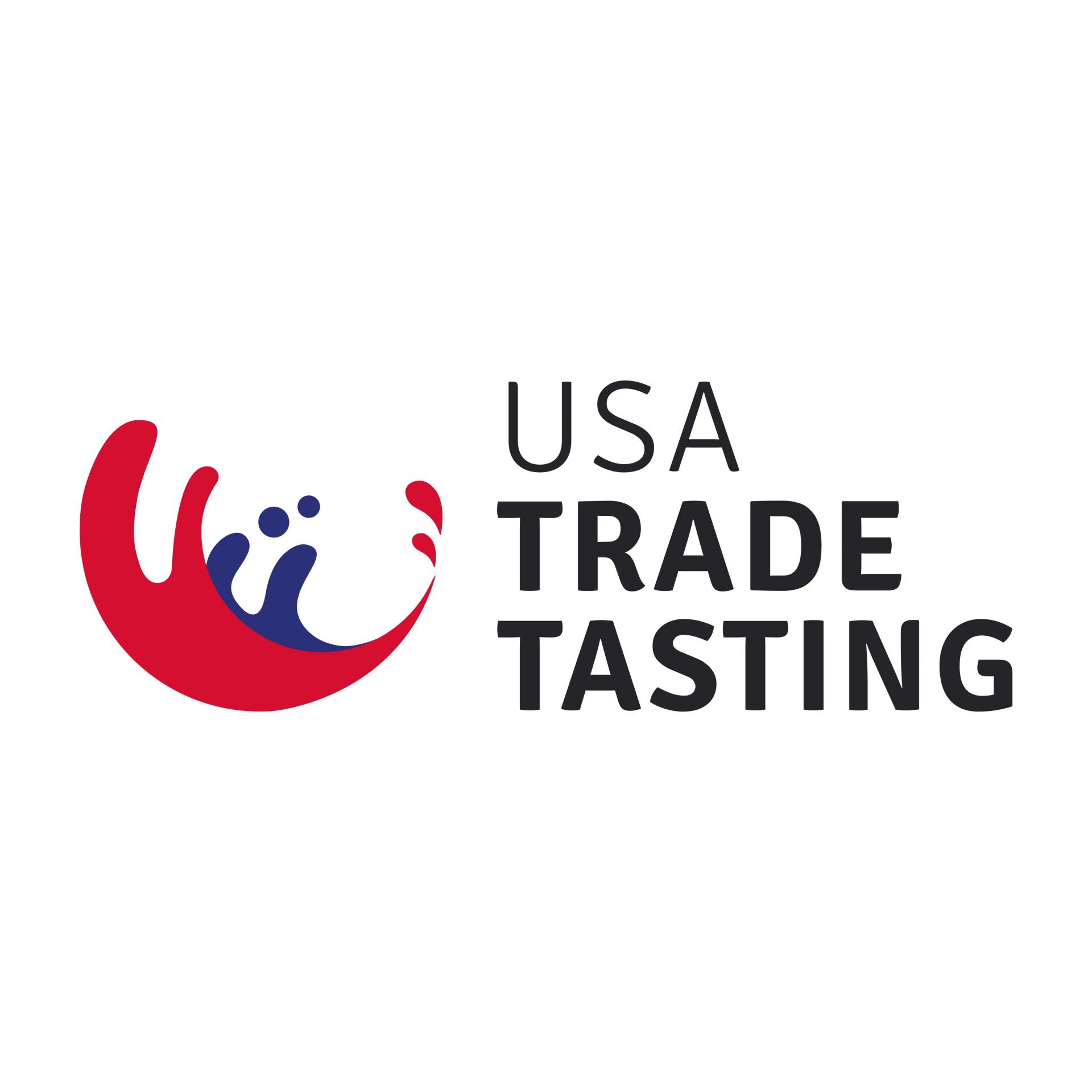 Morgan MFG, 401 N Morgan St Suite #204A, Chicago IL 60642
Register Now
South San Francisco Conference Center, 255 South Airport Boulevard, South San Francisco, CA 94080, United States.
Register Now
South San Francisco Conference Center, 255 South Airport Boulevard, South San Francisco, CA 94080, United States
Register Now