Grab a Drink at these Bars in Marina District
A go-to guide of best bars in Marina District, San Francisco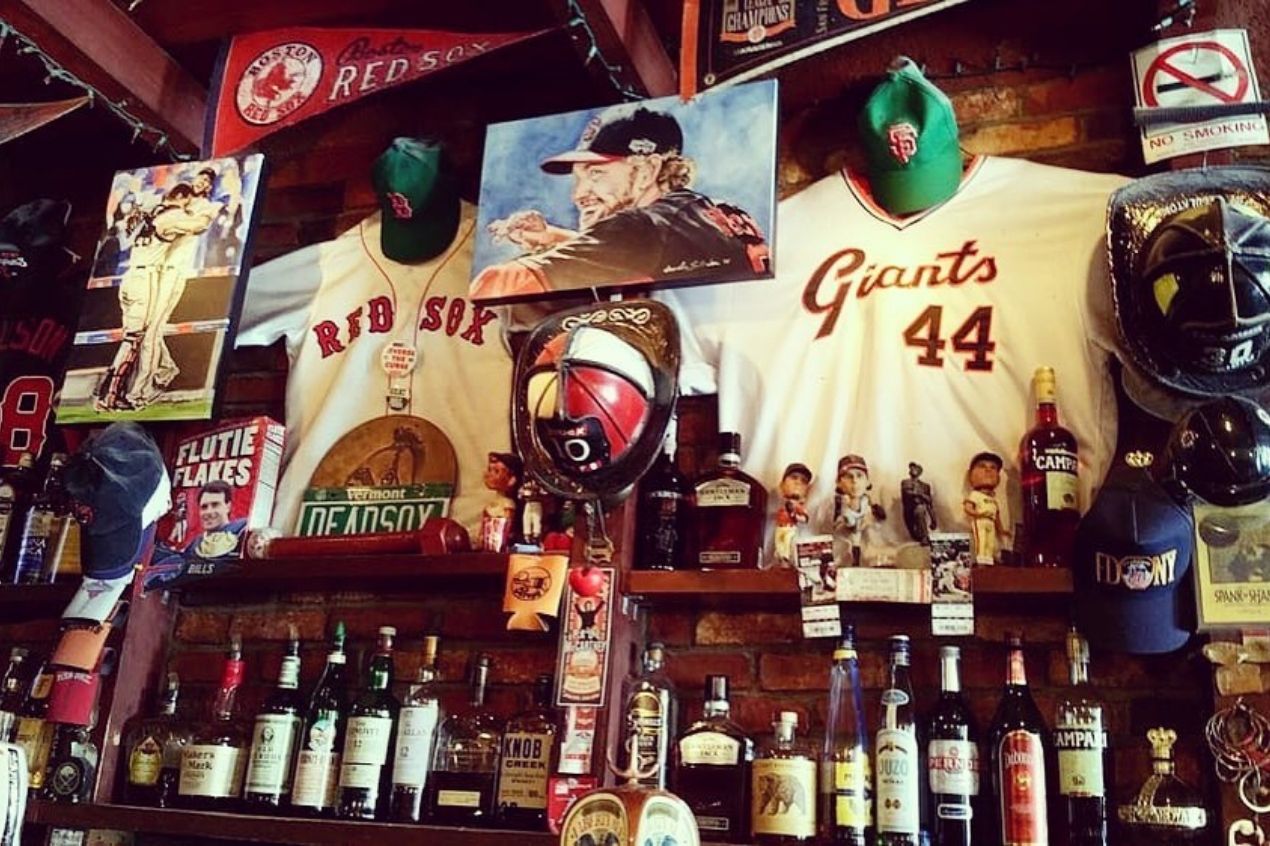 The San Francisco Marina District is a beautiful neighborhood along the bay. Here you will find popular attractions such as access to the Golden Gate Bridge, Crissy Field, Fort Mason, and the Palace of Fine Arts. It also offers some great shopping and a wide variety of upbeat bars and restaurants. Here are the best bars we found in the Marina district, Cheers!
Horseshoe Tavern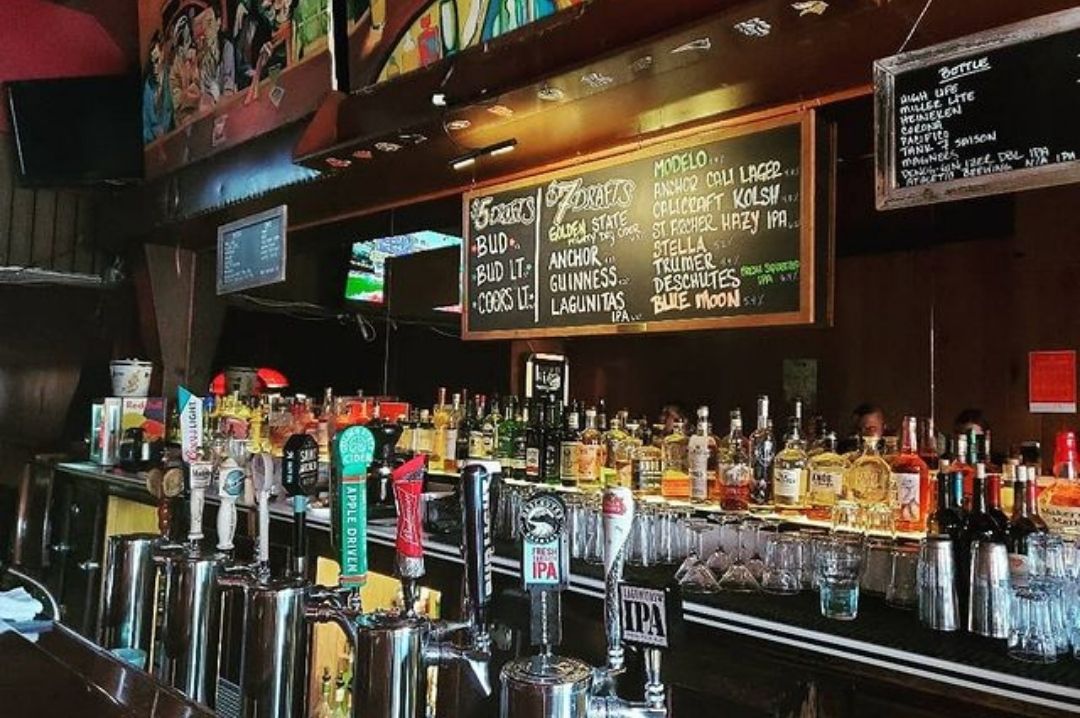 Bar Counter at Horseshoe Tavern, Source: Instagram
The Horseshoe Tavern was established in 1934 and recently was named a San Francisco historical building. The place seems to be dark from the outside but once you enter it's all flared up and the staff welcomes you with a drink. Horseshoe has 8 TVs and a big screen satellite TV for game nights. The tavern also offers two pool tables, a jukebox, 15 beers on tap, and a full-functioning bar. Visit with your group to hang out and watch a soccer game.
Where - 2024 Chestnut St, San Francisco, CA 94123
Hours - Mon-Wed (Noon- 2 am)
Thurs- Sun (7 am - 2 am)
The Tipsy Pig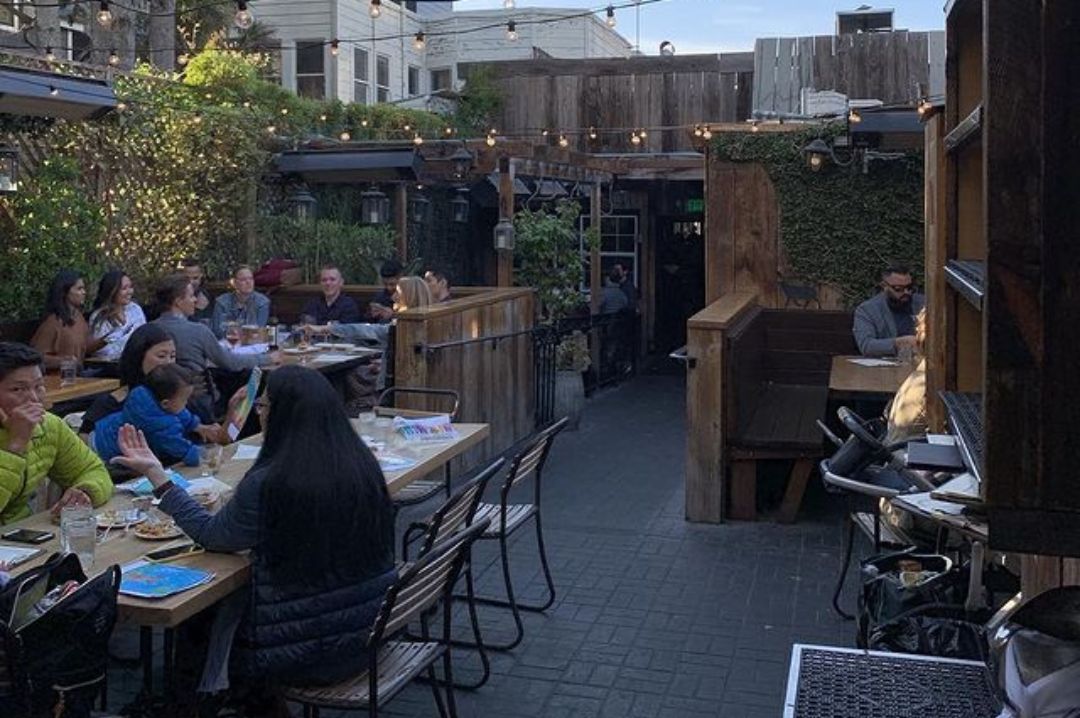 The back patio at Tipsy Pig, source: Instagram
The Tipsy Pig is a gastropub in San Francisco's Marina district, open since 2009. The watering hole features 50 draft beers like Hoegaarden, Weihenstephaner Hefeweizen, and cocktails like Moscow Mule (Vodka, ginger beer, and lime), Spring Fling (vodka, cucumber, basil, and lemon), and many more. Come out early on a Sunday morning, take your place at the back patio and enjoy the brunch. Tipsy pig also offers a dinner menu for those who are staying till late. The dinner menu features tacos, sandwiches, sliders, and a variety of wines like Duckhorn (Merlot) and Black Stallion (Chardonnay).
Where - 2231 Chestnut St, San Francisco, CA 94123
Hours - Wed and Thu (4:30 pm - 8:30 pm)
Friday (Noon - 8:30 pm)
Sat and Sun (11 am - 8:30 pm)
The Patio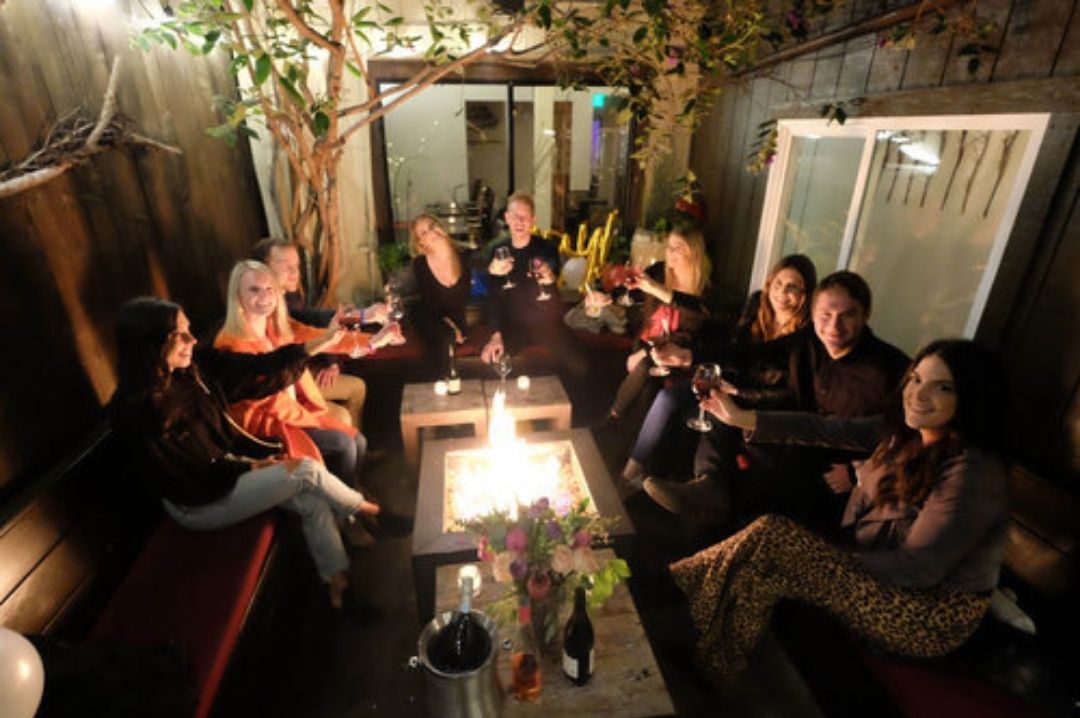 The popular back patio at The Patio, source: website
The Patio is a wine lounge and kitchen with ample options for beers and cocktails. The place is known for its back patio as people queue up for 1.5 hours just to grab a seat on the patio. They have a great happy hour deal where they offer patrons 30% off on selected wines and the brunch menu. The Patio also provides classic cocktails all at $15 and the Irish Coffee Martini (Jameson Irish whiskey, coffee, cream, dash vanilla) is a must-try.

Happy Hours - Mon - Thu (5 pm - 6:30 pm)
Friday (4 pm - 5:30 pm)
Where - 3232 Scott St, San Francisco, CA 94123
Hours - Mon-Thu (5 pm - 10 pm)
Friday (4 pm - 11 pm)
Sat-Sun (10 am - 4 pm)
Bus Stop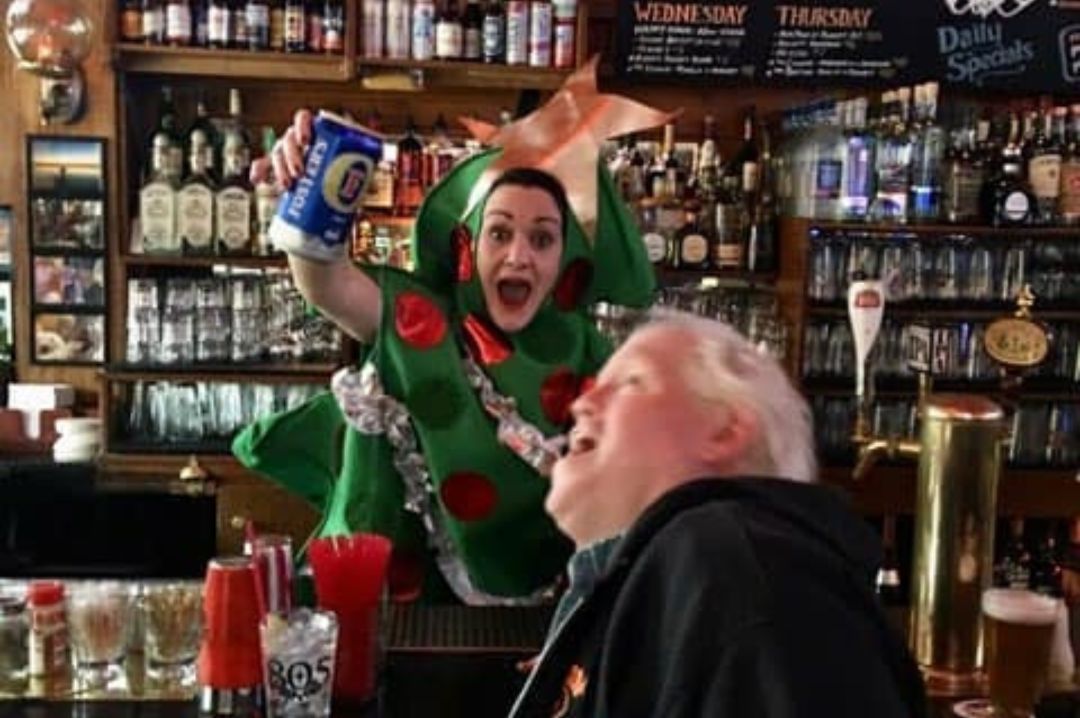 Bar counter at the Bus Stop, source: Facebook
The Bus Stop is one of the oldest sports bars in San Francisco. The venue has something for everyone like inexpensive drinks, a pool table, Big Buck Hunter, Ms. PacMan, and 17 Big Screen TVs so you can't miss a game. They have multiple options for beers on tap and the prices for drinks are reduced further during happy hours. Kick back and enjoy a bucket of beer bottles and some snacks.
Where - 1901 Union St, San Francisco, CA 94123
Hours - Mon-Fri (10 am - 2 am)
Sat-Sun (9 am - 2 am)
Campus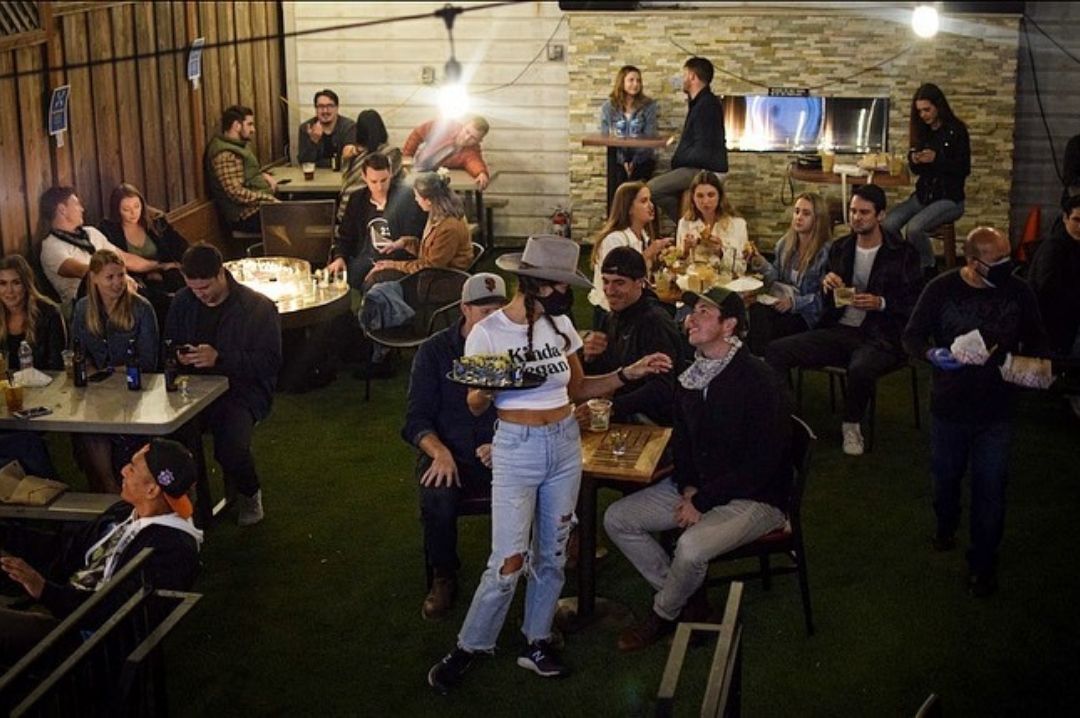 A busy night at the Campus, source: Facebook
The Campus, formerly known as Delaneys was re-born in September 2011, with the belief that this venue could return to its old glory. It is a great place for those who enjoy music, good vibes, and sports. The Campus has recently installed leather furniture with four 60" flat LCD screens, a new carpet, central heating and cooling, and of course Jameson and Fernet on tap. The happy hour deal includes $3 drafts and $4 wells. It is perfect for getting together with friends for a beer and a game.
Where - 2241 Chestnut St, San Francisco, CA 94123
Hours - Wed - Thu (5 pm - 1:30 am)
Friday (4 pm - 2 am)
Saturday (12:30 pm - 2 am)
Sunday (12:30 pm - 12 am)
Marina Lounge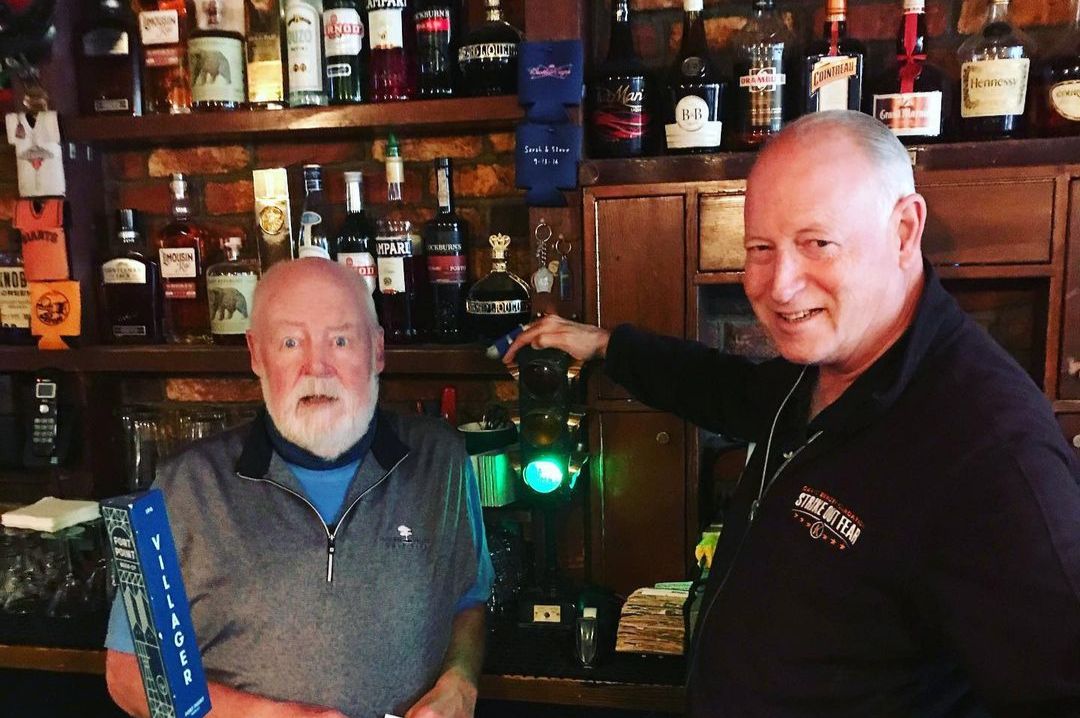 Dick and Tommy: the owners of Marina Lounge, source: Instagram
Marina Lounge is a local, neighborhood bar that has been serving the Marina since 1936. The bar has a wood-slatted ceiling and offers you cheap beers on tap, classic arcades like Ms Pacman or golden tree, and a jukebox. Come on by to enjoy a drink, play some pool or liar's dice and ask Jake to make you a special cocktail.
Where - 2138 Chestnut St, San Francisco, CA 94123
Hours - Mon-Sun (7:30 am - 2 am)
Westwood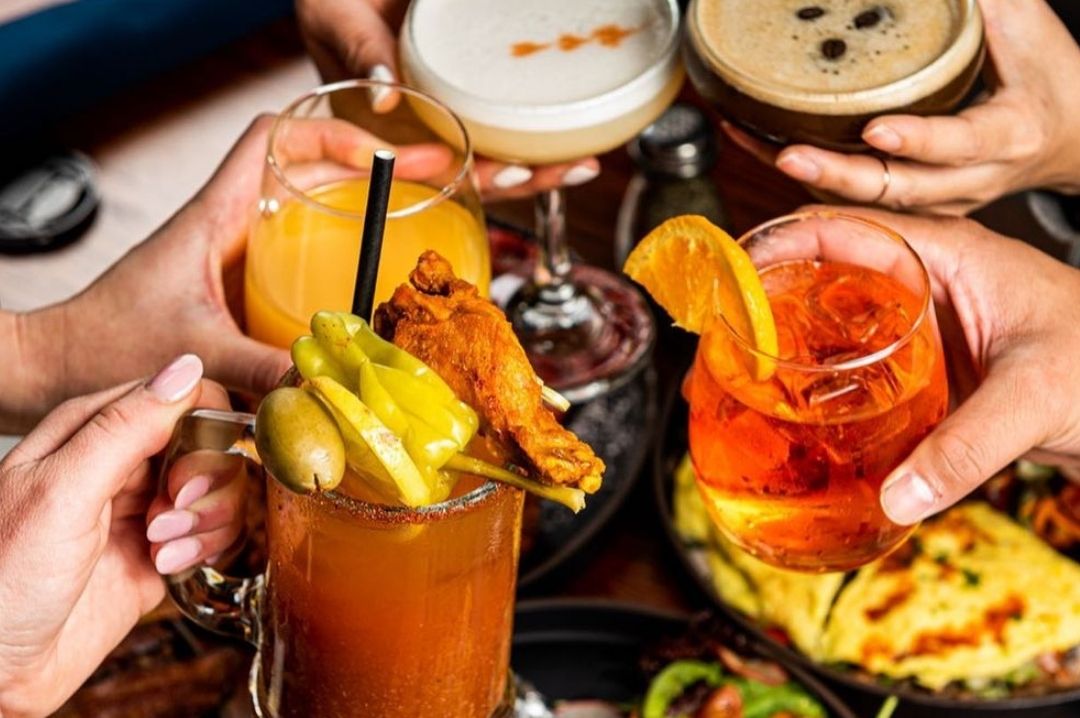 The popular Bloody Mar Mix and bottomless Mimosas, source: Instagram
Westwood is a country restaurant, bar, and entertainment venue. The Place serves the best BBQ in San Francisco and has 100 varieties of mostly American bourbons and whiskies on their back bar. The restaurant features all-you-can-eat wings for $16 on Wednesday. Thursdays you can enjoy free country live music hitting all speakers. Westwood also offers a $21 beer bucket on Friday from 5 pm to 7:30 pm. On Saturdays and Sundays, Westwood provides bottomless mimosas for $25. Hit this place any day except Mondays and Tuesdays and you won't regret coming here.
Where - 2036 Lombard St, San Francisco, CA 94123
Hours - Wednesday (5 pm - 10 pm)
Thursday (5 pm - 11 pm)
Friday (5 pm - 12 am)
Saturday (11 am - 12 am)
Sunday (11 am - 8 pm)
Butter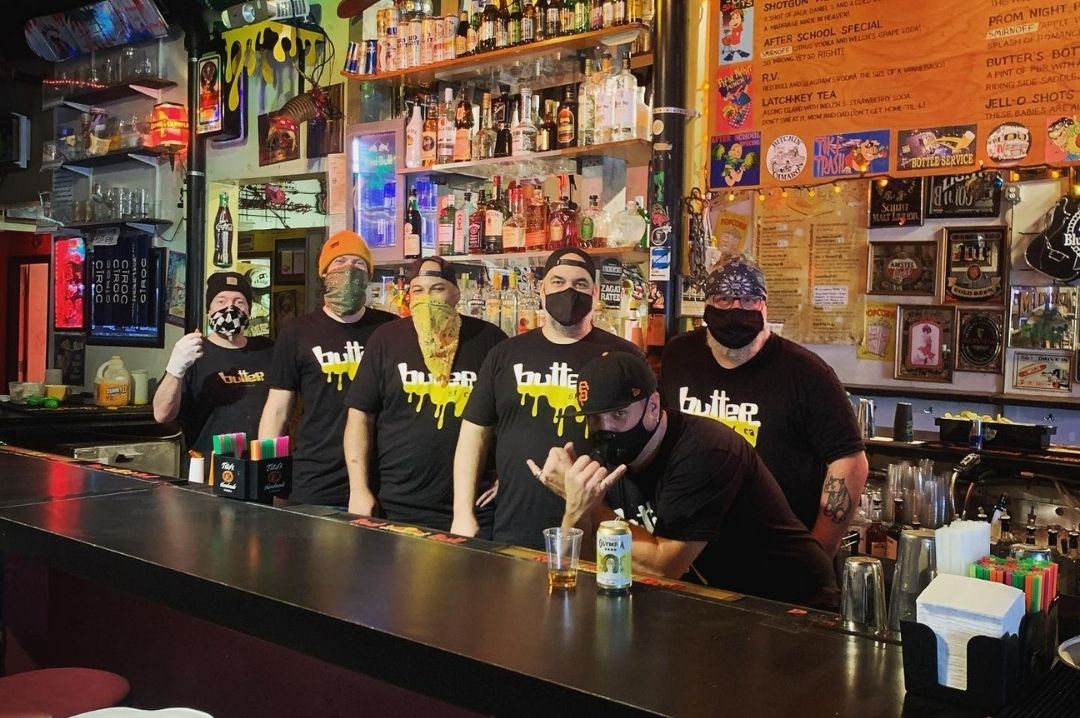 The staff of Butter Bar at the bar counter, source: Facebook
Established in 1999, Butter Bar was created from the ground up, with a constant eye on providing the perfect beverage pairings to their unique cuisine. They serve only the fresh PBR on tap and a wide selection of 16 oz. tallboy canned beers. Butter also features their infamous R.V. - quite possibly the most generous pour of Red Bull and Vodka in town. On Sundays, they organize a karaoke night, where you can dance, sing and enjoy yourself with your group.
Where - 354 11th St, San Francisco, CA 94103
Hours - Wed-Sun (6 pm - 2 am)
Del Mar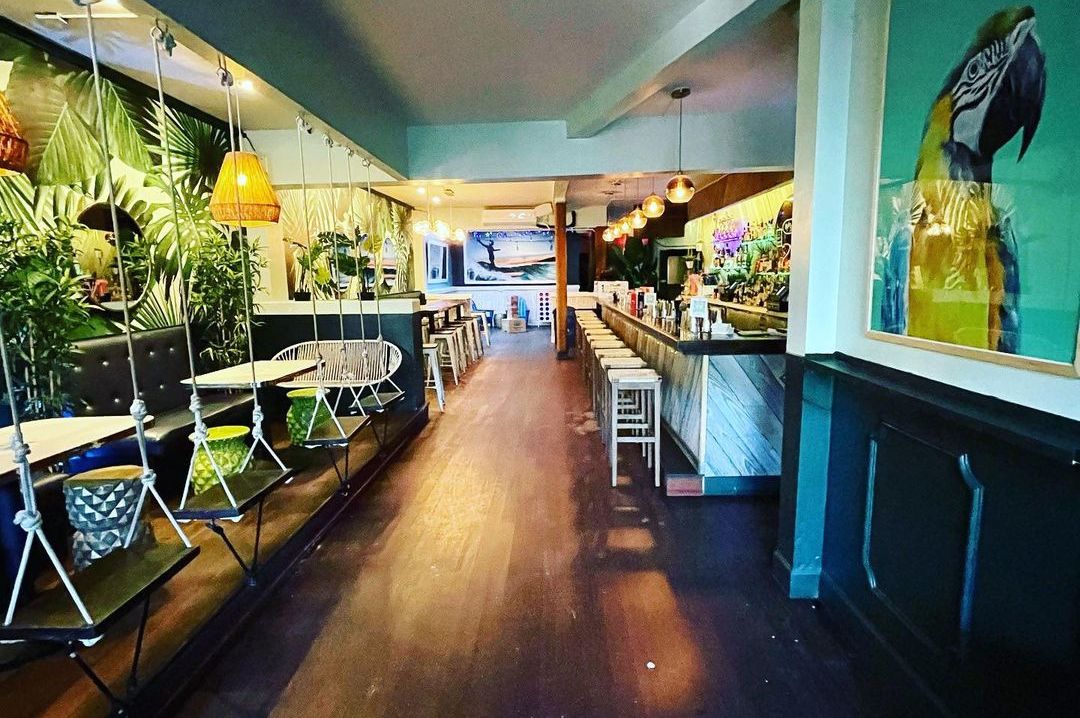 Del Mar inside sitting area, source: Instagram
In the heart of the Marina District lies the tropical restaurant and bar, Del Mar. The nightclub serves up some delicious tropical infusion cocktails, punch bowls, slushies, and more. During their happy hours, they serve $5 well drinks, wines, beers, and mystery shots. Every Thursday and Friday they have a DJ night, where some of the best DJs come and play their tracks. Relax on one of their hanging swings, make new friends on their big communal table, or bust a move on the dance floor.
Happy Hour - Thu - Fri (6 pm - 8 pm)
Where - 2125 Lombard St, San Francisco, CA 94123
Hours - Thu - Fri (6 pm - 2 am)
Saturday (2 pm - 2 am)
Sunday (2 pm - 8 pm)
Reed and Greenough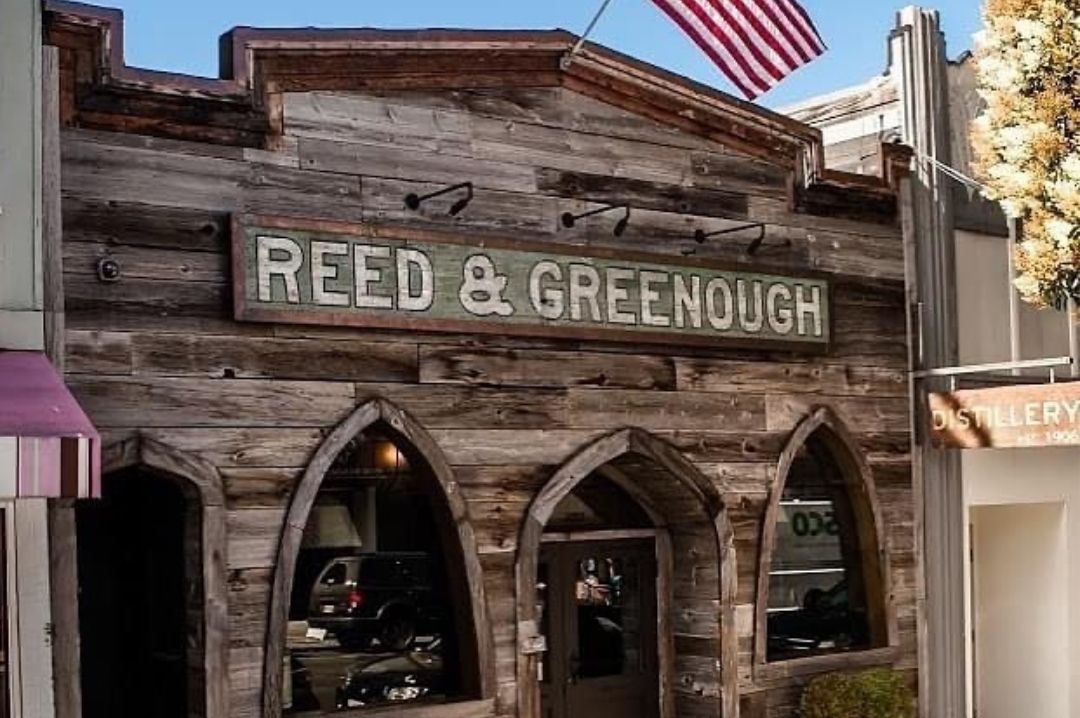 The front side of Reed and Greenough, source: Instagram
Housed in a stunning century-old building, Reed and Greenough was established in 2011. It got its name from a 150-year-old name board that was buried underneath the stucco façade. Try out some old classics like the Bee's Knees featuring New Amsterdam Gin, honey water, and lemon juice, and speed things back up to modern times with their blazing Pisco Brûlée. The place offers good food, music, strong drinks, and a boisterous crowd. There's a game room with shuffleboard and billiards in a unique, sophisticated setting. You can go with your own food and enjoy the blast.
Where - 3251 Scott St, San Francisco, CA 94123
Hours - Tue - Fri (5 pm - 2 am)
Sat-Sun (2 pm - 2 am)
Mamanoka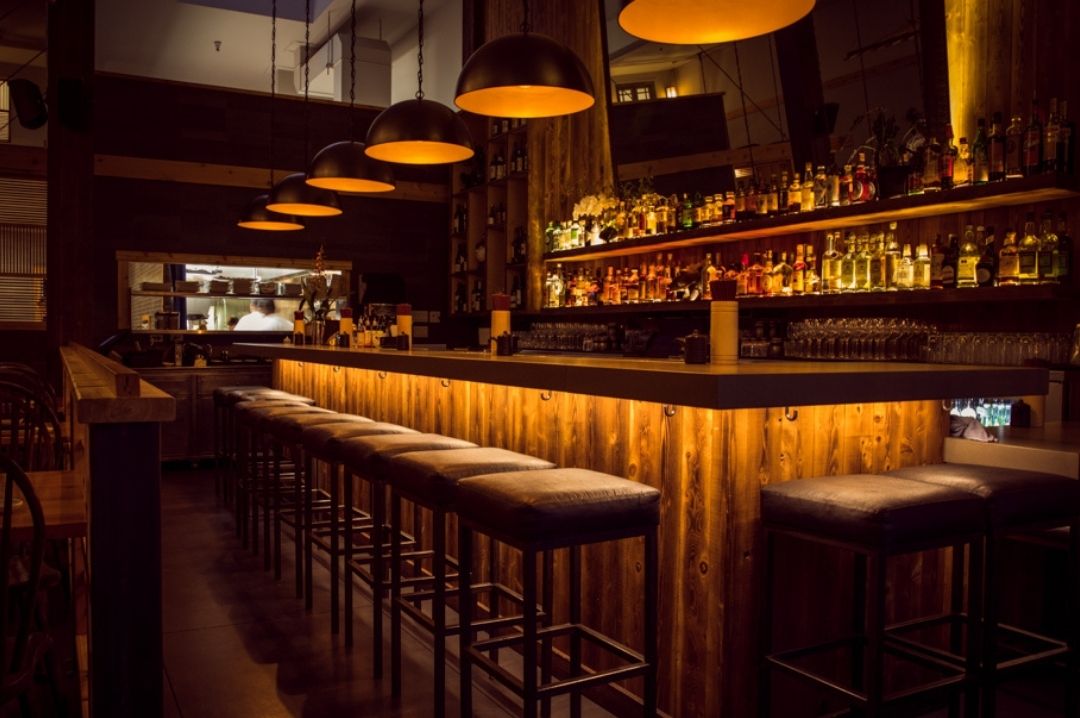 Sushi bar at Mamanoka, source: website
Mamanoka is a Japanese-style izakaya and sushi bar. With a lively ambiance, Mamanoka serves sake, spirits, sushi, and Japanese small plates. The place is decorated with traditional Japanese charred wood and Akari lanterns. Chef Taka Iwamoto prepares and serves traditional nigiri, sashimi, and sushi rolls. Try out their special Chicken Karaage (Japanese fried mary's chicken skewers) with the famous miso-sambal buffalo sauce. Pair this with Mamanoka's specialty sake, the Hakutsuru Awa Yuki, which, when translated, means 'Gentle Falling Snow'.
Where - 2317 Chestnut St, San Francisco, CA 94123
Hours - Tue-Thu (5 pm- 9 pm)
Fri-Sun (5 pm - 9:30 pm)
The Dorian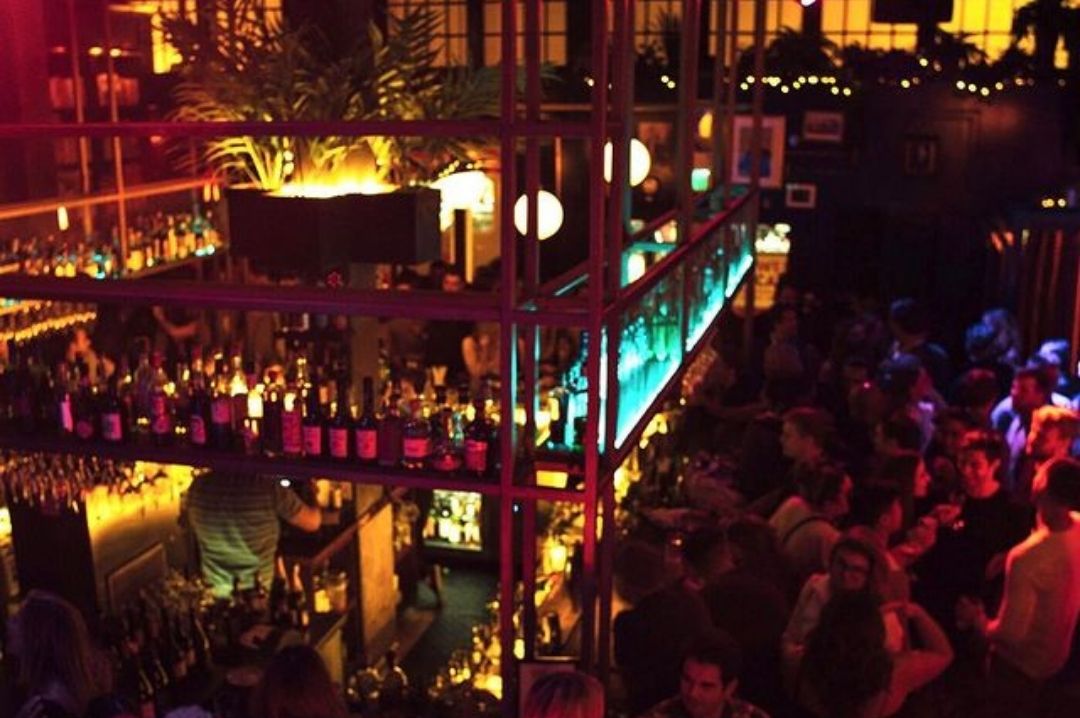 The Dorian In peak hours, source: Instagram
Established in 2015, The Dorian is a Victorian theme-based supper club serving classic American fare, craft martinis, and cocktails. This modern-day parlor serves classics like seafood towers, steak tartare, and mussel fries. Hop in and try their special The Dorian Burger which has fancy sauce, white cheddar, onion-bacon jam, and fries. Pair it with a signature cocktail the Sparrow, made of Dewar's rum cask scotch, lemon, blackberry, mango black tea, fernet, and lime.
Where - 2001 Chestnut St, San Francisco, CA 94123
Hours - Tue-Wed (4 pm - 10 pm)
Thursday (4 pm - 2 am)
Friday (noon - 2 am)
Saturday (10:30 am - 2 am)
Sunday (10:30 am - 8 pm)