Top 9 Wine Bars in the Wine Capital of USA
A comprehensive list of the top wine forward bars in San Francisco that you can visit for a glass or two.. Or five.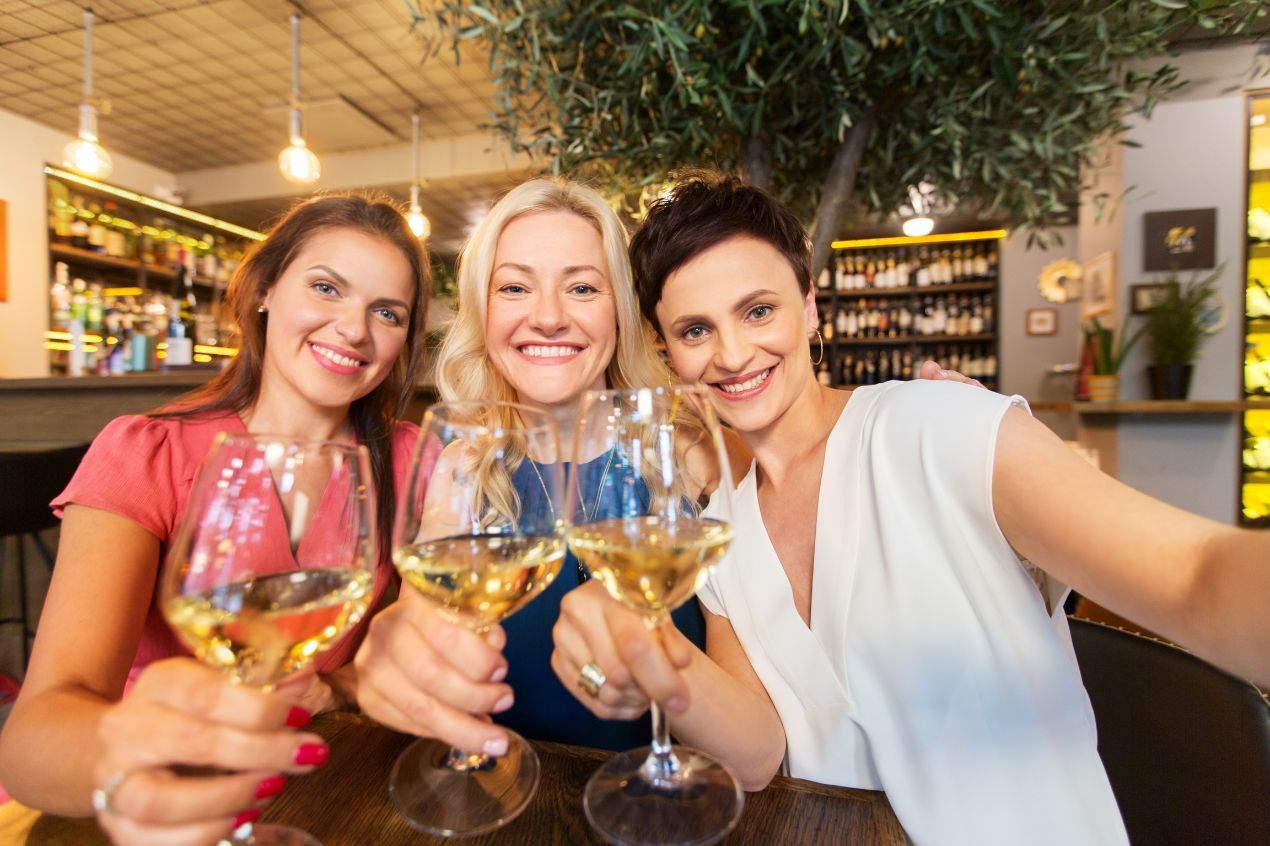 Owing to its close proximity to Napa Valley and Sonoma wineries, San Francisco is exceptionally bountiful with its wine bars. Whether you're a casual sipper or a serious sniff-and-swirler, there's a wine bar nearby to satisfy your whims.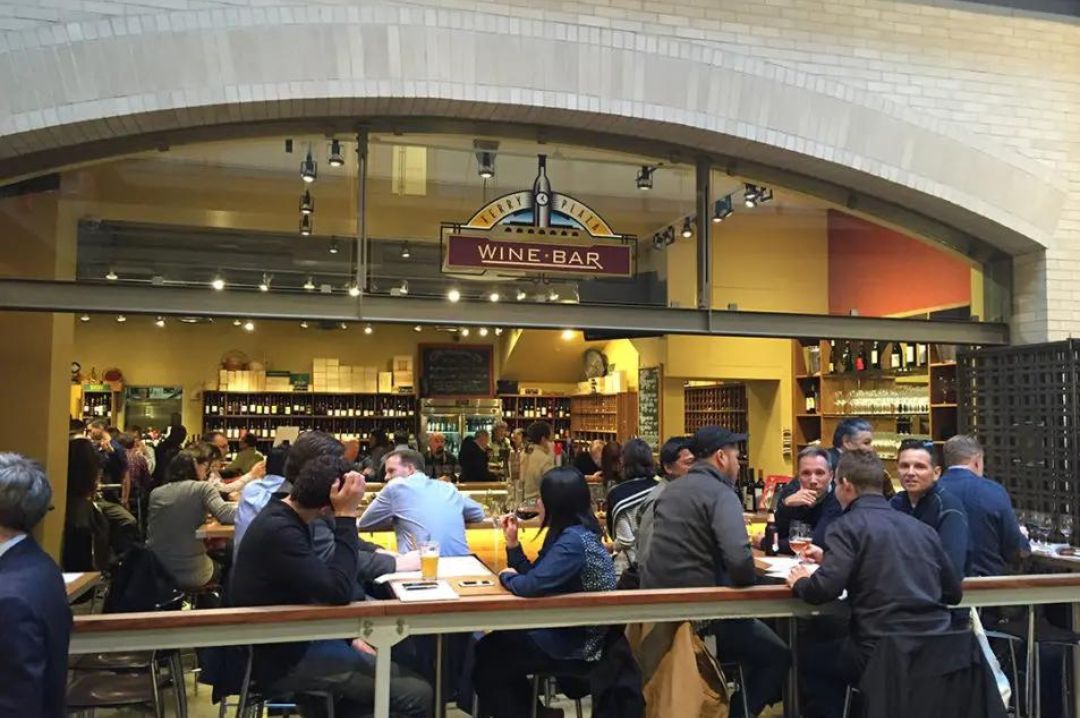 Image : Ferry Plaza
Located in San Francisco's historic Ferry Building, the Ferry Plaza Wine Merchant & Wine Bar offers the most distinctive and delicious wines from smaller producers around the world. Their experienced wine team hand-picks each wine aiming to inspire customers through education, experience and excellent service.
Both a Shop and a Wine bar, you can choose from over 25 different wines (new additions added each week) available in two-ounce tastes, five-ounce glasses, bottles and in some cases, half bottles. The staff will always be happy to guide you through a superior selection and the Bay Area's biggest and best inventories of boutique producers. Ferry Plaza Wine Merchant also offers a wine club with various options and discounts both in the shop and bar.
Address : 1 Ferry Building Ste 23, San Francisco, CA
Reservations : (415) 391-9400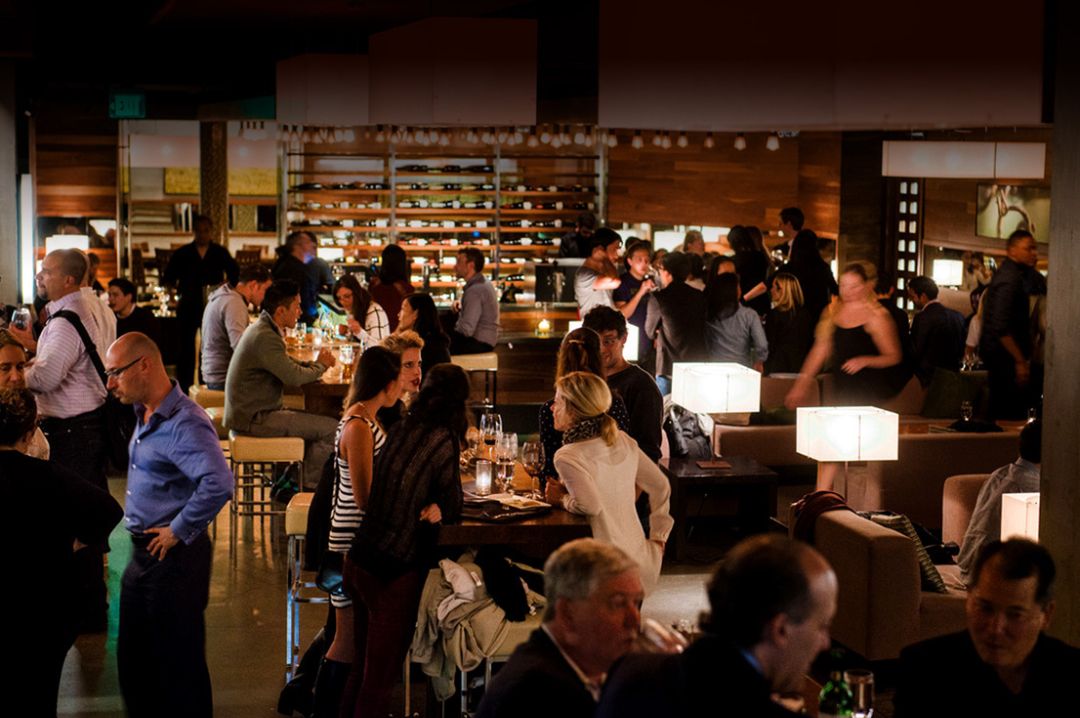 Image : Press Club
This swanky, sexy and sleek underground wine bar is a premium bar located in a large space underneath Union Square's Four Seasons. They have a wine selection from around the world accompanied with small bites such as olives, cheese plates, and pizzettas.
Each month an artisan vintner is featured at Press Club. Visitors can try wines directly from the winemaker on select evenings, which are posted on the events calendar on the website.
An early adopter of the Coravin system, which pours wine from the bottle without removing the cork to ensure freshness, The Press Club sports a five-page list of wines by the glass. On weekend nights, a DJ picks up the pace until midnight.
Address : 20 Yerba Buena Ln, San Francisco, CA
Reservations : (415) 744-5000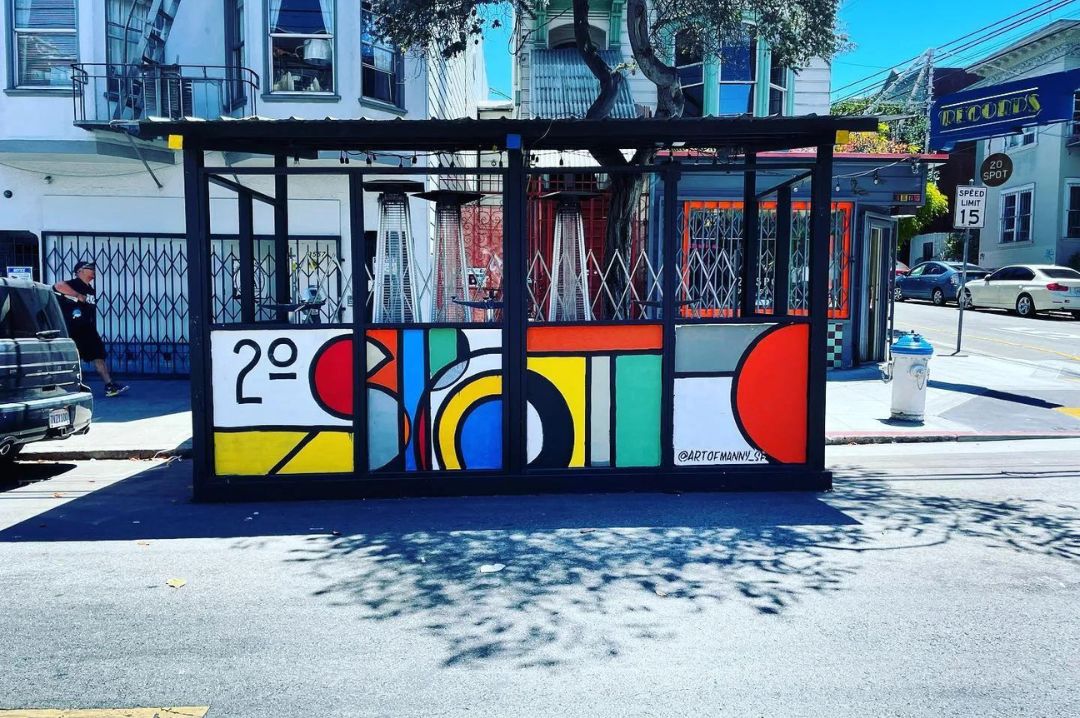 Image : 20 Spot
This cozy Mission District wine bar occupies a former record shop, referenced with stacks of actively enjoyed vinyl along the wall and the space's original vintage neon sign still protruding above the corner entrance. The vibe is always inviting, with cosy couch options and spinning stools along a bar. 20 Spot also has outdoor seating that has recently been repainted to a contemporary joint.
The wine list is heavy on the owner's favorites: Pinots, French burgundy, German riesling. The kitchen, though small and stove-less, manages to put out an impressive sous-vide assortment of mid-sized plates, including the best deviled eggs in town.
Address: 3565 20th Street, San Francisco
Reservation : +1 4156243140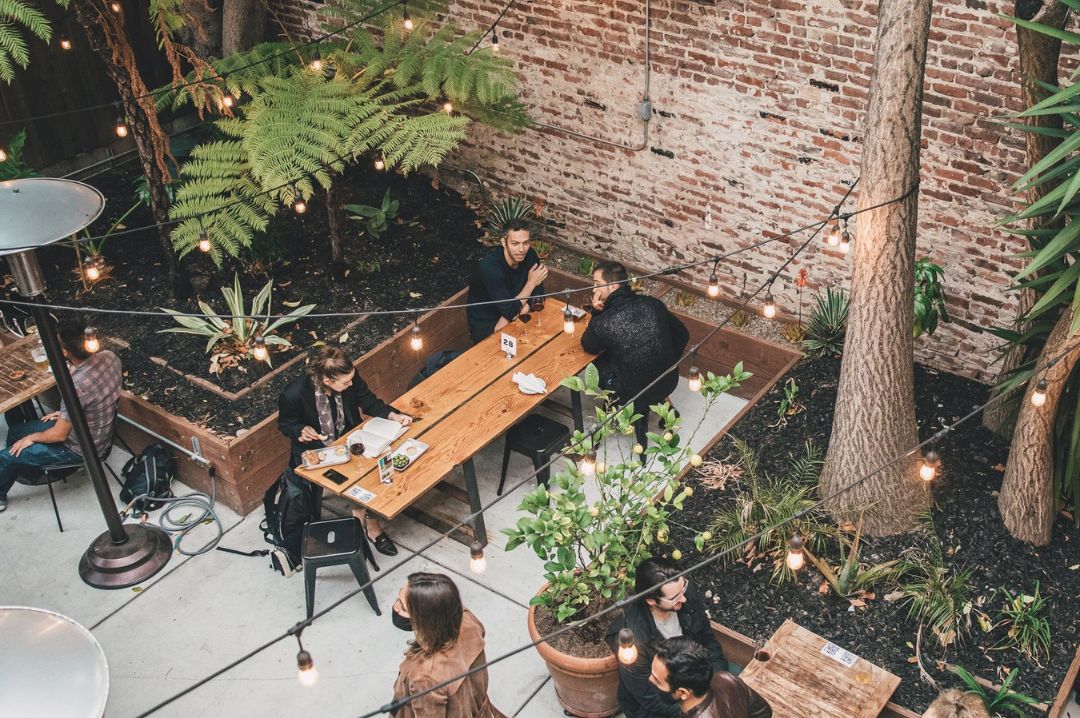 Image : Birba
This Hayes Valley wine bar offers dozens of wines to enjoy in their gorgeous outdoor 16 seater patio garden. Birba sees a splash of texture and colour from Spanish tiles behind the bar and a few carefully selected pieces of rotating artwork along the walls.
The majority of the bottles hail from France, Italy, and Germany and the owner is always on hand to pour tastes, make recommendations, or offer a bite.
Address: 458 Grove Street, San Francisco, CA
Reservation : (415) 549-7612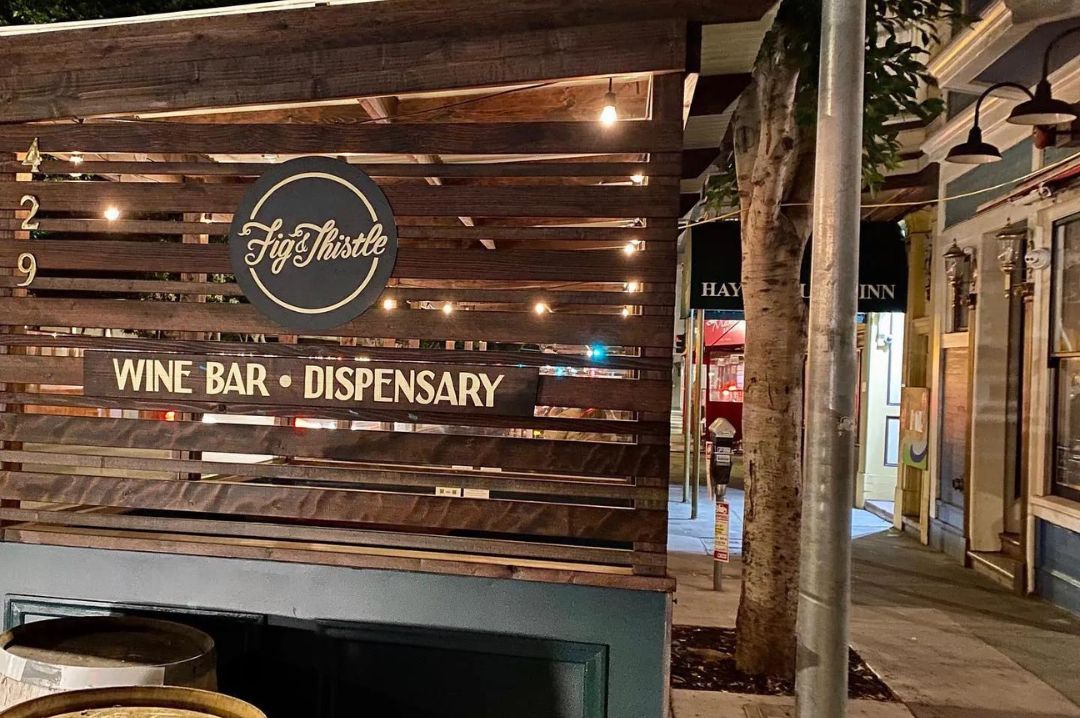 Image : Fig & Thistle
This unassuming wine bar specialises in natural wines for adventurous tipplers. The bar also hosts regular tastings with local vintners. The decor is funky and features a hip-hop soundtrack along with the bunk-bed seating.
They have a good by-the-glass list of all Californian wines, and a good beer menu too if you want to change it up. If you find something you like, you canhead over to Fig & Thistle's retail market offshoot in the Castro to pick it up by the bottle.
Fig and Thistle recently partnered with Outta Sight Pizza so you can enjoy wholesome food alongside your glass.
Address : 313 Ivy St, San Francisco, CA 94102
Reservation : (415) 589-7005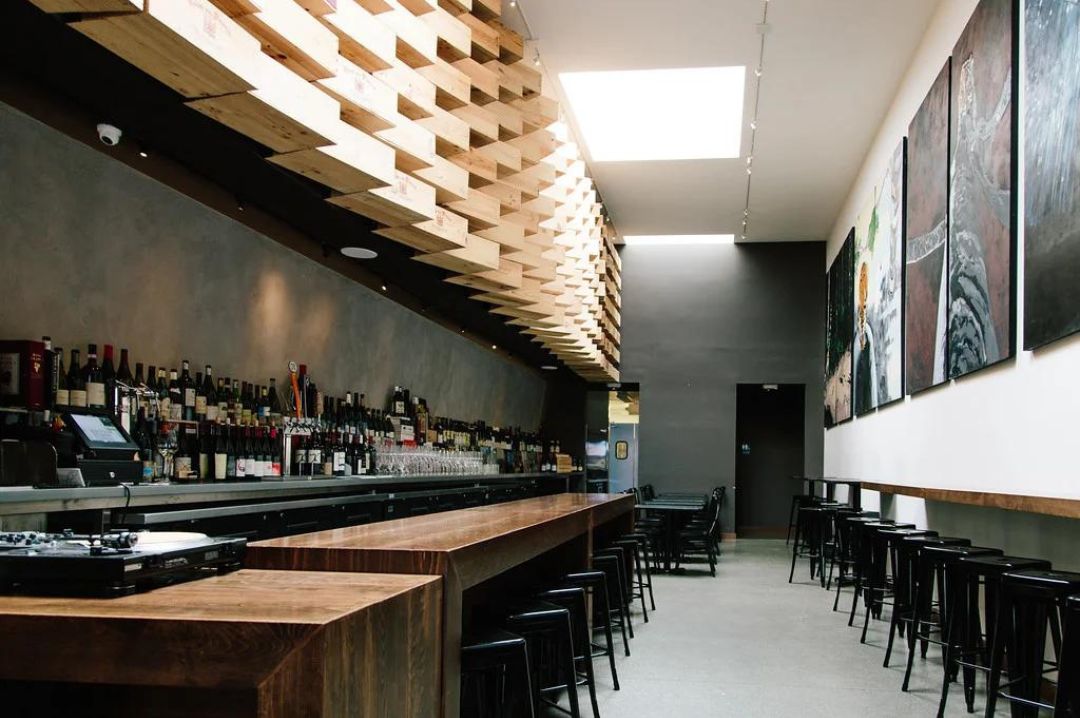 Image : High Treason
Co-owners John Vuong (Ame, Gary Danko) and Michael Ireland (The French Laundry, Quince) have a number of Michelin stars between them from past work, and despite all their access and expertise, the duo prefers to keep it laid back in their own space.
This wine bar in the outer Richmond offers a classy yet casual environment to enjoy their superb wine selection with great music on vinyl. Check out their wine club, where you can pick up a curated wine box each month to enjoy at home!
Address: 443 Clement, San Francisco, CA
Reservation : (415) 742-5256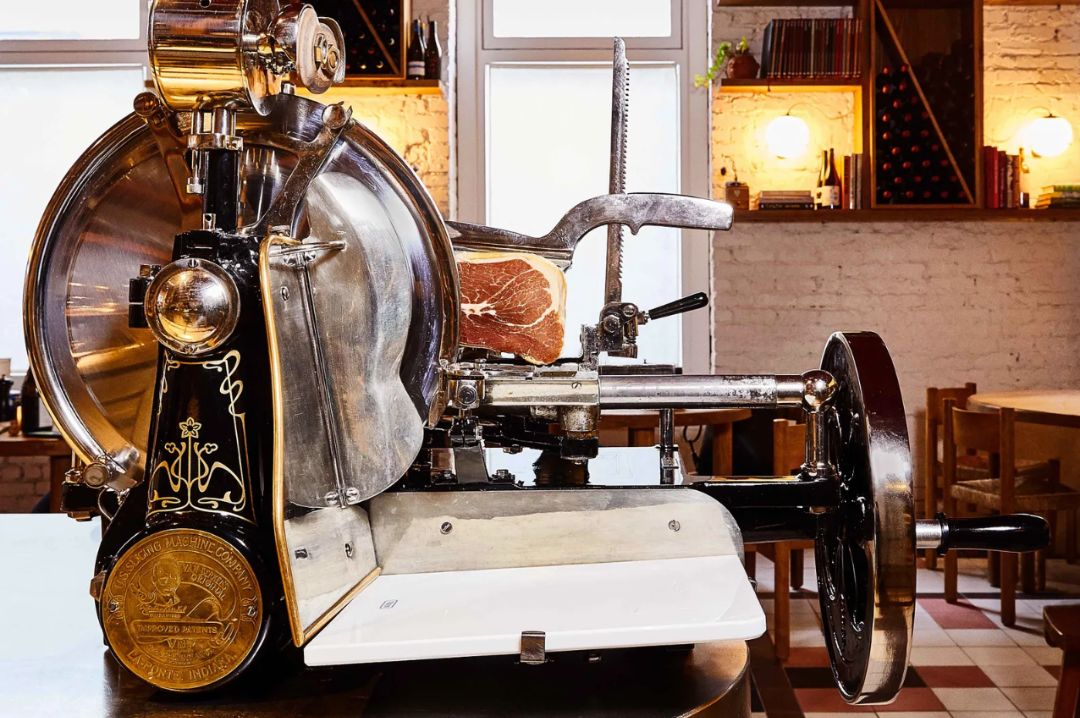 Image : Verjus
Modelled after the standing wine bars of Spain and Paris, the new spot is divided into two spaces, a main bar à vins and a cave retail space with conserva bar. Starting at 5 p.m., the public can stop in for food and wine at a communal table or standing bar in the conserva and retail section, where bottles and vintage wares can be purchased.
In the cave, there will be standing room plus table seating for dining on pate en croute, jamón, and more. Verjus is a game-changer for the local wine scene. An impressive roster of natural wines compliment a deep vinyl collection that spins all night long.
Address : 528 Washington St, San Francisco, CA 94111
Reservation : (415) 944-4600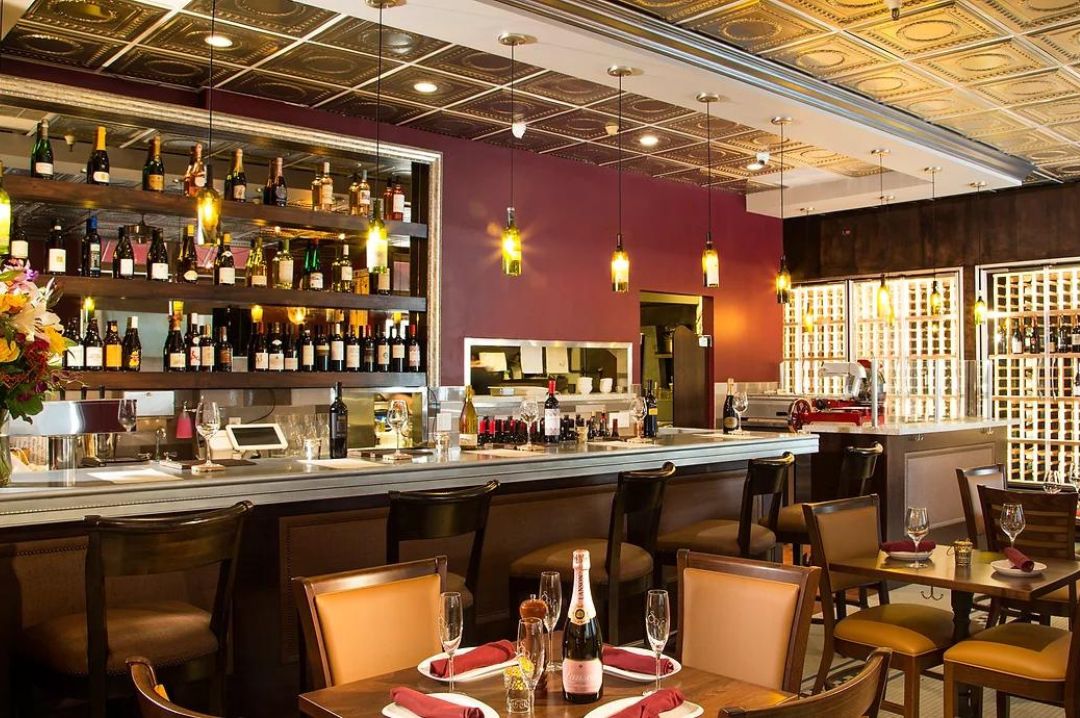 Image : Scopo Divino
Scopo Divino is born from a desire for cosy nights and great conversations over wine. They believe that there is an emotional connection with the enjoyment of wine. Much as it is paired with food, wine can be paired to enhance or even change how you feel. As Wine Therapists of a sort, their goal is to bring you memorably good service and help you best navigate the extensive selection to match your moods and desires.
With a wine selection from all around the world, Scopo Divino brings you both well-known and carefully chosen signature varietals from the regions that do them best, to wines rarely heard of or found. That said, they keep it simple and approachable as it should be.
Address : 2800 California St, San Francisco, CA
Reservation : (415) 928-3728
Image : Amelie
Owners Germain Michel and Samie Didda's concept of wines selection, French tapas, and lively atmosphere and ambiance has kept them popular on Polk Street since it opens its door in 2006. Amelie has now four locations in the united states: Polk street san Francisco, west village New York, upper west side New York, Fairfax Marin California
Since 2006 Amelie has been acclaimed by the press and patrons with the press like the best wine bar in America. The wine list is generous, offering 60 wines by the glass, and roughly 100 by the bottle. Not surprisingly, cheese and charcuterie plates are the strongest contenders to pair with the wines. Cheese plates come alongside French baguette bread baked in Amelie Marin County bakery with organic flour, house-made apricot, pear ginger spreads, honey, and fresh fruit.
Amelie's cool, lounge vibe is punched up with eclectic elements such as a chandelier constructed of letters penned by customers and wall-mounted illuminated wine bottle art.
Address : 1754 Polk St, San Francisco, CA
Reservation : (415) 292-6916
Written by Stuti Khetan, Beverage Trade Network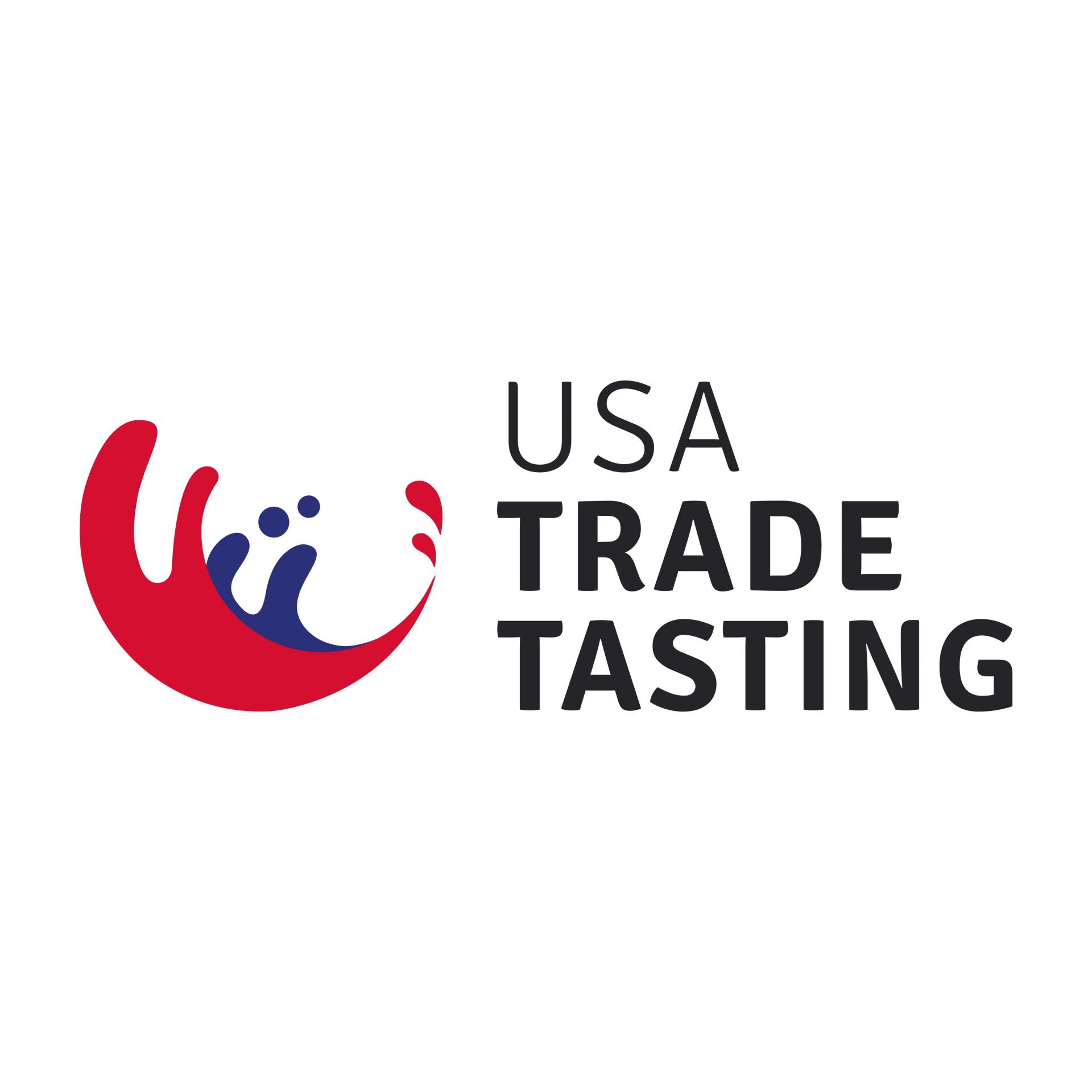 Morgan MFG, 401 N Morgan St Suite #204A, Chicago IL 60642
Register Now
South San Francisco Conference Center, 255 South Airport Boulevard, South San Francisco, CA 94080, United States.
Register Now
South San Francisco Conference Center, 255 South Airport Boulevard, South San Francisco, CA 94080, United States
Register Now