SF's quirkiest bars: Emporium, Smuggler's Cove, and more
Want somewhere different to drink? From Smuggler's Cove to Emporium, these are San Francisco's quirkiest bars.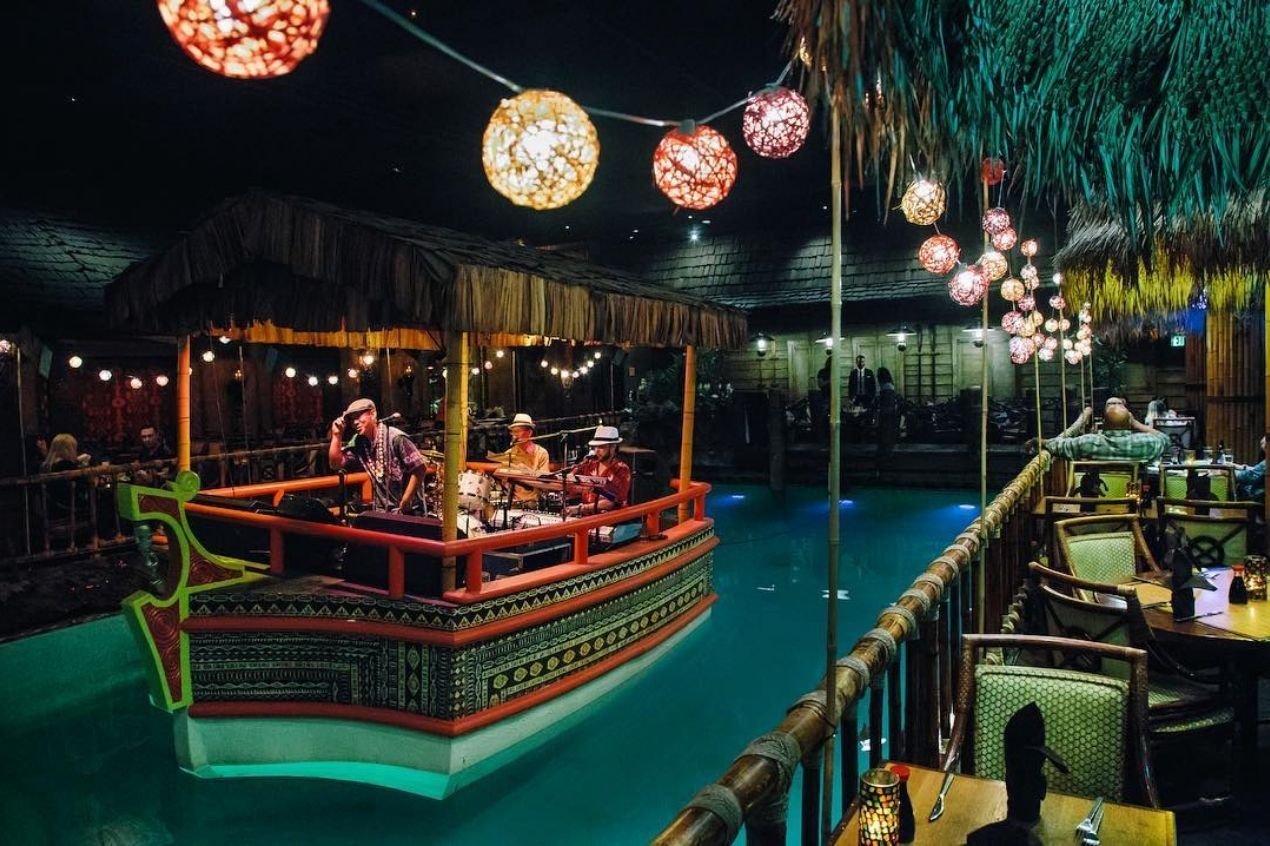 Password-protected bars, arcade bars, you name it, and San Francisco has it. If you're looking to step out of your daily bar routine and try something different in the city, these are some of the coolest and quirkiest bars you'll find in San Francisco.
[[relatedPurchasesItems-28]]
Smuggler's Cove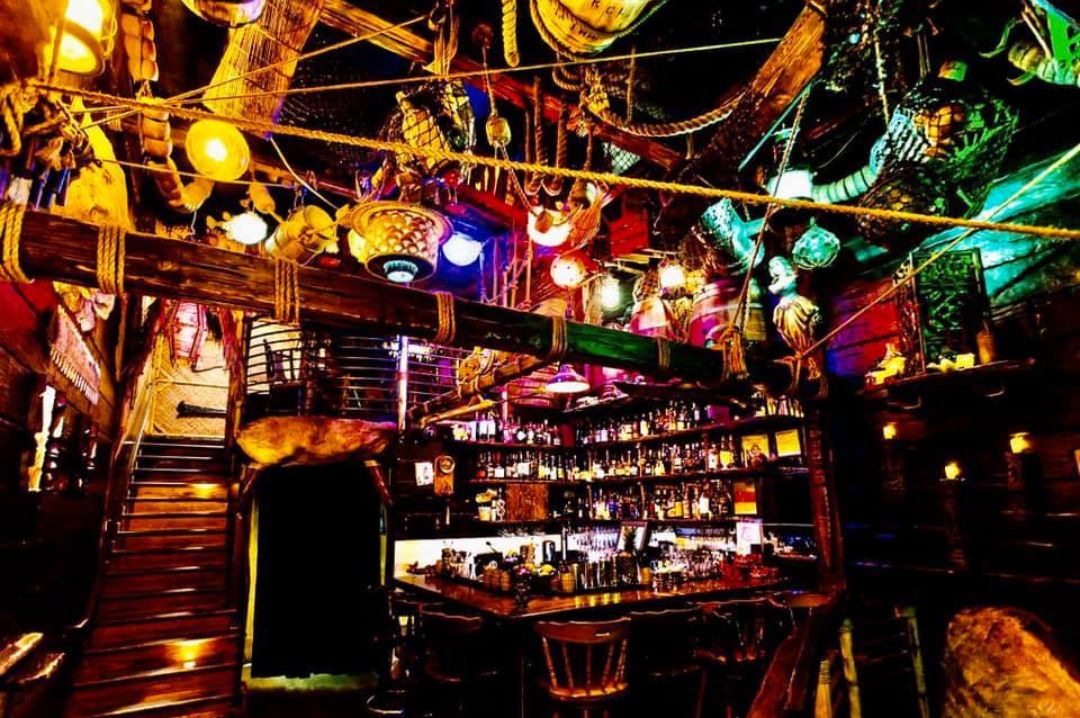 Smuggler's Cove, source: Facebook
When it comes to hidden bars, Smuggler's Cove takes the cake. The place appears to be a regular apartment from the outside, but once you enter, you will find yourself transported to a pirate's den. Expect ultimate pirate vibes with ship's rigging, barrels, anchors, fish netting, and well, pirates.
In their extravagant nautical-themed decor, they serve 80 exotic and traditional cocktail recipes along with 550 varieties of rum to sip on. The rum collection includes rare and vintage rum, as well several exclusive, handcrafted rums made just for Smuggler's Cove by distillers and blenders in California, Oregon, Europe, and across the Caribbean.
Smuggler's Cove reigns supreme among San Francisco's Tiki bars and is a bit cheesy, gimmicky but a whole lot of fun. We recommend trying a Smuggler's Cove original cocktail, The Dead Reckoning, made from rum, pineapple, fresh lemon, vanilla liqueur, maple, tawny port, and angostura bitter. So, if you're looking for a great rum cocktail, come on down... underground.
Where - 650 Gough St, San Francisco, CA 94102
Hours - Tue-Sun (5 pm - 1:15 am)
Whitechapel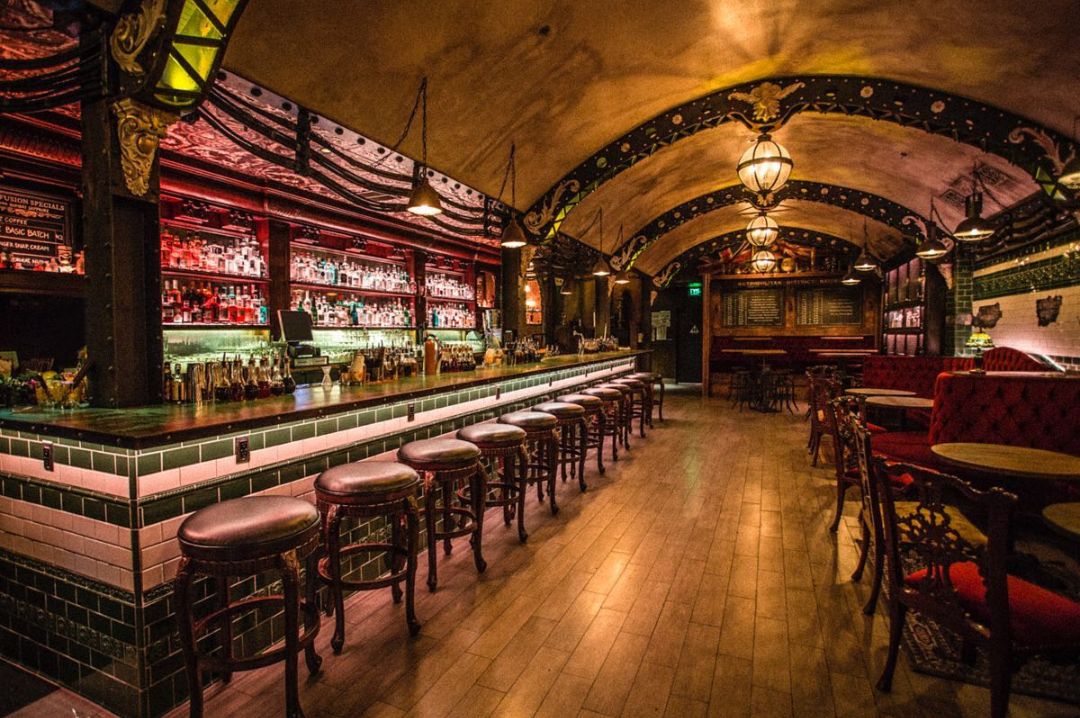 Whitechapel, source: Facebook
Whitechapel is the least bizarre pub on the list, but the decor is unique. The interior is designed to seem like a derelict London Tube station and replete with crumbling tiled walls. The place is ideal for those who have a special thing for gin, and gin cocktails.
This gin-focused cocktail lounge sets up a huge drinks menu of 17 pages, with over 400 varieties of gin. Moreover, their kitchen offers globally-inspired eats in large, ornate, Victorian-themed digs.
Try their house special cocktail, Solway Firth, made with dry gin, sweet vermouth, cherry heering,
Campari, allspice dram, Laphroaig 10 yr scotch, lemon, and pineapple. And, if you're hangry, go for the Bhuna Masala Chicken with cucumber-yogurt relish.
Where - 600 Polk St, San Francisco, CA 94102
Hours - Tue-Thu (5 pm - 10 pm)
Fri and Sat (5 pm - 12 am)
Tonga Room & Hurricane Bar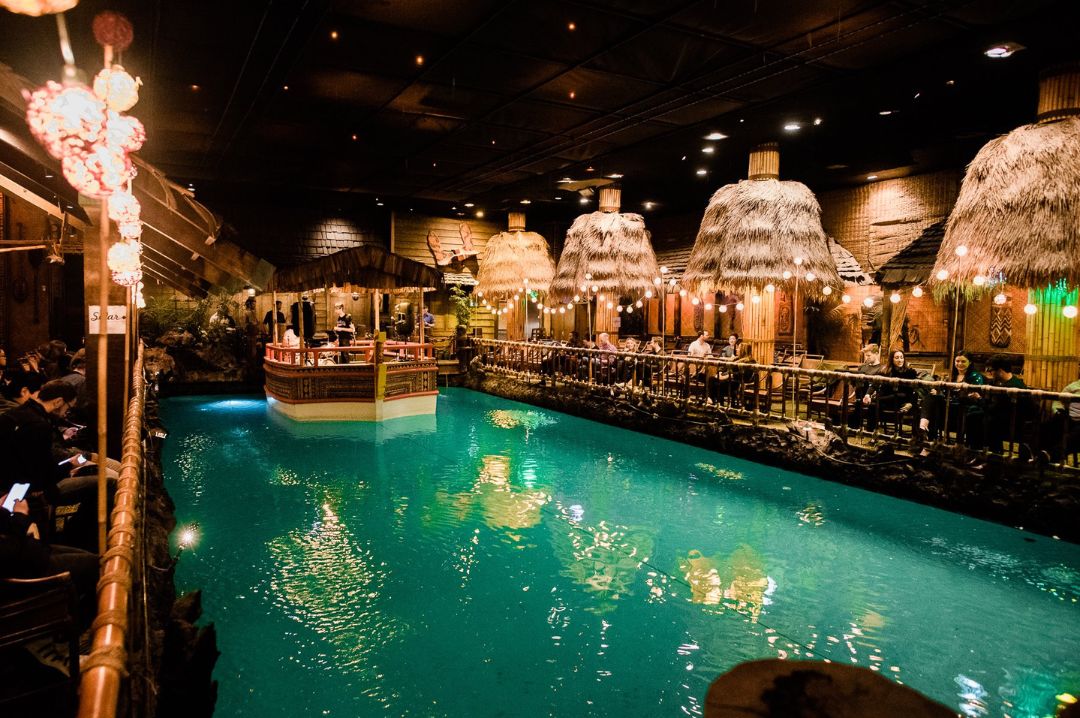 Tonga Room and Hurricane Bar, source: Facebook
A floating boat, thunder, and storm in the middle of a bar? Yes, we are not kidding. The Tonga Room and Hurricane Bar is a sprawling tiki-themed lounge in the Fairmont Hotel featuring artificial tropical storms, complete with misty rain and pre-recorded thunder, and a band playing classic hits from a floating boat.
The restaurant serves a variety of Pacific cuisine, which you should definitely sample after a few beers. If you want to sit down, you'll also need to buy some food because chairs are only accessible with an order. Come for the knickknacks, stay for the Asian appetizers like poke bowls and pupu platters, and of course, their iconic Mai Tais.
For decades, guests have been entertained by tiki torches, false Polynesian totems, palm fronds, and bamboo in the Tonga Room & Hurricane Bar and it's impossible to pass up on the Tonga Room.
Where - 950 Mason St, San Francisco, CA 94108
Hours - Wed and Thu (5 pm - 10 pm)
Fri and Sat (5 pm - 11 pm)
Sunday (5 pm - 10 pm)
Pagan Idol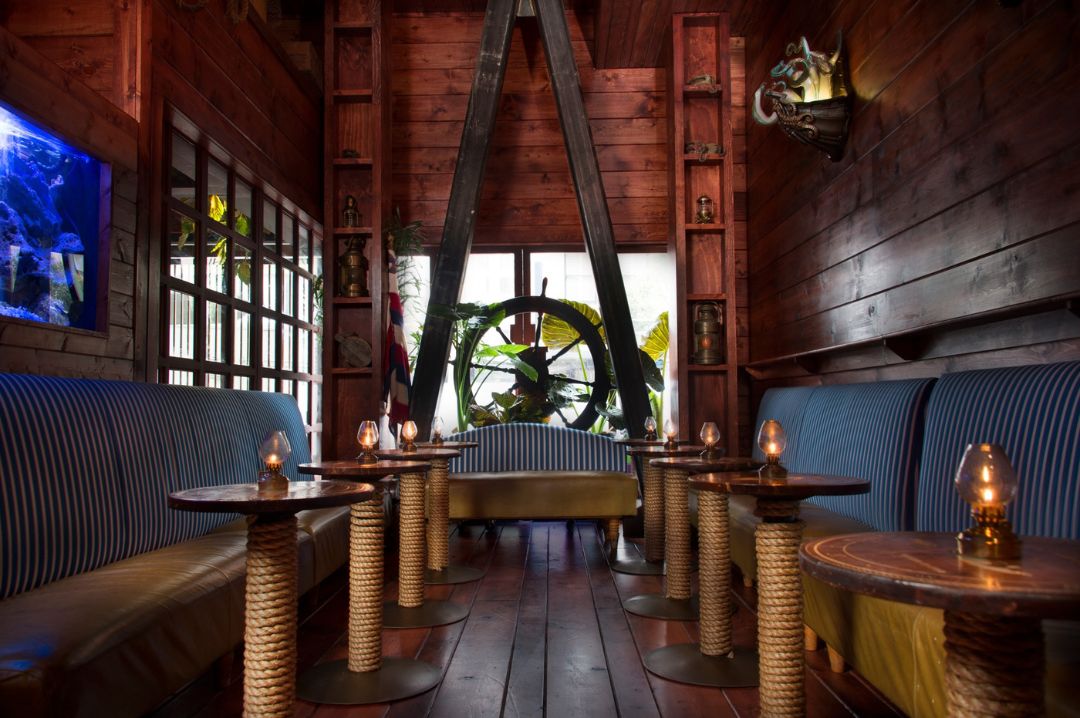 Pagan Idol, source: Facebook
Do you want an exotic escape from the bustling streets of San Francisco? Head over to Pagan Idol, located in the financial district of San Francisco, a hipper and more modern take on the Tonga Room.
Pagan Idol spares no expense in bringing the tiki motif to life, from the nautical seating area to the tribal hut bar.
The bar is noted for its laid-back attitude and selection of handmade cocktails with Pacific and Caribbean influences. It's no surprise that the drinks menu is heavy on the rum, with daiquiris, mai tais, and scorpion bowls among the tiki bar mainstays. For an additional $4, add some island flavor to your cocktail by sipping it from pineapple or coconut.
Because there are no food options at Pagan Idol, eat dinner before visiting this Polynesian-themed hangout. Expect a bit of a crowd if you arrive early, as they don't open the larger rear room until an hour in.
Where - 375 Bush St, San Francisco, CA 94104
Hours - Tue and Wed (4:30 pm - 12 pm)
Thu-Sat (4:30 pm - 2 am)
Emporium SF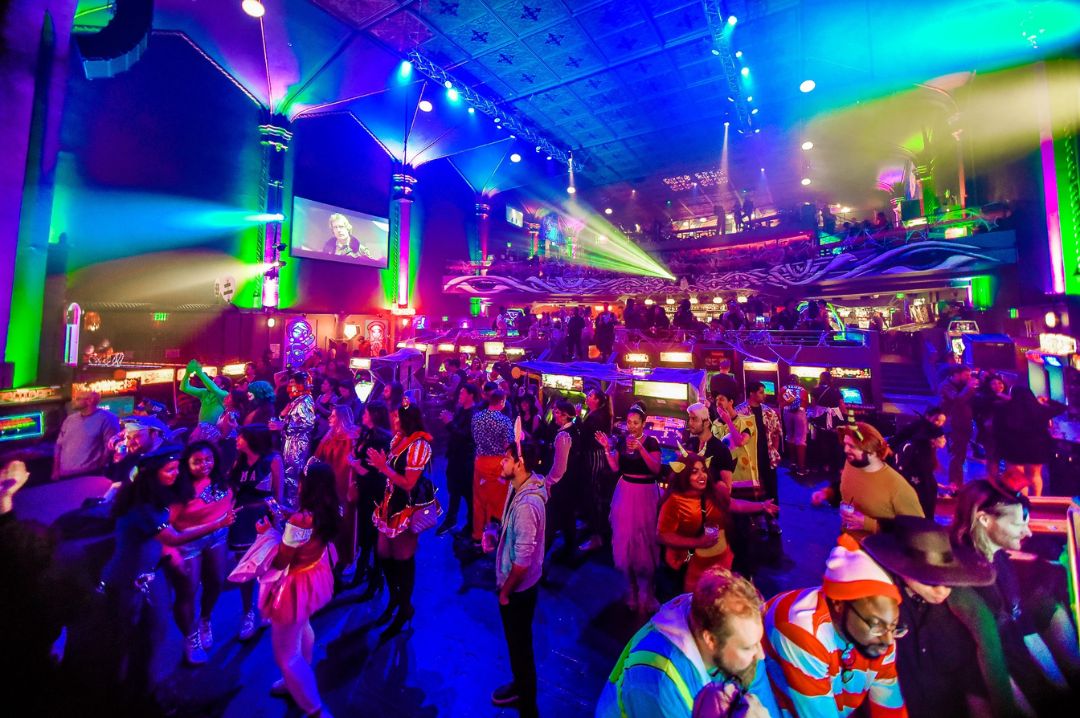 Emporium Arcade Bar, source: Facebook
Imagine a theater that has been transformed into a rave club, but instead of a crowd of people dancing, there is a sea of arcade games. Emporium SF is one of many locations in the United States, and it prides itself on being a bar and arcade hybrid with neon lights, live DJ performances, and a broad selection of alcoholic and non-alcoholic beverages.
Perfect for anyone looking for a great night out, the venue is known for its lively environment, which is always enhanced by the presence of friends. Play some old-school arcade games, attend one of the events if you can, or simply dance on the dance floor in this hotspot that rarely gets any less crowded as the night progresses and sip on your favorite drink.
Where - 616 Divisadero St, San Francisco, CA 94117
Hours - Mon-Fri (4 pm - 2 am)
Saturday (2 pm - 2 am)
Sunday (1 pm - 2 am)
Bourbon & Branch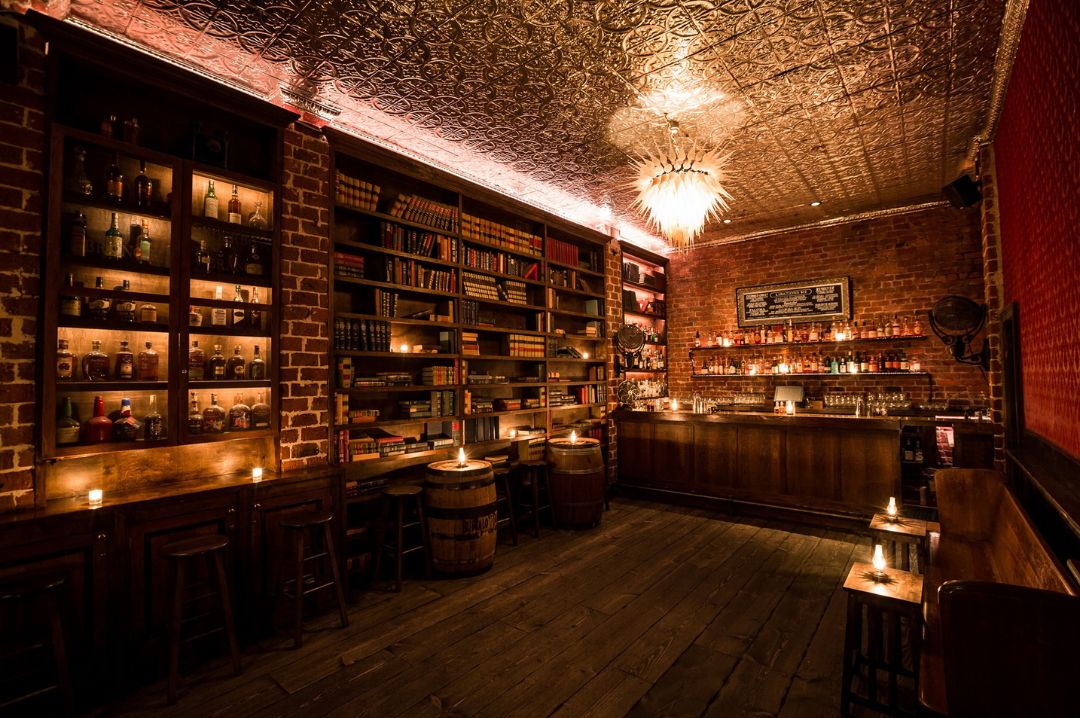 Bourbon and Branch, source: Facebook
Bourbon & Branch, the father of Wilson and Wilson, is an original speakeasy with a password-protected front door. Make a reservation in advance to acquire the Bourbon password. The primary entry is an unmarked tiny side door that leads to a chamber that looks a little like a library, but with a dark twist.
The Bourbon House has numerous spaces, including the Library and Russell's Cigar Room. There is no need to make a reservation at the Library, you simply ring the bell and enter the password "books."
On weekends, the Library can get quite packed. The Bourbon goes all out with the secrecy theme, even requesting patrons not to use their phones or take pictures. You can find the entire set of House Rules here.
Where - 501 Jones St, San Francisco, CA 94102
Hours - Mon-Sun (6 pm - 2 am)
Urban Putt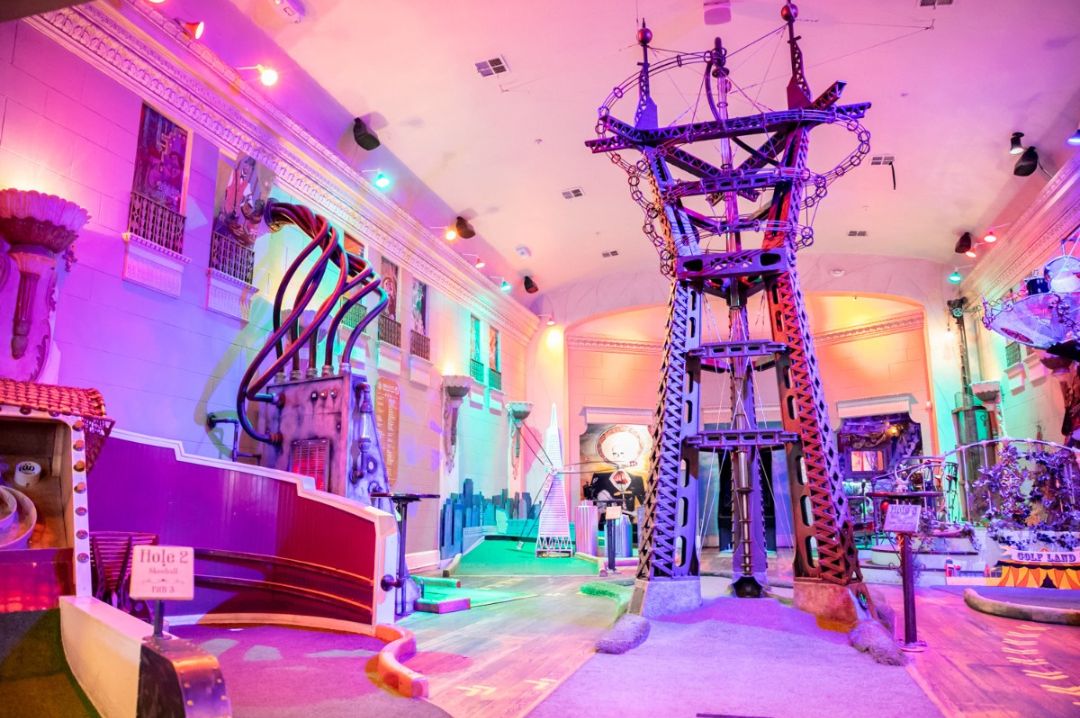 Mini-golf course at Urban Putt, source: Facebook
Located in the heart of Mission District, Urban Putt is more than just your ordinary restaurant-bar combination because it has a mini-golf course around the room. The place sets a high-tech 14-hole mini-golf course, and some top-notch food and drinks. It's a terrific opportunity to enjoy some nice clean fun with the extra bonus of artisan beverages, and it's great for both adults and kids.
They don't compromise on the cuisine, and their kitchen will provide an equally enjoyable experience. The golf course charges a fee per participant, with a discount for children aged 6 to 12. The venue also closes sooner than most bars, so if you're working late, go on a weekend or before 9:00 pm on weekdays.
Where - 1096 S Van Ness Ave, San Francisco, CA 94110
Hours - Tue-Thu (4 pm - 10 pm)
Friday (4 pm - 11 pm)
Saturday (11 am - 11 pm)
Sunday (11 am - 9 pm)
Header image, source: Tonga Room Facebook