No alcohol, no problem: SF bars serving zero ABV cocktails
Non-alcoholic cocktails here to stay, and we have just the places serving the best of the lot in San Francisco.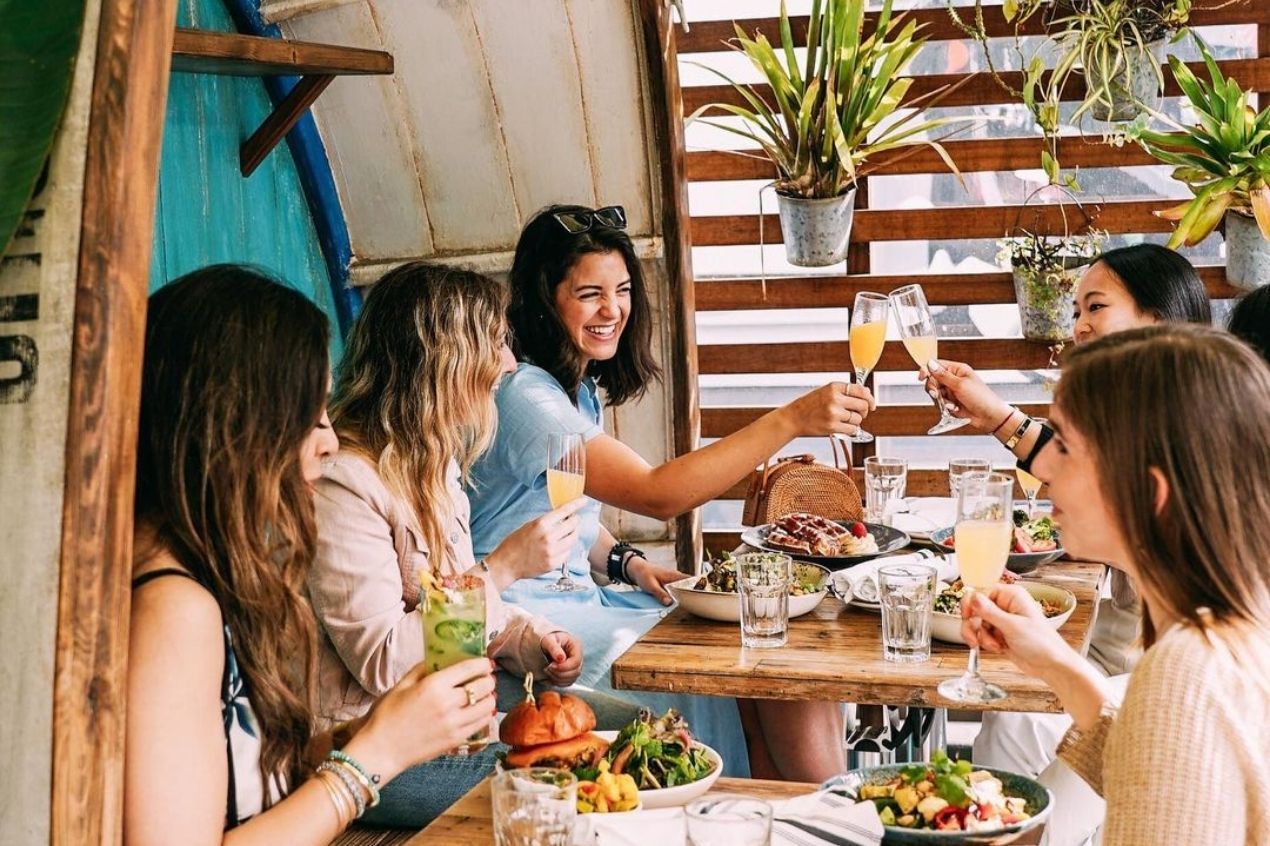 More often than not, teetotalers are left with limited options when they visit a bar with their friends. The demand for non-alcoholic drinks is on the rise, so we look at places that supply.
San Francisco's Bay Area is filled with drinking hotspots that source their own ingredients for the cocktails. But how many of them offer non-alcoholic cocktails? These bars answer the question with their list of non-alcoholic cocktails.
Horsefeather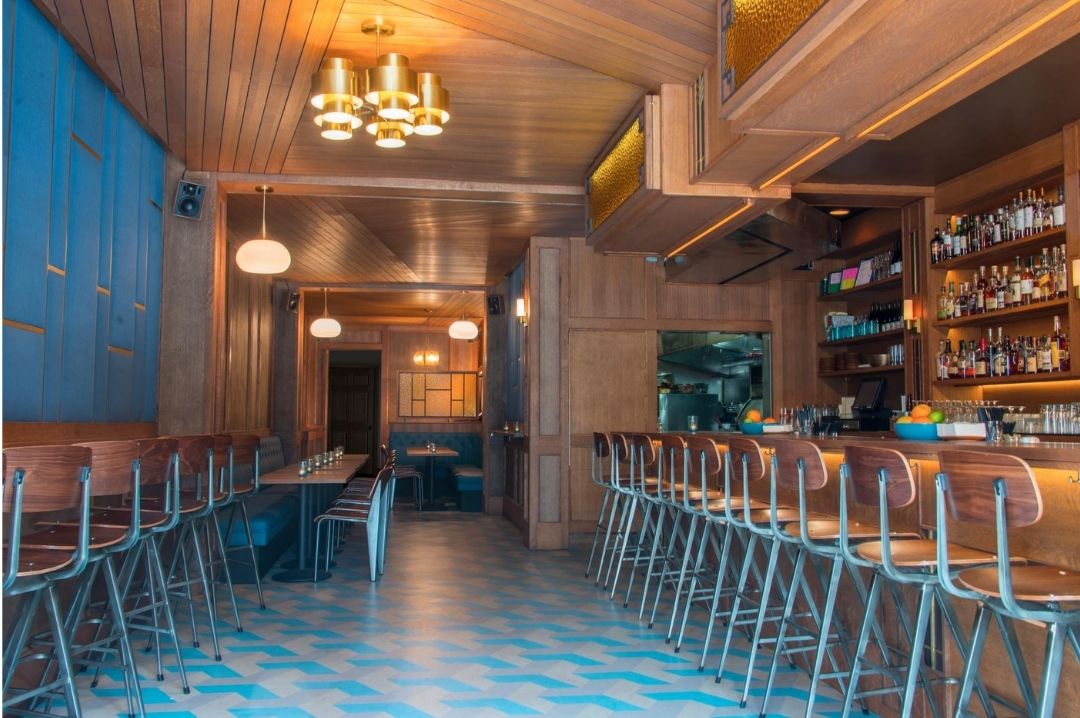 Horsefeather bar, Source: Facebook
Lounge in the blue sofas and wooden interiors of Horsefeather, a casual neighborhood cocktail gathering place. While they have an unmissable list of cocktails for every occasion, they also put forward some non-alcoholic concoctions such as the Driver's Cup and Agua De Piedra. The Upside Dawn beer from Athletic Brewing is a non-alcoholic beer for those who never shy away from a pint. While your mates rotate from one cocktail on the menu to another, keep up with the zero ABV drinks of your own.
Location - 528 Divisadero St, San Francisco, CA 94117.
Timings - 2 pm to 1 am (Monday to Thursday)
2 pm to 2 am (Friday)
11 am to 2 am (Saturday)
11 am to 12 am (Sunday)
Palm House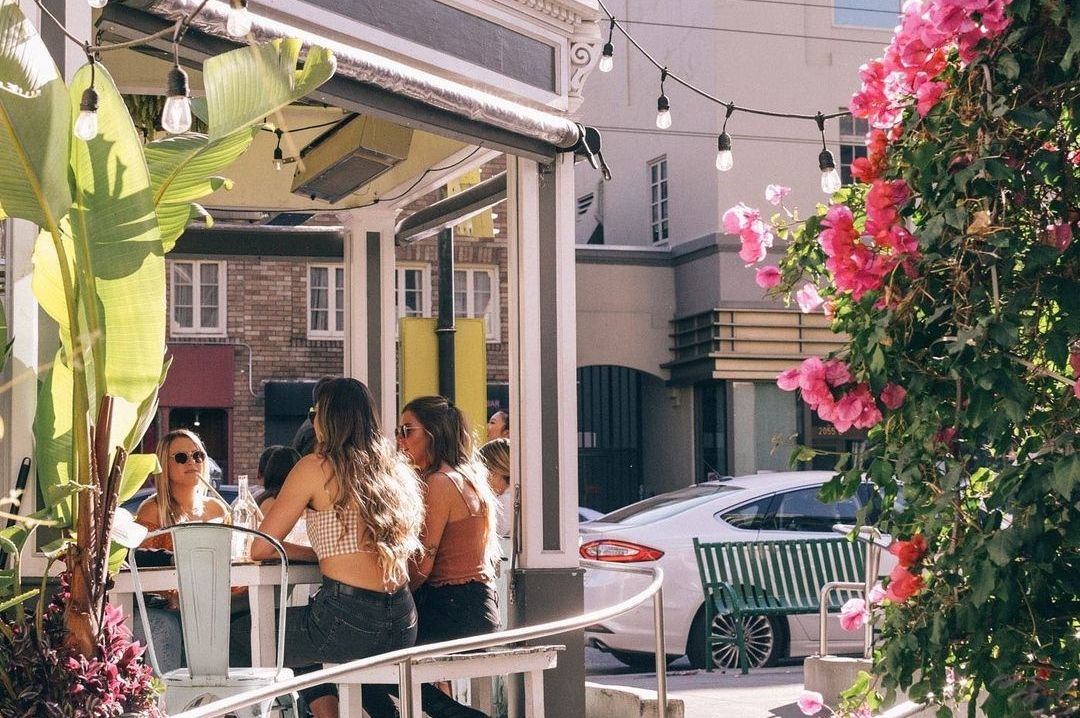 Palm House outdoor patio, Source: Instagram
Situated behind the second oldest palm tree in San Francisco, Palm House welcomes guests with a tropical lineup of food and drinks. Passing tropical vibes with tiki and craft cocktails, Palm House delivers beautifully crafted drinks whether they are alcoholic or not. And since we are focussing on zero ABV drinks, the Virgin Islands made with passion fruit, prickly pear, and pineapple gomme tops the chart when it comes to the respective segment. You can also choose from a range of seasonal kombuchas or non-alcoholic slushies that are made on order.
Happy hours - 4 pm to 6 pm (Tuesday to Friday)
Location - 2032 Union St, San Francisco, CA 94123.
Timings - Closed (Monday)
11.30 am to 9 pm (Tuesday to Thursday)
11.30 am to 11 pm (Friday)
10.30 am to 11 pm (Saturday)
10.30 am to 8 pm (Sunday)
The Interval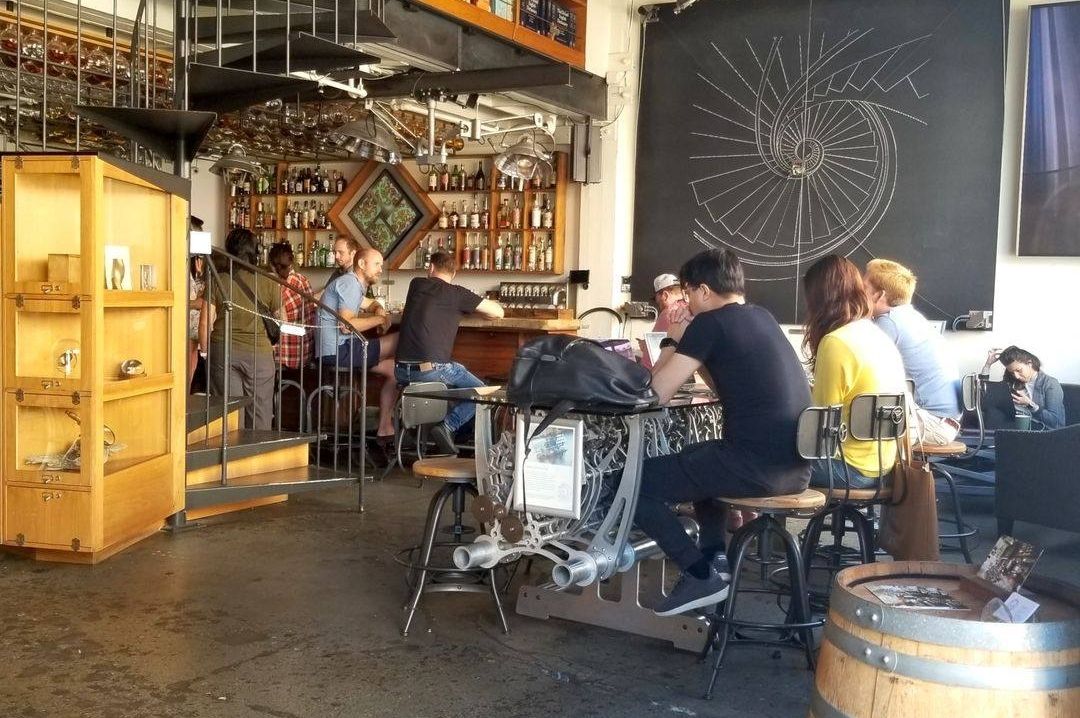 The Interval's astronomical interior, Source: Facebook
Fostering long term responsibility, The Interval is a sanctum with an ambient digital painting, a library with the right books to restart the civilization if needed, a chalkboard drawing machine called 'Otto', a clock that can run for 10,000 years, and bottle reserves for storing special spirits at the bar. Apart from these mesmerizing details, the bar has five non-alcoholic cocktails in its locker. We recommend the Bitter Old Fashioned made with chinotto and bitters for a zesty kick. Other non-alcoholic cocktails on the menu include Tehrangeles, Spicy Ginger Honey Lemon Tea, Cranberry Douglas Fir Shrub, and Hella Cocktail Co. Aromatic Spritz.
Location - Landmark Building A, 2 Marina Boulevard, 2 Marina Blvd, San Francisco, CA 94123.
Timings - 10 am to 10 pm (Monday)
10 am to 5 pm, 9.30 pm to 11 pm (Tuesday)
10 am to 11 pm (Wednesday to Friday)
1 pm to 11 pm (Saturday)
1 pm to 10 pm (Sunday)
Wildseed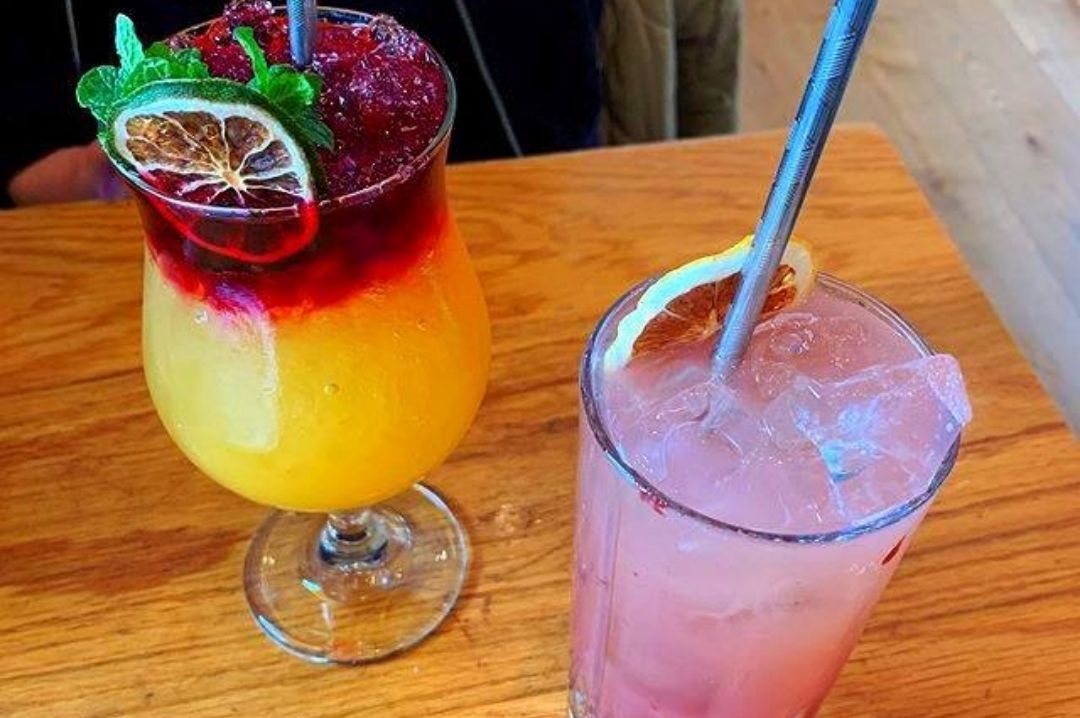 Refreshing non-alcoholic cocktails at Wildseed, Source: Facebook
Every choice you make at the Wildseed will be a good one, because the plant-based bar sources fresh and seasonal juices, herbs, shrubs, and homemade extracts to craft cocktails at the bar.
The food menu also runs on the same foundation as Wildseed provides its guests with a menu that is not just revitalizing to the body and soul but also to nature. As the seasons change, so do shrub sodas, kombuchas, and other drinks on the menu. You won't go wrong with the Telegraph Hill non-alcoholic cocktail made with local kombucha, blackberry preserves, lemon, and ginger. Other refreshing options worth having a look at are milk cold brew, pandan milk tea, charcoal lemonade, and seasonal juices.
Location - 2000 Union St, San Francisco, CA 94123.
Timings - 11.30 am to 10 pm (Monday to Thursday)
11.30 am to 11 pm (Friday)
11 am to 11 pm (Saturday)
11 am to 10 pm (Sunday)
Rich Table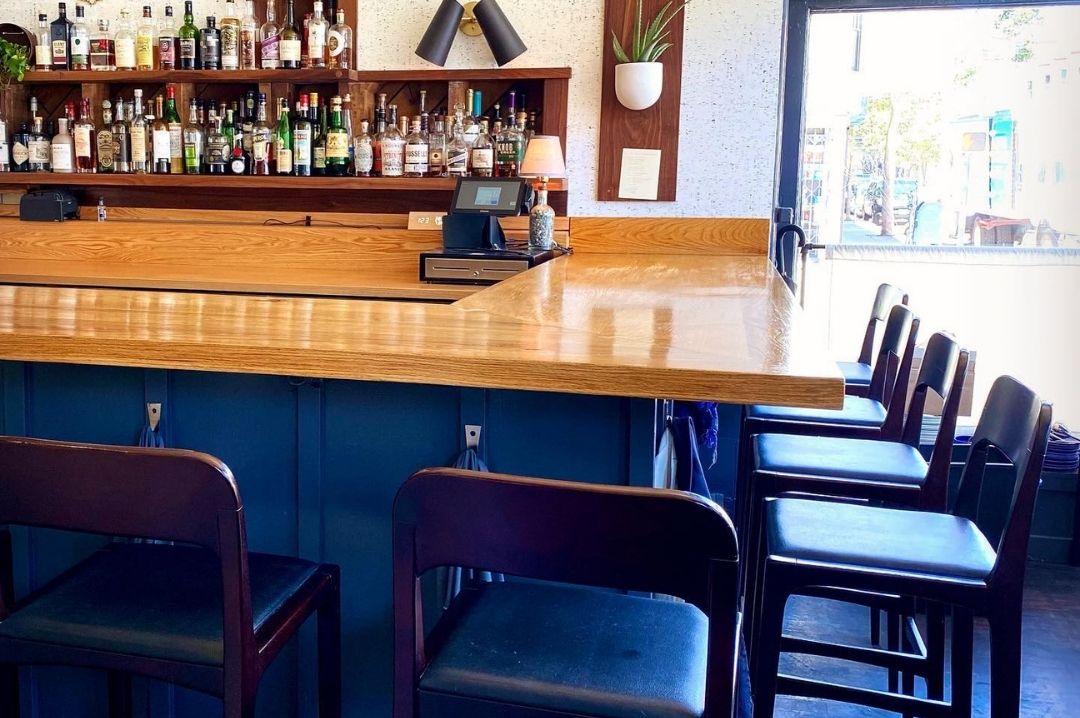 Rich Table bar, Source: Facebook
Inviting patrons to a relaxed, comfortable, and convivial atmosphere, owners Evan and Sarah will remind you of the good times through newly introduced tasty treats. Rich Table's range of no-proof cocktails are booze-free with a high-end flavor profile. We tried the Spritz Faced Killah made with Seedlip, Vermouth Rosso, and grapefruit soda that definitely did not disappoint. Other non-alcoholic cocktails on the menu include strawberry basil soda and Son of a Peach. You will also find non-alcoholic versions of classic cocktails at the bar like the Boulevard No Way made with Lyre's American Malt and Giffard Aperitif Sirop.
Location - 199 Gough St, San Francisco, CA 94102.
Timings - Closed (Sunday to Monday)
5 pm to 10 pm (Tuesday to Saturday)
White Rabbit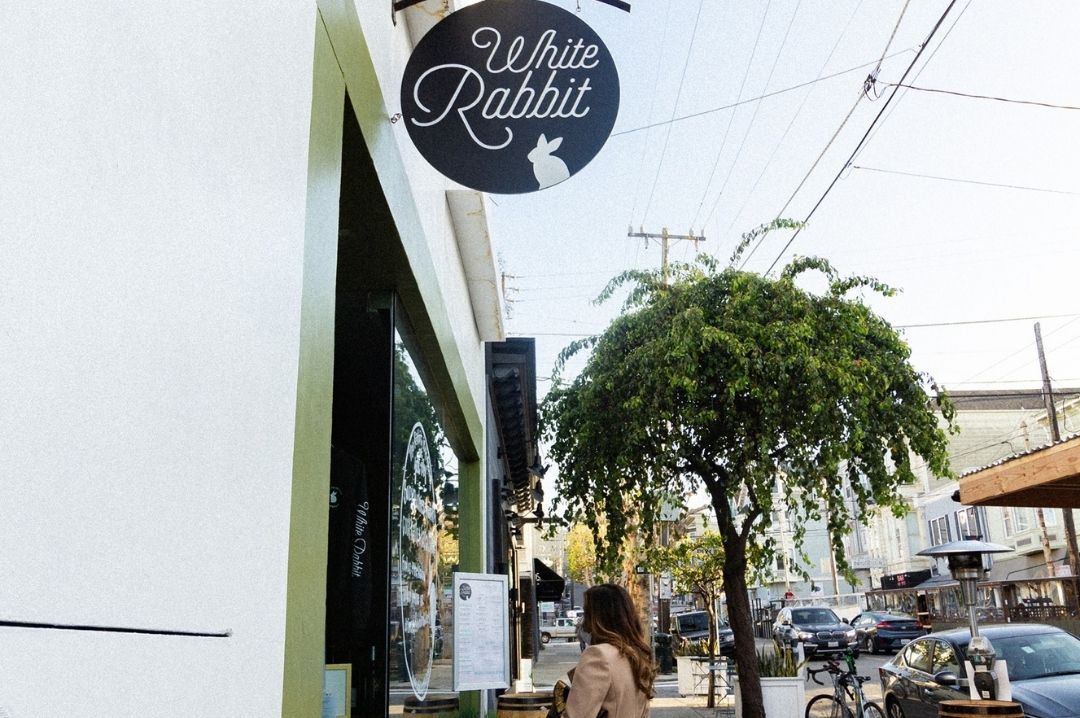 White Rabbit entrance, Source: Facebook
While young tech employees crowd the bar for refreshing coolers in the heart of Marina, White Rabbit pumps delicious cocktails and non-alcoholic drinks to entertain their guests.
The freshly squeezed series has two tantalizing zero ABV drinks that even cocktail lovers cannot get their eyes off. Stress-fighter Raspberry Lemonade made with lemon, raspberry, magnesium, and camu camu is sweet and refreshing while the Immunity Boost Juice made with lemon, lime, ginger, and orange restores the much-needed vitamin count in the body.
If you are looking for something unique, ask the liquid chef at the bar to whip up a virgin cocktail of your choice. Sip on a non-alcoholic beverage of your choice with shareable snacks while melodious tunes play in the background from the bar's extensive vinyl record selection.
Location - 3138 Fillmore St, San Francisco, CA 94123.
Timings - Closed (Sunday to Tuesday)
5 pm to 10 pm (Wednesday to Thursday)
5 pm to 11 pm (Friday)
12 pm to 11 pm (Saturday)
Gibson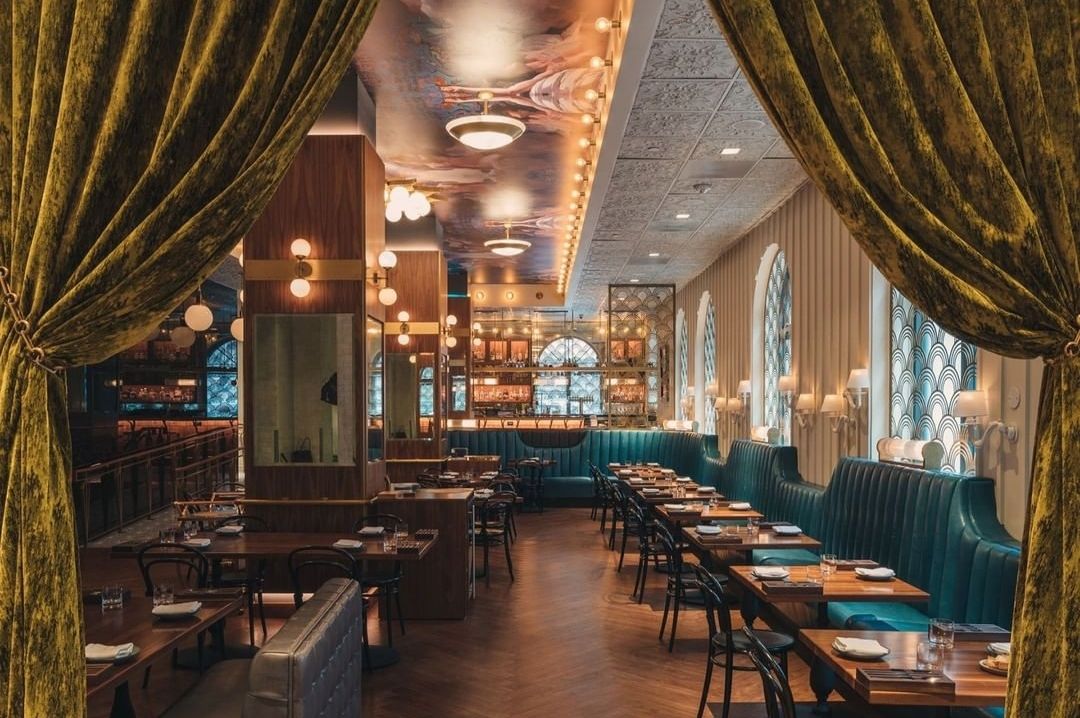 Gibson bar and restaurant, Source: Instagram
Located in Hotel Bijou, Gibson combines elegant and exceptional cocktails with a thoughtful food menu influenced by live fire and smoke. The acclaimed director of operations, Adam Chapman came up with the NA-groni made with smooth acidic sumac from Rhode Island and bitter schizandra berries from northern China. The menu comes from Chapman's developed passion, creativity, and expertise, making Gibson a must-visit for its refined cocktail and dining experience in San Francisco. Head to the bar and ask the bartender to make a non-alcoholic cocktail that suits your taste requirements once you are done admiring the alluring interiors.
Location - 111 Mason St, San Francisco, CA 94102.
Timings - Closed (Sunday to Wednesday)
5.30 pm to 7.30 pm (Thursday)
5.30 pm to 8.30 pm (Friday to Saturday)
Header image - Palm House, Source: Instagram