Most expensive bars of San Francisco
We have curated a list of the most expensive bars in San Francisco with outdoor seating.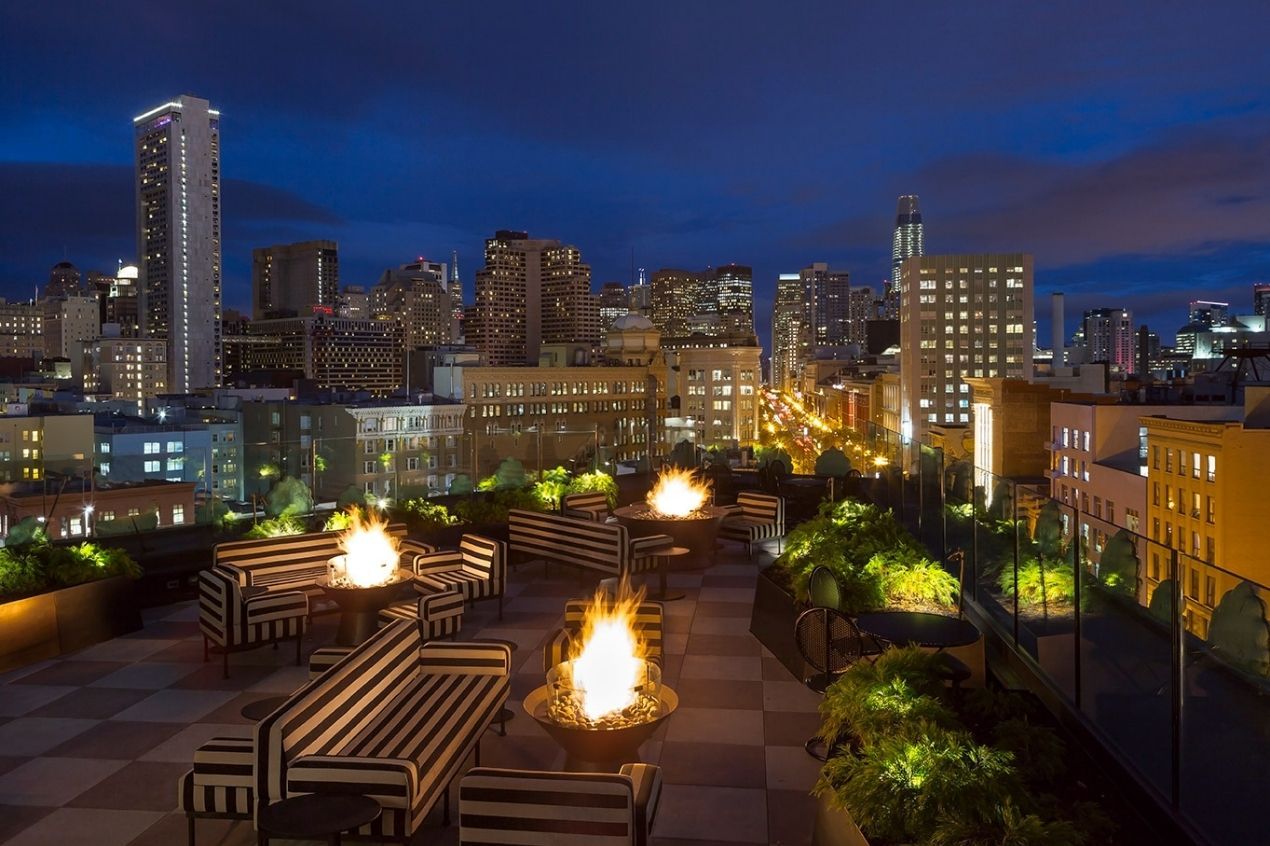 The bar scene in San Francisco has been booming for the last decade with all kinds of bars from pop up to some of the most luxurious in the country. Unfortunately, at the moment because of the rules of San Francisco to keep us safe from the Covid-19 virus most of the bars are closed or are doing deliveries and pickups. The good thing is that most of the best and most exquisite bars have outdoor seating and are still functioning. In this article, we are going to list the most expensive of them.
We are trying to provide you with accurate information about the bars and the venues, but please make sure to double-check if they are functioning and keeping all restrictions due to the Covid-19 situation.
Charmaine's rooftop bar & lounge
Charmaine's is a trendy cocktail bar located on the rooftop of Proper Hotel one of the best design hotels in the city. This award-winning bar is one of the best places to have a cocktail and meet up with friends or just to relax in a pleasant and comfortable atmosphere. The cocktail list is city-inspired with modern classics developed from some of the best bartenders and mixologists in San Francisco. The bar snack menu comes from the hotel's fine dining restaurant, so you can expect some seriously delicious food to enjoy with your cocktail or wine from their extensive wine list.
https://www.properhotel.com/san-francisco/restaurants-bars/charmaines/; (001) 415 786 3467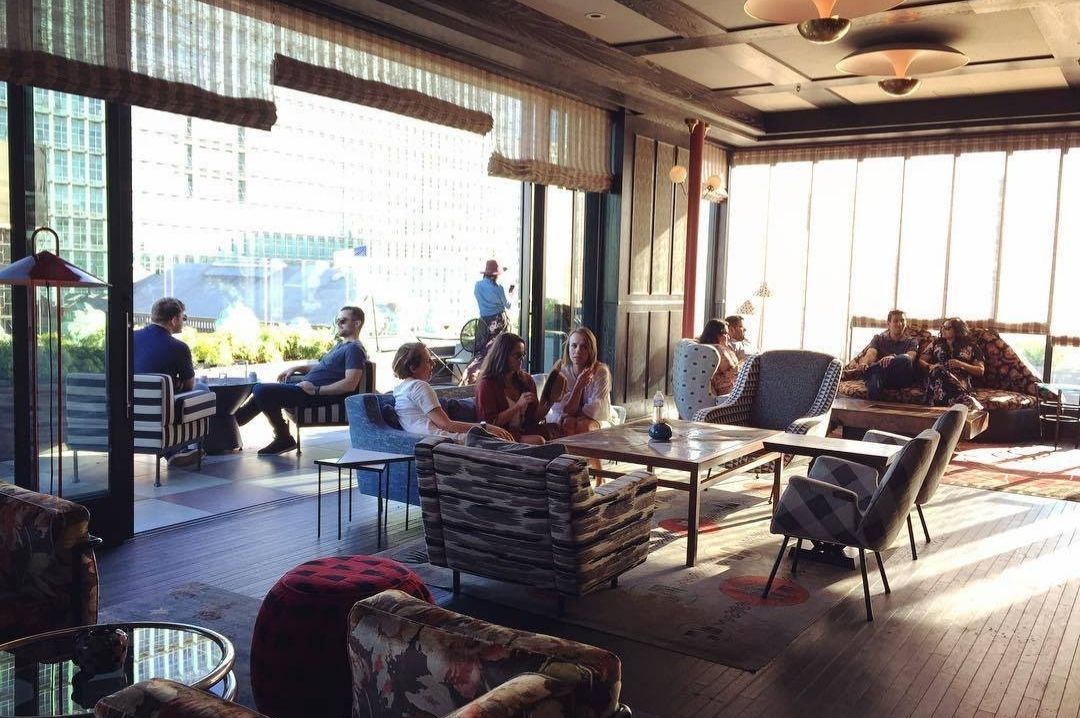 Clock Bar
This is a legendary cocktail bar in San Francisco located in Union Square Hotel and created by the Michelin-starred chef Michael Mina, which combines classic elegance with chic, modern style. They have a themed cocktail menu that is on a rotating scheme inspired by a specific era. The ingredients they use are always seasonal from local farmers, distillers and brewers. They offer a wide range of bar snacks where the star is the Kobe Burger. Try the signature cocktail Lost in the Fog made with Bulleit Bourbon, Grappa, Camomile and Benedictine.
https://www.michaelmina.net/restaurants/clock-bar/; (001) 415 625 5460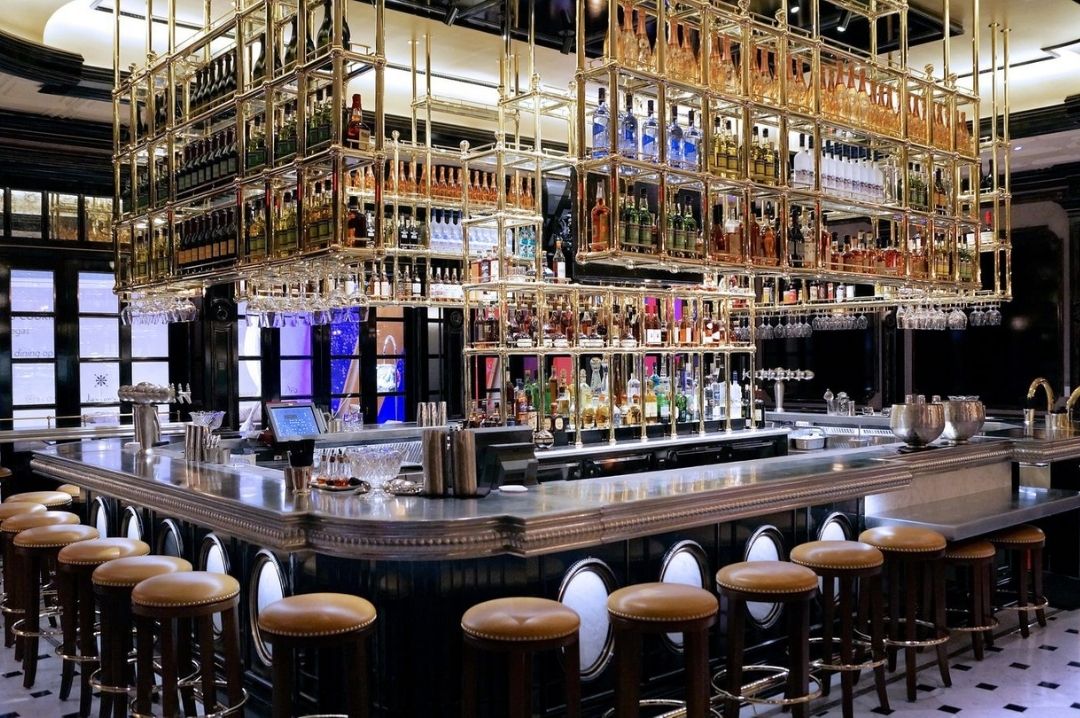 The Interval
This venue is a hidden gem which is something more than a cocktail bar at night as it is a modern café and museum. The place is uniquely decorated, and you'll also find one of the most well-curated and interesting cocktail lists in San Francisco. Unfortunately, the full cocktail menu isn't available at the moment, but there are cocktails you can order pickup ranging from a classic mojito to a gimlet with Navy-strength gin to an Oaxacan old-fashioned with Reposado tequila, mezcal, Ancho Reyes chile liqueur, agave, and chocolate bitters. Also, there is an extensive list with craft beers and a decent wine list.
https://theinterval.org/; (001) 415 496 9187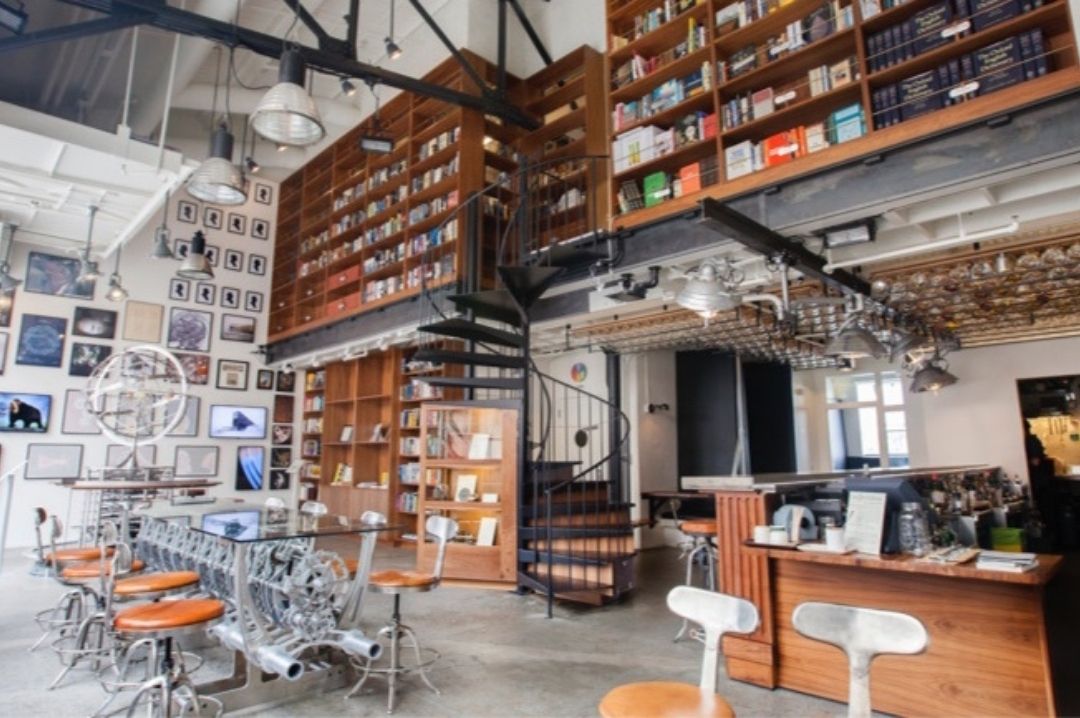 Top of the Mark
This is a historical cocktail bar located at the Intercontinental Mark Hopkins, a tourist magnet because of its 360-degree view of San Francisco which is impossible to beat. The cocktail menu is not exactly the most creative, but the old classics are executed properly, and they taste great, keeping you ordering while you enjoy the magnificent surroundings of the city. Taste the signature cocktail Boulevardier prepared with Dickel Bourbon, Campari, Sweet Red Vermouth, Orange Peel and Luxardo Cherry and order some of the tasty appetizers to go with.
https://www.intercontinentalmarkhopkins.com/top-of-the-mark; (001) 415 392 3434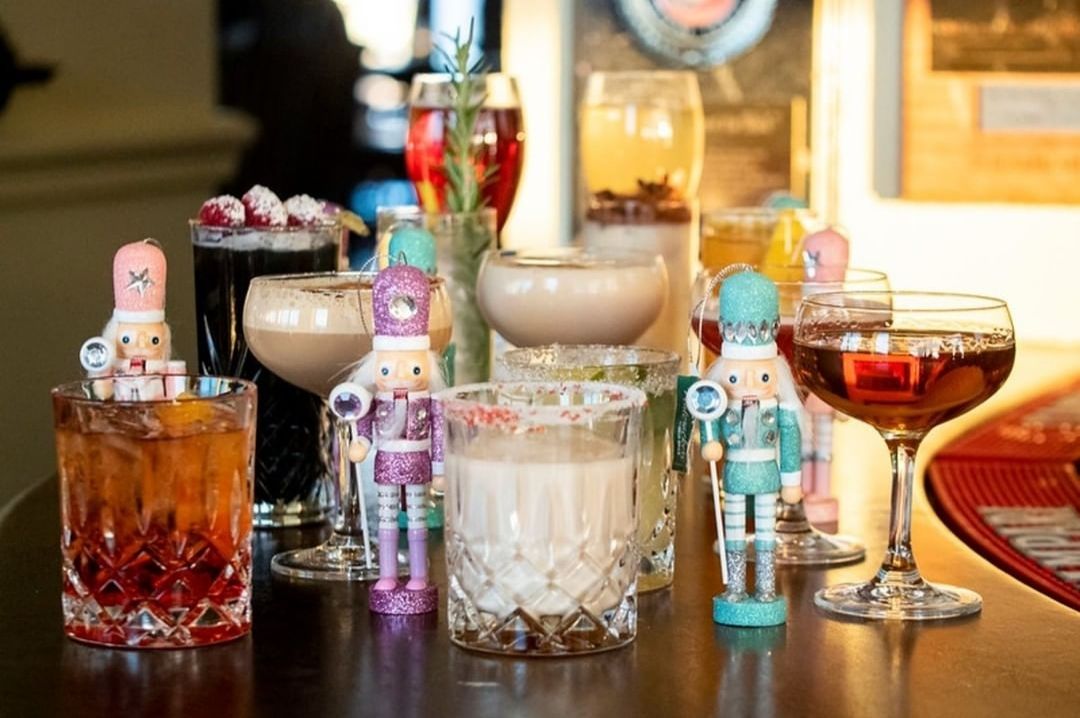 Gibsons
Gibsons is a stylish, Art Deco-styled cocktail bar located in the Hotel Bijou, and it takes its name from the classic Martini variation with a pickled onion in it instead of an olive. The cocktail menu is modern and contemporary with eight cocktails which are changing quite often, the menu includes as well a good selection of fine wines as well as local craft beers. The food menu is quite sophisticated for a cocktail bar, but it works perfectly. Our recommendation is the BIJOU made with gin, white sweet vermouth, bitter dandelion, cilantro, masala, grapefruit oil accompanied by Deviled Eggs, smoked trout roe and chive.
(https://www.gibsonsf.com/; (001) 415 771 7709
Rooftop VIA
This is one of the most exquisite venues in the city located in Hotel VIA on King Street, and it is only accessible if you book a room or if you host an event which must be a minimum of 6 people and a minimum of $500 of food and drinks. It is totally worth with its prime location and stunning views of the Bay Area. It has a chic and comfortable design that features club and view seating, private cabanas, fire pits, heat lamps and bars. The cocktails are to die for complimented by a smart food menu and a great wine list with some rare Champagnes.
https://www.hotelviasf.com/the-hotel/rooftop; (001) 415 200 4977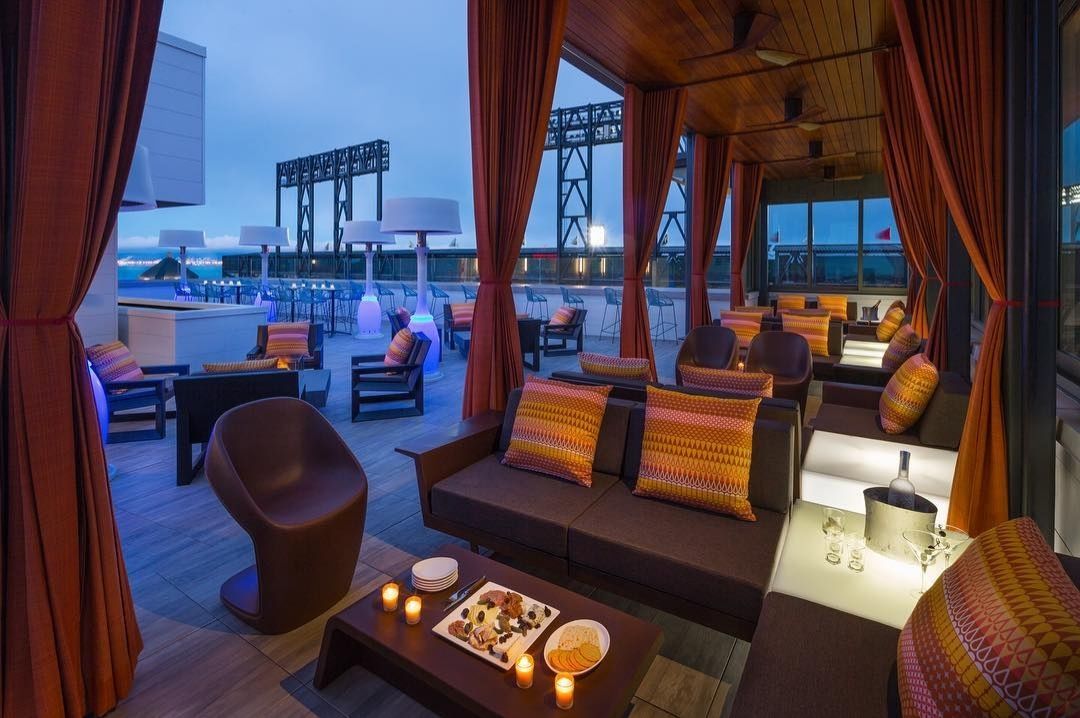 One UP
A stunning, sleek and modern venue located in the Grand Hyatt with a concept of a bar and lounge with bistro cuisine offering an impressive cocktail list of classics, as well as a superb wine list, craft beer and American bistro masterpieces with a unique San Francisco twist. One UP has a modern, chic interior and the large windows showcase spectacular views of the Union Square district. If you would like a more intimate experience there is a private venue fitted with leather benches and cocktail tables that creates an ideal space for a night out with friends.
https://www.hyatt.com/en-US/hotel/california/grand-hyatt-san-francisco/sfous/dining; (001) 415 848 6187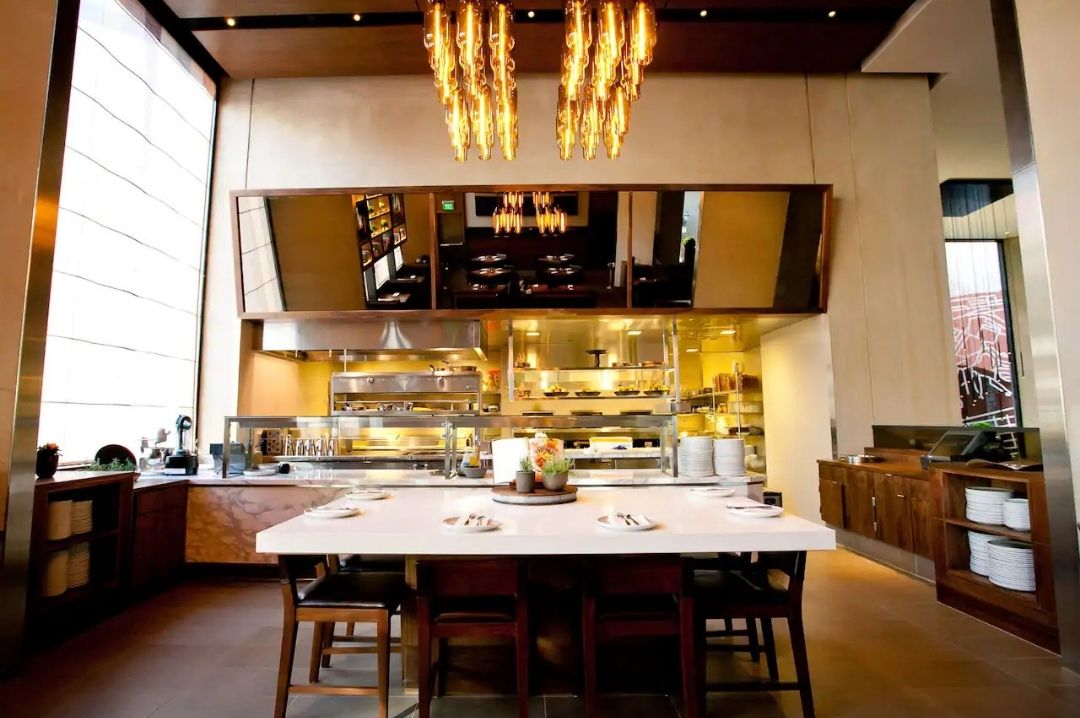 Image Source: Hyatt
Bar and Lounge at Parallel 37
Parallel 37 is a fine dining restaurant at the Ritz-Carlton, situated just at the edge of Nob Hill and above Union Square. Part of the restaurant is the Lounge and Bar, which has an innovative mixology program bringing the kitchen to the cocktails. The idea behind is that are all made with the freshest seasonal ingredients, premium spirits and handmade salts, juices, syrups and tinctures. They have an award-winning wine list as well as local tap craft beer.
https://www.ritzcarlton.com/en/hotels/california/san-francisco/dining/parallel-37/bar-lounge; (001) 415 773 6168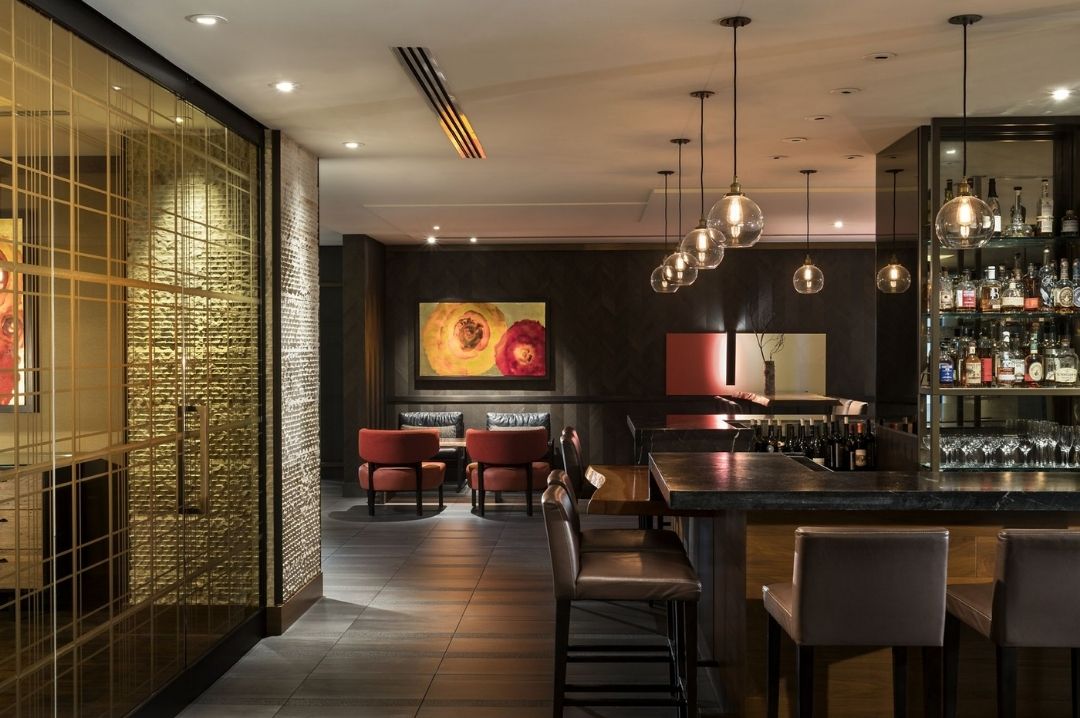 We have tried to present you a list of the most expensive bars in San Francisco which will continue in our next articles in the following months. Stay tuned for more and Cheers.