Bars with fireplaces: The Riptide, Homestead, and more
Out on a chilly night? Find a spot near a fireplace at one of these bars, from The Riptide to The Homestead and more.
As the nights get colder, cuddling up at home with a hot chocolate sounds extremely tempting. But for days when you want to step out; nothing beats finding a cozy spot at a bar, preferably beside a fireplace, with a drink in hand.
[[relatedPurchasesItems-28]]
So when you're in the mood for a cozy night out, these bars and their fireplaces with their warm cocktails, whiskey selections, and impeccable wine lists will keep you company.
The Riptide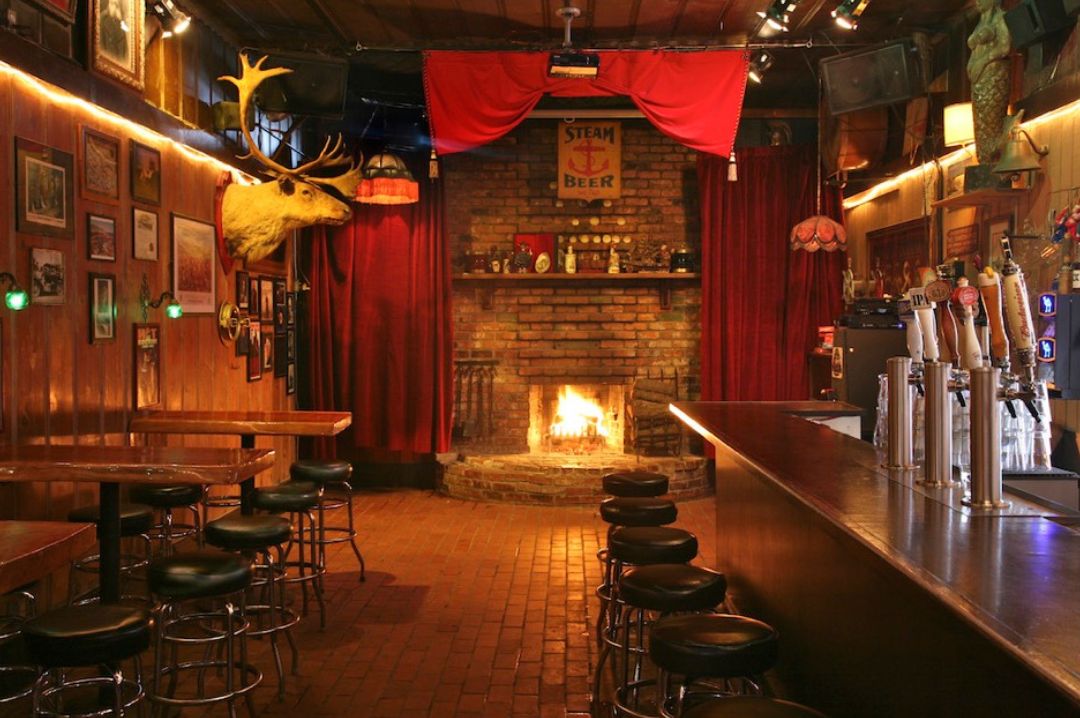 The Riptide, source: Facebook
Located in San Francisco's Sunset District, The Riptide is one of the bay area's best honky-tonk by the water. Built-in 1941, the bar gives off a small town lodge-like vibe with its rustic brick flooring and high ceilings. The blazing fireplace set amidst the pine walls makes The Riptide an ideal spot to enjoy the warmth and sip on something you like.
Along with a wide selection of cocktails, beers, and liquors, The Riptide also offers a full dining experience in partnership with Brothers Pizza. The bar is also known for its music appearances, karaoke nights, open mics, and more. Check out their website for the latest shows and updates before visiting.
Happy hours - Mon-Fri (3 pm - 7 pm)
Where - 3639 Taraval St, San Francisco, CA 94116
Hours - Mon-Sun (3 pm - 2 am)
The Homestead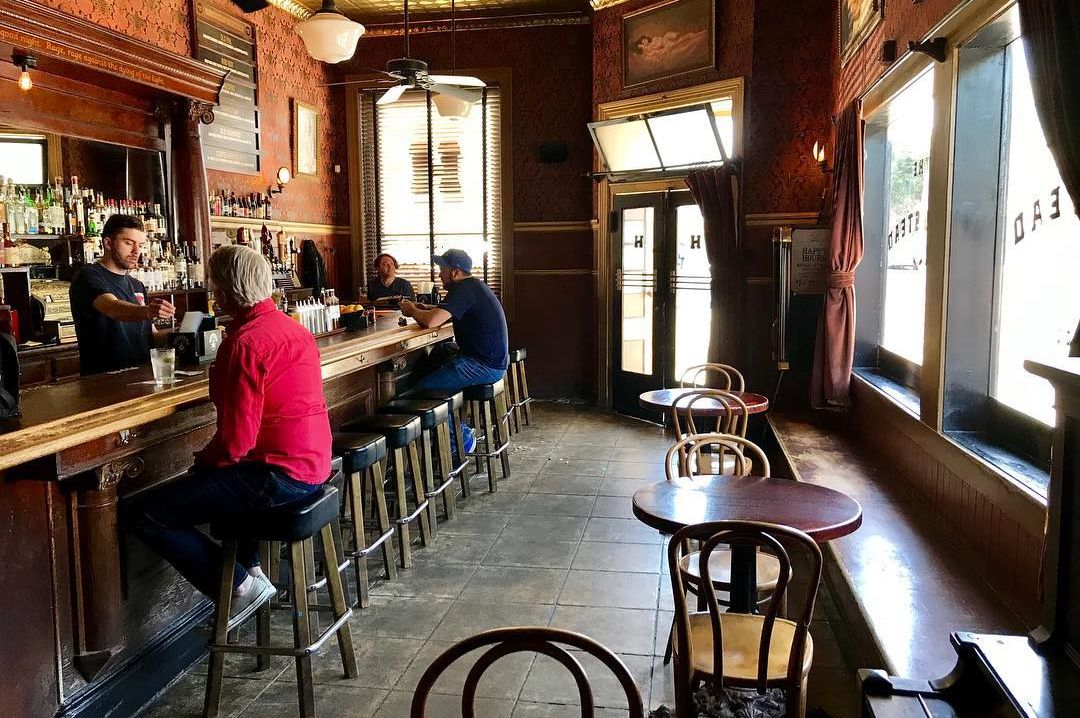 The Homestead, source: Facebook
Formerly known as Dylans, The Homestead is celebrating 119 years of community this year. Find a spot at one of their warm booths and get ready for delicious barbeque throughout the year. If you pop in on a Monday, you'll get to hear a set by a local DJ playing some of the old classics.
While the beers on tap and cocktails might grab one's attention, Homestead's whiskey collection is the real star of the show. Feeling peachy? Ask the bartender to recommend prime rye!
Happy Hours - Mon-Fri (2 pm - 6 pm)
Where - 2301 Folsom St, San Francisco, CA 94110
Hours - Mon-Sun (2 pm - 2 am)
Zeki's Bar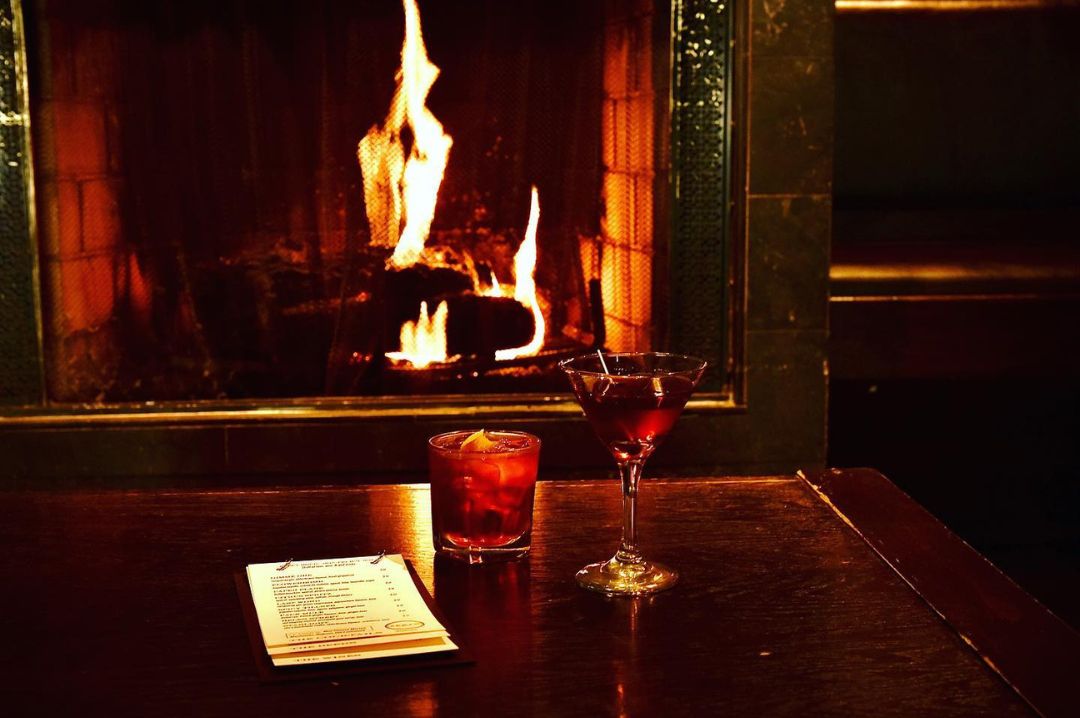 Zeki's Bar, source: Facebook
Perched on top of Nob Hill, Zeki's cozy and laid-back ambiance is what drags the homebodies out and to this spot. Hosting two fireplaces, you will always manage to find a spot near the hearth. The best part? There's something for everyone. Want a beer? They have 10 beers on tap, along with a list of 14 craft brews. Zeki's also offers an impeccable wine list, along with some great Single Malt options.
Whether you pop in with your group or find yourself enjoying some alone time by the fireplace, Zeki's never disappoints.
Where - 1319 California St, San Francisco, CA 94109
Hours - Mon-Sun (4 pm - 2 am)
Kokkari Estiatorio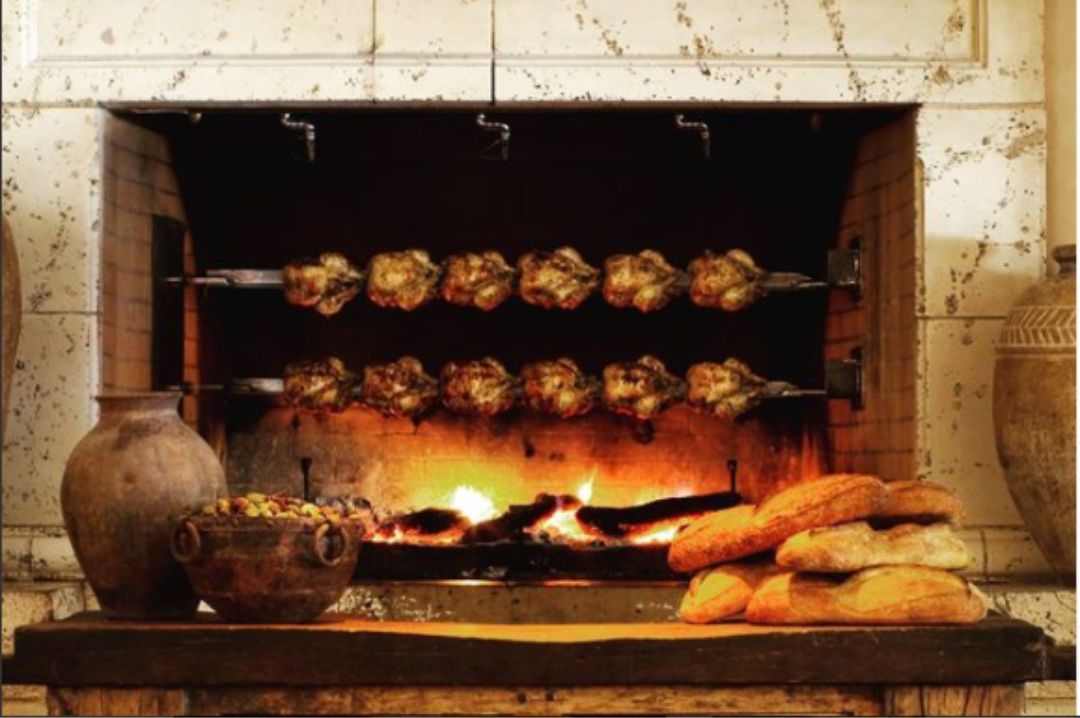 Kokkari Estiatorio, source: Instagram
Kokkari Estiatorio is named after a small fishing village on the island of Samos in the Aegean Sea. Legends say that Kokkari is the site where Orion, son of the Greek god, fell in love with the daughter of the King of Chios. In celebration of their love, he forged the island for wild game and seafood to prepare elaborate banquets.
As you set your foot in, you will experience the old-world charm of a rustic Mediterranean country inn. There is an inviting fireplace, woodwork, hand-made pottery, and freshly picked flowers reflecting age-old hospitality.
Their menu showcases seafood and game, inspired by Greece and features traditional Greek and Aegean dishes. Pair your dish well with the vast selection of sparkling, white, red, and rose wines. We recommend trying Bizelo Salata, made with spring peas topped with olive oil, feta, and scallions, or the classic chicken souvlaki with a choice of fine wine. If you wish for dessert, go for the Galaktoboureko, or semolina custard rolled in crisp filo and matched with pistachio ice cream.
Where - 200 Jackson St, San Francisco, CA 94111
Hours - Mon-Thu (5 pm - 10 pm)
Fri-Sat (5 pm - 11 pm)
Sunday (5 pm - 10 pm)
Barrel Head Brewhouse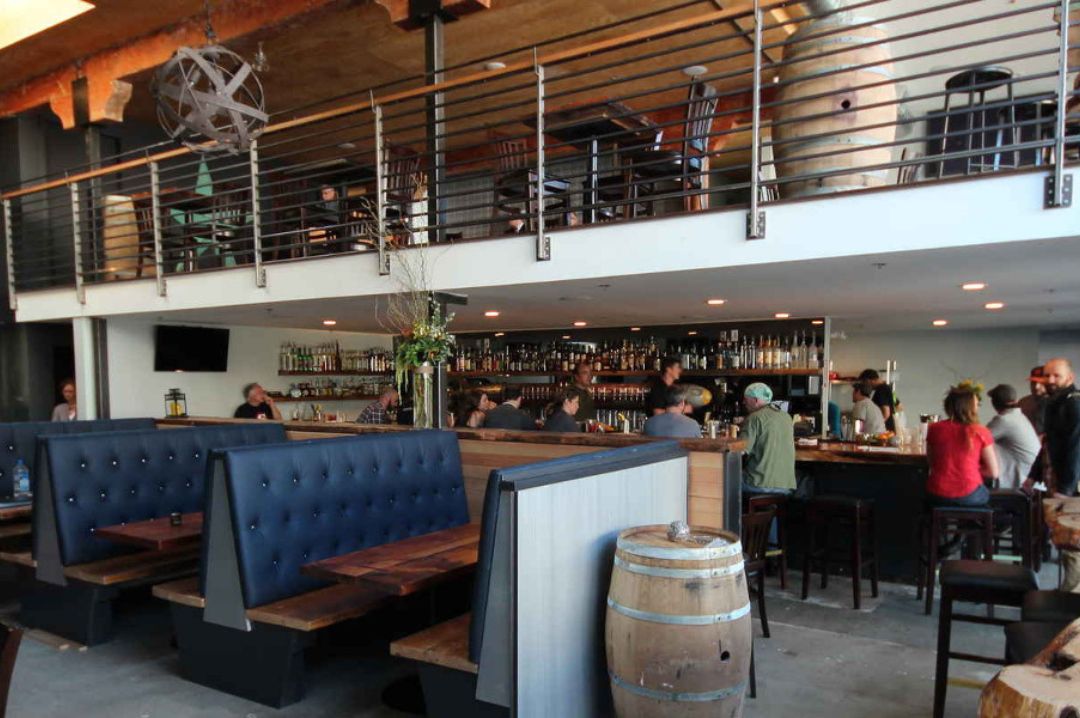 Barrel Head Brewhouse, source: Facebook
Located on Fulton Street, Barrel Head Brewhouse is a NOPA brewery, restaurant, and pub all in one. This friendly brewpub serves American grub, over three dozen signature beers, and creative cocktails in a chic surrounding. The menu features classic bar food like smoked wings, tomato salad, grilled flatbread, fish and chips, and burgers.
Grab your beer and find a comfortable spot near the cozy little fireplace, or simply enjoy your meal in the main dining room or by the lounge. The house drafts include Hammerin' Hank Belgian Trippel, Stille Nacht Winter Warmer, and many more. Vegetarians, you must try their Beyond Burger, with the beyond "burger" patty, cheddar, chili aioli, little gem lettuce, tomato, pickled onion, brioche bun, and hop salt fries. If you find yourself propped beside the fireplace, go for the Hot Toddy.
Where - 1785 Fulton St, San Francisco, CA 94117
Hours - Wed-Fri (4 pm - 10 pm)
Saturday (2 pm - 10 pm)
Sunday (1 pm - 9 pm)
Comstock Saloon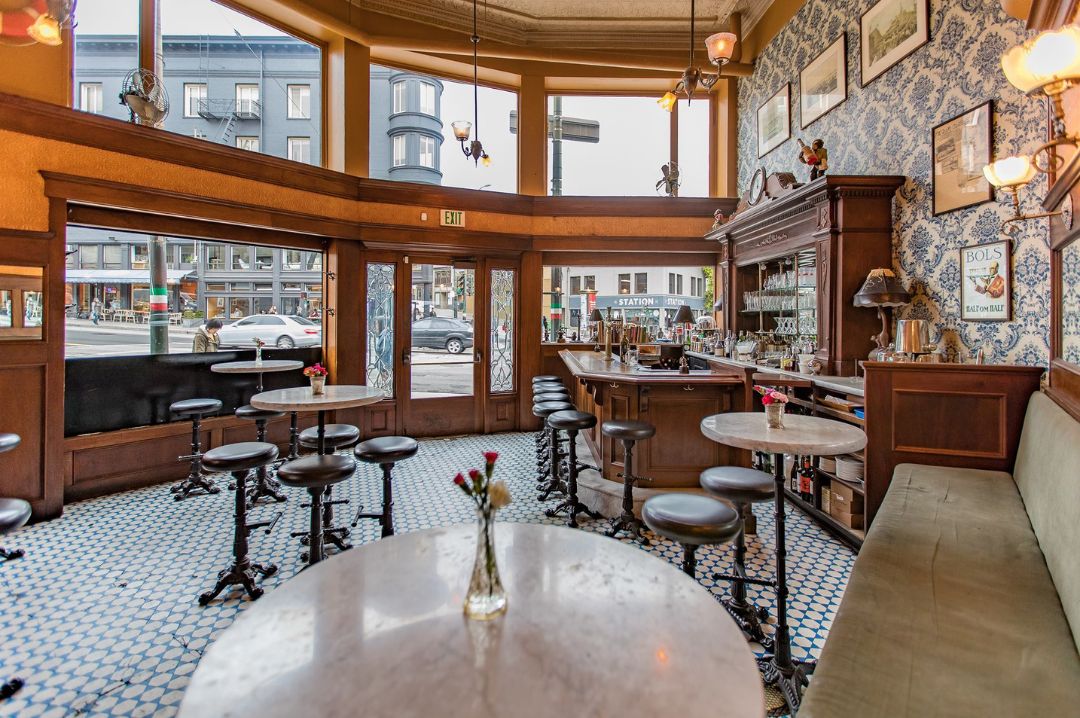 Comstock Saloon, source: Facebook
Comstock Saloon is named after Henry Comstock and the famed Comstock Lode. The space dates back to 1907, and today, it is decked up with vintage lights and wooden fixtures, keeping the same vibe in place.
The Comstock Saloon is known to make some delicious classic cocktails, but what we really love is the Pisco Punch made with Pisco, pineapple gum, lemon, and secrets. The kitchen offers an assortment of snacks and classic grub like roast chicken, oysters, and cheese plates. The saloon is worth stopping, especially on Fridays as they resurrected the old tradition of providing free lunch with the purchase of two cocktails.
Where - 155 Columbus Ave, San Francisco, CA 94133
Hours - Tue-Thu (4 pm - 12 am)
Friday (12 pm - 12 am)
Saturday (4 pm - 12 am)
Twenty Five Lusk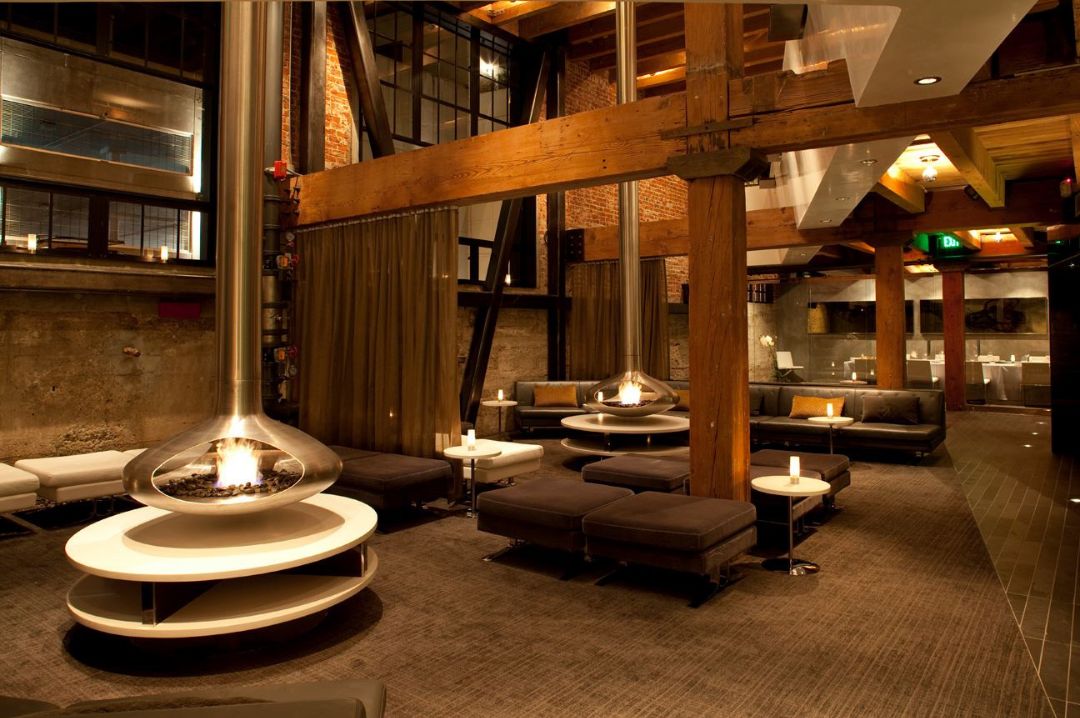 Twenty Five Lusk, source: Facebook
Located in San Francisco's SOMA district, Twenty Five Lusk takes great pride and pleasure in a beautiful experience for its guests. This elegant restaurant features a lounge with sleek modern fireplaces encircled by contemporary and cozy couches. Contrary to many other neighborhood spots with fireplaces in San Francisco, 25 Lusk is upscale, stylish and a go-to place for fancy cocktails.
The menu is created by their executive chef and partner Matthew Dolan and embraces contemporary California cuisine with influences from around the world. Did we mention that they have two drink menus? One for old-school cocktails and the other for new seasonal favorites. Don't miss out on Black Angus Steak from their wood-fired oven with a fancy cocktail like SF Yacht Club made with vodka, grapefruit, cucumber, lemon, lime, mint, and sparkling water.
Where - 25 Lusk Street, Located off of Townsend Street, Between 3rd & 4th Street, San Francisco, CA 94107
Hours - Tue-Wed (3 pm - 8 pm)
Thursday (3 pm - 9 pm)
Fri-Sat (12 pm - 10 pm)
Header image, source: 25 Lusk Facebook