Baron De Ley Rioja Rosado won Rosé of the Year
The Rioja Rosado by Baron De Ley won the Rosé Wine of the Year and Rosé Wine of the Year (by the glass) at the Sommeliers Choice Awards 2021.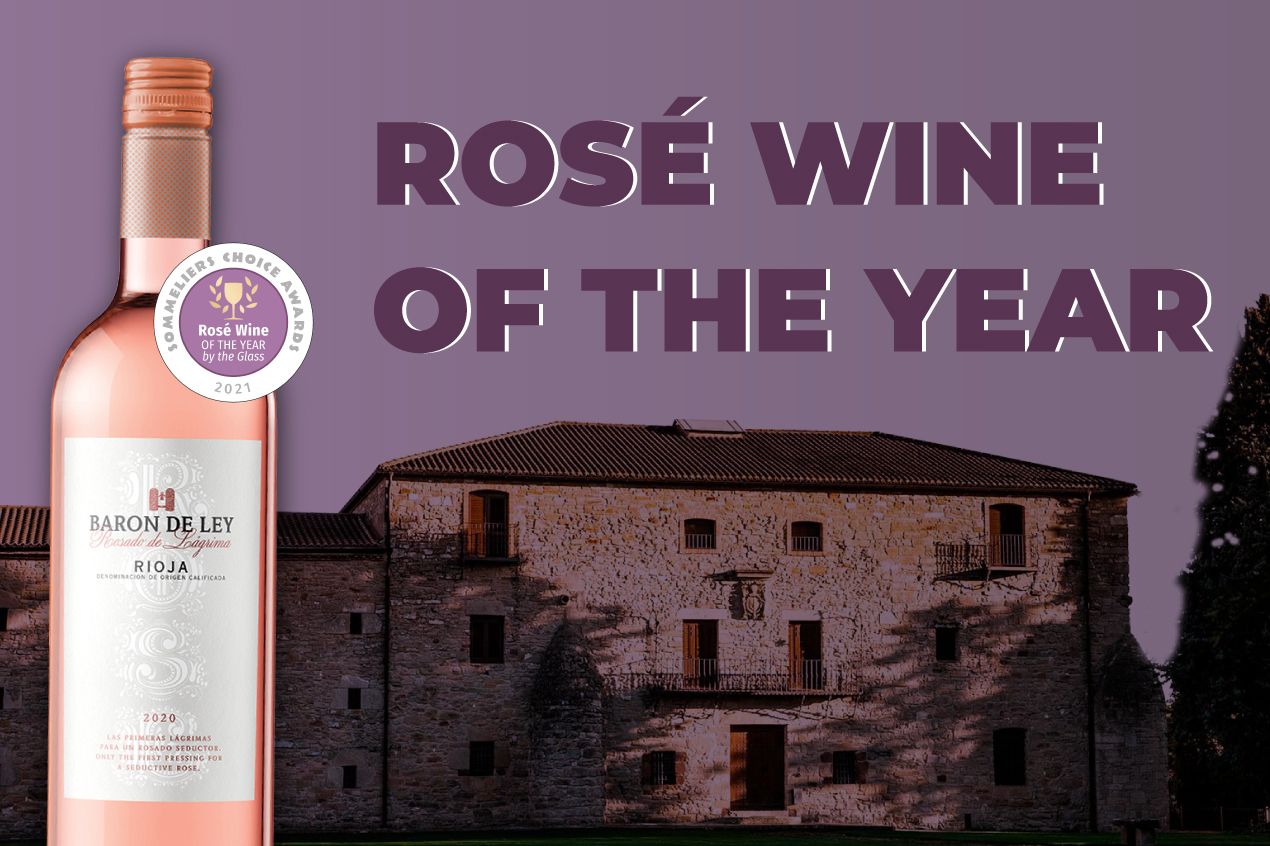 Rosado's grapes come from vineyards in the Rioja Oriental sub-region chiefly Mendavia, where the winery is located. The Mediterranean climate with a continental influence provides the ideal conditions for perfect ripening. They select the grapes from the best vines and at an earlier ripening stage to ensure higher freshness. The distinctive color of this rosé is obtained through a vinification process that combines maceration of each variety with the grapes' skins, and direct pressing of some of the grapes. The latter includes mainly Garnacha and Graciano for the freshness, while the addition of Tempranillo provides the roundness. The wine ferments in temperature-controlled vats.
Rioja Rosado has an attractive and bright raspberry pink color with violet reflections. It is fragrant on the nose dominated by red fruits, floral and balsamic notes. The wine is fresh, unctuous, and fruity with a balanced mid-palate that invites you to continue drinking. This rosé combines perfectly with rice dishes, white meats, and grilled vegetables. It is also ideal just to accompany a conversation on a warm day outdoors.
Rioja Rosado by Baron De Ley won the titles Rosé Wine of the Year and the Rosé Wine of the Year (by the glass) at the Sommeliers Choice Awards 2021.
The main aim of the Sommeliers Choice Awards is to give on-premise purchasing authorities and sommeliers a vital benchmark for identifying which wines would make an impressive extension to a wine list. Those wines are awarded that meet specific judging standards - Food pairing ability, Typicity, Value for money, Quality, and Packaging. The judging panel of the Sommeliers Choice Awards consists of Master Sommeliers, Sommeliers, Masters of wine, and on-premise buyers like Brett Davis MS (Master Sommelier and Sales and Education Manager at E. & J. Gallo Winery), Maximilian Kast MS (Master Sommelier and Director of Education at Broadbent Selections Inc), Laura Williamson MS, CWE (Master Sommelier, Owner of Unlock Your Palate Inc and Partner at RingIT Inc), and others. This year at the Sommeliers Choice Awards, 26 different countries participated with 142 different varietals of wine, and the US was the highest participant with 522 entries, followed by Italy and Spain.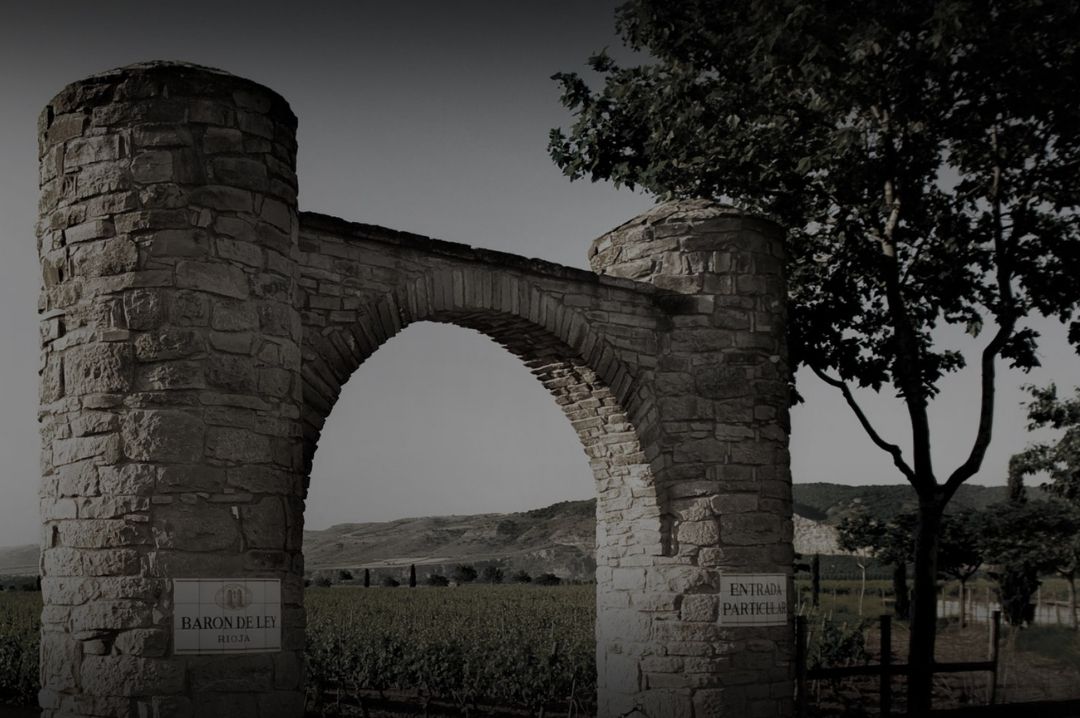 Baron De Ley, Source Facebook
About Baron De Ley
Barón de Ley is a winery located in Spain's most celebrated wine region, Rioja, a privileged terroir to farm and craft premium quality wines. Housed in a centuries-old monastery, where the monks made wine more than 500 years ago, Barón de Ley was founded in 1985 as a ground-breaking project in DOCa Rioja: a vineyard-focused winery inspired by the Médoc châteaux.
Rioja's diversity defines their winemaking; they explore the potential and boundaries of quality Rioja wines while remaining true to their heritage. They own more than 600 hectares of vineyards in different subregions, which guarantee top-quality wines with personality and where they capitalize on the diverse locations, micro-climates, soils, and grape varieties Rioja has to offer. 10 indigenous red and white grape varieties make up their range.
They take the manual harvest to new heights through a combination of hand-harvesting and hand-sorting of 1.8 million kg of grape every vintage, an impressive milestone in Rioja. They specialize in Reserva and Gran Reserva wines, honoring Rioja's acclaimed tradition of long aging in their 31,000 French and American oak barrels.
They export close to 89% of their products through a distribution network in 50 countries. Combining a very distinct Rioja identity with an open, innovative approach to winemaking, in the past 35 years, Barón de Ley has built its success and its standing today as an award-winning winery among the elite of Rioja and top Spanish wine brands.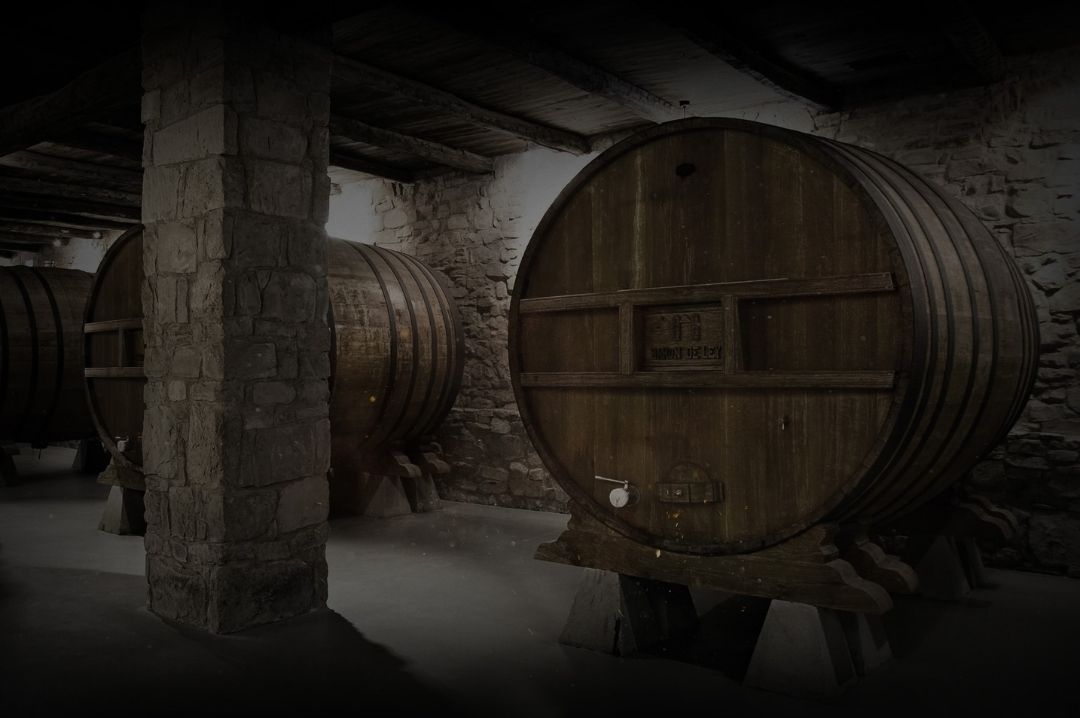 The History
In 1548, the Count of Eguía, a nobleman from Navarra, built a castle-fortress in the 1,000 hectares Imas Estate of his property on the banks of the Ebro river, both a strategic and fertile land enclave. In 1568, the fortress and estate became a property of the Benedictine Order. The monks used this logistical asset to breed wool-producing sheep and make wine and spirits, one of their famed expertises. In 1839, in turmoil between the Church and the State, the Estate was confiscated from the Benedictine Order. General Martín Zurbano took possession as a reward for his distinguished war service. In 1844, Zurbano wagered and lost all his lands in a historic card game, and the Estate was redeemed by his administrator, Cayo Muro. In 1880, the Jiménez family bought the Estate from Cayo Muro's widow, and they remained there for three generations, bringing to Finca de Imas a period of great splendor as an arable and livestock farm.
In 1985, Barón de Ley was founded as a ground-breaking project in DOCa Rioja: a vineyard-focused winery inspired by the Médoc châteaux specializing in premium Rioja wines. In 1990, Barón de Ley wines were launched in the market with the first prestigious Barón de Ley Reserva, one of their most signature wines to date. In 1994, it achieved its first international success, leading to an expansion to a production of 4 million premium wine bottles. In 2000, Gonzalo Rodríguez was recruited as Chief Winemaker and he encouraged planting new indigenous grape varieties. In 2004, Barón de Ley won two International Wine & Spirits Competition (ISWC) Spanish Wine Producer of the Year trophies.
In 2008, they invested extensively in purchasing vineyards and land for new plantations of indigenous grape varieties. In 2018, they expanded their aging capacities, including a new cellar with room for 30,000 casks and renewal of the fermentation facilities with state-of-the-art winemaking concepts. In 2019, Pablo Tascón, one of Spain's young and upcoming winemakers, joined Barón de Ley as Technical Director to work side-by-side with Gonzalo Rodriguez and take their wines to the next level.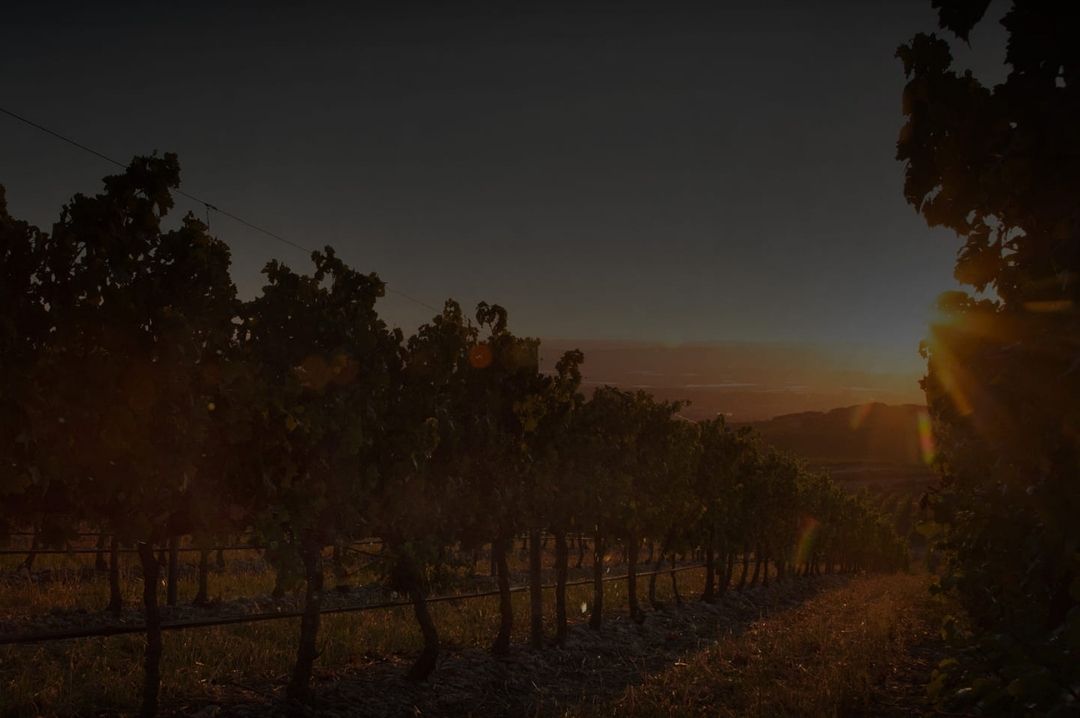 Wine-making Philosophy
Baron de Ley's distinctive winemaking philosophy begins with their unique asset - over 600 hectares of vines located in different Rioja sub-regions. They guarantee top-quality and authentic wines, farmed and crafted from the vineyard and marked by each harvest's characteristics. In addition to hand-harvesting, they have a hand-sorting facility that combines a manual selection of the bunches with an automatic selection of the berries, up to a total capacity of 1.8 million kg of grape every vintage.
Creativity and non-conformism are the signs of the identity of their winemakers. They lead production and product innovation projects, experimenting with winery technology, farming new and less frequent grape varieties, and utilizing indigenous fermenting yeasts, all of which provide the wines with a distinctive Barón de Ley personality.
About the winemakers
Pablo Tascón
Born in León, Pablo Tascón has spent over 15 years farming grapes and making wine in the Spanish appellations of Rioja, Bierzo, Rias Baixas and Valdeorras.
As one of Spain's most up-and-coming enologists, he continuously demonstrates his exceptional expertise in vine culture and growing by farming indigenous grapes in non-traditional soils, which he combines with different vinification and aging techniques. The results are elegant, fresh, and pure wines, utterly representative of the land they come from and the creativity behind them.
Gonzalo Rodríguez
Gonzalo is a pioneer in Spanish enology. In the 1980s, he became one of Ribera del Duero's top winemakers.
In the 1990s, he advised different Rioja wineries, which allowed him to participate in some of the most avant-garde wine projects. He joined Barón de Ley in 2000 and began cultivating less-common indigenous Rioja grapes, which represented a real turning point in their winemaking philosophy.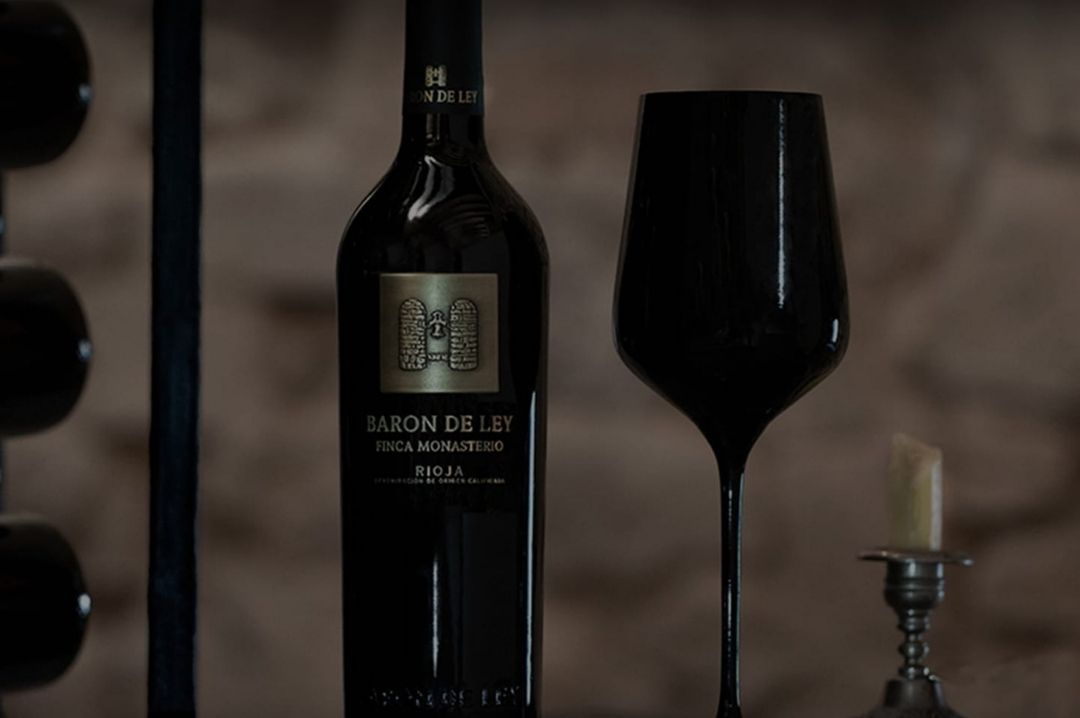 Other Wines
Reserva
Clean and bright with a medium robe and a ruby ​​red color and complex with aromas of red fruits, sweet spices with a balsamic background. After a powerful attack, the sensation of soft, supple volume gradually extends across the palate for a creamy finish. The aftertaste reminds you of the red berry fruit mingled with hints of wild herbs. In Rioja, it is the perfect wine to accompany one of the most notorious dishes, the Riojan potatoes, a pottage of potatoes and chorizo ​​with nuances of bay leaf and chorizo ​​pepper. It also pairs with white meat, mushrooms, and vegetable stews.
Gran Reserva
This is a clean and bright wine with a medium layer. It shows a ruby red color with tile reflections. The wine is complex and frank, with notes dominated by ripe red fruit, saffron, and tobacco and a very elegant balsamic background. It has a round and balanced palate, displaying silky tannins while remaining fresh and lively. The aftertaste is long and lingering; it offers hints of toasted wood and dried fruits. This wine is enjoyed alongside a classic from Rioja cuisine, chuletillas al Sarmiento- milk-fed lamb chops, grilled over dried vine shoots to provide a unique and healthy smoke taste. They also call it their "fireplace wine" . It can be slowly enjoyed on its own, with a cheese platter or Iberian hams.
Buy Barón de Ley Rioja Rosado
For US residents - Shop here.
For UK residents - Shop here.
For Spain residents - Shop here.