Top 50 spirits of 2021
We bring you the 50 best spirits from the world that have been approved and recommended by spirits experts.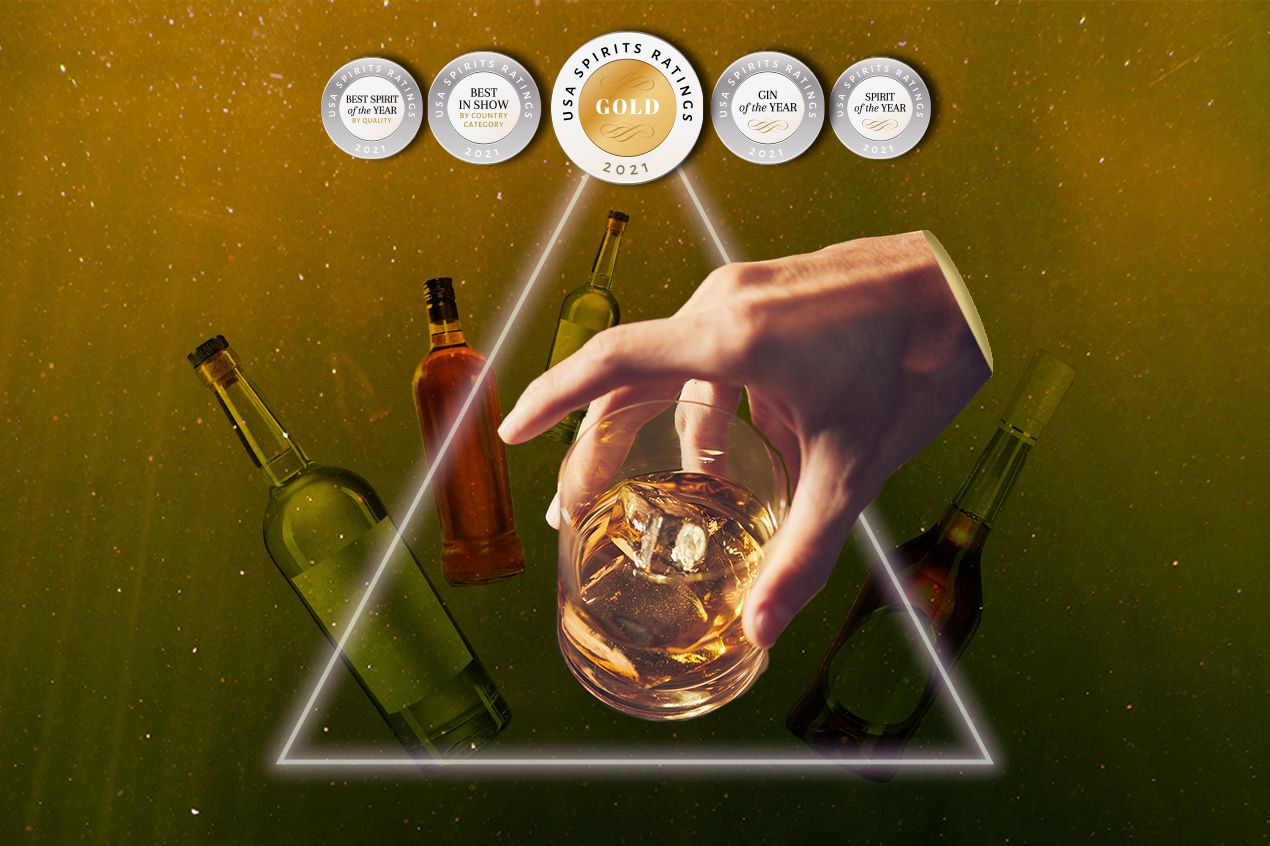 Whether you're looking for a sipping gin, a whiskey to be mixed into cocktails, or a celebrity tequila to prop up on your at-home bar shelf, we have a spirit for you.
Every year, some of the country's top bartenders, spirits buyers, and spirits experts gather at the USA Spirits Ratings to taste, judge, and award spirits from across the globe. The 2021 USA Spirits Ratings saw spirits from over 45 countries, with the majority of them coming from the United States, France, Mexico, and the United Kingdom.
Judges at the competition award spirits on the basis of three main parameters, namely, quality, value, and packaging. This year's judging panel included names like Tim Marson MW (Senior Spirits Buyer at Wine.com), Ivy Mix (Co-Owner at Fiasco! Wine and Spirits in Brooklyn, New York), Jeff Feist (Category Lead - Spirits & More at BevMo), and many more. These judges have made a mark for themselves in the industry, and a recommendation from them is a must-try!
The next time you're looking for a stellar spirit to drink, this is the list to refer to.
Barr Hill Gin
98 points
America's most awarded and loved Barr Hill Gin tops the charts for the second time. The gin took home 4 titles, namely, 'Spirit of the Year', 'Gin of the Year', 'Best in Show by Country' (United States), and 'Best Spirit by Quality'. Each batch of this gin is distilled in a custom-built botanical extraction still. Thus, the results are distinctive and unparalleled. The juniper berries and botanicals are brought to a perfect balance by the floral depth of the raw honey. There is honey sweetness on the palate. The judges at the competition said that "there are so many places this gin can travel and it lends itself beautifully to be sipped on its own or to be made into a cocktail."
Uncle Nearest 1820 Premium Single Barrel Whiskey
97 points
Inspired by Nearest Green, the first African-American distiller the world never knew, 1820 Premium Single Barrel Whiskey has been awarded the 'Whiskey of the Year' award. The bottle has lovely aromas of honeycomb, dark chocolate-covered raisins, candied orange peel, and coffee beans. On the palate, it has f rich flavors of caramel, vanilla, and baking spices.
Brandy Sainte Louise
96 points
Distilled in traditional Charentais pot stills, Brandy Sainte Louise is blended and aged in the Cognac region of France. It carries a rich history of expertise that has defined the highest standards for brandy production in the world. At the USA Spirits Ratings 2021, the brandy was awarded 'Brandy of the Year' and 'Best in Show by Country' (France). The brandy has a perfumed nose that is perfectly balanced between fruit and savory notes. On the palate, it has flavors of vanilla, leather, raisin, fig jam, and pineapple cake.

The Botanist Islay Dry Gin
96 points
The Botanist launched the first and only Islay Dry Gin, a rare expression of the heart and soul of the Scottish island. The distillery took home 'Best in Show by Country' (United Kingdom) and 'Best Spirit by Package' at the competition. This dry gin has complex notes of citrus, herbs, and juniper on the nose. On the palate, it is soft and generous, making it a great spirit to sip on. Judges at the competition described the gin as "complex and delicious".
La Fée Parisienne Absinthe Supérieure
95 points
La Fée Parisienne is a classic Absinthe Supérieure, distilled using 100% natural ingredients, in collaboration with Marie-Claude Delahaye, founder and curator of the French Absinthe Museum. The judges crowned the bottle as the 'Absinthe of the Year' at the competition. This absinthe has rich flavors and aromas of natural wormwood and anise. It has a crisp and refreshing finish with a taste of fresh fennel that lingers on the palate.
Puerto Angel Anejo
95 points
Puerto Angel rum is handcrafted from the freshly squeezed and naturally fermented organic sugarcane juice at the artisanal distillery located in the Oaxaca mountains of Mexico. Puerto Angel Anejo was recognized as the 'Rum of the Year' and 'Best in Show by Country' (Mexico) amongst judges. The notes of banana foster and french toast jump from the glass on the pristine nose. The rum tastes of caramel and cream puff pastry. The palate is fruit-forward and tastes like banana and apples.

Cognac Maxime Trijol Xo Grande Champagne
94 points
Maxime Trijol's XO Grande Champagne Cognac is a classic Cognac that is both full-bodied yet delicate and has won many awards over the years. The judges at the competition recognized it as the 'Cognac of the Year'. This cognac from France is amber in color with flashes of mahogany. When opened, the bottle shows a lively and remarkably fresh nose that showcases pears, peaches, oranges, and vanilla. The palate is remarkably smooth with hints of honey, marshmallow, and orange zest. Experts recommend this Cognac to be sipped neat at 20°C to 25°C.
Monkey in a Bottle
94 points
Housed in Gin-Manufaktur Aarau KLG, Monkey in a Bottle originates from Switzerland. After its launch in the market, within 3 months the gin became a favorite among drinkers and has won many awards. This classic London Dry Gin has juniper on the nose. On the palate, it has bright juniper and spice notes with a long finish. Judges at the competition described it to be a 'truly intriguing gin'.
Muyu Vetiver Gris
94 points
Muyu is a modern liqueur, created with natural ingredients. Each liquid begins with the precious extraction of a single note, after which the secondary sequences of extraordinary ingredients are wrapped around each note to create a completely developed and complex liquid. The Muyu Vetiver Gris composition, created by Alex Kratena, is based on the alchemy of wood. The liqueur was capped 'Liqueurs of the Year' and 'Best in Show by Country' (Netherlands) by the judges. This liqueur is booming with floral aromas of honeysuckle, jasmine, and peach pie. The palate is sweet and nuanced with hints of smoke. It would be a great addition to cocktails.

Hangar 1 Buddha's Hand Citron
94 points
Hangar 1 works with specialist growers to source fruit at the peak of ripeness. The Buddha's Hand Citron was recognized as 2021's 'Vodka of the Year' at the competition. Buddha's Hand Citron has a lower acidity that allows complex flavors and aromas to come through. The vodka has bright citrus notes on the nose with aromas of candied lemon peel, lime zest, and grapefruit. It has a sweet lemon flavor that coats the palate and carries through to a long lingering finish. The citrus notes in the vodka are refreshing and well-balanced.
Blood Orange Greyhound
94 points
The Blood Orange Greyhound is a canned cocktail, crafted by 503 Distilling. It is a blend of 503 Vodka along with real grapefruit juice and blood orange puree to create a refreshing grapefruit forward cocktail that's enjoyable at any time of the day. The nose is bright and carries strong aromas of grapefruit peel. The flavor is very straightforward and tastes like drinking a greyhound on the go.
Monsieur Gin
93 points
Monsieur Gin was born in France, more precisely in Charente, to an English father and a French mother with Belgian and Dutch origins. Carefully prepared by hand, Monsieur Gin is made from juniper berries, coriander seeds, verbena leaves, and elderflower from organic farming. It is distilled in a traditional copper still before being reduced with water from the Gensac La Pallue spring. This gin has an elderflower and jasmine-driven nose. On the palate, it is spiced with juniper and coriander.

Long Drink Cranberry
93 points
The roots of Long Drinks go back to the 1952 Summer Games in Finland when the country of 4 million people was still recovering from World War II. The Long Drink Cranberry is a refreshing citrus soda with a kick of liquor. Unlike the seltzers made with fermented sugar, Long Drink is a true award-winning drink that is smooth, refreshing, and doesn't leave you with that full beer feeling. On the palate, it is tarty and fruity with nicely textured bubbles without sacrificing that distinctive juniper note.
Cowboy
93 points
Garrison Brothers release one of the most highly-coveted bourbon whiskies in America: Cowboy Bourbon. This was the American Whiskey of the Year in Jim Murray's 2014 & 2017 Whisky Bibles. Unlike the small-batch, The Cowboy comes from Dan and Donnis' favorite barrels. They're set aside for a couple of years for further maturation and the liquid is bottled at cask-strength, uncut and unfiltered. The bourbon is big, full, and rich in flavors. It has a robust texture with flavors of cinnamon and clove that linger on the palate.
Larsen Aqua Ignis
93 points
Larsen Aqua Ignis is the first cognac in the world that is aged in steam-toasted barrels. This cognac marks a special milestone for Maison Larsen, where each cask, made of traditional French oak, is plunged into hot water then toasted over hot fire, three times. This technique releases the most complex and finest aromas from the wood while keeping out undesired smoky notes, tannins, and acidity. The result is delightful, with intense aromas of vanilla, toasted bread, mocha, and brioche and a long and silky soft finish.

Coconut Cartel Special Añejo Rum
93 points
This is not a simple coconut rum. Coconut Cartel Añejo Rum is an extra smooth tropical sipping rum. Their signature Guatemalan rum blend is aged for up to 12 years in new charred American White Oak barrels, cut to proof with fresh coconut water, and then bottled for you to enjoy neat or on the rocks. This great sipping rum has maple and coconut notes and would also be great in a cocktail.
Rémy Martin XO
93 points
Rémy Martin XO is the signature of the company's Cellar Master who, with his expertise, blends up to 400 Eaux-de-vie. The cognac uses saffron, walnut, plum, candied oranges, mature fig, fresh hazelnut, cinnamon, roasted cocoa beans, honey, jasmine, and ginger for its making. The result is notes of black cherries, blackberries, plums, and vanilla waft in a glass. The palate is loaded with cocoa, honeysuckle, and nutmeg.
Wild Roots Vodka
93 points
Wild Roots Vodka begins with pristine water from the Pacific Northwest and American-grown corn. Inspired by lava rock from the Cascade Mountain range and mother nature's purification system, they meticulously filter their vodka 100 times. The end result is an unforgettably smooth spirit as unique as the land from which it comes. The vodka has soft aromas of red apple and hay. On the palate, the spirit is silky and finishes with a touch of sweetness.

Cognac Vaudon XO
93 points
Vaudon started in 1771 when Francois Gaborit passed on his Mérignac domain and vineyards to his stepson, Pierre Nalbert. For generations, the domain grew and evolved and today Anne-Marie Vaudon and Pierre Vaudon are the custodians of this history. The XO Vaudon is a special expression in their product range. It has delicate notes of violets, mango, walnuts, and candied orange peel. This cognac is soft and silky on the palate, and the exotic notes are very present and stay with you for several minutes in the mouth. XO Vaudon can be had as a digestif, or as an aperitif.
Redwood Empire- Pipe Dream
93 points
Named after the 14th tallest tree on the planet, Pipe Dream is Redwood Empire's first Bourbon whiskey. The bourbon has a deep golden hue with a powerful nose of sweet maple, vanilla, and hints of honey. On the palate, it has a rich, deep, and complex taste with roasted pecan, vanilla, and lingering char and woody notes. It is complex and smooth with a hint of black pepper on the finish. Ideal for a nightcap.
Teremana Tequila Reposado
93 points
Teremana Tequila is created in a small town in the highlands of Jalisco, founded by Dwayne 'The Rock' Johnson, who worked with a Mexican family-owned distillery to build a unique home on the grounds solely for Teremana. The competition awarded Teremana Reposado with the title of ' Tequila of the year', truly proving that celebrity-owned brands are indeed dedicated to quality. The Teremana Reposado has a great nose with notes of oak, and vanilla. On the palate, it has very balanced flavors with crisp citrus notes and has a smooth, rich finish.

Barr Hill Vodka
92 points
Barr Hill Vodka, crafted by Caledonia Spirits, is a tribute to the hardworking beekeepers. Their recipe depends on two simple principles: first, they never heat the honey prior to fermentation and second, they never distill more than twice. This technique preserves the wild yeast and the rich aromatics of nectar - delivering a floral depth of wildflower fields straight to your glass. The judges at the competition described this to be a "beautiful balance of a light-bodied spirit with a nuanced beginning, middle, and end."
Kenya Coffee liqueur
92 points
The Pakruojis Manor Distillery worked hand-in-hand with Huracan, the premium coffee experts, to redefine classic coffee liqueur. Together they blended the finest hand-selected Arabica coffee beans, in conjunction with cold-brew technology to add a rich and creamy texture to this evocative drink. The result is the Kenya Coffee Liqueur, where striking notes of fresh coffee are revealed alongside notes of blackcurrant berries and are joined by hints of thick cocoa ice cream in a delectably lingering aftertaste.
Suave Reposado
92 points
From the Suave Distillery, this delicious Reposado is aged for 9 months in American Oak barrels which are previously used for bourbon. It has a creamy, vanilla, cherry, and slight caramel aroma, with some baking spice, honey, a touch of pine, and a whiskey presence. On the palate, it's creamy, with whiskey and a baking spice mouthfeel, vanilla, and just a pinch of caramel. It has a deep color because of its 3 Barrel technique and gives a pleasant aftertaste of vanilla and cinnamon notes.

Hombre's Gin Handcrafted Premium gin
92 points
The Hombre's Gin brand, established by Libor Zbojan, aims to deliver the best quality gin to not the only Czech Republic but the world. The handcrafted premium gin comes in a black bottle with cool metallic ethics. The gin has prominent notes of citrus from California and Spain. It is sensitively balanced, so as not to suppress the taste of mountain juniper fruits and other ingredients from all over the world. The gin has lovely botanical notes with a spicy finish. Juniper is the main star on the palate with undertones of citrus layers.
Cathedral Ledge Distillery Organic Vodka
92 points
The trademark vodka from the Cathedral Ledge Distillery is distilled primarily from organic corn and wheat. This is a very smooth vodka that tastes great on its own or with your favorite mixer. The Organic Vodka has a grassy, apple-forward nose that is light and lively. It is very pleasant on the palate - silky with warming notes of pink peppercorn and rye spice. Smooth with a delicate citrus finish.
Cathedral Ledge Distillery Organic Aquavit
92 points
The Organic Aquavit is a traditional Scandinavian spirit. They took their organic vodka and infused it with caraway, fennel, anise, clove, orange peel, lemon peel, and angelica root to make this delicious spirit. Perfect to sip during the winter or on a ski trip, as the spirit will warm you up. The spirit is led by dill and herbs with underlying botanicals. Aquavit has notes of honey and golden apples that mingle with fennel and green grass notes on a surprisingly lovely nose. Fresh fennel and white pepper notes take over on the palate.

Emperor Heritage
92 points
Emperor Rum is a blend of Mauritian-aged rums stemming from the distillation of pure and fresh sugarcane juice and molasses. The brand takes its uniqueness from the Mauritian soil, climate, and tradition. The judges at the competition recognized Emperor Heritage as the 'Best spirit by Value'. Notes of candied lemon peel, orange, cream, and green banana shape the nose. Caramel is laden on the palate with layers of toffee and molasses.
Santa Teresa 1796
92 points
Santa Teresa 1796 is a bold and elegant rum, aged up to 35 years in bourbon oak barrels, then further aged through the artisanal Solera method resulting in a dry, smooth, and balanced rum. This Solera Rum is amber red in color. On the nose, it has a pleasant aroma of molasses, brown sugar, and light butterscotch. A beautiful palate of vanilla, nutmeg, and spicy oak with a long caramel and hazelnut finish.
Muyu Chinotto Nero
92 points
Created by Simone Caporale, this is an homage to Chinotto. Muyu brings extraordinary ingredients to modern bartenders. It is to be shared in highballs during aperitif hour, mixed in cocktails, and drunk on the rocks. The liqueur has aromas of light mandarin, cola, white grape flavors. Chinotto Nero is complex, smooth, and could be versatile in cocktails. A unique aperitif with layers of flavor.

Fiorito Limoncello
92 points
Fiorito Limoncello is made with the family's traditional recipe and has been awarded several international prizes. This slightly sweet lemon liqueur is smoother and fresher than other limoncellos. The rich, smooth taste is created because they peel the organic lemons by hand. Fiorito has lovely bright citrus oils on the nose. The palate is robust with flavors of candied lemon, fresh citrus juice, and hints of caramelized oranges. Drink Fiorito Limoncello ice cold, at the end of a dinner or, in the mix with tonic or prosecco as a festive aperitif.
Bhakta 50
92 points
Bhakta Brandy is the rarest spirit known to mankind. It is a blend of 8 Armagnac vintages 50-152 years old. This makes it among the oldest spirits on the market. They finish their brandy in Islay Scotch casks for a unique, smoky intrigue. Thus the Armagnac is smoky, sweet, rich, and vibrant simultaneously. There are flavors of caramel, toffee, and praline on the tongue, with a hint of peat on the nose.
400 Conejos
92 points
400 Conejos Espadín Joven is produced by maestro mezcalero Don Tacho, in Santiago, Matatlán, Oaxaca. Mezcal 400 Conejos is named after the ancestral belief that agave spirits were occupied by 400 rabbits. The 400 Conejos is Mexico's #1 selling mezcal. The agave spirit has aromas of honey and bell peppers and opens into fruits and earthy nuances on the palate. A good base spirit for cocktails. It is perfect for those beginning their mezcal-drinking journey.

Bushmills Black Bush
92 points
The Bushmills Black Bush was awarded the 'Best in Show by Country' (Ireland) in the competition. The Black Bush Irish Whiskey combines an exceptionally high amount of malt whiskey married with a lighter grain whiskey and then matured in former Oloroso sherry and bourbon casks. This unique recipe results in Black Bush having rich, fruity notes and a deep intense character, balanced by an incredibly unique smoothness. It's best enjoyed neat, over ice, or in a classic cocktail. There are nuances of toasted oats with butter, raisins, and toasted nuts on the nose. Expressions of smoked meats on the palate with a really nice finish.
Redwood Empire- Lost Monarch
92 points
Named after the world's largest coastal Redwood tree, Lost Monarch whiskey has a name to live up to. It is an award-winning bourbon-rye blend with an exceptional balance of sweetness and spice. The bourbon has a dark amber color with a slight orange cast. The nose is complex, with clove, cinnamon, vanilla, orange citrus zest and butterscotch notes, and an intriguing hint of sandalwood. On the palate, it has sweetness from corn and spiciness from rye combined with an almost maple syrup-like flavor. Vanilla and caramel notes lead to a persistent, yet subdued peppery finish.
Ten To One Rum White Rum
92 points
The White Rum from Ten To One is rapidly redefining the category with its unique flavor profile. They have crafted an enticing unaged blend of column still rum from the Dominican Republic, with high ester pot still rum from Jamaica, to yield this beautiful extra-proof expression. The White Rum has aromas of earthy tropical fruit. The palate has green notes of charred peppers, juicy pineapple, and caramelized bananas. A dry finish with spice and floral components on the palate.

Tom Cat Gin
91 points
Another expression from the Caledonia Spirits, Tom Cat Gin is an expedition into uncharted territories. Once distilled, the gin is aged in new American oak barrels in search of a bolder expression. The robust character of the new oak barrel mingles with the coniferous quality of the juniper, yielding an enticing aroma. A touch of raw honey leaves this revolutionary spirit remarkably approachable, whether drinking neat or in a cocktail. Notes of saffron and honeycomb are evident. It is well balanced with a long floral finish.
Signature Edition FIVE
91 points
Since the launch of St. Kilian in 2016, the distillery has been extremely keen to experiment with the whiskey. Its Signature Edition FIVE is matured over 3 years in 5 different virgin-fresh oak barrels to a masterly composition. The whiskey is soft and has round smoky aromas, and a mild taste of finely spiced oak conveys the feeling of a refreshing walk in the woods. The palate has flavors of butterscotch and caramel.
Bud Spencer - The Legend
91 points

At St. Kilian Distillers, they create absolute premium whiskies for a global audience. For their Bud Spencer - The Legend, they have combined noble bourbon barrels from the USA with Italian Amarone red wine barrel notes. The name comes from the Italian actor Carlo Pedersoli, professionally known as Bud Spencer. The bottle dons stickers of the actor. The Legend has smokey and caramel flavors on the nose. The palate has tons of vanilla, caramel, and honey.

Penelope Bourbon Barrel Strength
91 points
The Barrel Strength from the Penelope Bourbon pushes the boundaries of their signature four-grain balanced flavor profile. Batch 7 is blended from three bourbon mash bills aged 3.5 – 5 years in new American oak barrels. Resulting in rich and deep notes of wood and creme brulee on the nose. The palate is hot, but with just a touch of water, it opens up to show well-developed notes of molasses, caramel, burnt sugar, and dried apricot.
Fishers Island Lemonade
91 points
The Fishers Island Lemonade canned cocktail was launched on Memorial Day weekend in 2014. The original recipe is made with premium vodka, barrel-aged whiskey, lemon, and honey. The drink has a slight sweetness that lingers on the nose. The palate has sweet and tart citrus tones layered with sweet candied lemon flavors.
Juan Lobo Tequila Reposado
91 points
Juan Lobo Tequila is born in the highlands region of Jalisco, in a quaint town called Arandas. The golden color of Juan Lobo Tequila Reposado is a result of the aging process in single-use Jack Daniels barrels. You'll notice a perfectly balanced flavor of sweet, cooked agave, and woody notes from the barrel, finishing with a round, vanilla taste. Judges at the competition expressed this reposado to be "extremely pleasant on the nose".

Iris Poivre
91 points
Iris Poivré XO from Fanny Fougerat is a single estate cognac made in small batches. Pure, distinct, and floral, Iris Poivrée links fineness to generosity. The cognac is delicate in essence and subtle by nature. It has nuances of orange blossom, cherries, and tangerine rind on the enticing nose. The palate is light and crisp, displaying lovely orange citrus and a slight tobacco note on the finish.
Cocoa Bomb Chocolate Whiskey
91 points
North America's most awarded craft distillery, Heritage Distilling brings you a delicious chocolate whiskey - the Cocoa Bomb Chocolate Whiskey. Driven by the love of the Cocoa Bomb hot chocolate experience, the team set out to make the best-tasting chocolate-flavored whiskey on the market. The whiskey has cocoa butter and caramel candy notes on the nose. Expect flavors of cocoa powder, chocolate, and toffee on the palate with hints of spice on the finish.
Verdigris
91 points
The National Distillery Company's Verdigris Dry Gin is inspired by a classic, juniper-led London dry gin bouquet, a supporting duo of lemon peel and native New Zealand flax seeds. This gin is an all-rounder as it can be sipped neat, on the rocks, or mixed in a cocktail. The Verdigris has a unique savory aroma of pumpkin seeds, trail mix, and herbs. The palate has a taste of lavender and floral botanicals.

Cognac Maxime Trijol Xo Classic
91 points
Maxime Trijol has been manufacturing cognac since 1859 and is currently in its 6th generation of cultivating spirits. The Cognac XO Classic is amber in color with mahogany reflections. This cognac has notes of raspberries, maple, and has an electric nose. The spirit has nuances of leather, cigar tobacco, and bitter chocolate. On the palate, it has a taste of forest berries and bittersweet chocolate.
Black Whiskey
91 points
The Black Whiskey made in Don Michael Andean Distillery is the first and the best Andean Whiskey in the world. Made from Andean Black Corn and the purest mountain spring water, their whiskey is aged to perfection in American white oak barrels. The whiskey has a rich aroma of toasted grains, red plum, and cinnamon. It has a beguiling nose with layers of cooked brown sugar, brown butter, and butterscotch. Very lively and fresh on the palate.
Screwdriver
91 points
The Screwdriver is a vodka-infused craft cocktail made by Blue Marble, who is known for creating canned craft cocktails. The screwdriver is made from natural oranges, thus, has a strong orange nose, with hints of ripe citrus. The drink tastes like freshly squeezed orange juice with hints of spices.

Gin Grapefruit Rosemary
91 points
The Gin Grapefruit Rosemary from 3 Lakes Distillery took home the 'Best in Show by Country' (Canada) at the competition. This refined and daring gin is crafted with juicy organic grapefruit wedges, as well as sprigs of fresh organic rosemary. Gin Grapefruit Rosemary is made with an original botanical composition, that expresses slightly sweet notes, and citrus fruit, fitting perfectly into the family of products of the distillery. Aromas of grapefruit flesh, pink peppercorn, and juniper drive the nose. The gin is juicy and vibrant on the palate with expressive rosemary notes in the long and silky finish.

Barnacles Gran Reserva
91 points
Barnacles Gran Reserva Rum is imported to the US by Sundance Spirits Company, a national importer and wholesaler of distilled spirits, wine, and beer. Barnacles Gran Reserva is a fantastic dark rum with notes of tobacco, oak, followed by citrus and honey on the tongue. It is great on its own or would make for a great addition to classic cocktails.
South San Francisco Conference Center, 255 South Airport Boulevard, South San Francisco, CA 94080, United States.
Register Now
South San Francisco Conference Center, 255 South Airport Boulevard, South San Francisco, CA 94080, United States
Register Now