Green Hat Citrus Floral Gin wins the Gin of the year
Green Hat Citrus Floral Gin wins the Gin of the Year at the Bartender Spirits Awards 2021.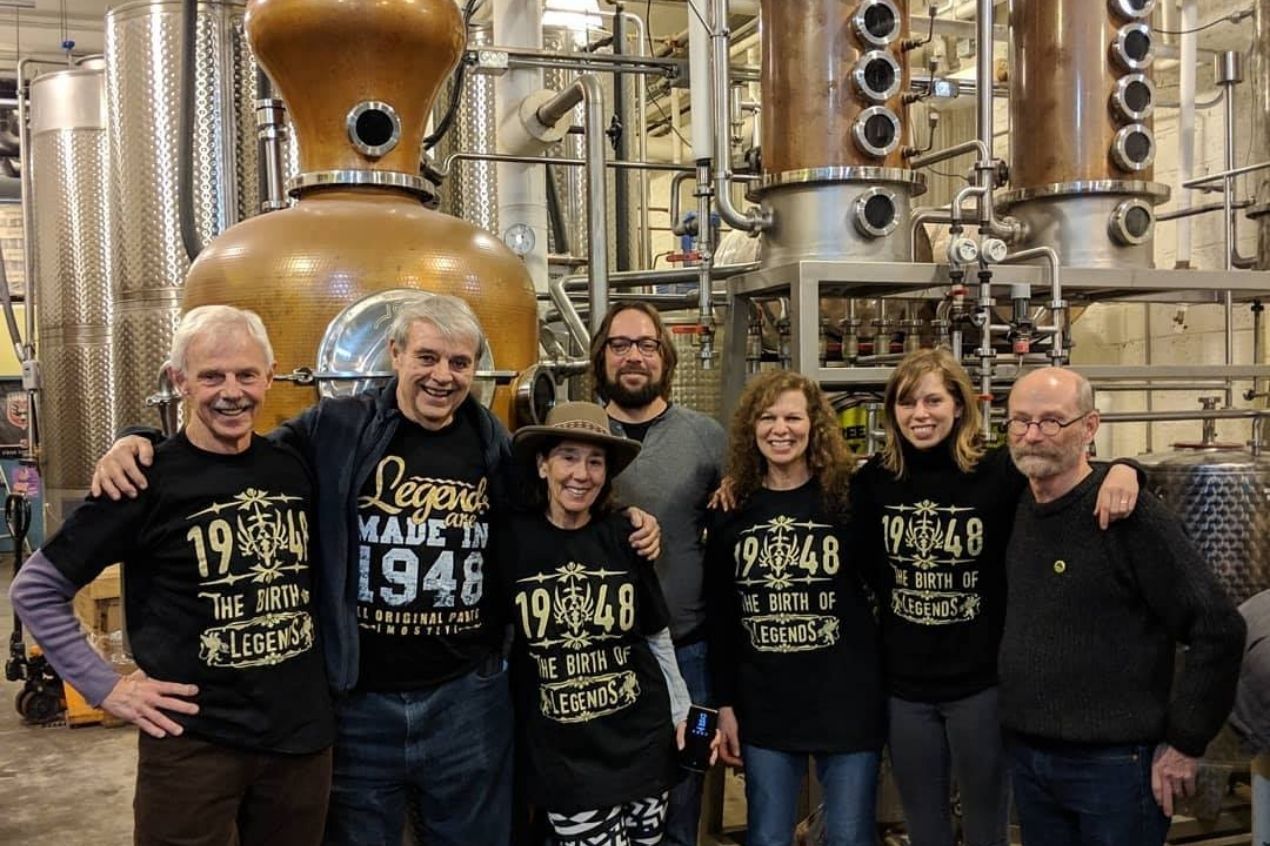 Illustrious citrus and light floral notes on the nose— orange, lime, and citron zest— Green Hat Gin has a pleasant dose of pine, fennel seed, and coriander. The palate is zippy with a bit more spice. There's a taste of sweet ruby red grapefruit, dashed with pepper and cassia. Its finish is a bit more of a melange with menthol-kissed notes of sage and rosemary— juniper is part of this accord as well— along with notes of celery and zesty pepper on the tail. Its finish is moderate in length, with a cooling warmth.
From spirits from 45 participating countries Green Hat Gin Citrus Floral won the Gin of the Year Award at the Bartender Spirits Awards 2021. Bartender Spirits Awards aim to deliver the selection of the best spirits for the on-premise sector in the USA. They recognize and reward the spirits that excel in the criteria - mixability, balance and versatility, taste, mouthfeel and finish, packaging, and value for money.
The spirits competition aims to provide independent and honest reviews for brands targeting the U.S. bar trade. The judging panel consists of some of the most renowned names in the U.S. bar industry, all of them with extensive expertise like Nora Furst (Partner at West Beverage Consulting and Beverage Director of Uma Casa, San Francisco, CA), Eryn Reece (Head Bartender at Banzarbar, New York), and others.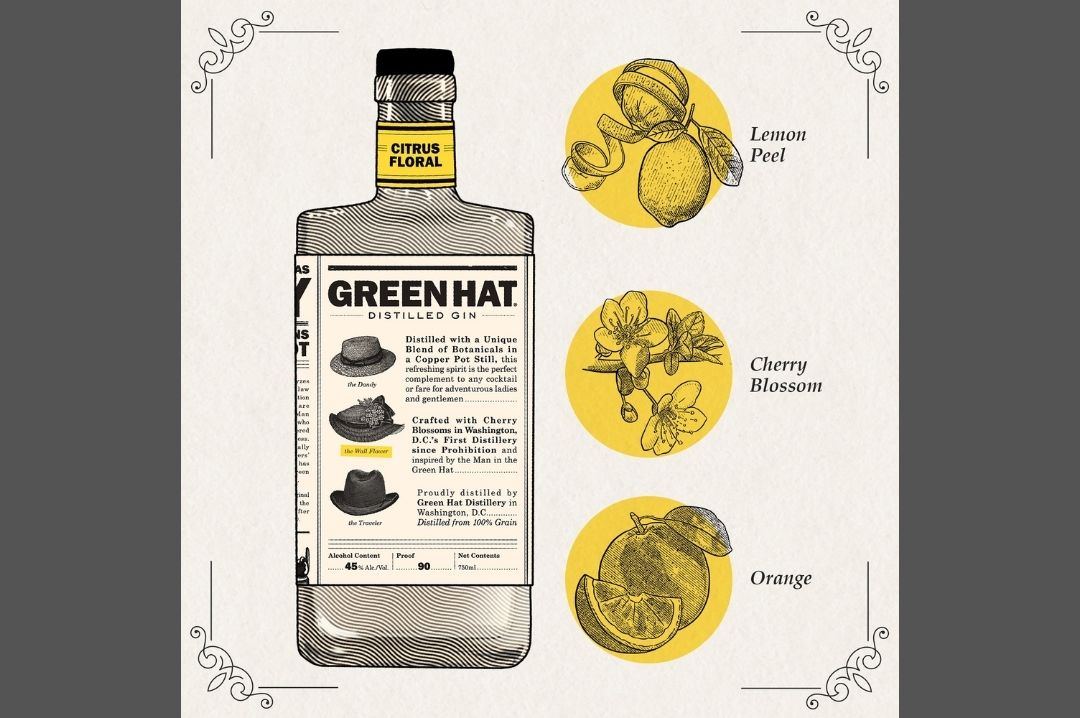 Green Hat Gin Citrus Floral, Source Facebook
About Green Hat
Green Hat Gin is crafted in Washington, D.C.'s first distillery since Prohibition, distilled with a unique blend of botanicals in copper pot stills. It is inspired by the infamous Man in the Green Hat, the mysterious bootlegger who supplied Congressmen throughout Prohibition, offering a story that is as unique as the gin itself.
About the Man in the Green Hat
The Man in the Green Hat was born on April 12, 1892, in Wheeling, West Virginia. It was noted that 80% of Congress during Prohibition purchased illicit drinks, including those who voted for Prohibition. The Man in the Green Hat served two terms in Congress, bootlegging out of the Cannon House Building for the House of Representatives from 1920-1925, and then out of the Russell Senate Office Building for the Senate from 1925-1930. On one of his many trips to deliver his goods, The Man in the Green Hat outwitted Washington, D.C. Police Officer Chorley, leaving his stash but was free to bootleg another day. He served in the U.S Tank Corps in WWI, eventually creating the Irish War Veterans Association.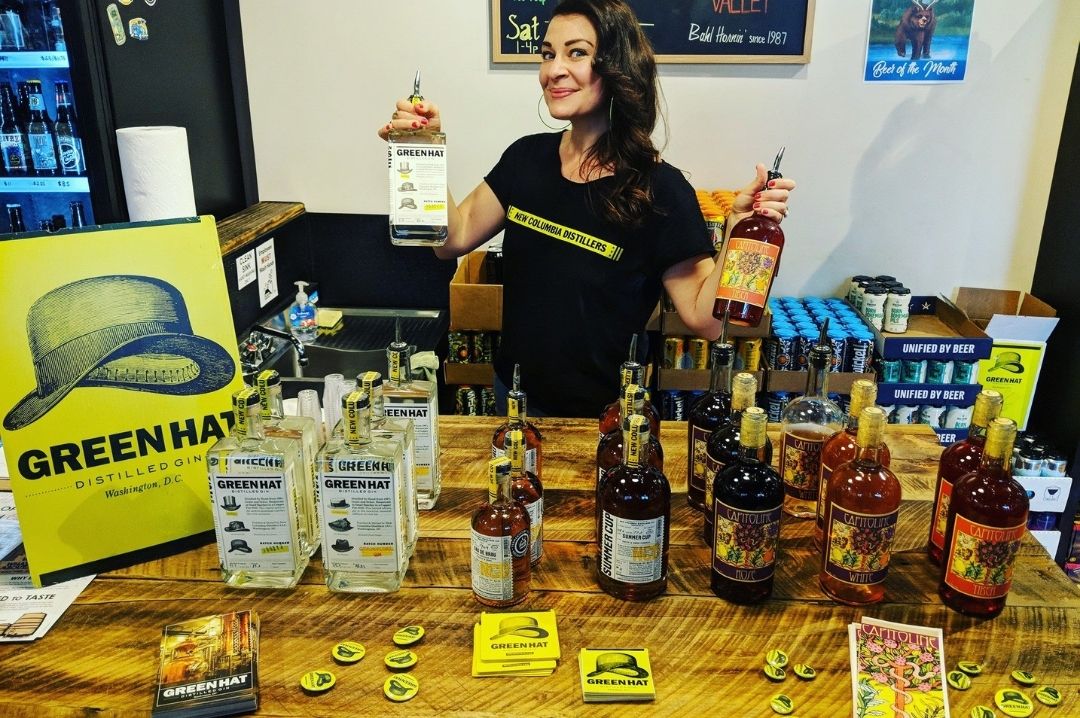 The Green Hat Distillery
A mere two miles from the home of the mysterious Man in the Green Hat, you will find the distillery that bears his moniker, Green Hat Distillery. Located in the fast-changing and diverse Ivy City neighborhood, the Green Hat Distillery features an up-close and personal experience. From admiring the copper pot still to imbibing at Green Hat Bar or their Gin Garden, consumers can casually chat with the geniuses behind the gin.
About MGP Ingredients
MGP is a leading producer and supplier of premium distilled spirits and specialty wheat proteins and starches. Distilled spirits include premium bourbon and rye whiskeys, gins, and vodkas, which are carefully crafted through a combination of art and science and backed by a long history of experience. The company's proteins and starches are created in the same manner and provide a host of functional, nutritional, and sensory benefits for a wide range of food products. MGP additionally is a top producer of high-quality industrial alcohol for use in both food and non-food applications. The company is headquartered in Atchison, Kansas, where distilled alcohol products and food ingredients are produced. Premium spirits are also distilled and matured at the company facility in Lawrenceburg, Indiana.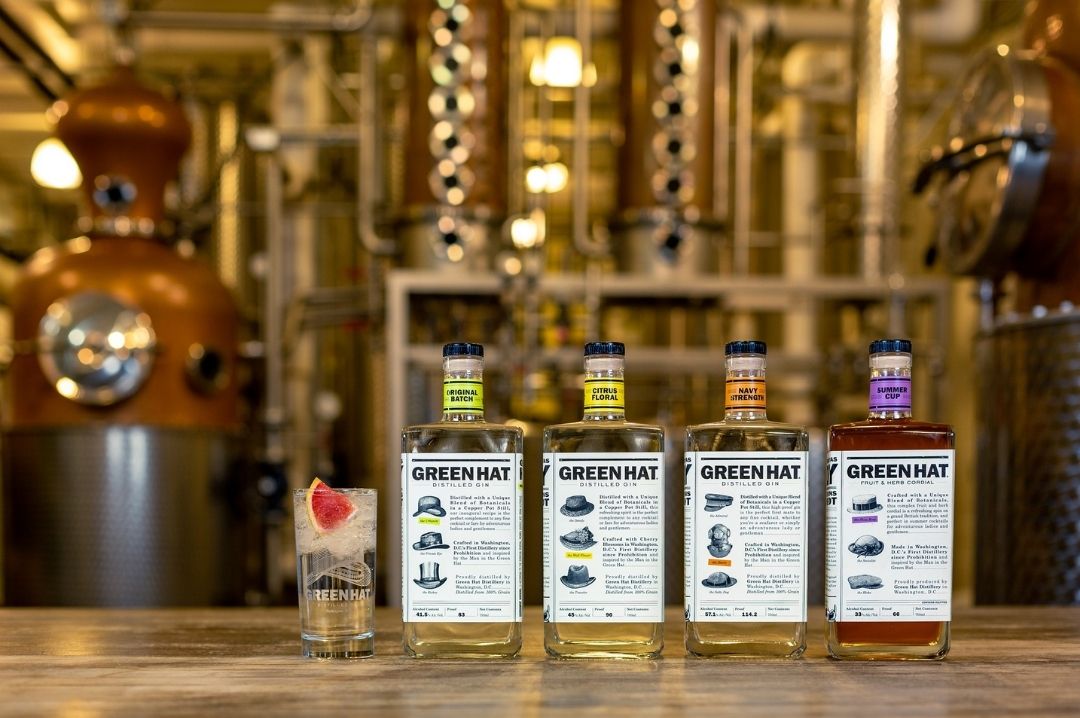 Gins by the Green Hat, Source Facebook
Other Gins by the Green Hat Gin are:
Original Batch
It is a Washington Original, made for those that appreciate a juniper-forward blend balanced with original botanicals. Classic aromas of juniper, citrus, and herbs linger on the palate with anise notes and a crisp finish. This super-premium gin excels both in cocktails or over ice with a zest of lemon or lime.
One such cocktail is the Green Hat Gin Rickey.
Ingredients
1.5 oz Green Hat Original Batch Gin
Half of a lime
Club soda
Directions
Add ice to a highball glass. Squeeze in lime juice and drop lime half in the glass. Add Green Hat Original Batch Gin. Top off with club soda.
Navy Strength
Navy strength spirits are stronger (higher-proof) than their non-nautical counterparts. The bold notes of candied lemon and grapefruit blend with flowery lavender and clover. The finish remains refreshingly smooth, a perfect first mate with tonic or juicy cocktails ranging from sweet to tart.
One cocktail to try is the Green Hat Negroni.
Ingredients
1 oz Green Hat Navy Strength Gin
1 oz sweet vermouth
1 oz bitter aperitivo (such as Campari)
Directions
Stir all ingredients with ice in a mixing glass. Strain into a coupe glass & garnish with an orange twist.
Summer Cup
This complex cordial is an infusion of Navy gin with generous amounts of additional botanicals for a version of the grand British Summer Cup tradition. It is made with notes of citrus, rosehips, cucumber, black tea, verbena, lavender, and other herbs and spices.
One cocktail that can be made with Summer Cup is the Green Hat Classic Cup.
Ingredients
2 oz Green Hat Summer Cup Gin
4 oz lemonade
Directions
Fill a highball glass with ice & pour in all ingredients. Stir & garnish with mint, cucumber, berries & citrus.
A cocktail made from the Green Hat Gin Citrus Floral is the Green Hat Fitzgerald
Ingredients
1.75 oz Green Hat Citrus/Floral Gin
.5 oz simple syrup
1 oz lemon juice
2 dashes aromatic bitters
Directions
Add all ingredients to a shaker. Add ice, shake & strain over ice in an old-fashioned glass. And garnish with a lemon slice.