Try these 8 boozy popsicles before the summer ends
These colorful boozy popsicles are the perfect embodiment of summer afternoons for grown ups!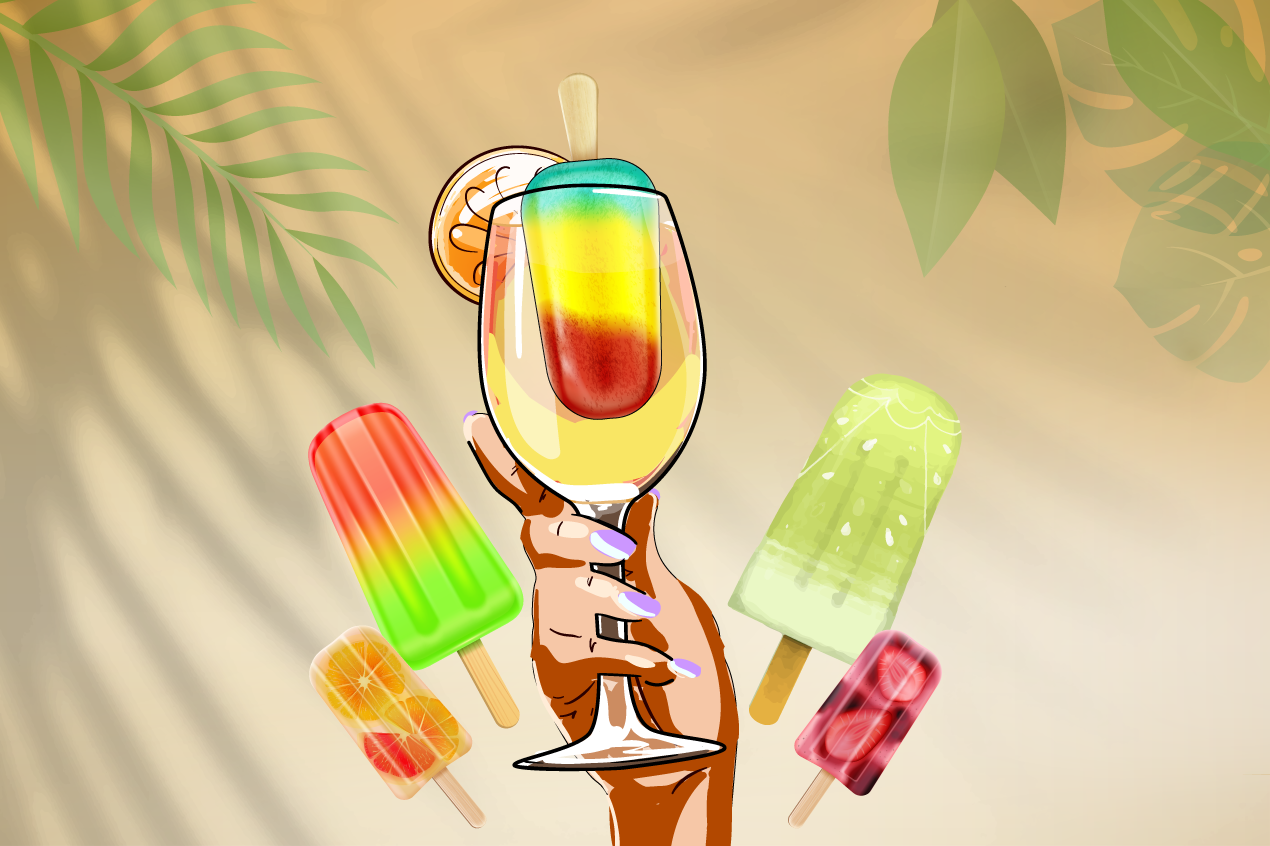 Let's take our regular popsicles up a notch this summer. We've taken orange, lemon, pineapple, mango, mint, cola, and more, and mixed them up with a splash of alcohol for some splendidly boozy popsicles.
Bahama Mama
Recipe by Diet Hood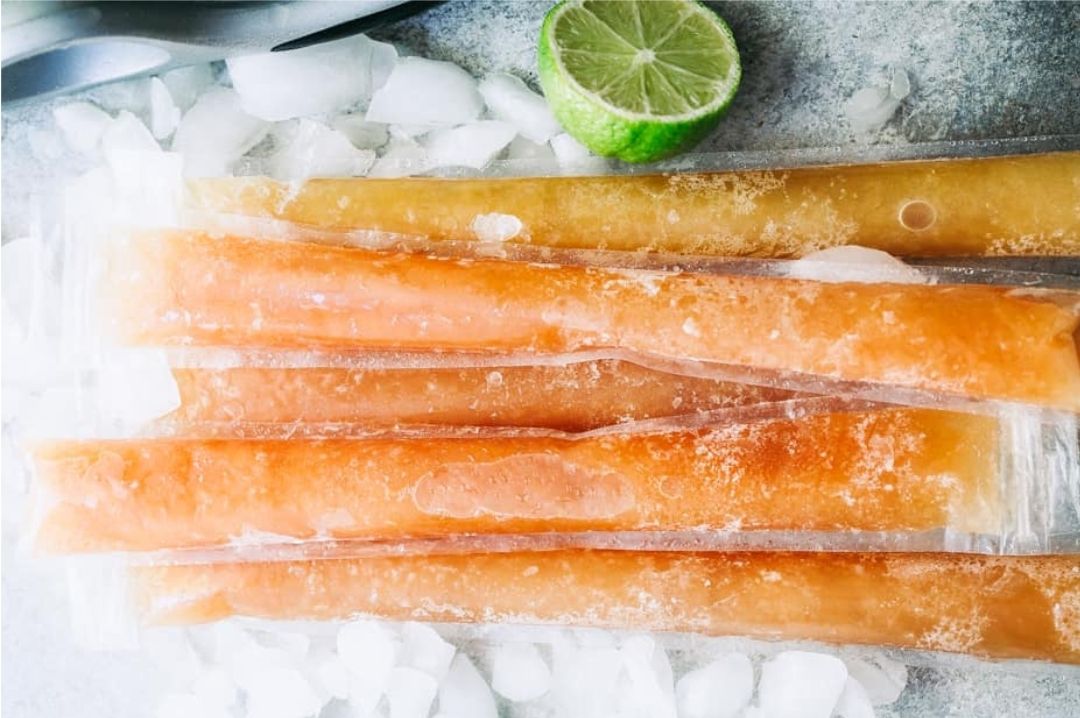 Bright orange Bahama Mama popsicles, Source: Website
Adding maple and coconut notes, the Coconut Cartel Special Añejo Rum infuses a Bahaman twist to the tropical fruit flavors of lime, orange, and pineapple.
1 cup pineapple juice
1 cup orange juice
1 cup coconut rum (try the 2021 USA Spirits Ratings gold medal winner Coconut Cartel Special Añejo Rum)
1 shot grenadine
1 lime juiced
Popsicle bags
Combine all the ingredients in a pitcher and stir until well combined. Pour mixture into popsicle bags. Seal bags and freeze for 6 hours or overnight. Serve frozen.
Tequila Lime
Recipe by Something New for Dinner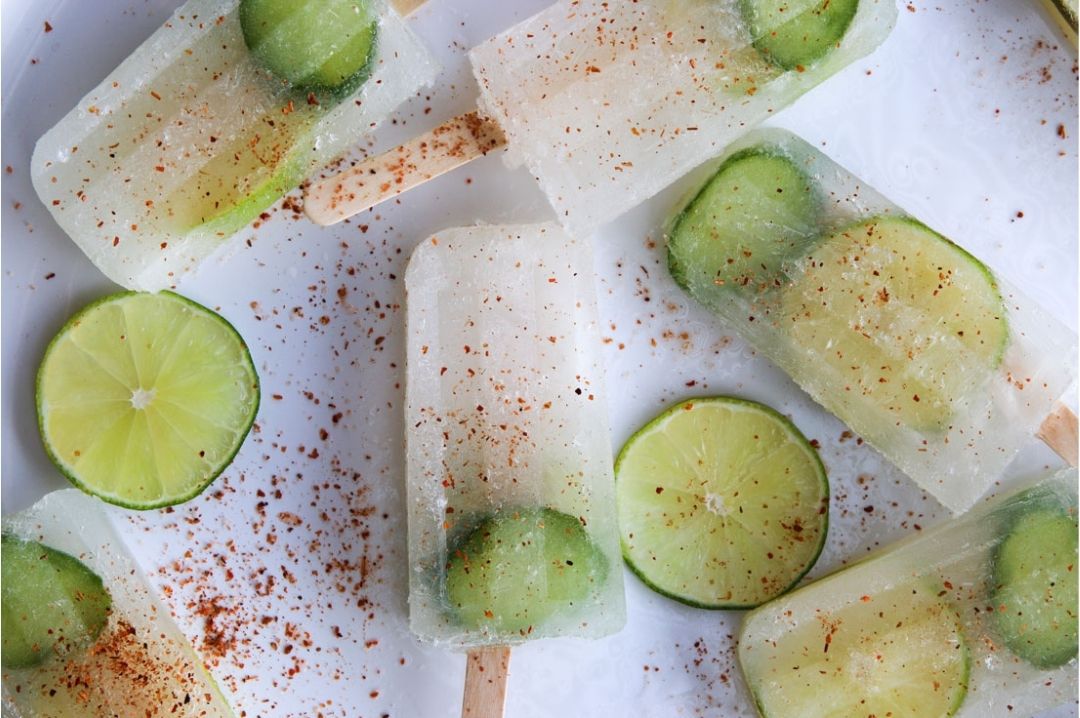 Spicy and sour Tequila Lime popsicles, Source: Website
Discover a smooth and creamy mouthfeel of sage, agave, and lemongrass flavors, courtesy of the Cazcanes Tequila No. 9 Blanco. The lime and spice add acidity to the popsicle, elevating the sourness.
10 thin slices of lime
10 thin slices Persian cucumber
2 1/2 cups limeade
1/2 cup silver tequila (try the 2021 USA Spirits Ratings silver medal winner Cazcanes Tequila No. 9 Blanco)
Tijan spice to taste
Place one slice of lime and one slice of cucumber into each ice pop mold.
Combine limeade and tequila in a small pitcher and pour into ice molds. Place ice mold, cover on top and insert wooden sticks into each ice pop. Freeze for four hours or overnight.
To unmold, remove the mold from the freezer and run a butter knife under the cover to release the lid. The corners can be a little sticky. Pull the individual popsicles out of the mold. You can remove the ice pops from the mold, place them in a ziplock bag and return to the freezer to store until you are ready to serve them.
When ready to serve, sprinkle with Tijan spice.
Blue Lagoon
Recipe by Boulder Locavore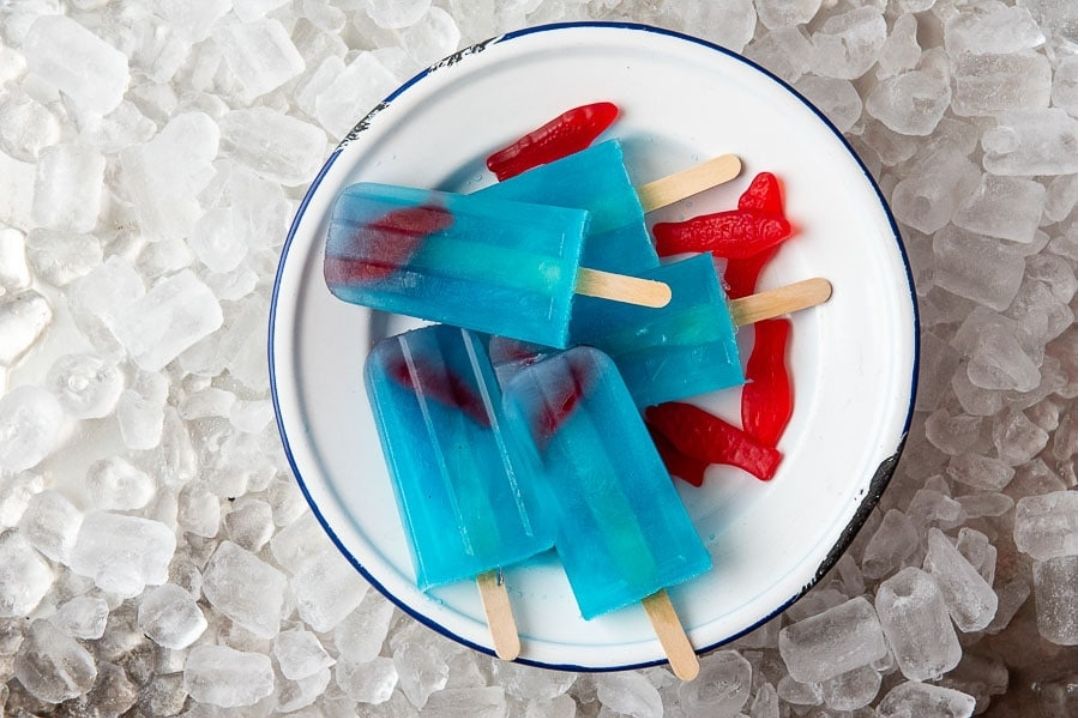 Blue Lagoon popsicles, Source: Website
Taking you on a journey to the Blue Lagoon, the delicious popsicle is sweet with a strong citrus burst.
10 fl oz prepared Lemonade
10 fl oz Hawaiian Punch 'Polar Blast' flavor (blue) alternatively Gatorade 'Frost Glacier Freeze' flavor may be substituted
5 fl oz Blue Curacao liqueur
10 Swedish Fish, optional
Combine the lemonade and Hawaiian Punch together; stir to combine. Tip: adding them in a 4-cup liquid measuring cup helps to pour into mold (alternatively smaller quantities can be poured from a smaller volume liquid measuring cup).
Pour 1/2 ounce of Blue Curacao into each popsicle mold. Pour 2 ounces of the lemonade/Hawaiian Punch mixture into the mold; stir with an extra popsicle stick. Add 1 Swedish Fish to each mold if desired.
Cover and insert wooden sticks. Tip: applying a layer of foil over the top of the mold or lid of the mold allows placement of wooden sticks and they will not float out of the mold.
Freeze for several hours or overnight. Run hot water for a few seconds on the outside of the mold to release pops!
Boozy Mango Pineapple
Recipe by Memeinge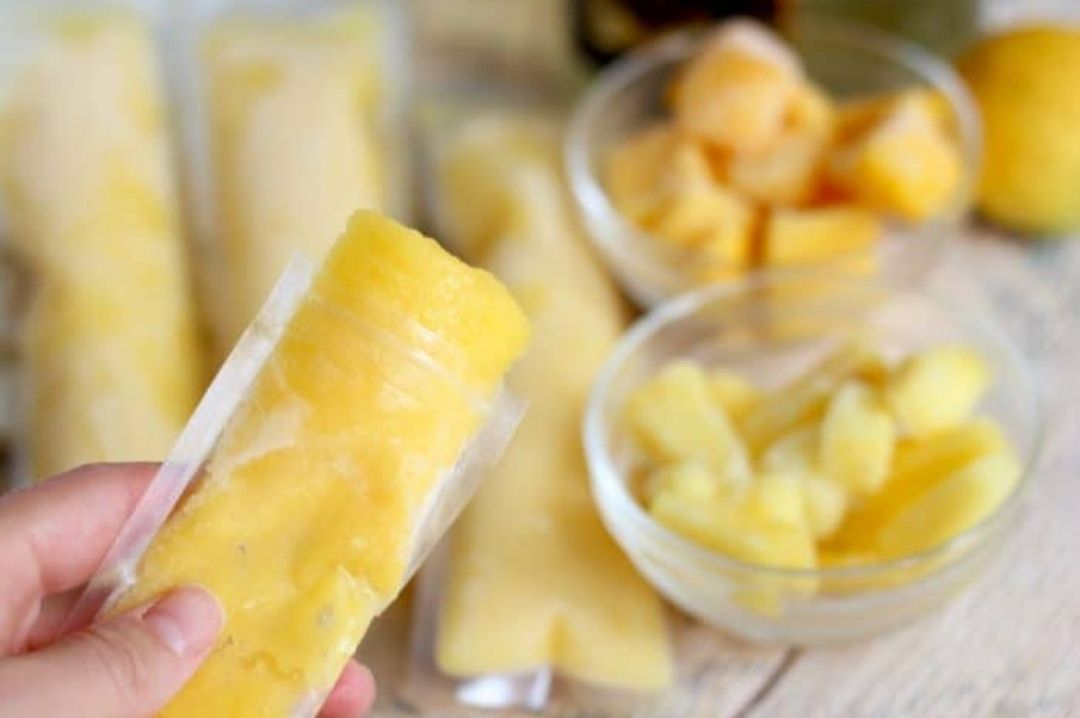 Tangy Mango and Pineapple popsicle, Source: Website
Teremana Reposado's crisp citrus nuances highlight sweet and sour notes of mango and pineapple, making this one an instant summer favorite.
1 cup mango frozen
1 cup pineapple frozen
1/2 cup tequila (try the 2021 Tequila of the Year Teremana Reposado)
1/2 cup lime juice or lemon juice
Add everything to a blender and blend until smooth
Transfer to popsicle molds and freeze for at least 6 hours.
Vodka Gummy Bears
Recipe by A Spicy Perspective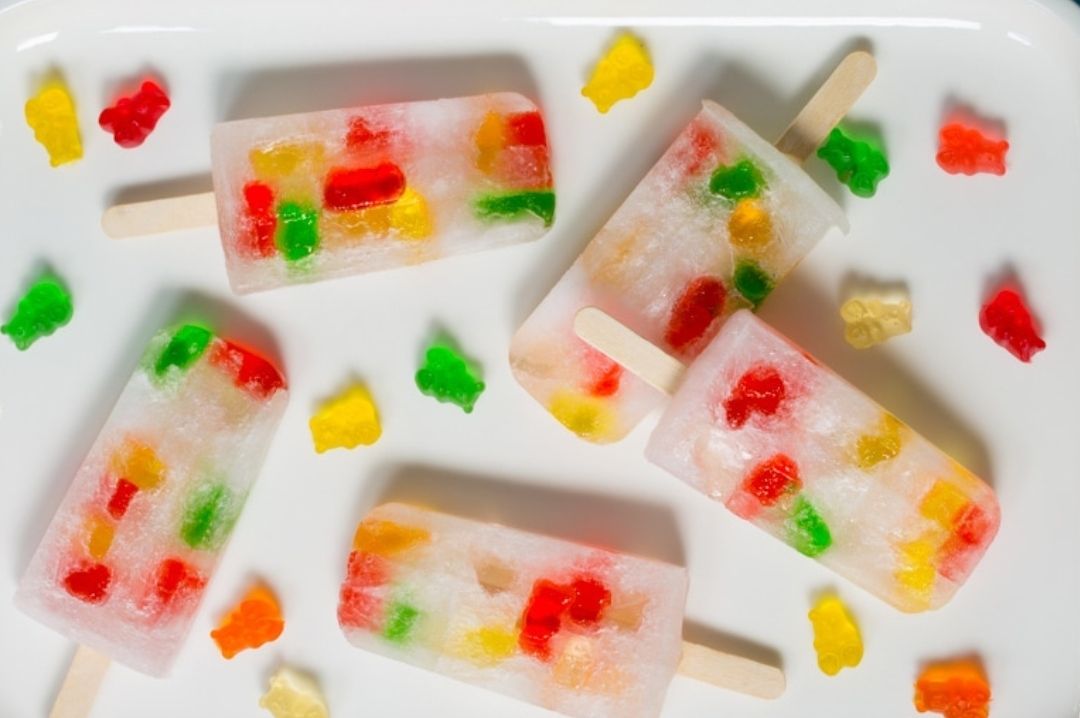 Vodka Gummy Bears popsicles, Source: Website
Oozing refreshing citrus aromas, Hangar 1 Buddha's Hand Citron Vodka carries a long sweet lemon flavor, combining well with the gummy bears, Sprite and ginger ale for this popsicle.
1 1/4 cup vodka (try the 2021 USA Spirits Ratings gold winner Hangar 1 Buddha's Hand Citron)
1 1/4 cup gummy bears
3 cups Sprite ginger ale
Pour the vodka in a bowl. Add the gummy bears, cover, and allow them to soak for 24-72 hours. The longer the gummy bears soak, the more vodka they absorb. They also grow in size!
Once the gummy bears have soaked to your liking, stir to separate them. Then strain one-third of them out of the vodka and place in the bottom of 10 popsicle molds. Pour Sprite over the gummy bears until just covered, about one-third full. Then place in the freezer for 60-90 minutes.
Once the first layer is frozen, add the popsicle sticks and add a second layer of strained gummy bears and soda. Freeze again and repeat a third time. The total layering/freezing process should take around 4 hours.
Jack and Coke
Recipe by Create Yum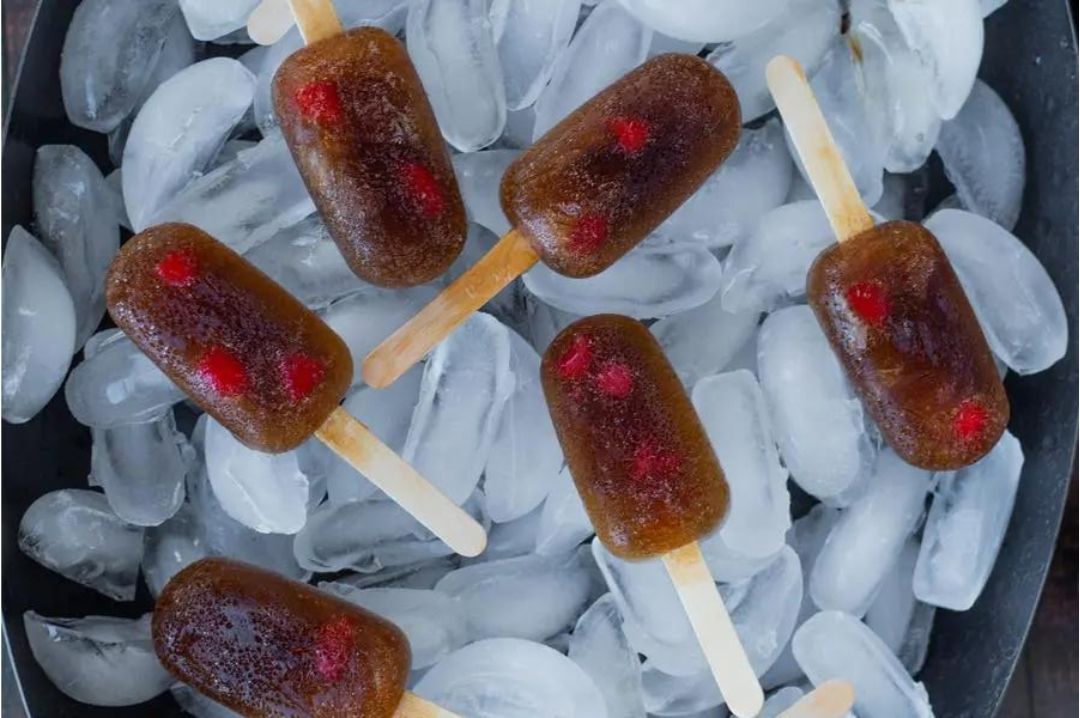 Jack and Coke popsicles, Source: Website
You must have had the classic Jack and Coke, but have you tried it frozen? The cherry liqueur adds a much needed sweet tartness to the ice pops.
8 oz Coke
2 oz Jack Daniels Whiskey
1 oz cherry liqueur
Maraschino cherries, chopped
Open Coke bottles and let sit for about an hour, so they are a little flat (this will help with the freezing process and avoid excess air bubbles).
Add liquid ingredients to a cocktail shaker and stir.
Pour into popsicle molds.
Add 3-4 maraschino chunks to each mold.
Freeze for 3 hours.
Pop out and enjoy!
Boozy Watermelon
Recipe by Princess Pinky Girl
Boozy Watermelon popsicles on ice, Source: Website
Our personal favorite on the list, Boozy Watermelon is just what you want to take shade from the heat. The watermelon vodka and lemonade tune a fine balance of sweet, sour, and bitter elements.
4 cups watermelon cubed (approximately 2 cups watermelon juice)
½ cup lemonade
½ cup Absolut Watermelon Vodka
Put all ingredients in a blender and blend for 30 seconds or until smooth.
Use a funnel to pour the watermelon juice into the freezer bags.
Lay flat on a cookie sheet and freeze for 24 hours before serving.
Mojito Boozy Ice Pops
Recipe by Sweet Paul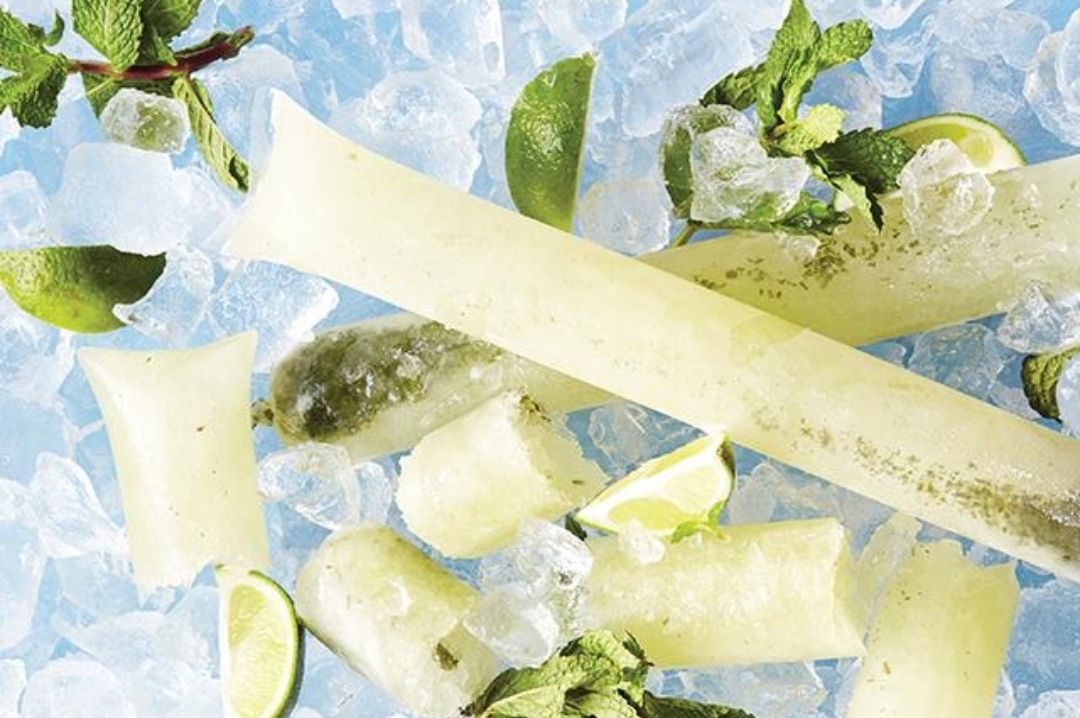 Minty Mojito popsicles, Source: Website
Another cocktail frozen to bits, the Minty Mojito displays candied lemon peel and green banana notes through the Emperor Heritage rum. Mint, lime juice, and soda bring the mojito mojo in the mix.
1 cup lime juice
1 1/2 cups rum (try the 2021 USA Spirits Ratings gold medal winner Emperor Heritage)
3/4 cup simple syrup
1 cup soda water
3 tablespoons mint, finely chopped
Mix all the ingredients in a bowl.
Fill the bags, tie, and freeze for at least 8 hours.