The Best Cannabis-Infused Drinks to Sip On
From Cann Social Tonics to Hi-Fi Hops and Spritzers, there are amazing cannabis-infused drinks options to choose from.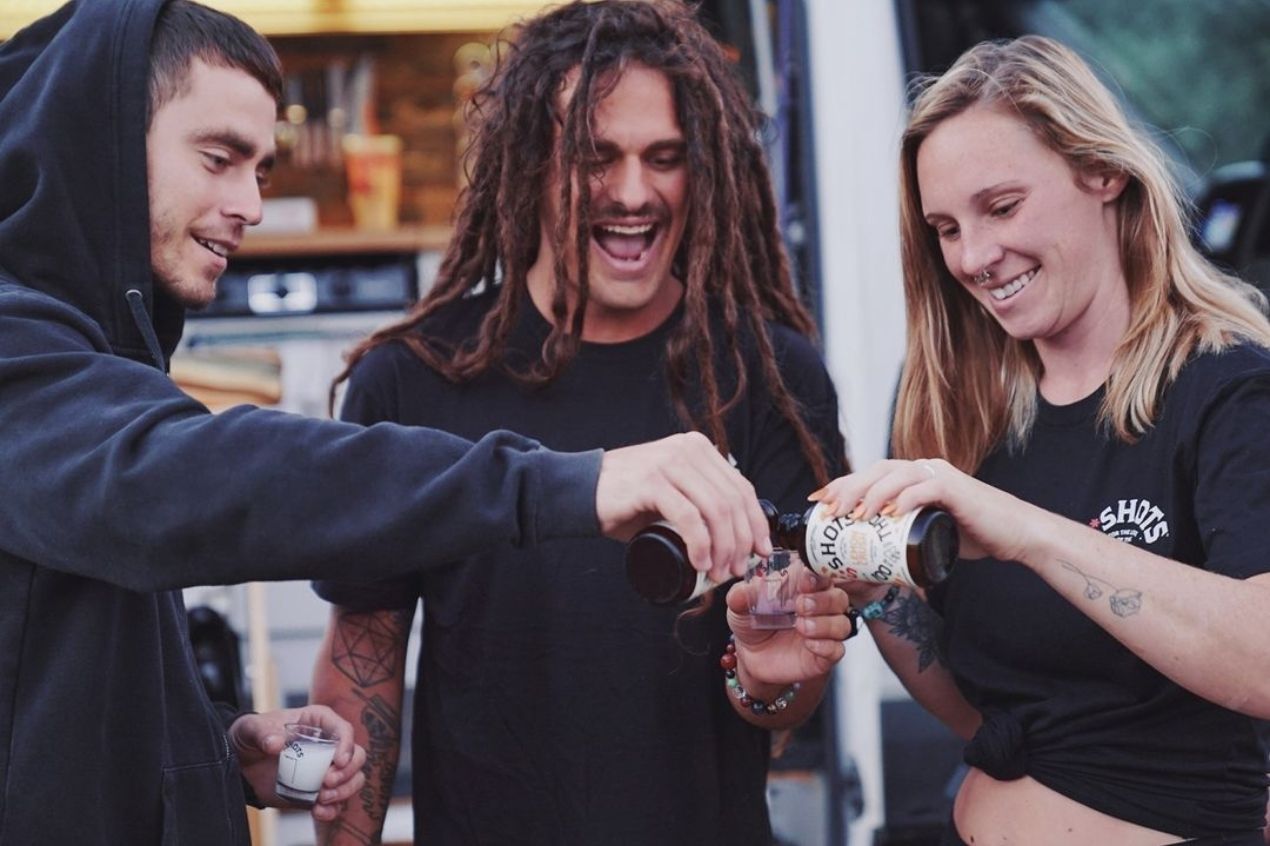 Cannabis beverages are on the rise, becoming a good alternative to beers and cocktails. The green leafy plant has long been a favorite herb for recreation and medicinal use. Now, it has one more purpose to serve.
The interest in cannabis-infused beverages has popped, with several companies coming out with their bottles and cans of tonics, shots, hops and even cannabis-infused wines. Here are some of our favorite cannabis drinks to sip on at your next party or with a group of green loving friends.
Cann Social Tonics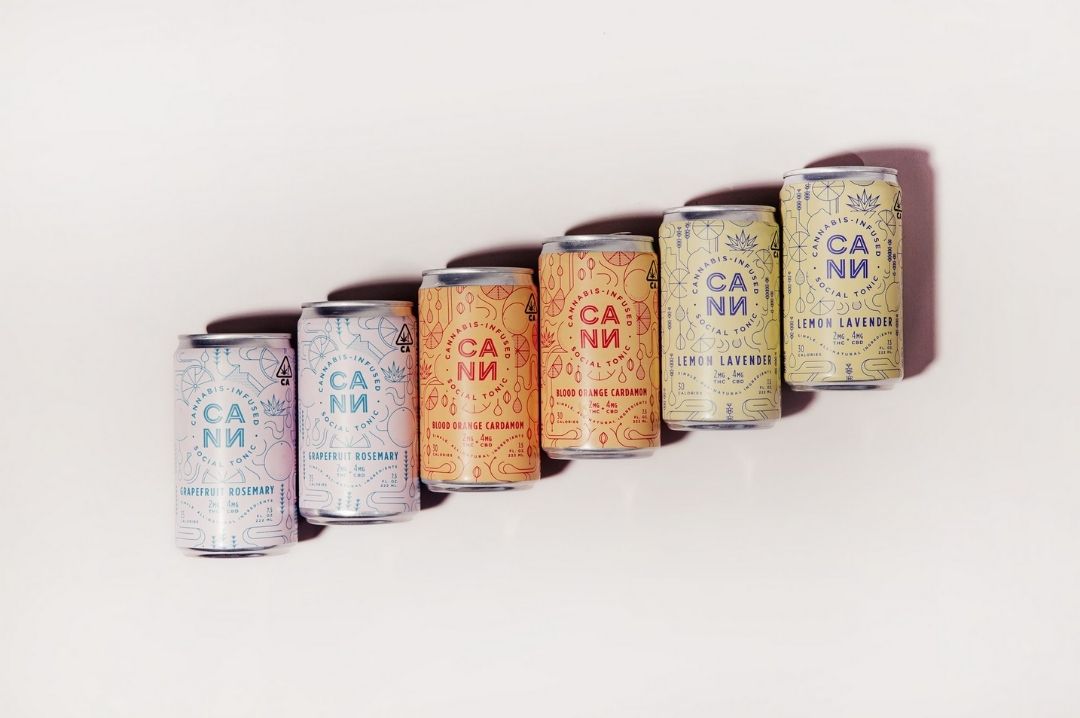 Cans of Cann Tonics, Source Facebook
The drink to stand tall on your "high" expectations from a cannabis drink, Cann Social Tonics is easily one of the most recognizable cannabis beverage brands out there. Microdosed with cannabis, Cann's drinks will give you a light and uplifting buzz, keeping the hangover away. Cann Social Tonics are available in quite a few thoughtful flavors.
Grapefruit Rosemary: One for the cocktail connoisseurs, the Grapefruit Rosemary is a complex and bright drink with an elevated flavor. A refreshing drink that won't let you feel any regrets, this is the ideal drink for a party.
Cranberry Sage: A sweet sip with a slight savory touch to it, the Cranberry Sage 4 pk is a limited-edition flavor from Cann. One for your nightcap possibly.
Blood Orange Cardamom: A lightly spiced treat that's designed for fun. The juicy Blood Orange Cardamom has the ability to make you feel light and happy, whether you sip one or three of its Cann's.
Cann Social Tonic's arsenal has two other flavors, the Pineapple Jalapeño and the Ginger Lemongrass. All five of these flavors bring a unique profile to the drinker and all of them will get you buzzing for sure. All of Cann's social tonics come in two styles, the regular-sized can and the Hi Boy version. The regular sized cans contain 2 mg THC and 4 mg CBD whereas the Hi Boy cans contain 5 mg THC.
Lagunitas Hi-Fi Hops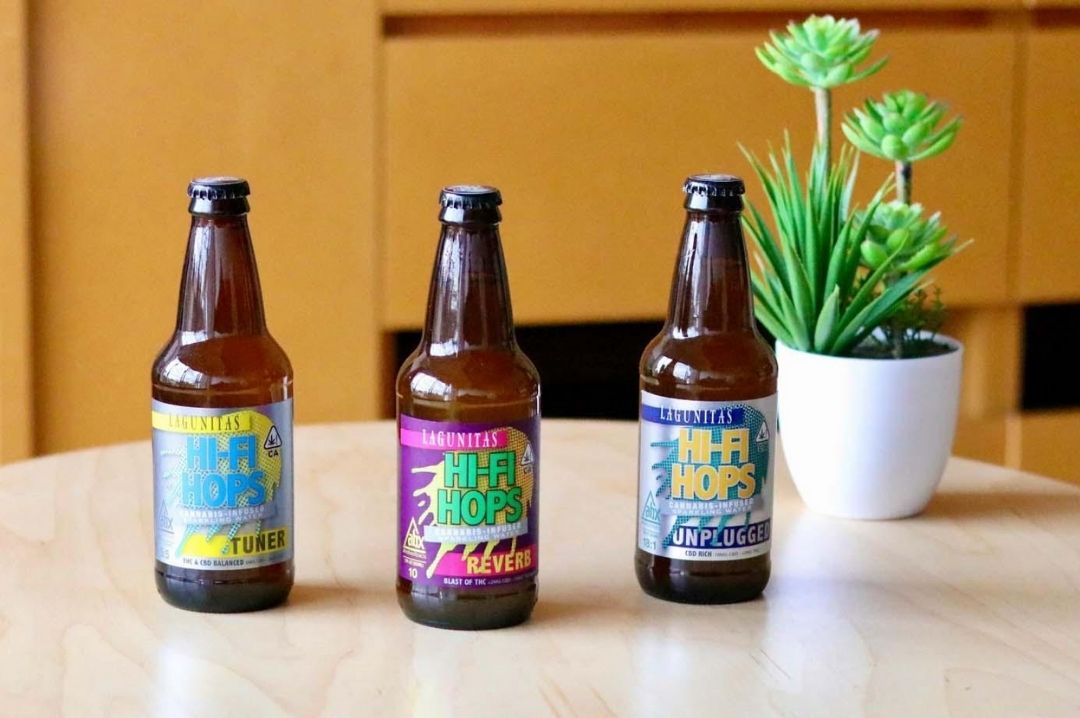 Hi-Fi Hops from Lagunitas, Source Website
The folks at Lagunitas love their beer and cannabis as much as they love their music. Tony Magee, who founded Lagunitas in 1993, wanted to bridge the gap between these two loves, and with that was born the Lagunitas Hi-Fi Hops. A collection of hoppy, sparkling beverages with no carbs and zero calories and infused with the finest THC & CBD.
Hi-Fi Hops Unplugged: A CBD-rich beverage, the Hi-Fi Hops Unplugged is an excellent choice for anyone looking to chill out. It also doubles up as a great option for anyone looking for some inspiration to get things done, sip an Unplugged and you are all set.
Lagunitas Hi-Fi Hops is the perfect beverage for those on the lookout for an IPA-inspired, cannabis-infused drink. This CBD rich beverage contains 18 mg of CBD and less than 2 mg THC per 12 fl. oz.
CBD American Shaman Sparkling Water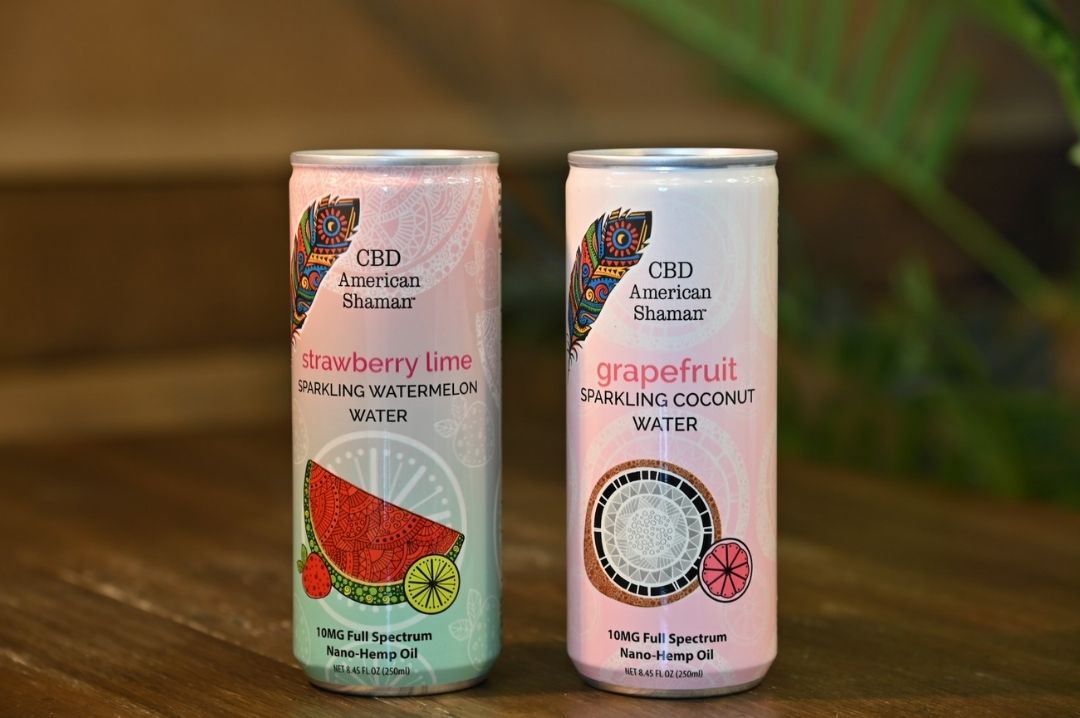 CBD American Shaman, Source Facebook
With 10mg Hemp extracts per serving, the Sparkling Water from CBD American Shaman packs a punch of flavor in every sip. A sparkling water beverage that is like summer in a can, the CBD American Shaman Sparkling Water is a great refreshment on a sunny day. The drink is available in two flavors at the moment, Watermelon/Strawberry Lime and Coconut/Grapefruit.
Canna Cola
Canna Cola Range
Once a medical marijuana brand, Canna Cola made a complete switch to CBD only infused ready-to-drink beverages. They started in 2011 and since then, have added seven flavors in their RTD cannabis beverages.
The Canna Cola Classic has a 20mg CBD serving per can, with 5 grams of sugar and just 20 calories. The Canna Cola Citron is a lemon and grapefruit flavored cola serving 10mg CBD per can. The list of products also contains the Canna Cola Black Cherry, Canna Cola Coco Loco, Canna Cola Fruit Punch, Canna Cola Mango Peach and Canna Cola Wild Berry. All of these flavors are available on their online store. Sparkling sodas for days!
Mad Lilly Spritzers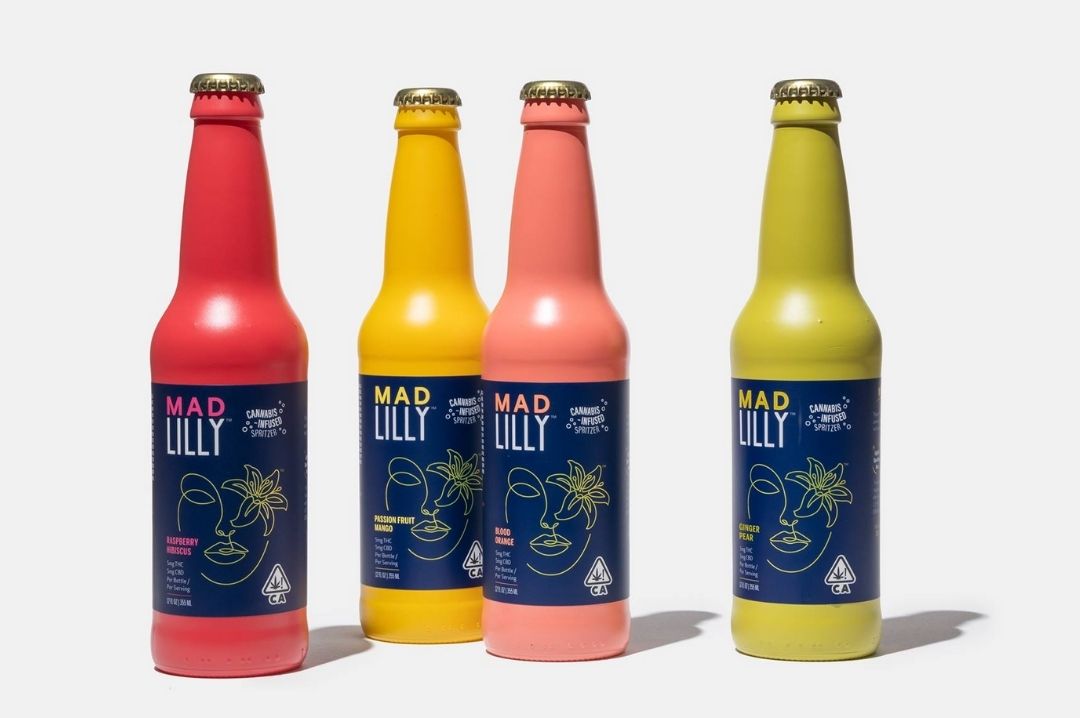 The Spritzers from Mad Lilly, Source Facebook
Packaged in one of the finest looking bottles that will look great on your Instagram stories, what makes up Mad Lilly Spritzers is a collection of fresh and clean ingredients. Blending all-natural fruit juices with low doses of cannabis, Mad Lilly Spritzers can be identified as wildly tasteful cannabis-infused beverages.
The Raspberry Hibiscus Spritzer brings together the fruitful balance of tangy raspberry juice and floral hibiscus with a premium cannabis concentrate. The playful pairing is in perfect harmony with the fruit blends taking the lead and the cannabis concentrate dancing in the background, almost undetectable by taste.
House of Saka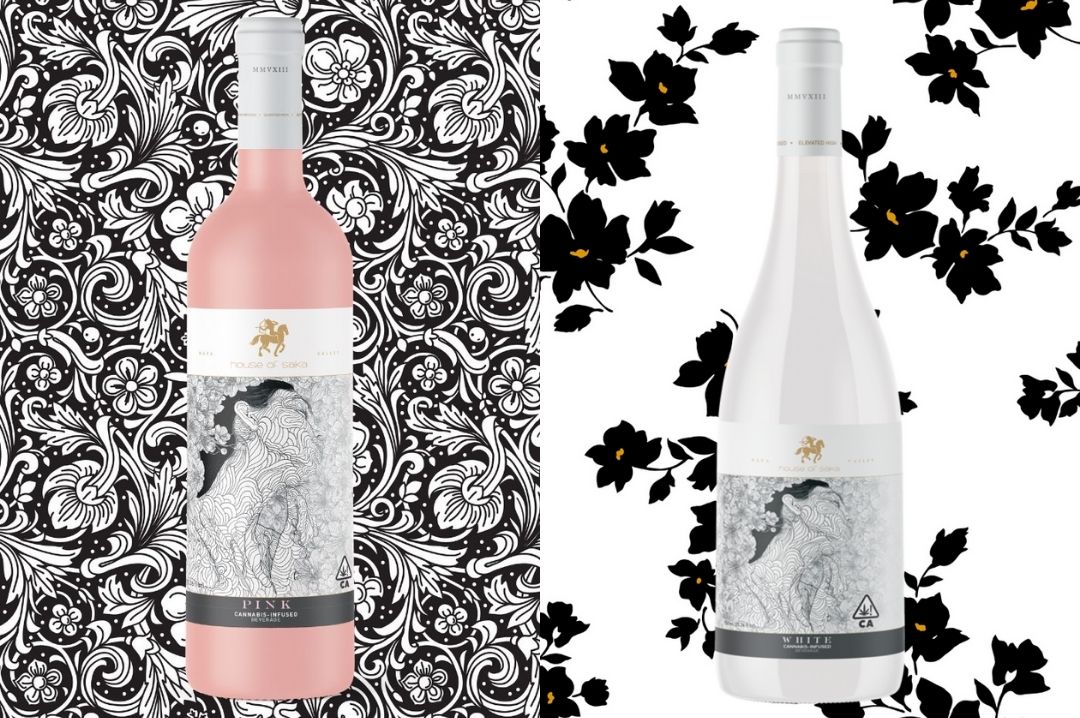 Saka Vinifusions, Source Facebook
Cannabis industry insider Cynthia Salarizadeh and wine industry veteran Tracey Mason, came together to create House of Saka, a luxury, cannabis-infused wine product range. Today, the House of Saka has three high-quality cannabis wines.
The Saka WHITE is handcrafted from chardonnay grown in Napa Valley. It offers mouth-watering aromas of ripe peach, toasty oak and apricots. The long, pleasing finish adds another dynamic to this amazingly crafted white cannabis-infused wine.
House of Saka's remaining two wines are the Saka SPARK MIMOSA and the Saka PINK. Saka SPARK is an elegant and refreshing take on a classic infused beverage and combines premium, sparkling chardonnay with cannabis harvested at peak bloom.
Saka PINK on the other hand blends fresh strawberry and elderflower and is reminiscent of the wines that made California's wine region so famous.
S*Shots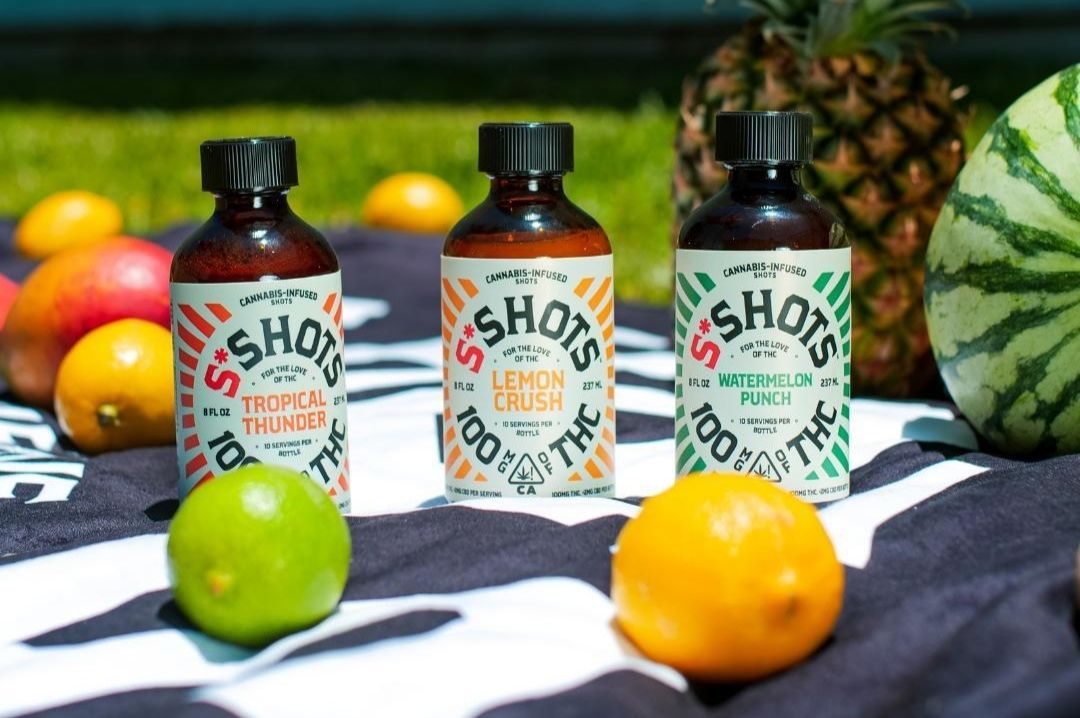 The Three Flavors of S*Shots, Source Instagram
The brand identifies itself as one that has come out with a product that isn't just a mere alternative to edibles. Instead, it is one that you can turn to for a sesh with fellow stoners for when a CBD gummy won't hit the spot. S*Shots flavors are assorted into three, Watermelon Punch, Tropical Thunder and Lemon Crush.
S*Shots as the name suggests is expected to hit like a shot. In all three flavors, THC is blended brilliantly with tangy fruit juices, with each bottle of S*Shots containing 10 servings to bring a flavor-explosive high for everyone. To take their love for cannabis drinks to the next level, S*Shots has also introduced drinks recipes featuring their flavors.
Sträva Craft Coffee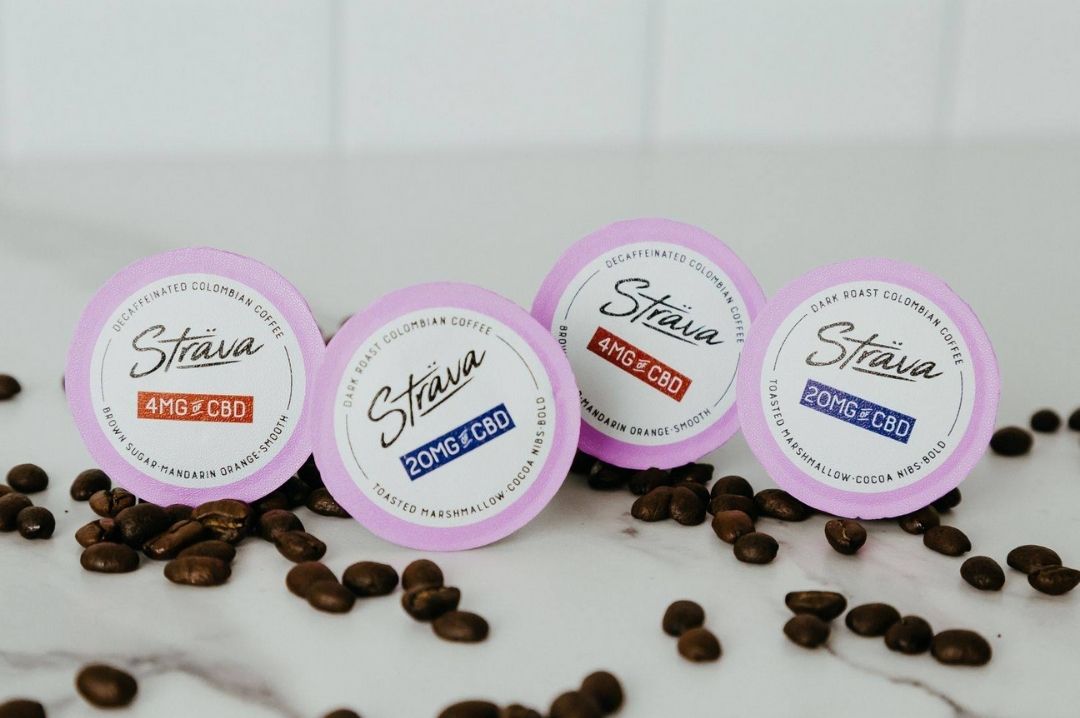 Sträva Craft Coffee Products, Source Facebook
If you are a coffee lover and looking to dabble into the world of cannabis drinks, don't bat an eyelash before choosing Sträva Craft Coffee as your go-to brand. The coffee brand, founded by two friends in 2015 fuses together Colombian coffee and broad-spectrum hemp. Sträva Craft Coffee has also divided its products based on the type of CBD consumer.
Intro Strength: Everyone responds to CBD differently. The Intro Strength Sträva Craft Coffee is made for those who like their CBD to be mild. The Intro Strength coffee contains about 4mg of CBD per serving. The flavor is milk chocolate and black cherry available in regular, decaf, and decaf roast.
Regular Strength: Taking the CBD intake per serving a notch higher, Regular Strength Sträva Craft Coffee serves about 10mg CBD per serve. The coffees are available in a regular serve and k-cups with medium roast and dark roast versions also available.
Max Strength: The strongest version of Sträva Craft Coffee is Max Strength. In a Max Strength Sträva Craft Coffee, the CBD quantity per serving doubles to that in a regular serve at 20mg per serving. In a Max Strength CBD coffee, one can avail the regular version, medium roast, dark roast, or decaf roast version.
It looks like the world of cannabis drinks is heading towards a major shift. The Cannabis Drinks Expo is a great place to be for all those who are equally interested in the business aspect of cannabis as much as they are in drinking it. Drink up to the ever-evolving world of cannabis.
Header Image- S*Shots, Source Instagram