Thanksgiving-themed cocktails to make at home
Thanksgiving is about friends, family, feasts, and fun cocktails. Here are the drinks you can serve at this year's feast.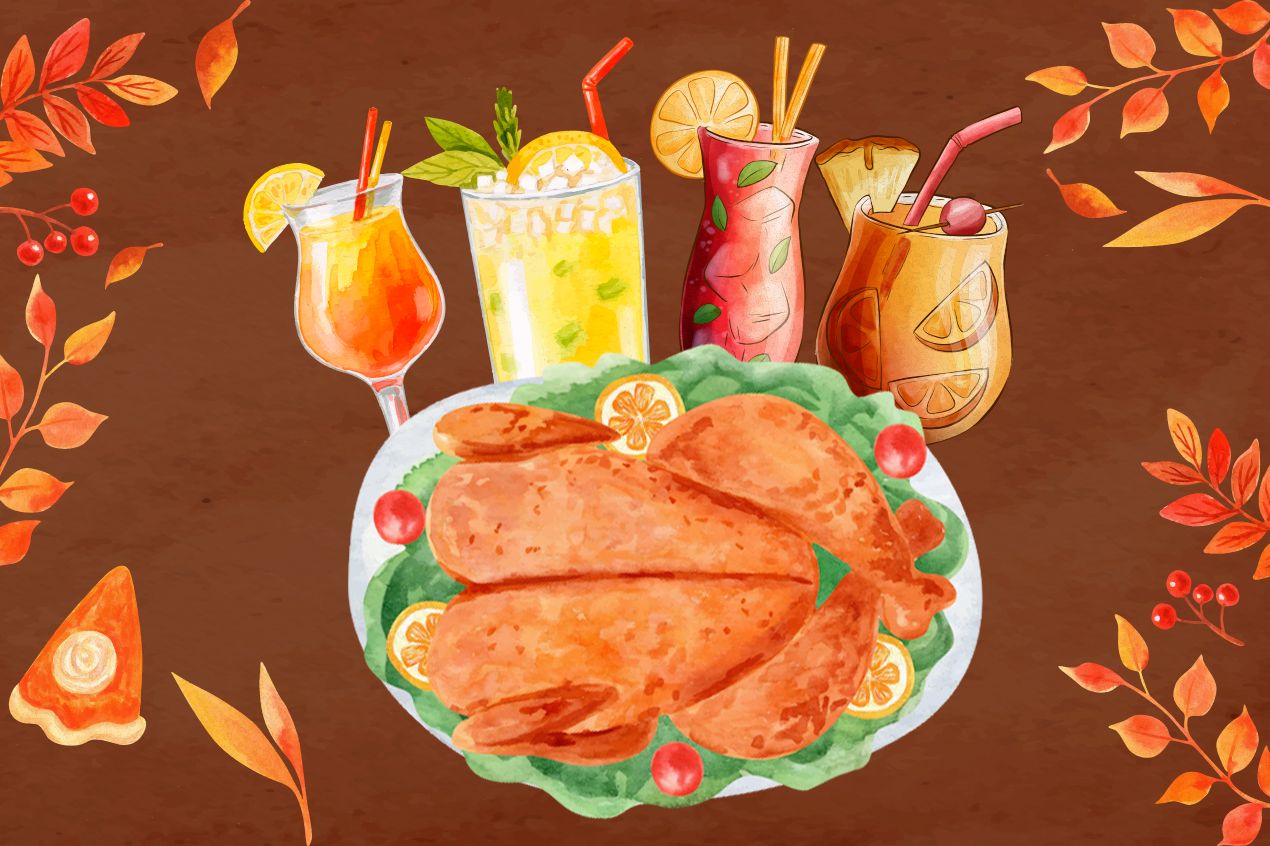 The rush of the holidays and the pressure of planning the perfect Thanksgiving feast could become overwhelming. Roasting a delicious turkey, getting creative with some potatoes, and keeping the guests away from nibbling at the sides in the pretext of "helping" with the cooking are all tough tasks. To keep a cool mind during all those things, enjoying the glorious feast and winding down post it can all be done with a glass of amazing cocktail.
Here are some easy-to-make Thanksgiving-themed cocktails that are perfect for serving before, during, and after this year's Thanksgiving or Friendsgiving feast.
Pecan Pie Martini
Recipe by Delish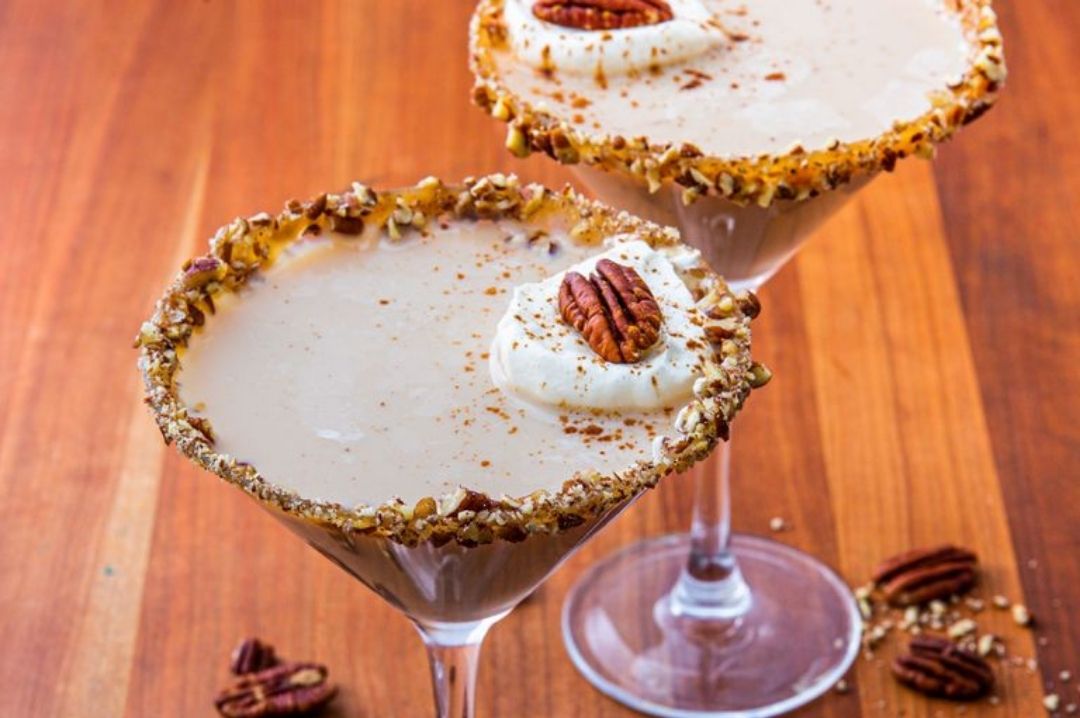 The Pecan Pie Martini, Source Delish
Yes, yes, yes! We have guessed you will probably enjoy a Pecan Pie as a dessert post the hearty Thanksgiving meal. But hear us out. Why not enjoy the Pecan Pie Martini as the feast starts as well. While looking at them, one would be forgiven to think that they aren't strong enough. But a sip of the drink and cocktail enthusiasts will be quick to point out that it is strong.
Ingredients:
6 oz Rumchata
6 oz Creme de cocoa
3 oz bourbon (try the Indiana Straight Bourbon, gold medal, Bartender Spirits Awards 2021)
Ice
Garnish:
3 tbsp. caramel, microwaved until pourable
1/4 c. toasted chopped pecans
Cool Whip, for garnish
3 whole pecans, for garnish
Sprinkle of cinnamon, for garnish
Method:
Place the caramel and toasted chopped pecans on separate small shallow plates. Dip the rim of each glass first into caramel and then into chopped pecans to coat. Combine the rumchata, creme de cocoa, and bourbon in a large cocktail shaker. Fill with ice and shake until cold for about 30 seconds. Pour into martini glasses and top with a dollop of whipped cream, a whole pecan, and a sprinkle of cinnamon.
Thanks Given
Recipe by Cointreau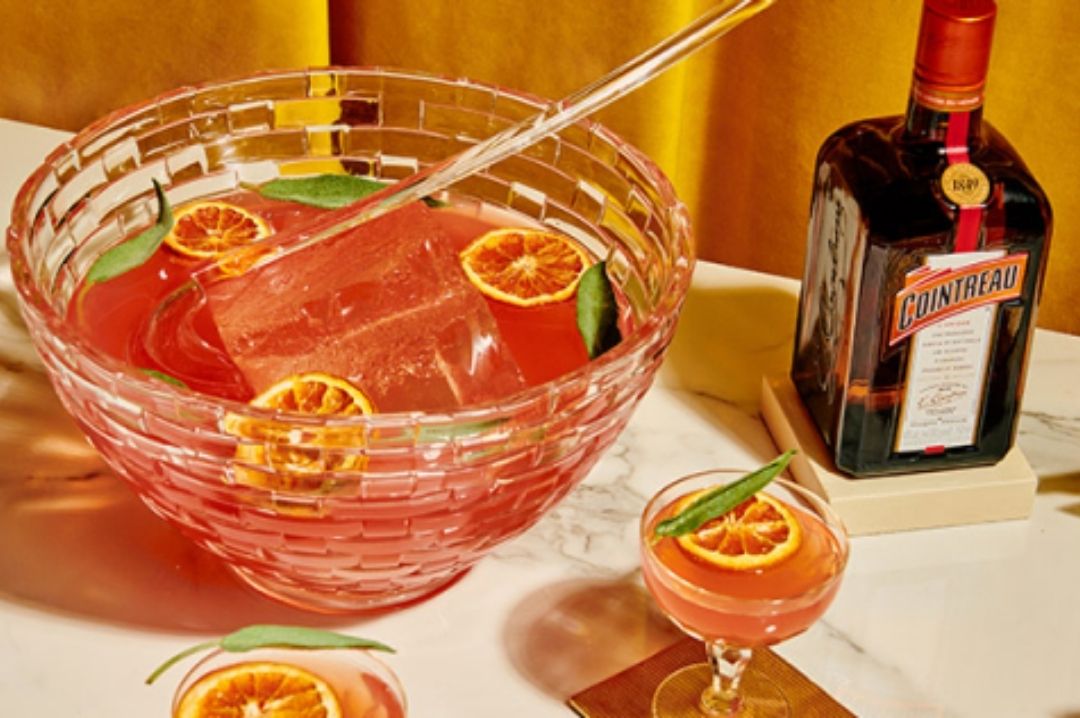 A French twist to this year's Thanksgiving celebrations
French spirit distillers Cointreau have come up with a cocktail, especially for Thanksgiving. The Thanks Given cocktail is made to be enjoyed with those roasted turkeys and all the baked pies. A cranberry and sage cosmopolitan perfect to accompany your holiday feast, here's how to mix the Thanks Given cocktail.
Ingredients:
Method:
Add all the ingredients except the sparkling wine to a shaker. Add ice to the mix and shake. Fine strain into a coupe glass and finish it off with sparkling wine and orange wheel (if needed). Let one sage leaf infuse in your cocktail.
The Haymaker Cocktail
Recipe by Country Living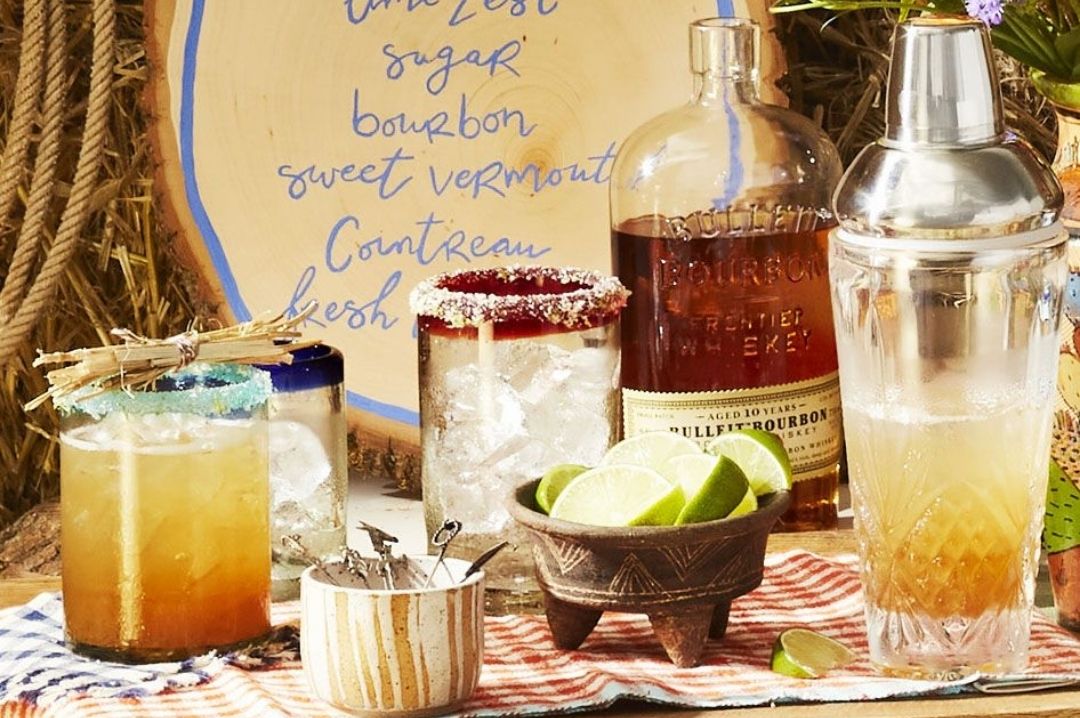 The Haymaker Cocktail
For all those who love Thanksgiving, a Manhattan cocktail, and a whiskey sour, The Haymaker Cocktail is made just for you. This one also involves bits of Cointreau (guess, the folks over there love Thanksgiving) and is an easy sipping cocktail. Slightly strong, making one cocktail will roughly take about ten minutes.
Ingredients:
0.75 oz bourbon (Try the Yolo Brothers Bourbon Whiskey, gold medal, Bartender Spirits Awards 2021)
0.75 oz sweet vermouth
0.24 oz Cointreau
1 tablespoon lime zest
0.25 oz lime juice
Method:
Stir together lime zest and sugar on a small plate. Fill a second small plate with water. Dip the rim of an old-fashioned glass in water, then in a sugar mixture. Fill a cocktail shaker with bourbon, vermouth, Cointreau, lime juice, and ice. Shake until chilled, 10 to 15 seconds. Strain into prepared glass over ice.
Pomegranate Margarita
Recipe by The Pioneer Woman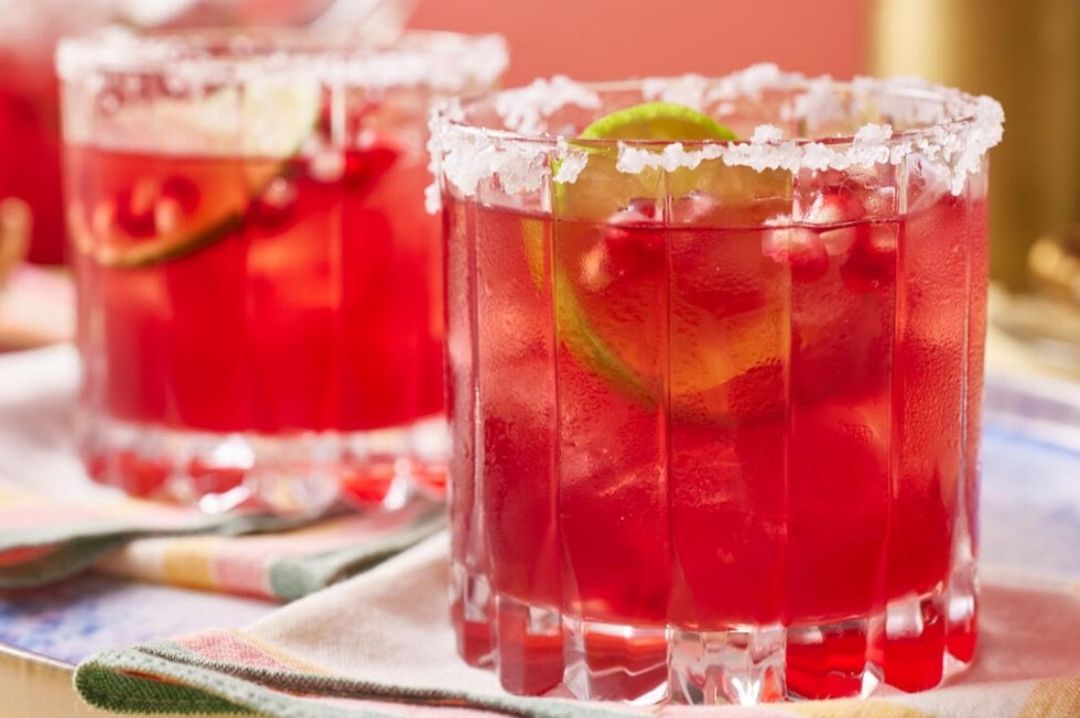 Pomegranate Margarita by Erin Merhar
Is there really a time not to enjoy a nice glass of margarita? Yes, the fruit might keep changing with the seasons, but the margarita can never change. As the temperatures drop and the festive spirit rises, the Pomegranate Margarita is a great margarita to turn to and serve the guests coming over for the feast. If a margarita is on your Thanksgiving menu, opt for this one.
Ingredients:
3 oz silver tequila (Blanco) (Try the Cazcanes Tequila Blanco, gold medal, Bartender Spirits Awards 2021)
1 oz triple sec
1 oz lime juice
0.5 oz maple syrup
0.25 c. salt
0.5 c. pomegranate juice
Ice
Lime slices and pomegranate seeds for garnish
Method:
Place the salt on a small plate. Place a splash of pomegranate juice on another small plate. Dip just the rims of two glasses in the pomegranate juice, then dip in the salt. In a cocktail shaker, combine the pomegranate juice, tequila, triple sec, lime juice, maple syrup and ice. Shake for 10-20 seconds to chill thoroughly, then strain into two glasses filled with ice. Garnish with a slice of lime and a few pomegranate seeds, if you like.
Pumpkin Pie Martini
Recipe by The Pioneer Woman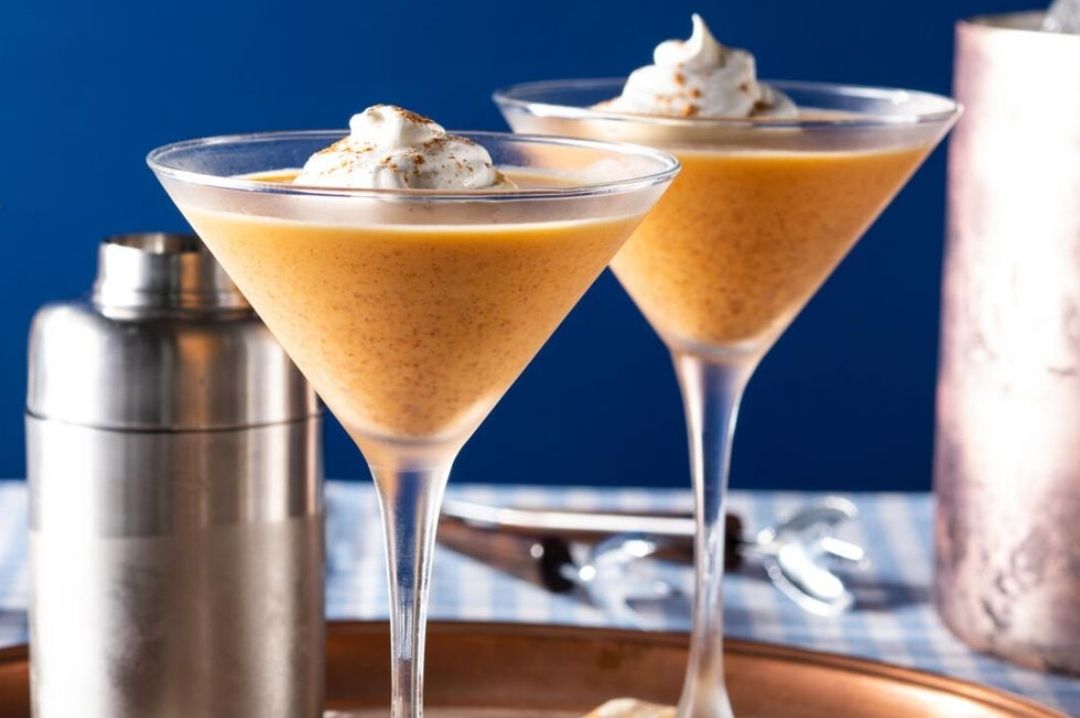 Lauren Miyashiro's Pumpkin Pie Martini
Another pie? Another martini? Why not? The Pumpkin Pie Martini is an ideal cocktail to serve with Thanksgiving desserts because it is a great after-dinner drink. Real pumpkin, dollops of whipped cream, and a foam topping, the Pumpkin Pie Martini has all the prerequisites to become a Thanksgiving mainstay. Here's how to whip up this martini.
Ingredients:
2.5 oz vanilla vodka
1.5 oz aged rum (Try the Cutwater Barrel Aged Rum, silver medal, Bartender Spirits Awards 2021)
0.25 c. pumpkin puree
0.25 c. half and half
3 tablespoon maple syrup
0.25 tablespoon pumpkin pie spice
Method:
Place 2 martini glasses in the freezer. For the Frozen Whipped Topping: Line a small sheet tray with parchment or waxed paper. Make 2 dollops of whipped topping or whipped cream and place in the freezer for 30 minutes.
In a cocktail shaker, combine the vodka, rum, pumpkin puree, maple syrup, half and half, pumpkin pie spice, salt and ice cubes. Cover and shake vigorously for about 20 seconds. Strain into the 2 martini glasses. Top each glass with one piece of frozen whipped cream. Sprinkle additional pumpkin pie spice and serve immediately.
Thanksgiving Jungle Juice
Recipe by Lena Abraham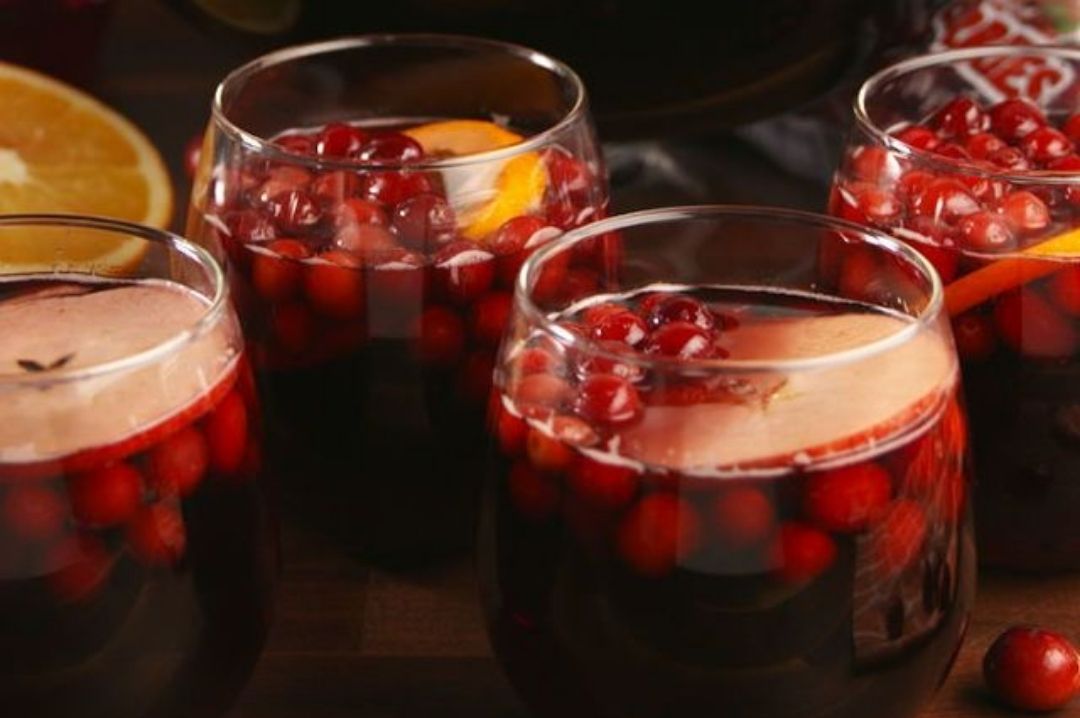 An apt Thanksgiving party cocktail
Those who love a punch will love this cocktail as well. A small heads up though, indulge in a Thanksgiving Jungle Juice only when the party is at your home or a place from where you won't drive back. In 10 minutes, a bowl that will serve eight to ten people can be made, meaning there's not too much hard work going into this one. Also, who wouldn't want to know who really is the drunk uncle of the group?
Ingredients:
Method:
Combine all ingredients in a punch bowl, stir together for a while and serve.
Mulled Apple Cider
Recipe by Ree Drummond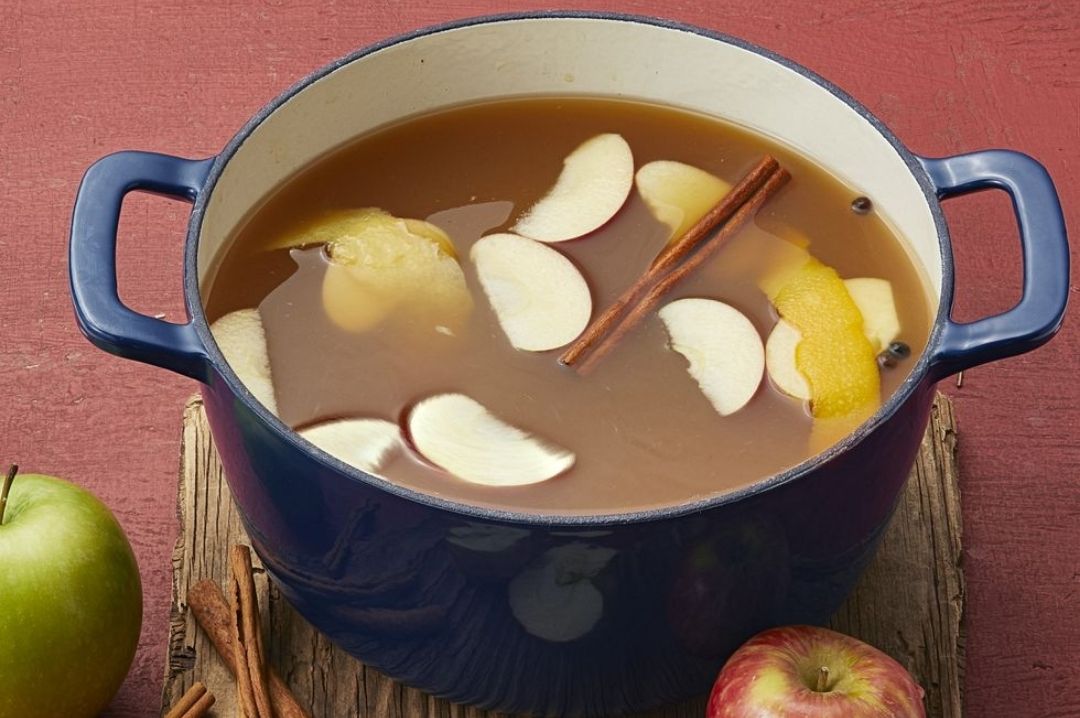 Ree Drummond's Mulled Apple Cider
On a cold night, when the feast went gloriously well, the turkey was roasted and carved to perfection, everyone ate their hearts out and memories were created for a lifetime, a drink was needed to bring the excitement down and end the night on a mellow high, Mulled Apple Cider is the drink to go for. Easy to make, with a simple recipe and readily available ingredients, Mulled Apple Cider is the best way to unwind after a fun Thanksgiving.
Ingredients:
0.50 c. dark rum (Try the Ratu Fijian Dark Rum, gold medal, Bartender Spirits Awards 2021)
6 c. unfiltered apple juice (freshly squeezed also works great)
0.59 c. maple syrup
4 cinnamon sticks
Ground cloves
8 allspice berries
Orange peel
Lemon peel
Apple slices and orange twist for garnish
Method:
Place the cinnamon sticks, ground cloves, allspice berries, orange peel and lemon peel in a medium saucepan. Add a splash of rum. Pour in the maple syrup and apple juice, then bring to almost a boil. Reduce the heat to low and simmer for 30 minutes. Remove from the heat and serve in mugs with apple slices and orange twists for garnish.
Thanksgiving Sangria
Recipe by Half Baked Harvest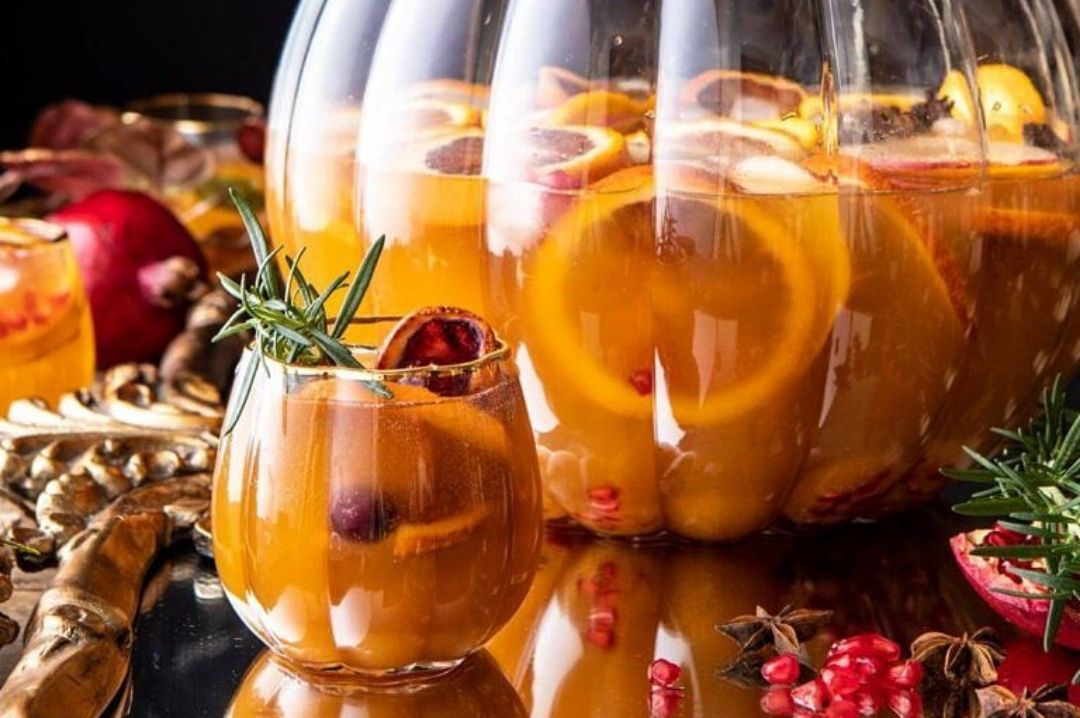 Teighan's Thanksgiving Sangria
We have talked a lot about what drinks to serve during the feast and after the feast, what about those that are the perfect Thanksgiving starter? The Thanksgiving Sangria is a fitting drink to kick off a day of festivities with friends and family. Another pitcher-styled drink, the Thanksgiving Sangria can be made with relative ease, which allows you to enjoy the activities with the family instead of being in the kitchen making some cocktails that take a long time.
Ingredients:
White wine (Try the Poet's Leap Riesling, White Wine of the Year by the glass, Sommeliers Choice Awards 2021)
Brandy (Try Ararat Ani 7, gold medal, Bartender Spirits Awards 2021)
Ginger beer
Cider
Maple syrup
Cinnamon
Pumpkin butter
Method:
Combine all the ingredients in a large punch bowl. Chill until ready to serve. Top off with ginger beer.
South San Francisco Conference Center, 255 South Airport Boulevard, South San Francisco, CA 94080, United States
Register Now
South San Francisco Conference Center, 255 South Airport Boulevard, South San Francisco, CA 94080, United States
Register Now