Shake up a French 75 with Christopher Longoria
Bar Director at Che Fico, San Francisco shows us how to make the French 75 and other fun facts about being a bartender.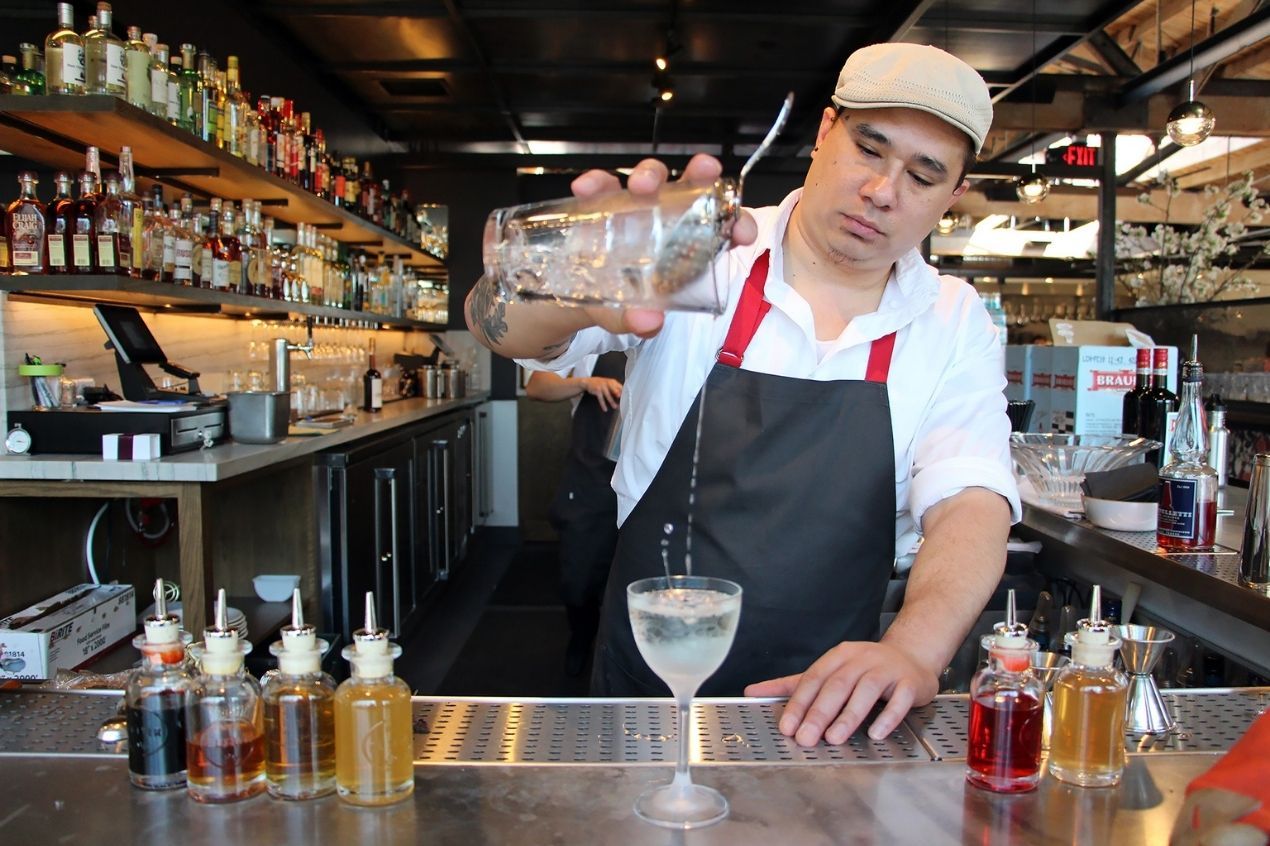 Many bartenders across the globe stumble upon the trade at some point in their lives, through which they turn into bartenders. But not Christopher Longoria. Currently the bar director at Che Fico in San Francisco, Christopher always wanted to be a barman.
"When I was in college, I would turn my bookshelf around and stack it with a few bottles and make drinks with pre-made mixes for other students on my floor. They were really terrible! But it got me visualizing," says Christopher.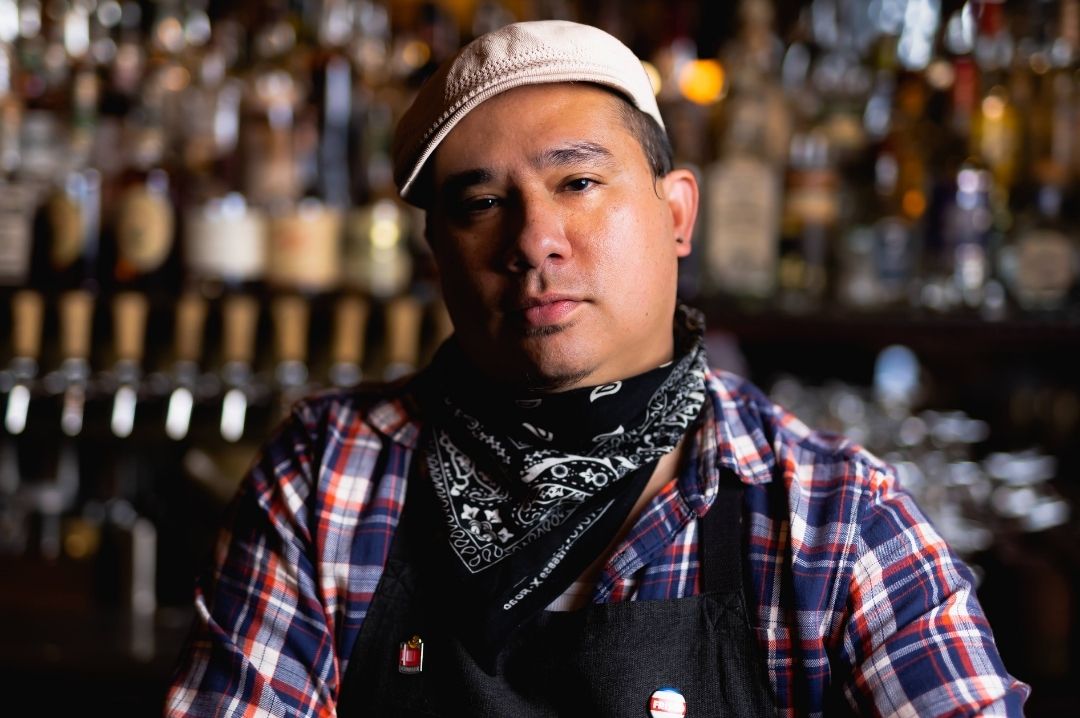 Christopher Longoria
"I then ended up going to a birthday party for the painter Doze Green while I was still in grad school and I noticed the bar manager was slammed. I looked at him and asked if he needed any help, so he tossed me an apron and I started picking mint and pulling drafts. After the party died down he asked me if I wanted to come back tomorrow. I said yes, and then my path behind the bar in San Francisco really began there. I stuck with it while I finished grad school and it just seemed like there was so much energy and so many interesting people"
21 years later, Christopher still loves his time behind the bar, and as he says, 'more importantly, I'm still learning'.
According to you, what are some of the most important skills for a bartender to have?
I think a few skills every bartender should continue to develop is articulation; knowing how to speak to your team and guests while under heavy pressure is a highly nuanced skill and it takes a long time to learn to be a clear and exact speaker. Awareness; always be aware of your guests, their experience, their energy, and the overall restaurant/bar space. A sense of how best to prioritize; by prioritizing the right things at the right time you can save yourself a lot of work as well as a lot of time. And of course, be calm under pressure; that only comes with experience I feel.
What's one essential piece of barware that everyone should have at home?
I would suggest 1 Jigger that measures 2oz, 1.5oz, .75oz, .5oz, .25oz. They're easy to find on Cocktail Kingdom's website. I would also suggest 1 mixing glass, 1 bar spoon, 1 Hawthorne Strainer, and a pair of cocktail tins. Lastly, 1 rubber ice cube tray that measures 1x1 ice cubes. They're not difficult to find.
What is your favorite cocktail to make?
I take a lot of pride in everything I make. But if I had to pick one to call my favorite, it would be the French 75. It's such a tight balance but when executed properly it really makes an impression.
In a cocktail tin add:
1.5oz Cognac
0.5oz Fresh Lemon Juice
0.25 simple syrup
1 dash of orange bitters
Add ice, shake for 8 seconds, and double strain into a Champagne flute or coupe.
In the champagne flute or coup add:
2oz of champagne or high-quality bubbles.
Dip the bar spoon gently into the glass and give it one very light stir. Garnish with a clean lemon twist.
What are some of your favorite places to drink at when you're not working?
A few of my favorite places to grab a cocktail or vibe out in no particular order would be St. Regis Hotel Lobby, Club Deluxe, Wildhawk, Anina, and a few dive bars around The Richmond.
The funniest story you heard at the bar?
Oh geez, I'm literally rehashing 20 years of being in bars and the countless stories! Well, I don't know how funny this is, but I once had a guy telling me his whole plan while sitting next to an off-duty police officer. Poor guy couldn't take the hints I was trying to give him. After a while, he left and the off-duty cop left quickly after, who knows what became of that.
What has been your most bizarre client request?
That's a loaded question ha! Let's just say, I've had a lot of secrets shared with me.
What are some of your favorite tv shows/movies?
I'm actually an undercover film buff. I love studying all the details that go into moviemaking. I haven't really watched many of the shows that most people have because I'm always working and when I'm home I like to listen to music more than watch TV. But some of my favorite movies that I've enjoyed the last couple of years are Interstellar (I'm a huge Christopher Nolan fan), Boy (the New Zealand flick), No Country For Old Men, and Arrival. I also study a lot of Kubrick films.
Can we visit Che Fico?
Unfortunately, my bar is not currently open. But we at Che Fico are taking every measure to ensure the safety of our guests and staff. We plan to space tables out a lot further than before, we've put up some plexiglass between booths. The owners and GM are steadfastly researching and staying on top of all that can be done to help prevent spreading Covid.
What are some drinks trends we should look out for?
Low ABV cocktails, Ube, and high-quality Soju.
What have you been drinking lately?
I've been studying and researching a number of scotches the last couple of months, so that has been on my table.