9 Cocktails for Mardi Gras
The Crescent City's favorite bourbon drinks to fruity delicacies, these 9 cocktails are perfect for your Mardi Gras party.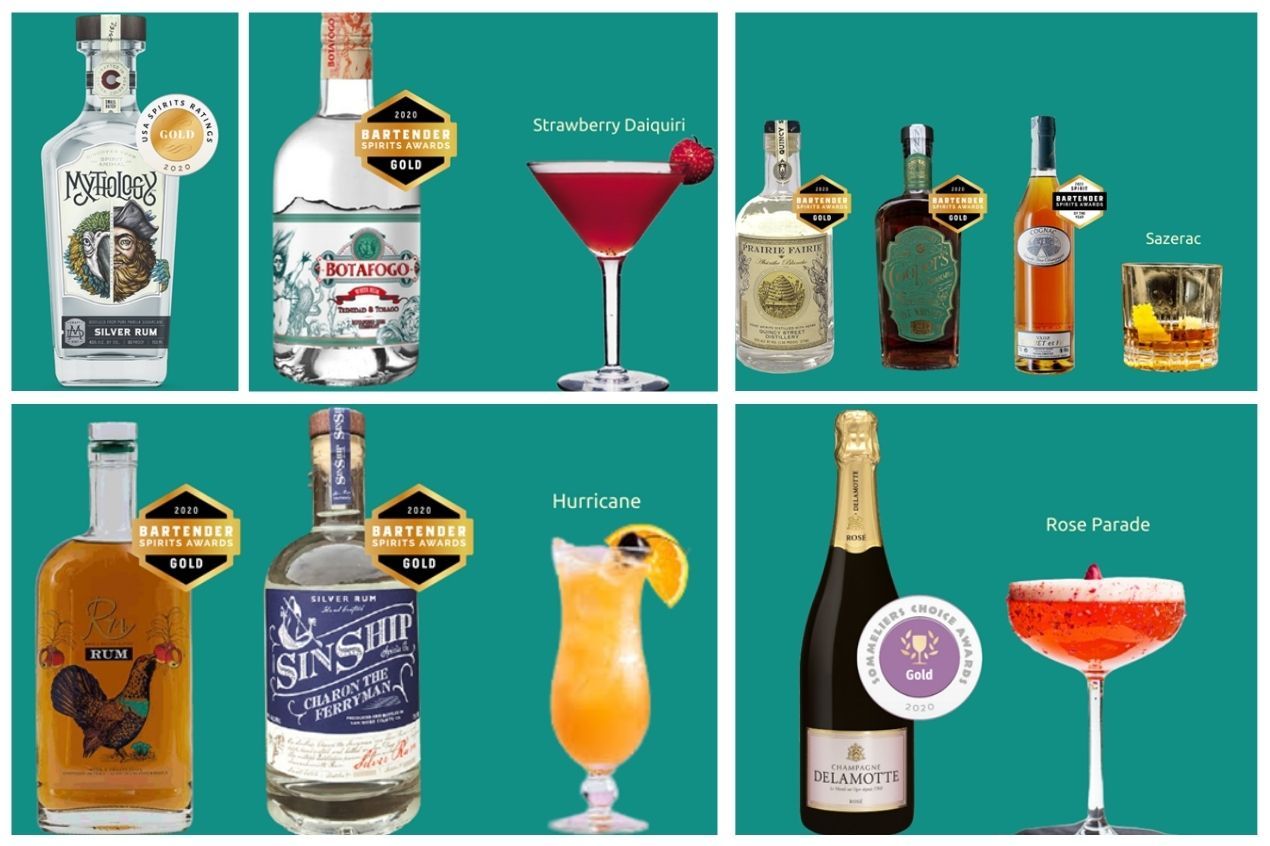 This year New Orleans will not be hosting their annual Mardi Gras parade due to Covid-19 but the artists of New Orleans are still keeping their spirits high. This year, instead of the parade, neighborhoods are decorating their houses to look like festive floats.
So whether you're throwing a Mardi Gras party at home, watching the Australian Mardi Gras parade on TV, or just strolling around the streets looking at the abundance of krewe installments around town, you'd definitely want to do it with the appropriate cocktail in hand. From New Orleans' cocktail of choice - the Sazerac to refreshing lime-based Caipirinhas, we've rounded up some of the best cocktails to celebrate Mardi Gras with.
1. Sazerac
Recipe by Liquor.com
New Orleans' cocktail of choice, made with top-notch award-winning spirits: Praire Fairie Absinthe (Bartender's Spirits Awards, 92 points), Cooperstown Ransom Rye Whiskey (USA Spirits Ratings, 96 points), and VSOP Cognac (Bartender's Spirits Awards, 98 points, Spirit of the Year)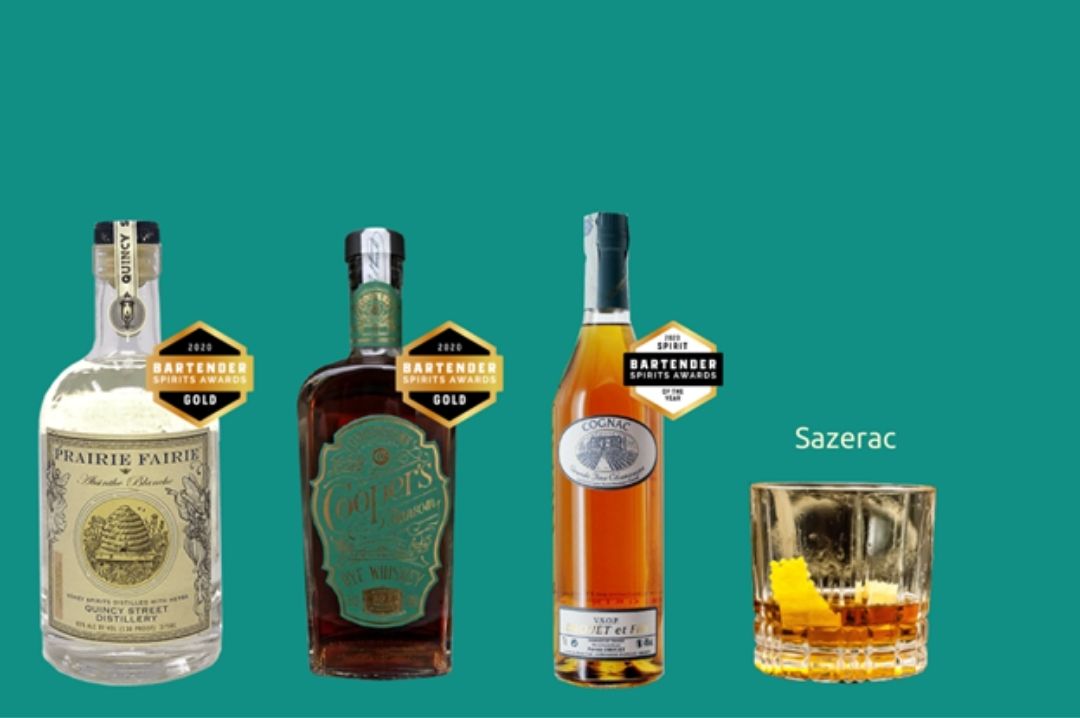 Ingredients:
• Absinthe, to rinse (Try Praire Fairie)
• 1 sugar cube
• 1/2 teaspoon cold water
• 3 dashes Peychaud's bitters
• 2 dashes Angostura bitters
• 1 1/4 ounces rye whiskey (Try Cooperstown Ransom Rye Whiskey)
• 1 1/4 ounces cognac (Try VSOP Cognac)
• Garnish: lemon peel
Rinse a chilled rocks glass with absinthe, discarding any excess, and set aside. In a mixing glass, muddle the sugar cube, water, and the Peychaud's and Angostura bitters. Add the rye and Bartender's Spirits Awards' 'Cognac of the Year' VSOP Cognac, fill the mixing glass with ice and stir until well-chilled. Strain into the prepared glass. Twist the lemon peel over the drink's surface to extract the peel's oils, and then garnish with the peel.
2. Bourbon Hot Toddy
Recipe by S&B Farms Distillery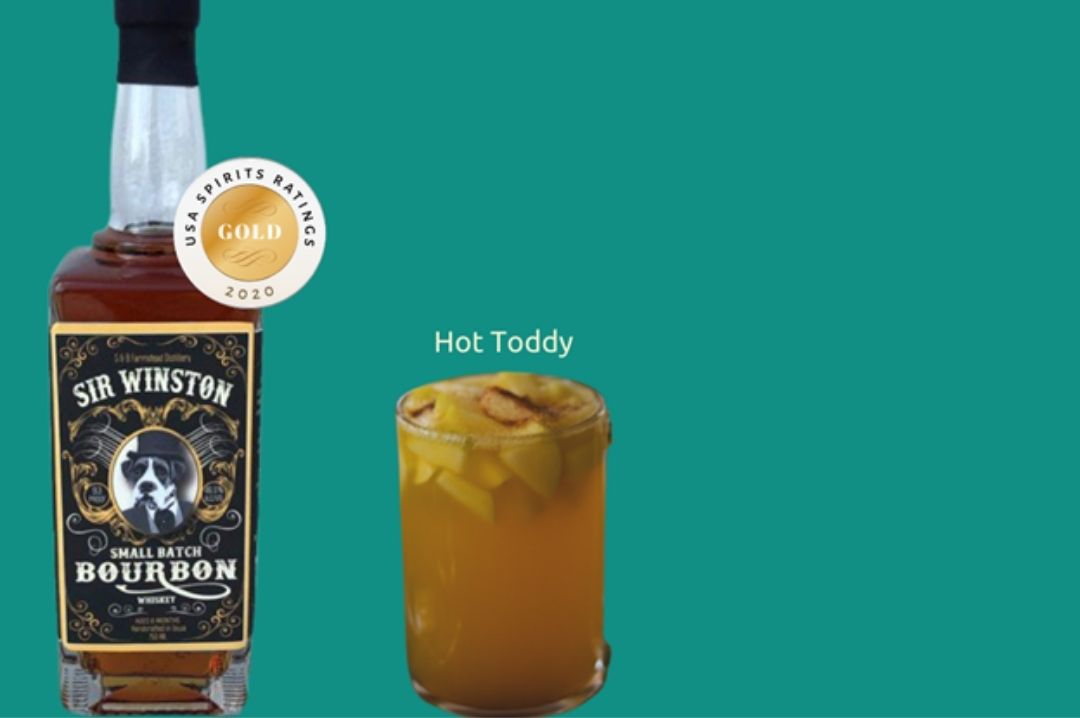 Crafted with USA Spirits Ratings' gold-medalist Sir Winston's Bourbon is the perfect way to warm up after your stroll around the neighborhood.
Ingredients:
• 1.5 oz bourbon (Try Sir Winston Bourbon)
• 2 oz hot water
• 1 teaspoon honey
• 1 lemon wedge
Add water, honey, Sir Winston Bourbon, cinnamon stick, and a lemon wedge to a cup, let sit for two minutes and stir with the cinnamon stick until the honey is dissolved. Add a squeeze of lemon if desired.
3. Mint Julep
Recipe by Food Network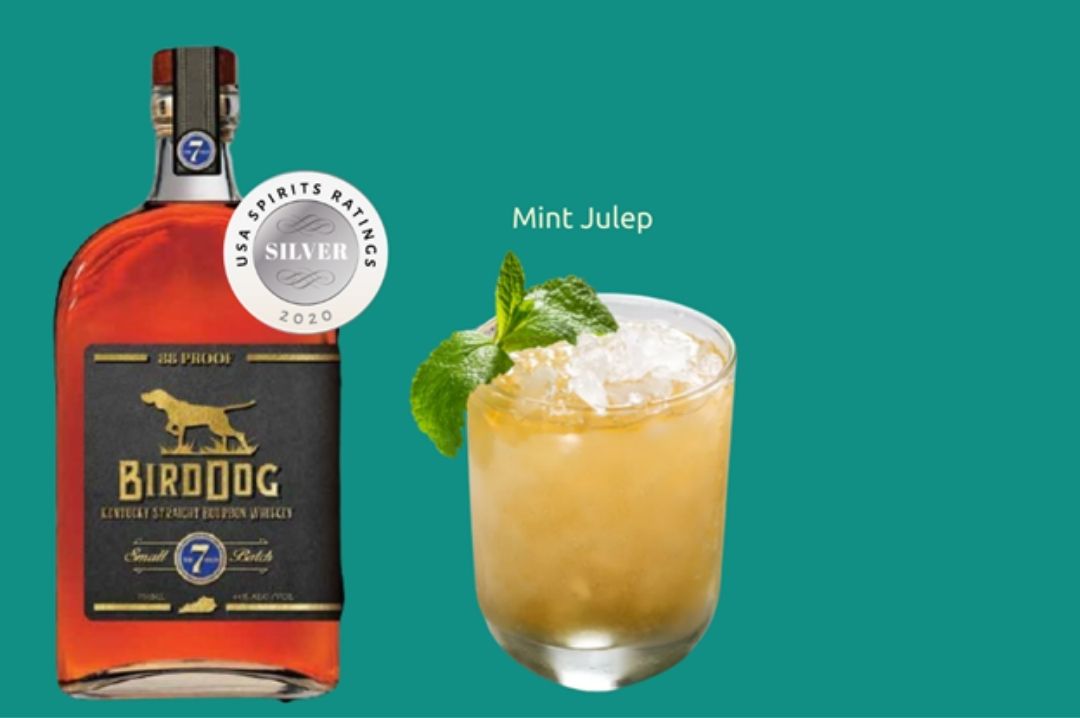 Ingredients:
• 10 mint leaves, plus a sprig for garnish
• 1 1/2 teaspoons superfine sugar
• Seltzer water
• Crushed ice
• 2 1/2 ounces Kentucky bourbon whiskey (Try Bird Dog Small Batch 7-year-old)
Place the mint leaves in the bottom of an old-fashioned glass and top with the sugar. Muddle these together until the leaves begin to break down. Add a splash of seltzer water, fill the glass 3/4 full with crushed ice, and add USA Spirits Ratings' 88 point Bird Dog Small Batch Bourbon. Top with another splash of seltzer, stir and garnish with a sprig of mint. Serve immediately.
4. Rosé Parade
Recipe by Town and Country Mag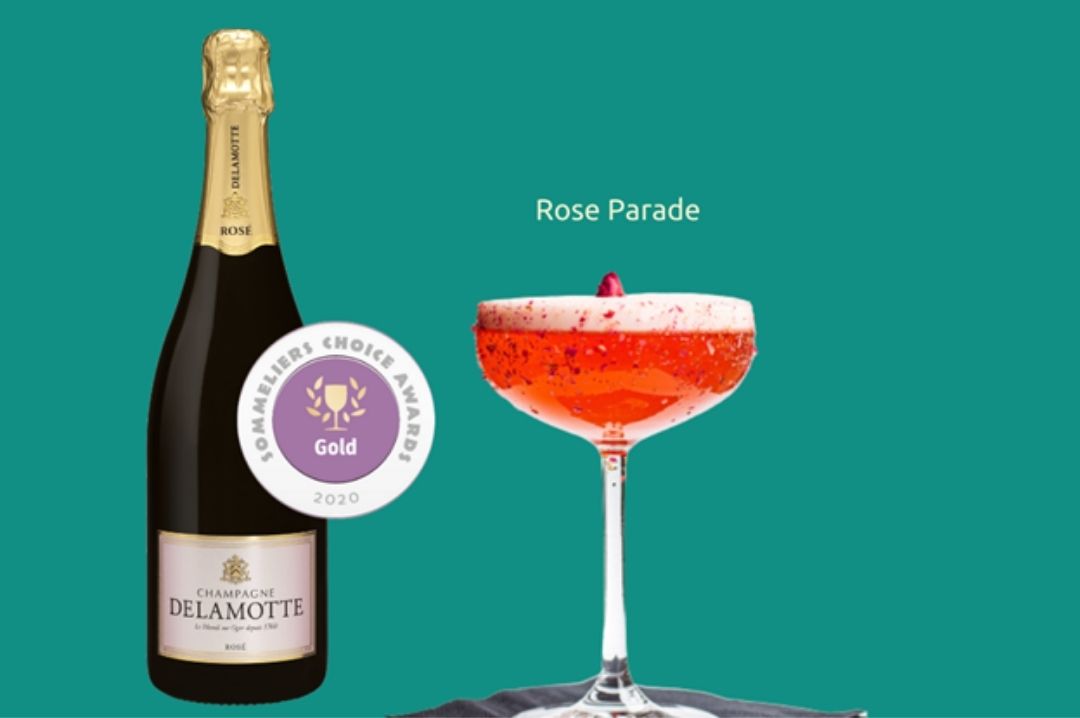 Ingredients:
• 5-6 large ice cubes
• 2-3 slices of guava
• Rose champagne (Try Champagne Delamotte Brut Rosé NV)
Place 5 ice cubes in a large wine glass, add the slices of guava, and finish with Sommeliers Choice Awards' 95 points Champagne Delamotte Brut Rosé NV. Garnish with extra fruit slices.
5. Classic Strawberry Daiquiri
Recipe by The Spruce Eats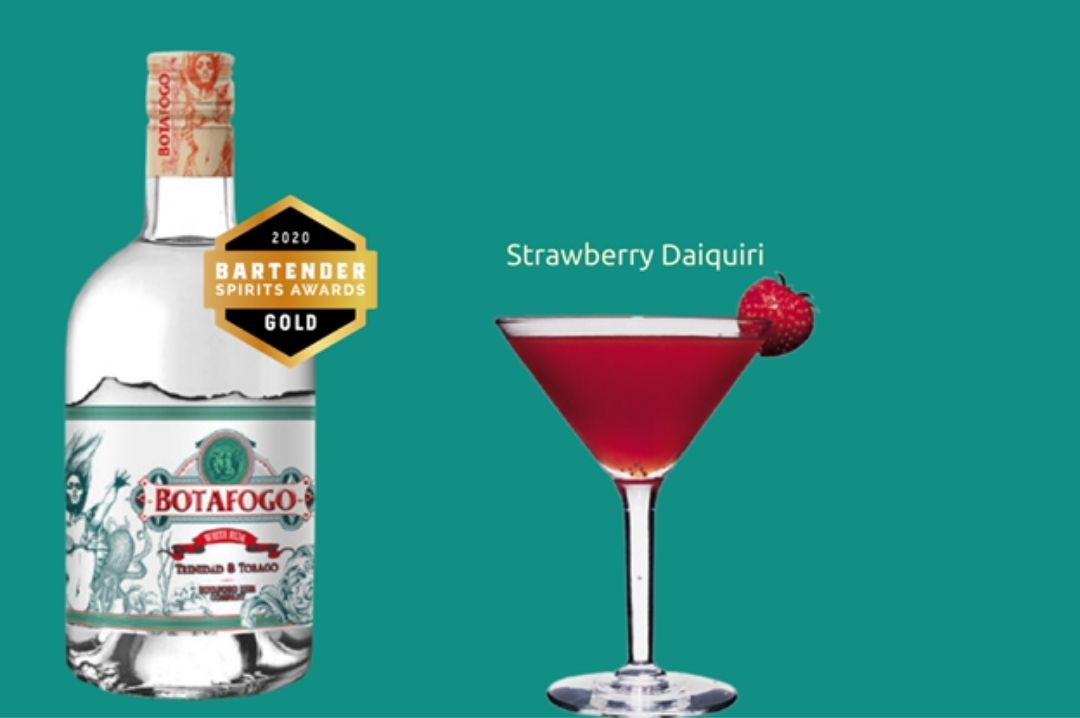 • 2 ounces light rum (Try Kiyomi Japanese Rum)
• 1/2 ounce lime juice, fresh
• 1-ounce simple syrup
• 1 cup ice
• 3 to 4 large strawberries, sliced
• Garnish: strawberry slices
In a blender, add Bartender's Spirits Awards' 94 points Kiyomi rum, lime juice, simple syrup, ice, and strawberries. Blend well at high speed until smooth. Pour into a chilled collins or margarita glass. Garnish with fresh strawberry slices. Serve and enjoy.
6. Mardi Grog
Recipe by Town and Country Mag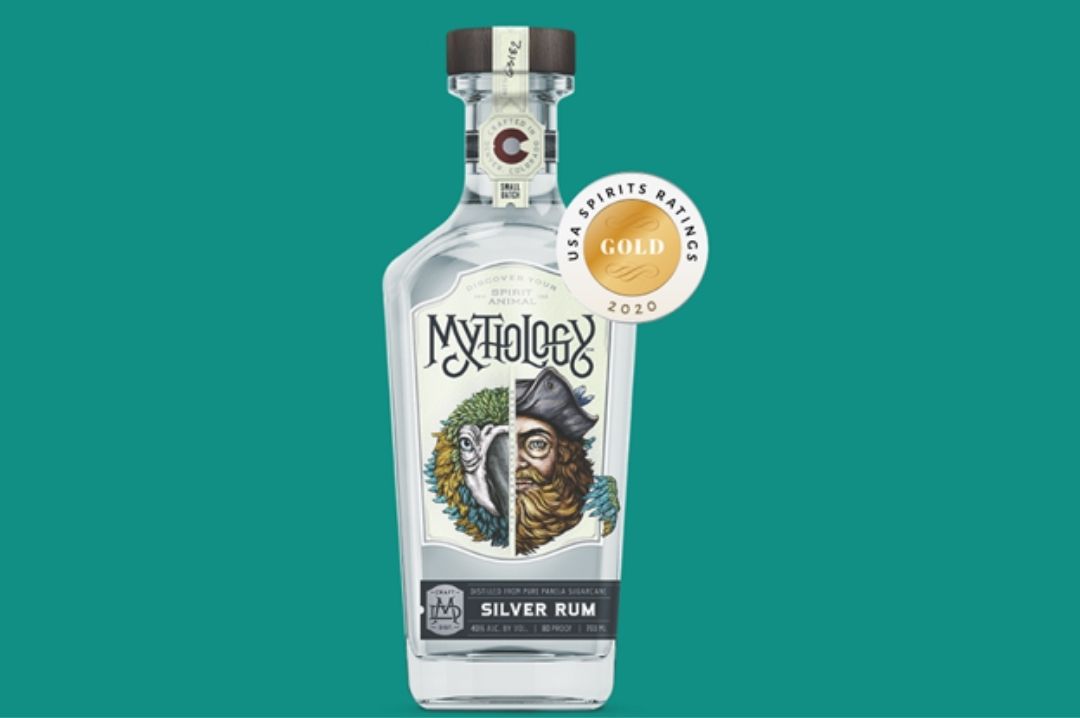 Ingredients:
• 1 oz fresh lime juice
• 0.75 oz chai syrup*
• 2.5 oz rum (Try Feather Jester Rum, gold-medalist at USA Spirits Ratings)
For the Chai Syrup:
• 32 oz (I carton) Oregon Chai liquid concentrate
• 20 oz gold turbinado or demerara sugar.
Chai Syrup: Bring to a boil, stirring regularly, then simmer uncovered for 2 minutes. Remove from heat, let cool, and bottle it. Store in the fridge.
Shake with ice cubes. Strain into a Cocktail Kingdom swizzle cup full of crushed ice. Garnish with a mint sprig.
7. Hurricane
Recipe by Liquor.com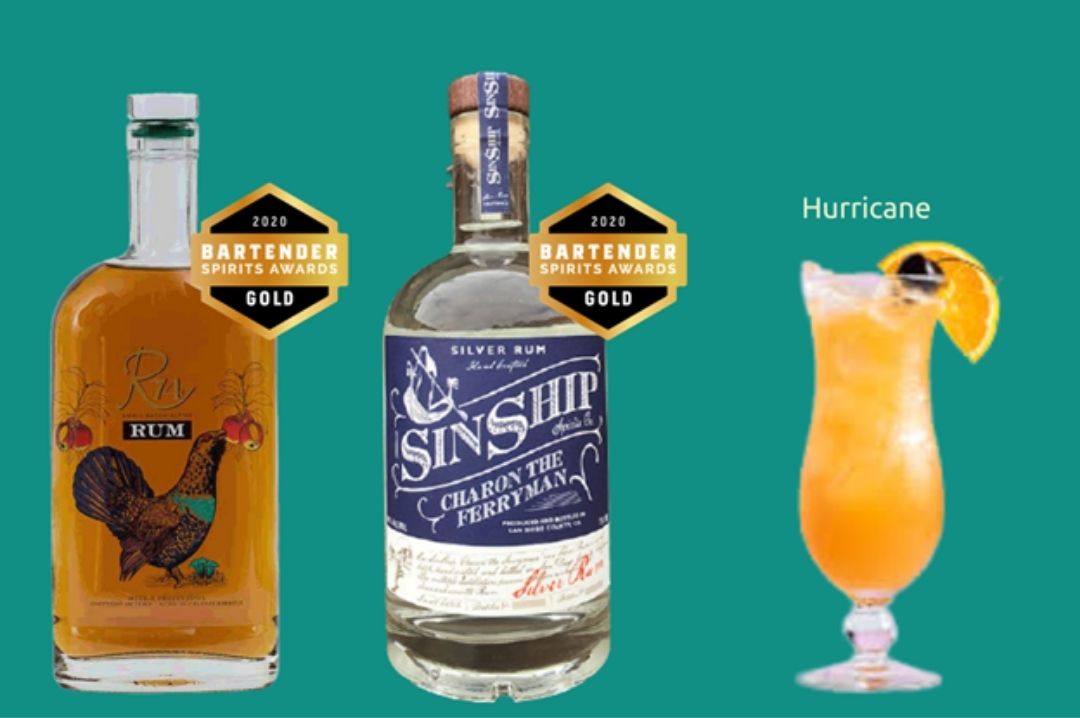 Ingredients:
• 2 ounces light rum (Try Ferryman Silver Rum)
• 2 ounces dark rum (Try Rum R74 Aged)
• 1-ounce lime juice, freshly squeezed
• 1-ounce orange juice, freshly squeezed
• 1/2 ounce passion fruit puree
• 1/2 ounce simple syrup
• 1 bar spoon grenadine
• Garnish: orange wheel
• Garnish: preserved cherry
Add the Bartender Spirits Awards' gold medal winners light and dark rums, lime and orange juices, passion fruit puree, simple syrup, and grenadine into a shaker with ice and shake until well-chilled. Strain into a large Hurricane glass over fresh ice. Garnish with an orange half-wheel and a preserved cherry.
8. Red Snapper
Recipe by Gin Foundry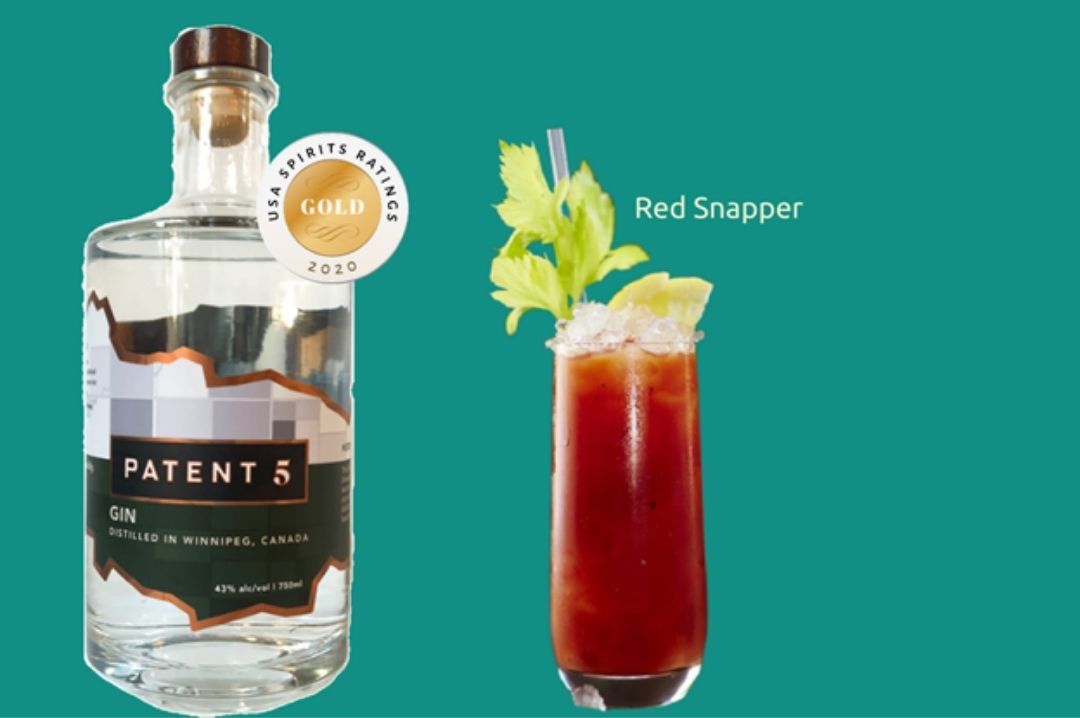 Made with Patent 5 Gin, a gold medal winner at the USA Spirits Ratings, and also named 'Best in Show by Country (Canada)', the Red Snapper is a Bloody Mary with a festive twist.
Ingredients:
• 1-ounce Gin (Try Patent 5 Gin)
• 4 ounces tomato juice
• 0.5 ounces lemon juice
• 7 drops Tabasco hot sauce
• 4 dashes Worcestershire sauce
• 2 pinches celery salt
• 2 grinds black pepper
Use the salt and pepper to rim your glass (preferably a Collins). Add the rest of the ingredients to a cocktail shaker with ice. Shake. Strain into your glass. Add half a celery stick to garnish.
9. Caipirinha
Recipe by Cãna Classic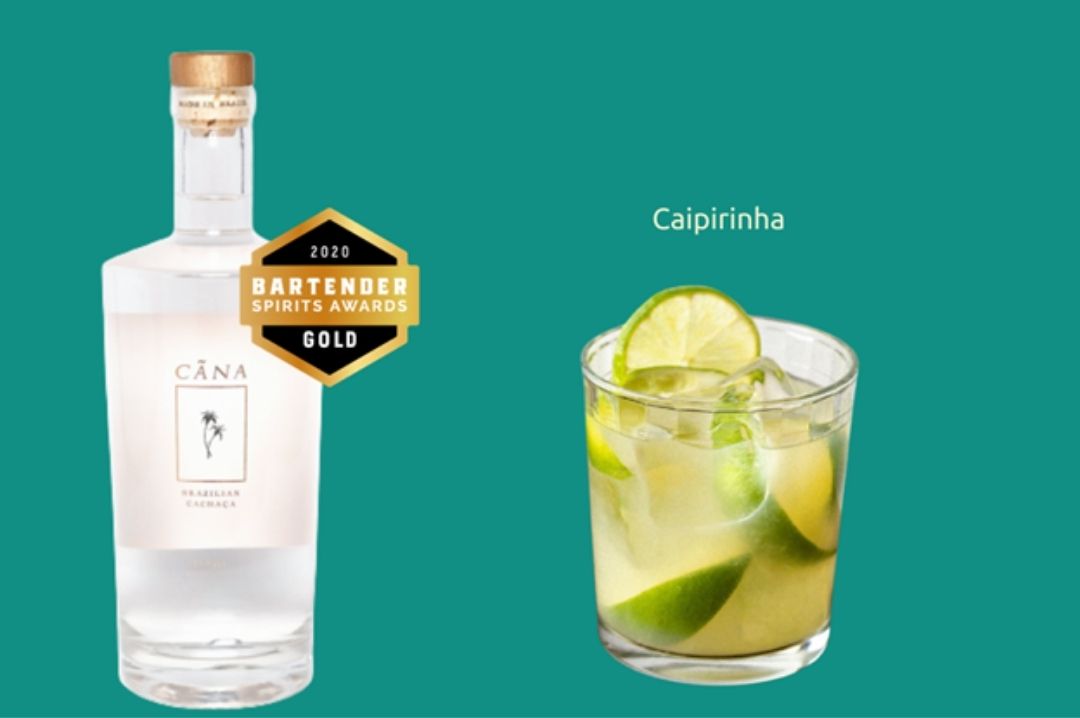 Looking for something more refreshing than a classic New Orleans bourbon-based cocktail? Try the Caipirinha made with Bartender's Spirits Awards' gold-medal CÃNA Classic cachaça.
Ingredients:
• 2 oz. cachaça (Try CÃNA Classic)
• 1 lime
• 0.5 oz lime juice
• 2 tbsp white or brown sugar
Cut the lime into 8 pieces. In a shaker, add 6 pieces, the sugar, and the lime juice. Muddle, pressing each piece. Add the Cãna, shake with ice. Dump into an old fashioned glass. No garnish, just drink and repeat. You'll be having fun in no time.