17 best to-go cocktails in San Francisco
These 17 bars around San Francisco are offering fantastic cocktails to-go to elevate their food menus.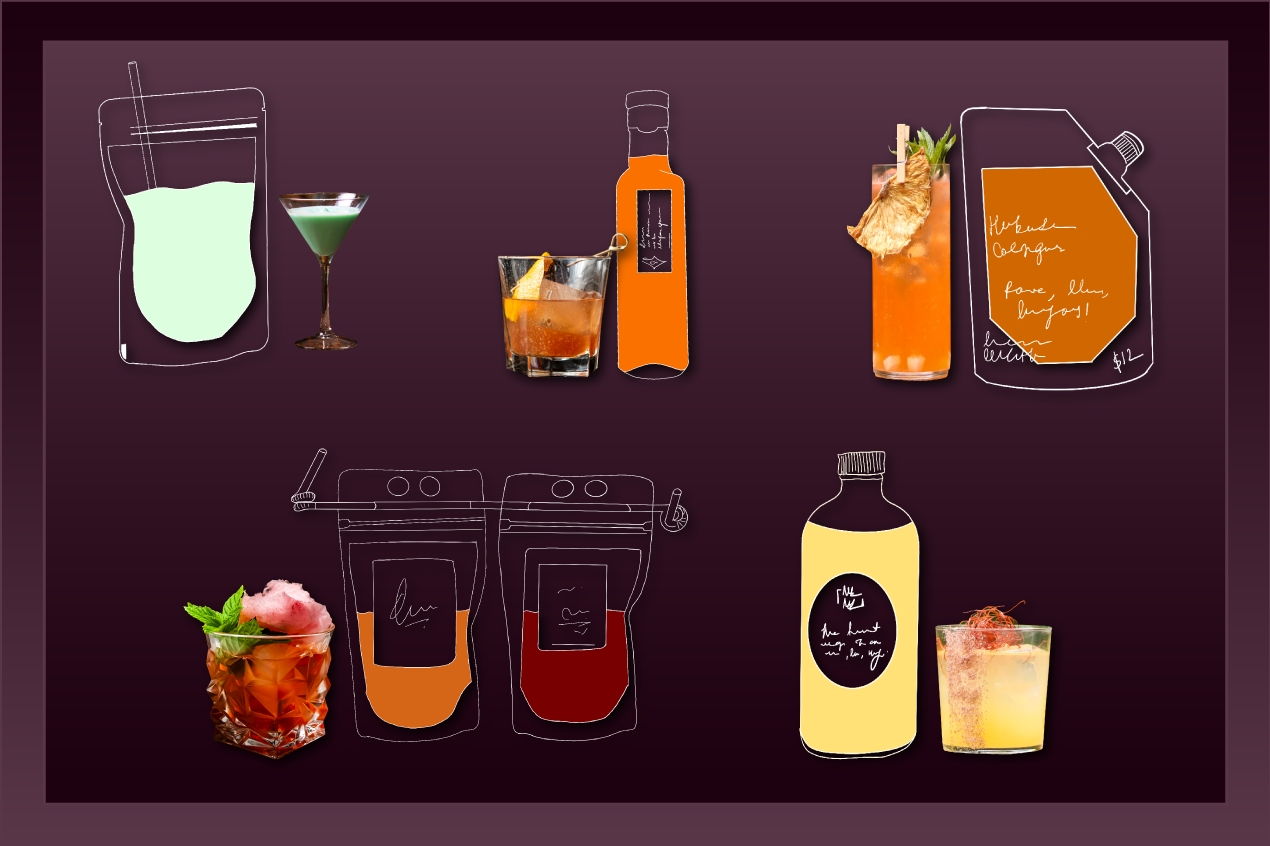 To-go cocktails may become a permanent feature in the SFO restaurant scene long after we stop feeling the traces of COVID. They do come with the caveat that these establishments should be serving food too. So although you may have been perfecting your bartending skills at home, if you're still craving that cocktail with the perfect twist, here's a list of 17 bars and restaurants in San Francisco that are currently offering some of the best cocktails to-go (with contactless pickup).
1. 620 Jones
From trendy frosés to classic cosmos and negronis, 620 Jones is offering a wide range of cocktails to-go starting from $12. Crafted by bartender Kimberly Morini and her team, the resto-bar also offers a list of 'warm cocktails' for those winter nights where you just want to lay in a blanket and sip on a hot toddy.
Call to order: 415-845-2257
Location - 620 Jones St, San Francisco, CA 94102
2. Brickhouse Bar and Grill
The SoMa located Brickhouse Bar & Grill, along with their entire food menu, is offering Bloody Marys, Margaritas, and Mimosas for takeout daily after 2 pm. They also have cocktail sets that serve 5-6 people and are freshly batched daily.
Or call to order: 415-369-0222
Location - 426 Brannan St, San Francisco, CA 94107
3. Butter
The crowd-favorite SoMa dive bar has launched an RV Bottle Service To-Go Gift Set to help get back up on their feet and start up again. The gift set includes one liter of Butter branded 80-proof vodka and five cans of Red Bull to make your classic 'Red Bull and vodka', which was originally invented at Butter in 1999. You can also get yours for free - in exchange for your $80 donation to Butter's Cost of Living Fund for the service staff and crew.
Location - 354 11th St, San Francisco, CA 94103
4. Elixir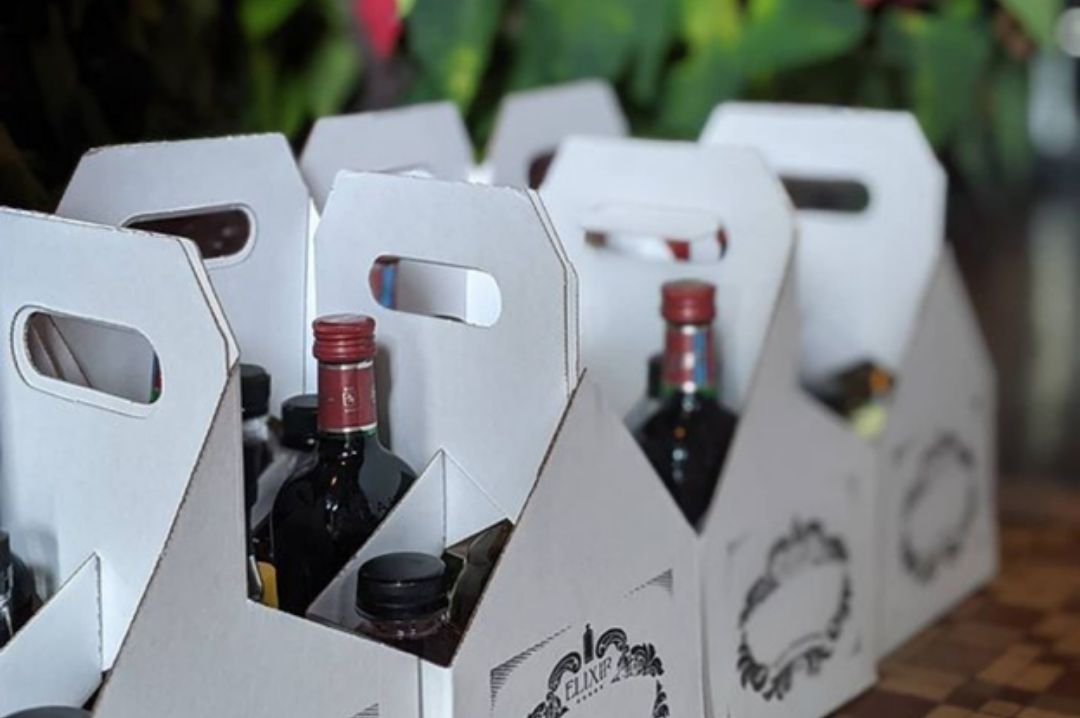 Cocktail kits, Elixir. Source: Instagram
Known as San Francisco's 2nd oldest salon, Elixir offers a to-go option for over 600+ whiskeys, along with a range of different liquors, mixers, and bitters, beers, and ciders. The bar also has cocktail kits for drinks such as Margaritas, Mimosas, and Pisco Sours, which make around 20 drinks. You can also pick up bar tools for your at-home bar.
Location - 3200 16th St, San Francisco, CA 94103
5. Mars Bar
Located on Brannan Street, Mars Bar offers a rotating cocktails to-go menu, with new cocktails and drinks, including wine, beer, and spirits to offer every day. The bar also offers a catering menu, not only for their food but for drinks as well.
Call to order: 415-621-6277
Location - 798 Brannan St, San Francisco, CA 94103
6. Mezcalito
The lively cocktail bar located on Polk Street is offering mezcal-based cocktails, including passion fruit margaritas. The bar team at Mezcalito also offers ready-to-mix tequila and mezcal cocktails along with their tapas to-go.
Call to order: 415-441-2323
Location - 2323 Polk St, San Francisco, CA 94109
7. Sunset Reservoir Brewing Company
If you're looking for a pint to-go, then drop by Sunset Reservoir Brewing Company to pick up some of their delectable house brews. The brewery-cafe also offers a range of wines by the glass, by the bottle, single cocktails, batch cocktails, and bottled cocktails as well. They've also started canning a range of no-abv beers available for both pick-up and delivery.
Call to order: 415-571-8452
Location - 1735 Noriega St, San Francisco, CA 94122
8. The Dark Horse Inn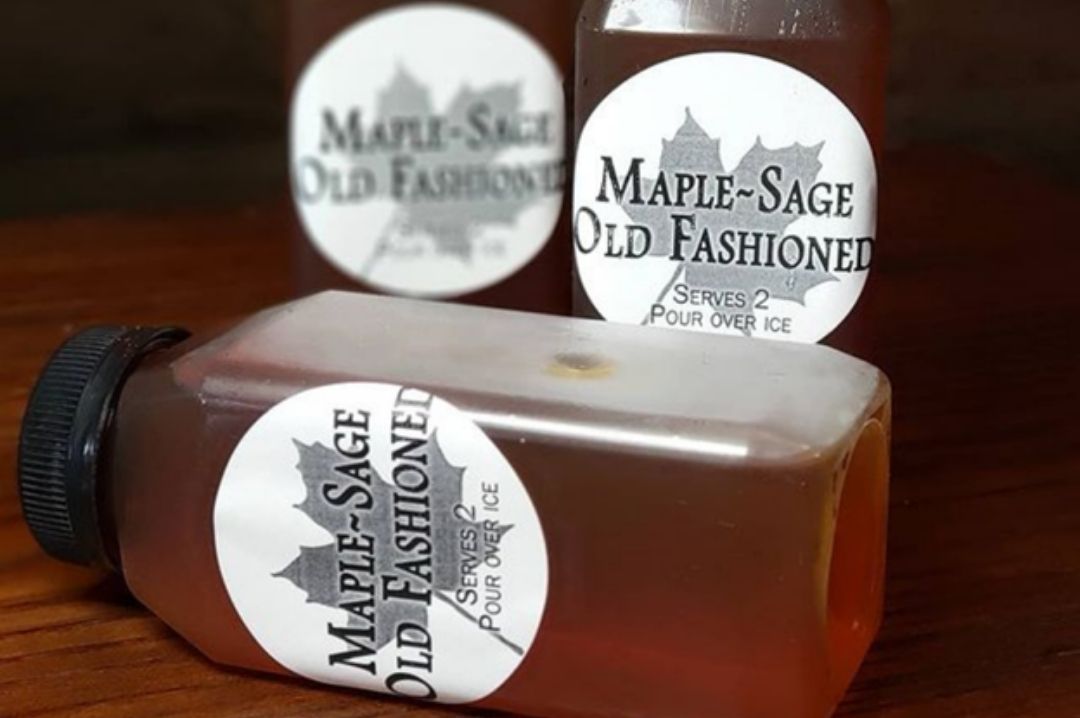 Maple-Sage Old Fashioned bottled cocktail, The Dark Horse Inn. Source: Instagram
Offering a no-contact pickup service, The Dark Horse Inn has a range of both pre-batched and canned cocktails to go. On the to-go menu are refreshers such as an Elderflower Vodka Lemonade, along with classics like the Margarita, Negroni, and Old-Fashioned. They also offer a range of beers and wines.
Location - 942 Geneva Ave, San Francisco, CA 94112
9. Tommy's Mexican Restaurant
The renowned tequila bar on Richmond Spot is now offering Tommy's signature Margarita pitchers with to-go food orders. You can also pick from a range of different tequila brands off their regular tequila menu.
Call to order: 415-387-4747
Location - 5929 Geary Blvd, San Francisco, CA 94121
10. Acme Bar
The low-key neighborhood watering hole in Berkeley has a wide range of house-made cocktails starting from $15. They also offer shots to-go like the Kamikaze. Along with that, Acme has a range of beers, wines, and spirits to choose from including basics like Bud Light and Modelo.
Call to order: 510-644-2226
Location - 2115 San Pablo Ave, Berkeley, CA 94702
11. Pappo
The Alameda's joint is offering 5 freshly mixed cocktails to-go, including classics like the Negroni, and other innovative cocktails by their bartenders like the Grove Groove, which is made with mezcal, orange syrup, and dry curacao.
Call to order: 510-337-9100
Location - 2320 Central Ave, Alameda, CA 94501
12. Telefèric Barcelona
The tapas restaurant, with locations in both Walnut Creek and Palo Alto, has a range of sangrias to pick from, along with the classic Margarita and Mojito. Telefèric Barcelona also offers a selection of imported wines on their to-go menu from around the globe.
Location - El Merkat, 855 el Camino real, 130, Palo Alto, California 94301
1500 Mt. Diablo Blvd, Walnut Creek, California 94596
13. Town Tavern
Starting from $8, the Alameda spot is offering draft beer, canned beer, along with cocktails like Strawberry Vodka Lemonade, Negroni, Whiskey Sour, Black Manhattan, and many more. You can also opt for contact-less pickup.
Call to order: 510-523-1041
Location - 1437 Park Street, Alameda CA 94501
14. Lost & Found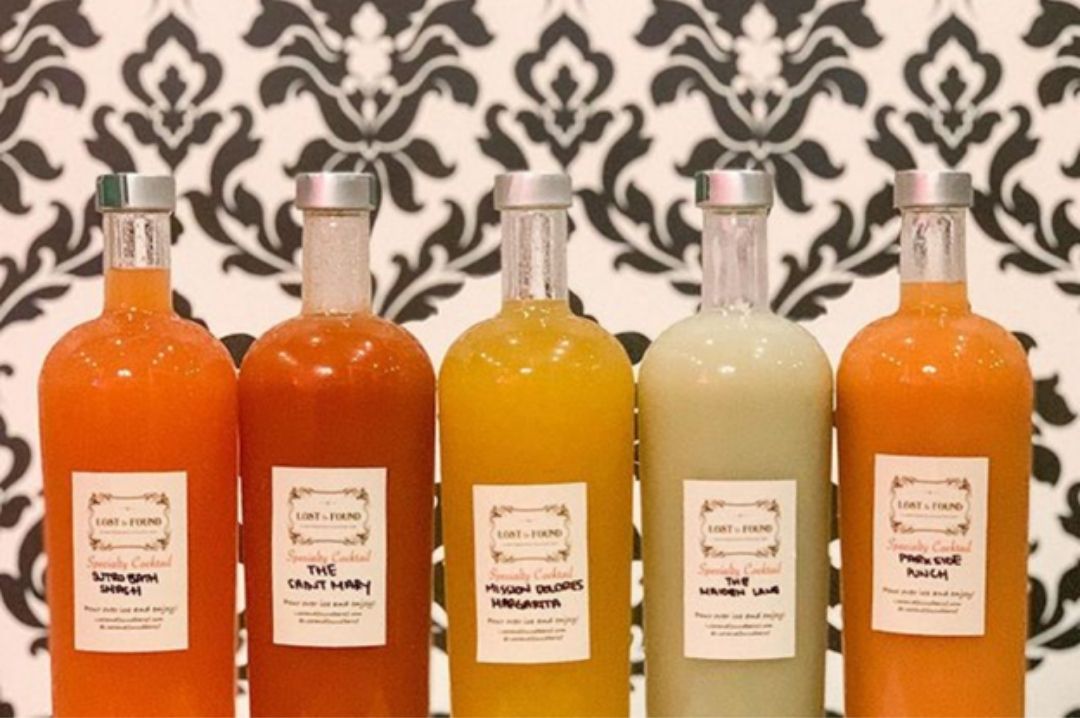 Bottled cocktails, Lost & Found Bar. Source: Instagram
Along with their renowned garlic noodles and wings, Lost & Found has a selection of cocktails ranging from a Beach Mule, Old-Fashioned, Bloody Mary, and more. They also offer beers, wines by the bottle, and all White Claw flavors, available for contactless pickup. You can browse through a number of gift cards on their website for discounts and gifting.
Call to order: ​415-662-3636
Location - 1439 Taraval St, San Francisco, CA 94116
15. Pacific Cocktail Haven (PCH)
Located on Sutter Street, Pacific Cocktail Haven has teamed up with Pinoy Heritage to offer an award-winning duo of cocktails and Filipino street food. To purchase cocktails, you do have to place a food order as well.
Location - 580 Sutter St, San Francisco, CA 94108
16. Gentilly
From vintage classics like Hurricanes to house creations like Bees Please and Pasha Moy, Gentilly's cocktails are crafted with care and packaged with flair. All drinks come with ice and garnish. Beer and wine are also available.
Call to order: 415-859-5633
Location - 4826 Mission St, San Francisco, CA 94112
17. Nopa
Chosen by readers as 'TBI's Best To-Go Cocktails in San Francisco', Nopa offers a range of vodka, mezcal, gin, whiskey, and rum cocktails. Their to-go menu also boasts a selection of wines and beer. Keep an eye on their rotating take-out menu to see what they're offering today.
Call to order: 415-864-8643
Location - 560 Divisadero St, San Francisco, CA 94117
Header image: Nopa via Instagram