Dr. Lupulin steals the show at 2021 USA Beer Ratings
Racking up the title Brewery of the Year and three other special category awards, Revision Brewery led the line with Dr. Lupulin.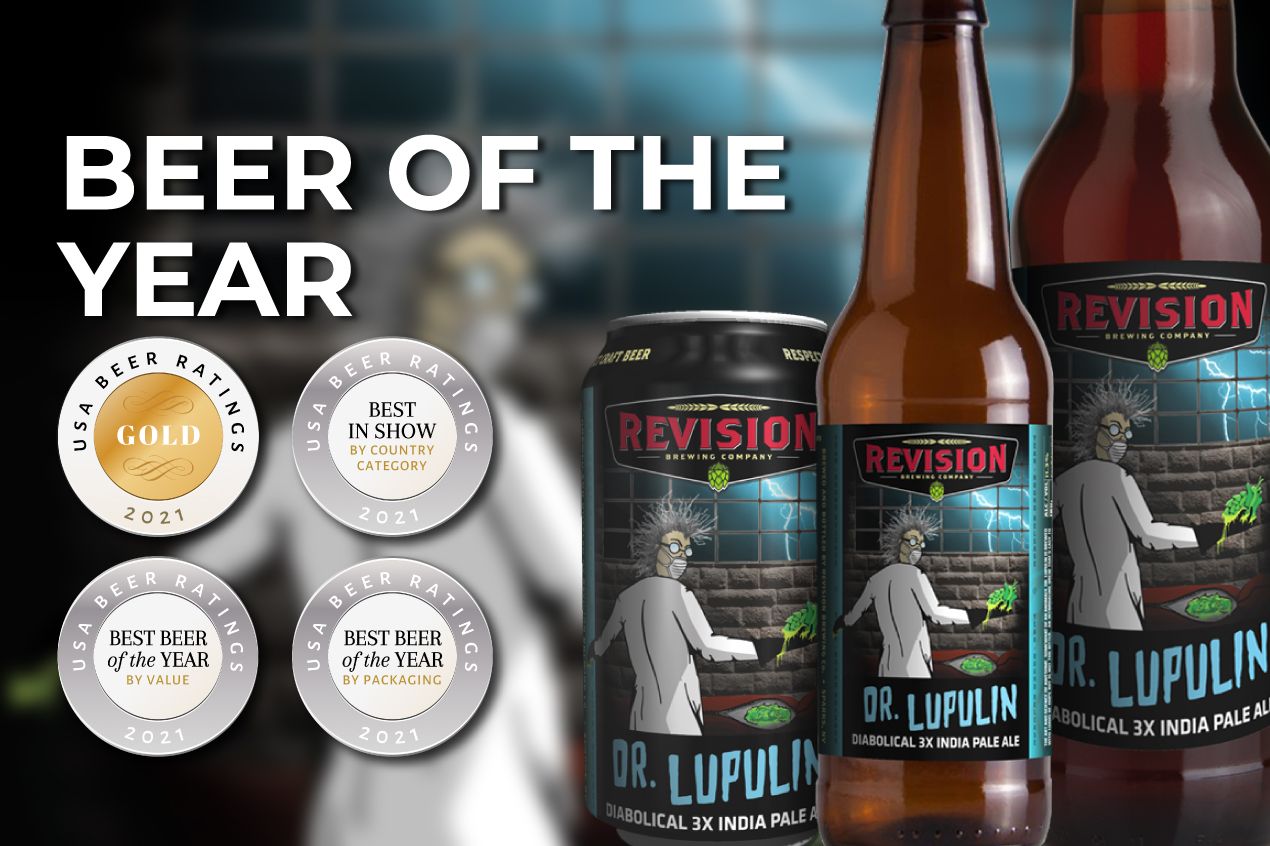 Revision Brewery's Dr. Lupulin grabs Best Beer of the Year (Value), Best in Show by country (United States), and Best Beer of the Year (Packaging) awards at the 2021 USA Beer Ratings. With a touch of malty-ness finish, Dr. Lupulin has a refreshing grapefruit peel, pine, and ripe orange peel palate of hop characters.
For retail beer buyers, beer consultants, bartenders, bar managers, and beer experts looking to add a feisty Triple Indian Pale Ale to their list, Dr. Lupulin from Revision Breweries will come in handy. Winning on the grounds of quality, value and packaging, Dr. Lupulin is a beer brewed to win hearts. With the stamp of approval from USA Beer Ratings, Dr. Lupulin makes for an impeccable add to supermarkets, beer stores, pubs, restaurants, and bars as a beer the consumers will love.
With the aim to reward beers that customers would like, be it in the on-premise or off-premise sector, the USA Beer Ratings evaluates beers on the basis of their quality, value, and packaging. The quality is assessed on its aroma, taste, body, appearance, and aftertaste. The value and packaging go hand in hand and it is not necessary for a beer to be priced low to do well. A high priced beer can also have a good value, provided it lives up to the bill. Lastly, packaging plays a crucial role in the beer industry, as 65% of consumers will try a new beer if it looks good.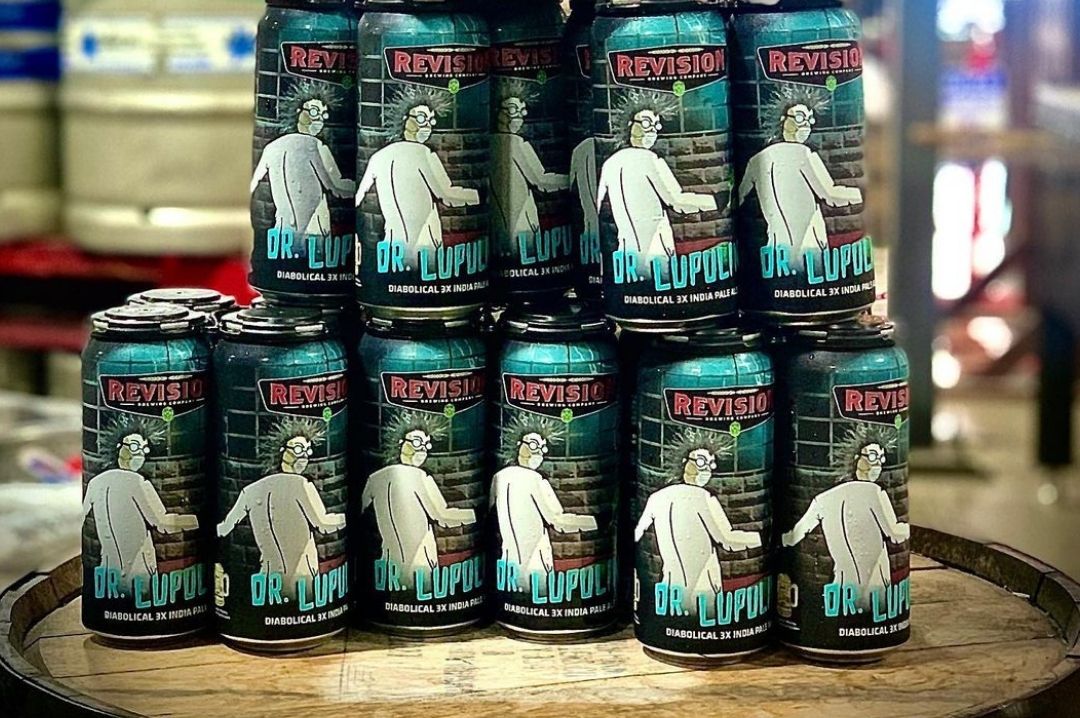 Dr. Lupulin beer cans lined up, Source: Instagram
After going through a blind tasting process, participating beers are awarded gold (90 points or above), silver (80-89 points), and bronze medals (70-79 points). The gold medal and special category winners are re-tasted by the judges to ensure the integrity of the scoring quality is maintained. Our esteemed panel of judges consist of top level beer buyers, beer consultants, and beer experts with a direct commercial buying responsibility in the U.S beer market.
This year's judging panel consisted of names like Melissa Myers (professional brewer and owner of the Good Hop), Herlinda Heras (co-host of Craft Beer Radio Brew HaHa KSRO and Sonoma State University Beer Education Coordinator), Nathan Smith (beer expert), Jacob Brown (head sommelier at Lazy Bear), Leah Scurto (beer buyer at PizzaLeah), and Nicole Erny (master cicerone & quality sensory and educational projects coordinator at Alvero Street Brewery).
Up and running
Founded in 2017 with the principle of having an evolutionary spirit, the Revision Brewery dipped their toes in IPA, DIPA (Double Pale Ale), and TIPA (Triple Pale Ale) beers with the leadership of brewmaster and CEO Jeremy Warren and head brewer Jeb Taylor. Jeremy Warren originally involved himself in the establishment of the Knee Deep Brewing Company before selling the stakes to his business partner and moving on to take up the new challenge of uplifting the Revision Brewery. In recent years, Revision Brewery has substantially increased their annual barrel production, making them a part of the elite beer industry in the United States. They produced 5,615 barrels of beer in 2017, 12,214 barrels in 2018, and jumped to 19,628 barrels in 2019.
Brewers at the Revision Brewery, Source: Facebook
The brewery has a barrel aging program in place to make a tantalizing beer palate, introducing new flavors, hoppy characteristics, and aftertaste to the beverage. One craft beer hailing from the barrel aging scene is the Barrel-Aged Finite Madness.
Brewing Company and Tap Room
Located in Nevada, the Revision Brewing Company pumps fresh beers from the tap in a temperature controlled tap room, offering light beers, west coast IPAs, hard seltzers, N.E style hazy IPAs, and ciders on the drinks menu. The warehouse side poses fun activities like pool, bag toss, giant Connect Four, and foosball for entertainment. To become a true fan, get some of Revision Brewing Company's cool merchandise.
The two storey tap room at Pignic is another establishment where you will find Revision brews on the tap like IPAs, lagers, and stouts in a laid back bar atmosphere with three themed rooms to make things interesting.
South San Francisco Conference Center, 255 South Airport Boulevard, South San Francisco, CA 94080, United States.
Register Now
South San Francisco Conference Center, 255 South Airport Boulevard, South San Francisco, CA 94080, United States
Register Now