Fourth Single Pot is Whisky of the Year
Ireland's very own triumphs as Whisky of the Year competing with whiskies from across the world at the London Spirits Competition 2021.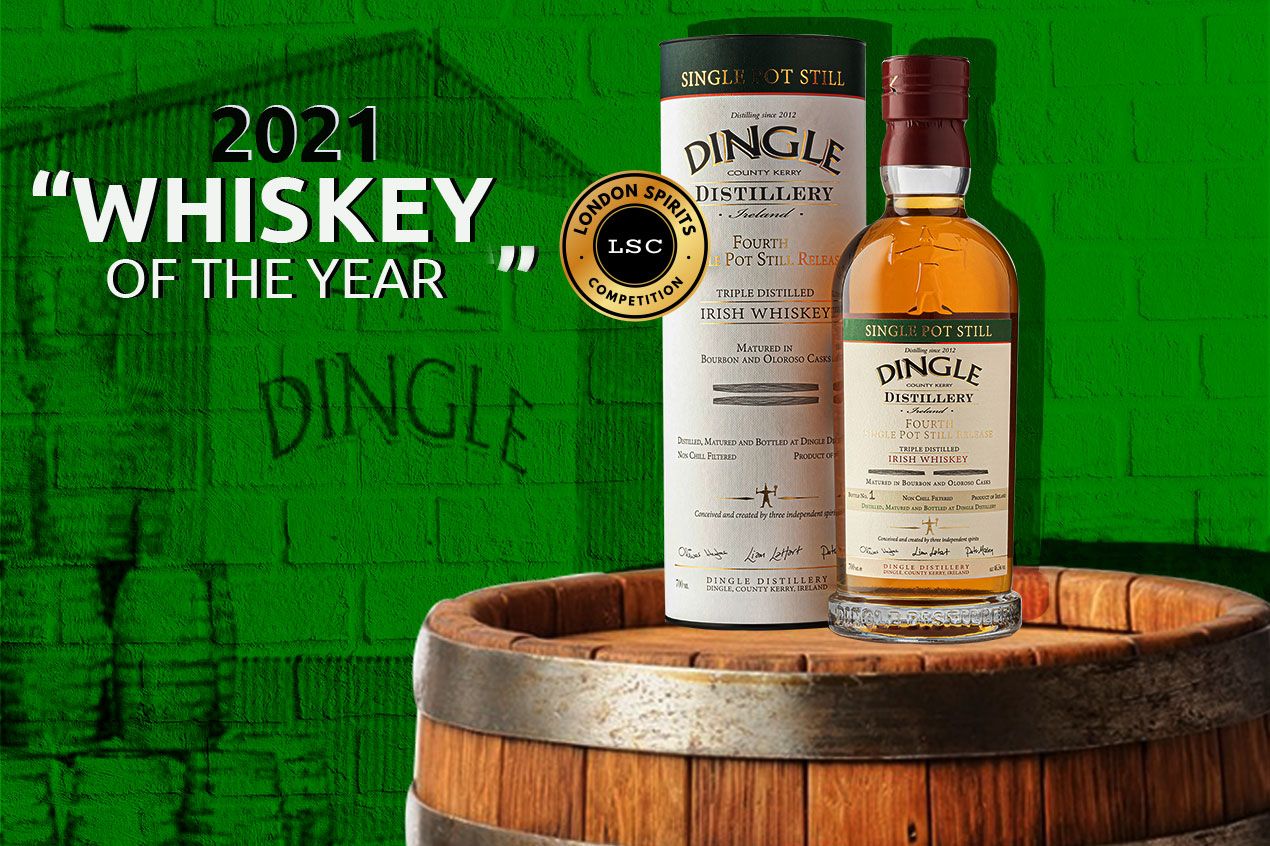 Earning victory over whiskeys from 70 countries, Ireland's very own Dingle Distillery's Fourth Single Pot Still Release was crowned 'Whiskey of the Year' and 'Best in Show by Country' at the 2021 London Spirits Competition, where spirits are judged with the thought of what we'd most likely drink, pick off the shelf at a liquor store, or order at the bar.
The annual London Spirits Competition highlights spirits of the best quality, packaging, and value they offer. Spirits from across the world are tasted by bartenders, spirits experts, and spirits buyers from some of the most renowned establishments in the UK, including TGI Fridays, Coupette, Shangri-LA at The Shard, Connaught Bar - the World's Best Bar of 2020, and more.
This year, some of the experts who judged the competition include Tiago Vasconcelos - Head Bartender at Coupette, Gary Burdekin - Master Bartender at TGI Friday's UK, Georgia Billing - General Manager at City of London Distillery & Bar, Marie Cécile Kasmi - Senior Bartender at Lyaness, Giorgio Bargiani - Head Mixologist at The Connaught Bar.
Irish whiskey has been a go-to for all whiskey lovers, new or old, and the Dingle Single Pot Still Fourth Release continues to draw drinkers to its impeccable taste, giving a nod to the country's rich distillation culture.
This fourth, small-batch release of Single Pot Still Irish Whiskey brings this marriage of Bourbon and Oloroso casks together with intense richness and a rush of spice. The whiskey expresses tones of dark fruits and figs, followed by dark chocolate with a sprinkling of roasted, chopped nuts. The chocolate makes way for the spice of softwood and leather notes, bringing you into a long, memorable finish. It's no doubt that this was a star amongst judges at the competition.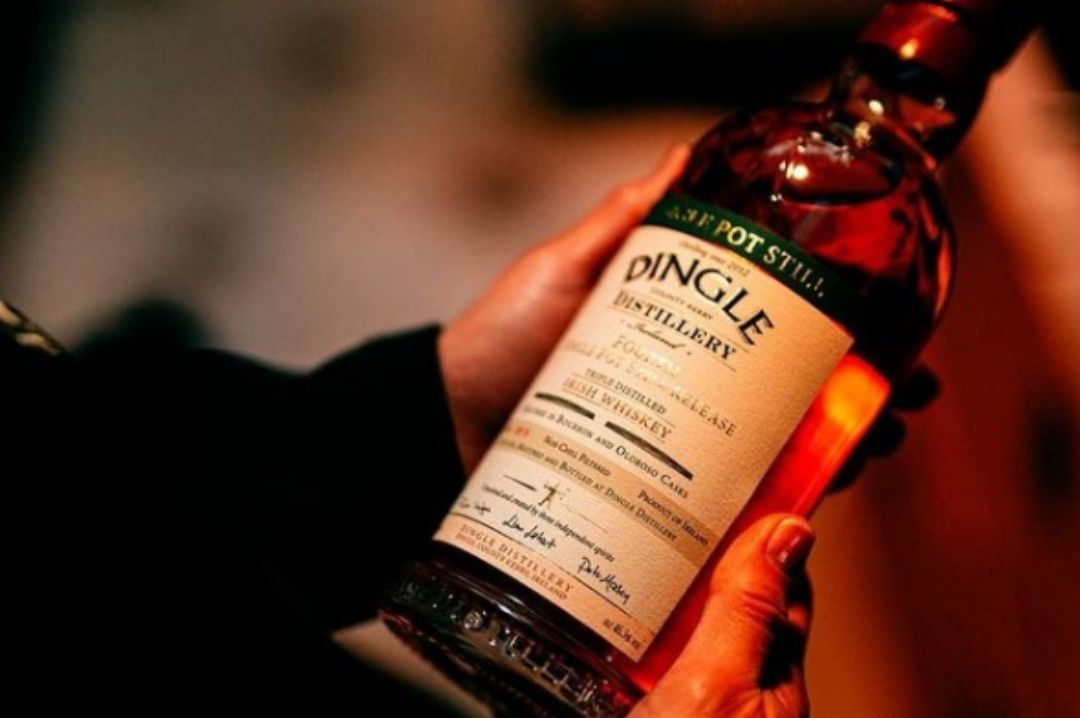 Fourth Small-batch Single Pot Still, source: Instagram
The birth of Dingle Distillery
The Dingle Whiskey Distillery came into being in the cold winter of 2012, right when Ireland was just beginning to come out of the great recession. The distillery was established by Oliver Hughes, Liam LaHart, and Peter Mosley, owners of Porterhouse Brewing Company, which is one of the pioneers of craft brewing in Ireland.
In 1996, Oliver and Liam built Porterhouse Brewing, challenging the big boys of beer in Ireland, and as their palates became more experienced and inclined towards the taste of the Earth's natural ingredients, the three musketeers' attention turned to whiskey.
Witnessed by few, the first Dingle Whiskey Casks were filled on the 18th December 2012. Three years and a day later on the 19th December 2015, one cask, Cask No. 2 was released. The Dingle legacy was born.
A blanket of top-quality whiskeys
Dingle Distillery has always put quality over quantity at the forefront of their production. Oliver, Liam, and Peter were, and still are, hugely passionate about a flavorsome, well-crafted spirit, and that's what they are committed to distill.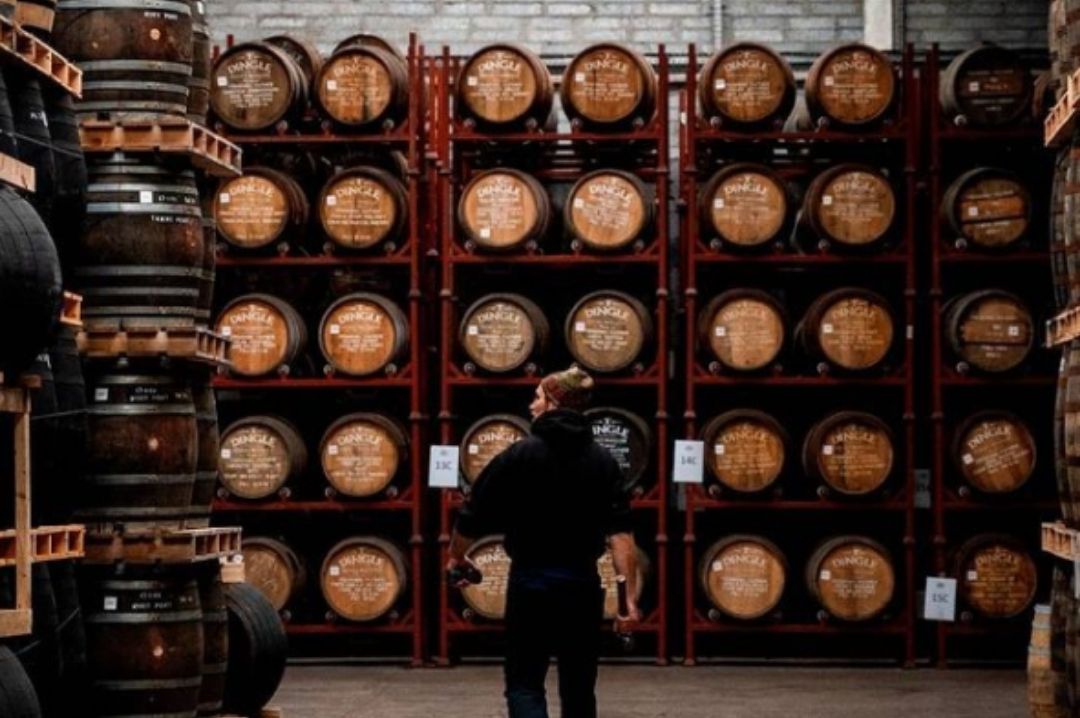 Spirits aging at Dingle Distillery, source: Instagram
The Whisky of the Year is the fourth installment in the distillery's Single Pot Still Release. Dingle Distillery's portfolio also boasts five cask batches, with two whiskeys each in each batch.
To achieve the flavors that stand out in their whisky, Dingle Distillery uses three distinctive, hand-crafted copper pot stills to create what they believe is the ultimate Irish Whiskey. Their distinctive design, incorporating a boil ball, encourages reflux and has much to do with the remarkable smoothness and purity of the spirit.
Founding Fathers of Dingle Distillery
When the casks were filled in the winter of 2012, 500 of them were offered to whiskey lovers, investors, and connoisseurs. Those who, at that time, invested in the cask are now known as the Founding Fathers of Dingle Distillery. Each of these casks is individual, painted with the Founding Father's name, fill date, and cask number.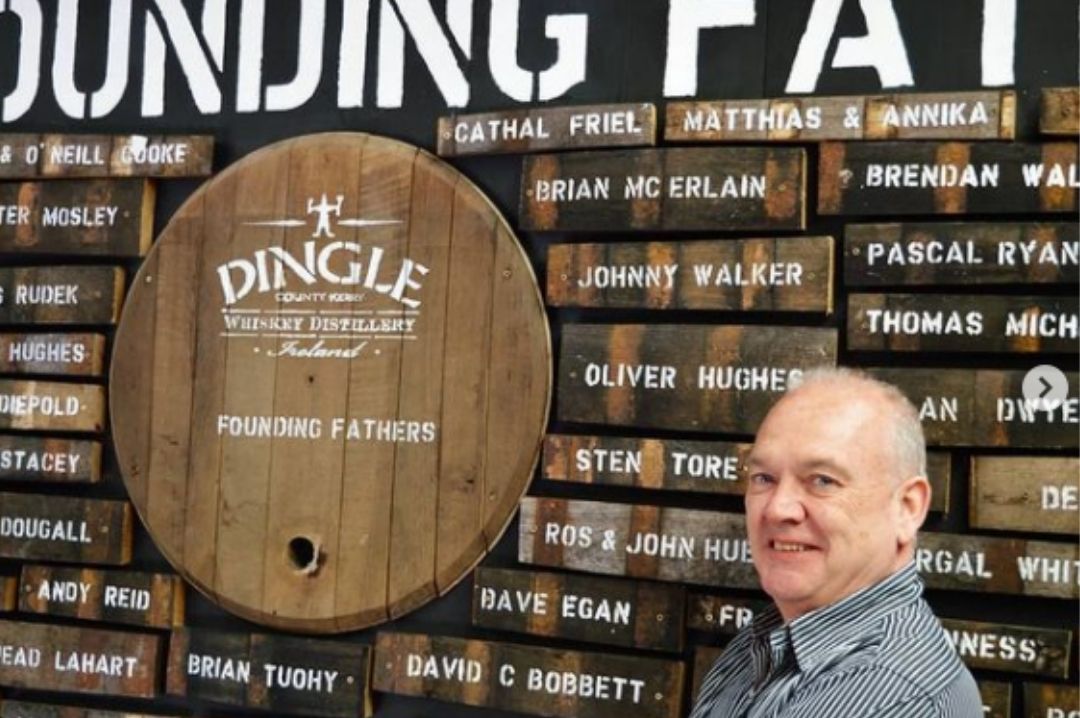 Late Oliver Hughes, Co-Founder of Dingle Distillery, source: Instagram
All Founding members had the option of maturing their whisky in whatever wood they wished to - port, sherry, Madeira, or bourbon - and now that the spirit is alive, each investor has the option to either continue aging their whiskey or sell their cask back to the distillery.
If, and when a Founding Father decides to bottle their whiskey, the spirit is bottled into the flagship Dingle Whiskey bottle, with a one-off Dingle Founding Fathers label.
Beyond just whisky
Even though Dingle Distillery is widely known for its range of whiskeys, the distillery is also home to an award-winning gin (The Dingle Gin) and vodka (Dingle Distillery Vodka). A small, swan neck pot still is used to achieve the final finish of the gin and vodka. Both the spirits are a great sipped alone or as a base for one of many Dingle Cocktails.
The Dingle Gin, as described by Peter Mosley sums up its unique character in a few words: "The uniquely Irish botanicals give a fabulously fresh, floral character that perfectly balances the traditional juniper. But, to be honest, you really have to taste it for yourself." Taking over other gins at the 2019 World Gin Awards, Dingle Gin was crowned World's Best London Dry Gin and the overall award for World's Best Gin 2019.
Dingle Distillery aging barrels and copper still, source: Instagram
When it comes to their artisan vodka, the three believe that The Dingle Distillery Vodka is created with supreme quality, but, without a wildly inflated price tag attached to it. Dingle Distillery Vodka is most unusual in being quintuple distilled.
A spirited tour
Dingle is famed for its hospitality and this is deemed just as important as the Dingle Distillery. The Dingle Distillery welcomes you to see their fully functioning production facility. The experience includes an introduction to the history of the Irish whiskey industry, the distillation process, and you may experience the sights, sounds, and scents of their working distillery. Tours last approximately 45 minutes and all tours include a tasting of the products.
*These are unprecedented times, please check updates by the distillery before visiting.
At the London Spirits Competition 2021 Oliver, Liam, and Peter have proved to be at the forefront of artisan distilleries throughout the world with their artisan Irish distillery.
Shop Dingle Distillery's best
UK residents can shop for Dingle Distillery's premium spirits directly through their online store.
US residents can shop for Dingle Distillery's spirits via Blackwell's Wines & Spirits. Dingle Distillery's whisky is also available at Frauces Tavern Whisky Bar in New York. So the next time you're in New York and craving a nightcap, you know where to go.