BTN's cannabis shows make a mark in San Francisco
The 2021 Cannabis Drinks Expo and Cannabis Edibles Expo brought the world of cannabis together at the South San Francisco Center.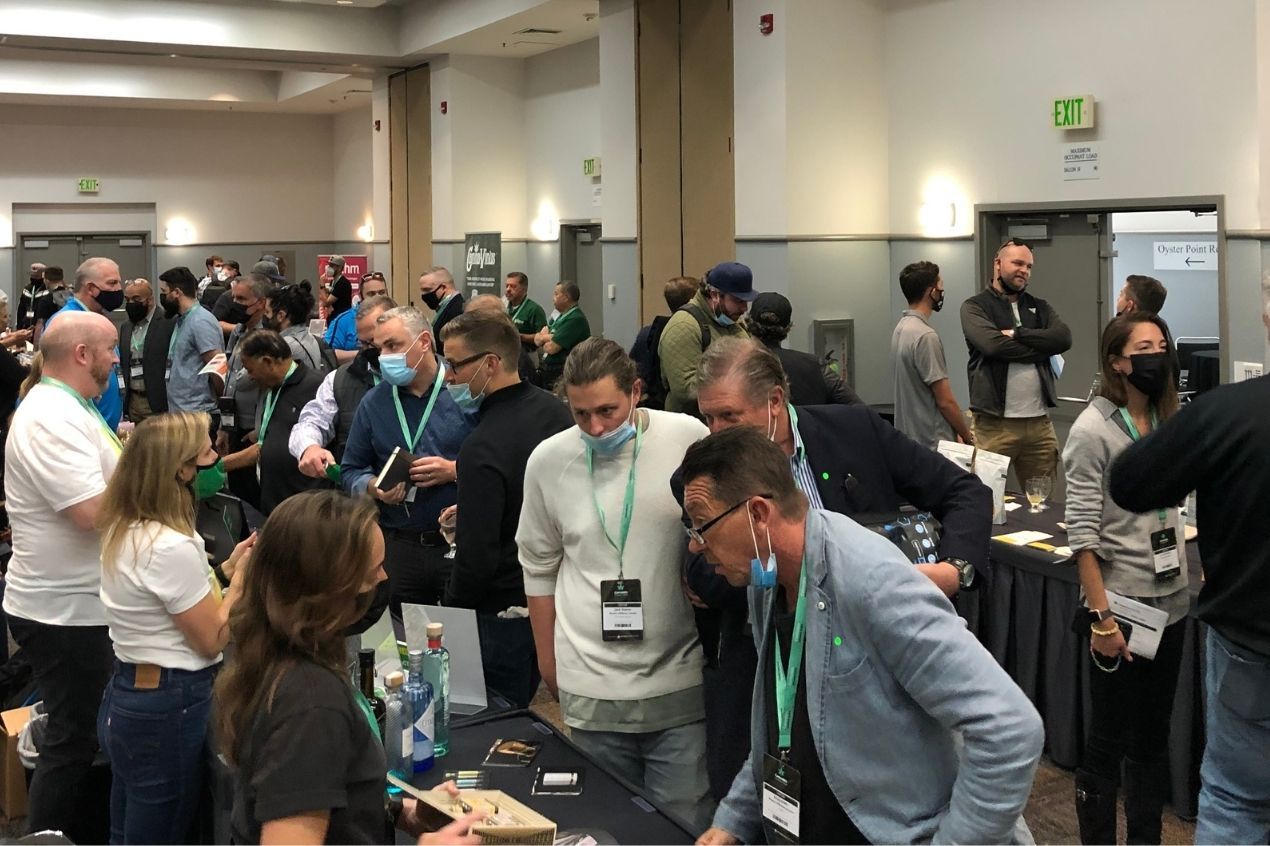 The cannabis drinks and edibles industry has sparked a major interest amongst many drinkers, canna-consumers (both old and new), cannabis enthusiasts, and entrepreneurs across the United States. Cannabis drinks have already taken the first step in becoming the next go-to social drink for all, with many brands offering us a mammoth of different drinks and flavors.
Meanwhile, the cannabis edibles industry also continues to break boundaries with the birth of many canna-infused products, from gummies to chocolates, hard candies, cereals, and even restaurant menus dedicated to cannabis-infused food.
This year, the world of cannabis came together at Beverage Trade Network's Cannabis Drinks Expo (November 11, 2021) and Cannabis Edibles Expo (November 12, 2021), which both took place at the South San Francisco Center.
Cannabis Drinks Expo 2021 highlights
The Cannabis Drinks Expo (CDE) shines the light on the skyrocketing cannabis drinks category and offers a platform to those looking to grow in the sector. The expo is the ideal spot for anyone interested in the canna-drinks world, from producers to consumers, legal advisors and public relations or marketers, to developers, scientists, medical professionals, writers, educators, and related industries.
After the success of its first show in 2019, Cannabis Drinks Expo once again made a mark this year with its expo floor and conference. The expo floor was graced by many leading cannabis drinks brands, including Tinley Beverage Co., DayTrip Beverage Co., Good Stuff Beverage Co., Ray's Lemonade, Pabst Labs (PBR's cannabis-infused seltzers), Cann's Social Tonics, and more. The floor also featured many companies that focus on providing solutions to cannabis drinks brands, like Sorse Technology, Growpacker, XpressFill Systems LLC, and more.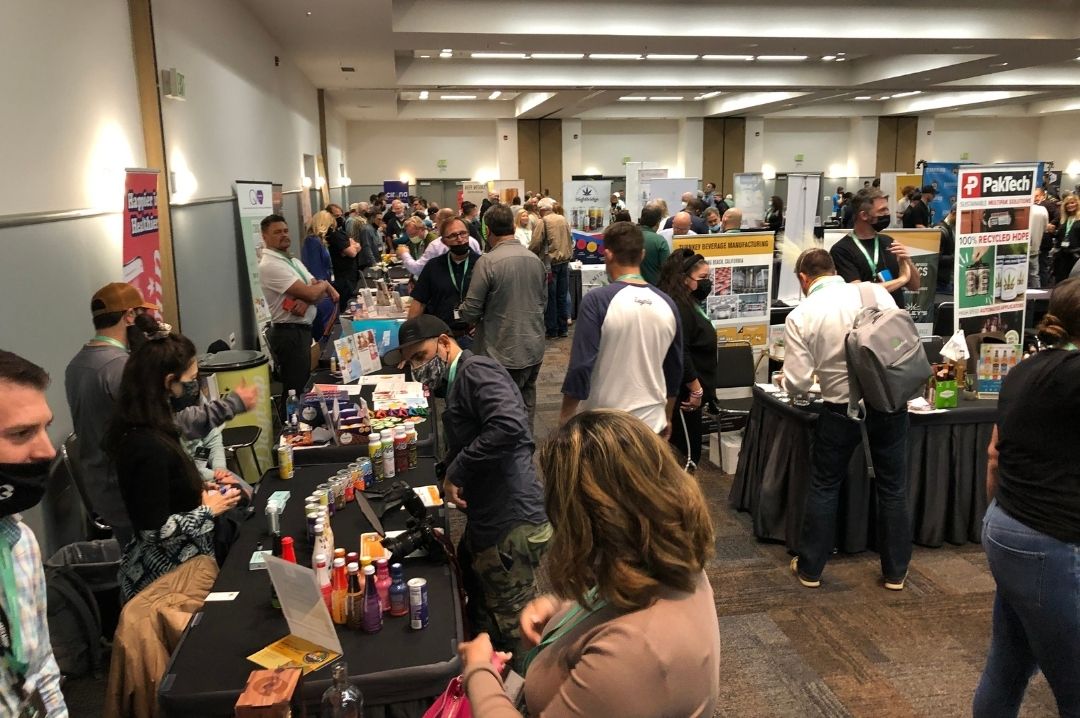 CDE Expo Floor
The CDE conference saw some of the country's top cannabis experts, who spoke about the different challenges cannabis drinks businesses might face, and how to overcome them. Among the many speakers was Jamie Evans, best-selling cannabis cocktails author, who did a mixology demonstration on stage.
The conference started off with Tracey Mason (Co-Founder & CEO, House of Saka, Inc) taking the stage at the center's Baden Room, where she shared insights on Why Cannabis Will Steal Share From the Alcohol Occasion. Following suit was Judy Yee (CEO & Co-Founder, K-Zen), who spoke on the likes of How to Effectively Launch and Scale Your Cannabis Beverage Brand.
Meanwhile, in the Oyster Room, Rick Gillis (President of The Tinley Beverage Company) talked about Contract manufacturing for Cannabis-Infused Beverages. Later on, Joy Hudson (Founder and CEO at Nimble Distribution) dove into working with distributors in the cannabis world.
The full conference schedule for the Cannabis Drinks Expo 2021:
Morning Sessions
| | |
| --- | --- |
| Baden Room | Oyster Point Room |
| Why Cannabis Will Steal Share From the Alcohol Occasion | Contract manufacturing for Cannabis-Infused Beverages |
| How to Effectively Launch and Scale Your Cannabis Beverage Brand | Water-Compatible Cannabis Extract Nanoemulsions: Benefits, Formulation Development, and Production Methods |
| Cannabis Drinks: Secrets to Crafting Infused Beverages at Home | Working with Distributors |
| Cannabis Beverages: Current Trends & Future Predictions | Self Distribution, Managing Sales Teams, and Supporting Retail Partners |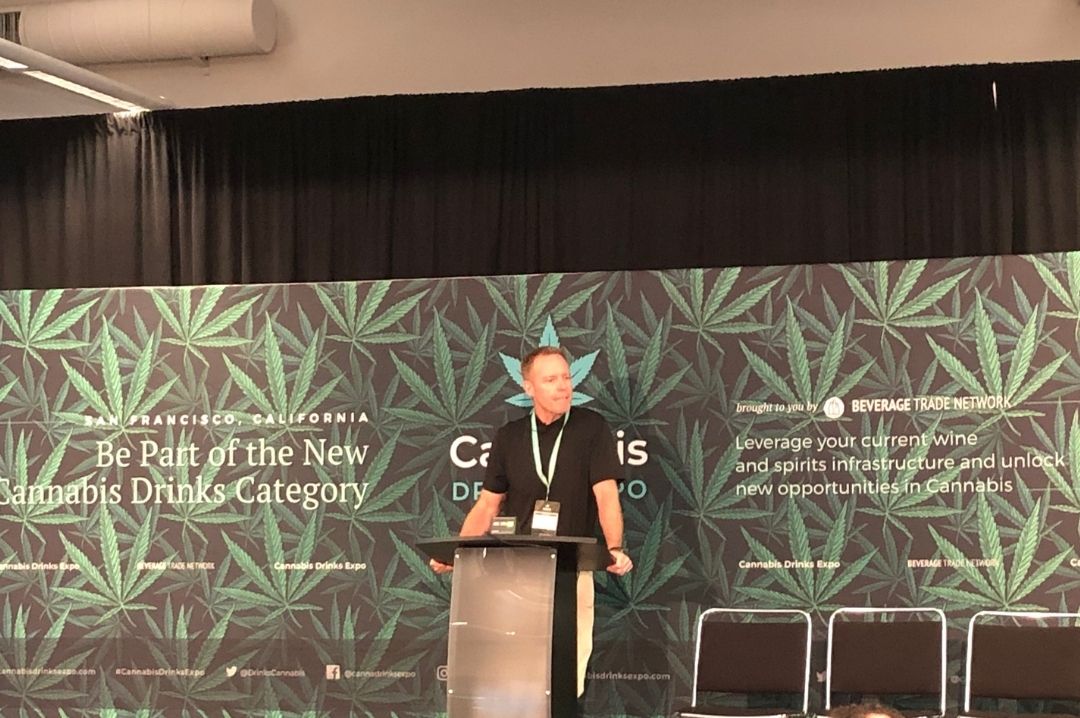 Rick Gillis at the CDE Conference
Afternoon Sessions
Baden Room
Oyster Point Room

Building Memorable Cannabis Beverages That Actually Taste Like Cannabis
(Not Candy)


Panel: Advocating for Change: How the Cannabis Beverage Industry can Succeed in California

How Does Cannabis Education Attract Customers?

Building a Resilient and Agile Company in the Cannabis Beverage Sector

Key Regulatory Questions for Cannabis Beverages

Want to Create Your Own Cannabis Beverage Brand? Here's How to Do It.

Effective Ways to Market Your Cannabis Beverage Brand From Dispensary to Internet

Tapping into the Untapped Market for Your Cannabis Beverage Products
Cannabis Edibles Expo 2021 highlights
The Cannabis Edibles Expo (CEE) is one of the first global events of its kind dedicated to the fast-growing cannabis edibles market. The main aim of the Cannabis Edibles Expo is to bring together the food and cannabis industries with the aim to take a step towards growing the category.
On November 12, 2021, the South San Francisco Conference Center expo floor was filled with cannabis edibles brands like SD Pantry Inc and Heavenly Sweet, DBA Gataka Wellness, Ace High Chocolate, Cann Social Tonics. Other cannabis businesses like Cloudastructure, Soluscience LLC, and more were also present, showcasing their canna-solutions to entrepreneurs, brands, and investors.
CEE offered major cannabis players, brand owners, distributors, and retailers a wide platform to analyze both the major trends that are driving the cannabis food category forward, whilst also assessing potential threats and challenges to a sector that has exploded in recent years.
Both the shows successfully fulfilled their aim of putting the cannabis edibles and drinks sector under the limelight, and offering brands, entrepreneurs, and canna-enthusiasts a platform to meet and network with some of the country's top cannabis experts.
South San Francisco Conference Center, 255 South Airport Boulevard, South San Francisco, CA 94080, United States
Register Now
South San Francisco Conference Center, 255 South Airport Boulevard, South San Francisco, CA 94080, United States
Register Now