Beer Commercials That Lit up Super Bowl LV
The beer commercials that shone in the spotlight at Super Bowl 2021.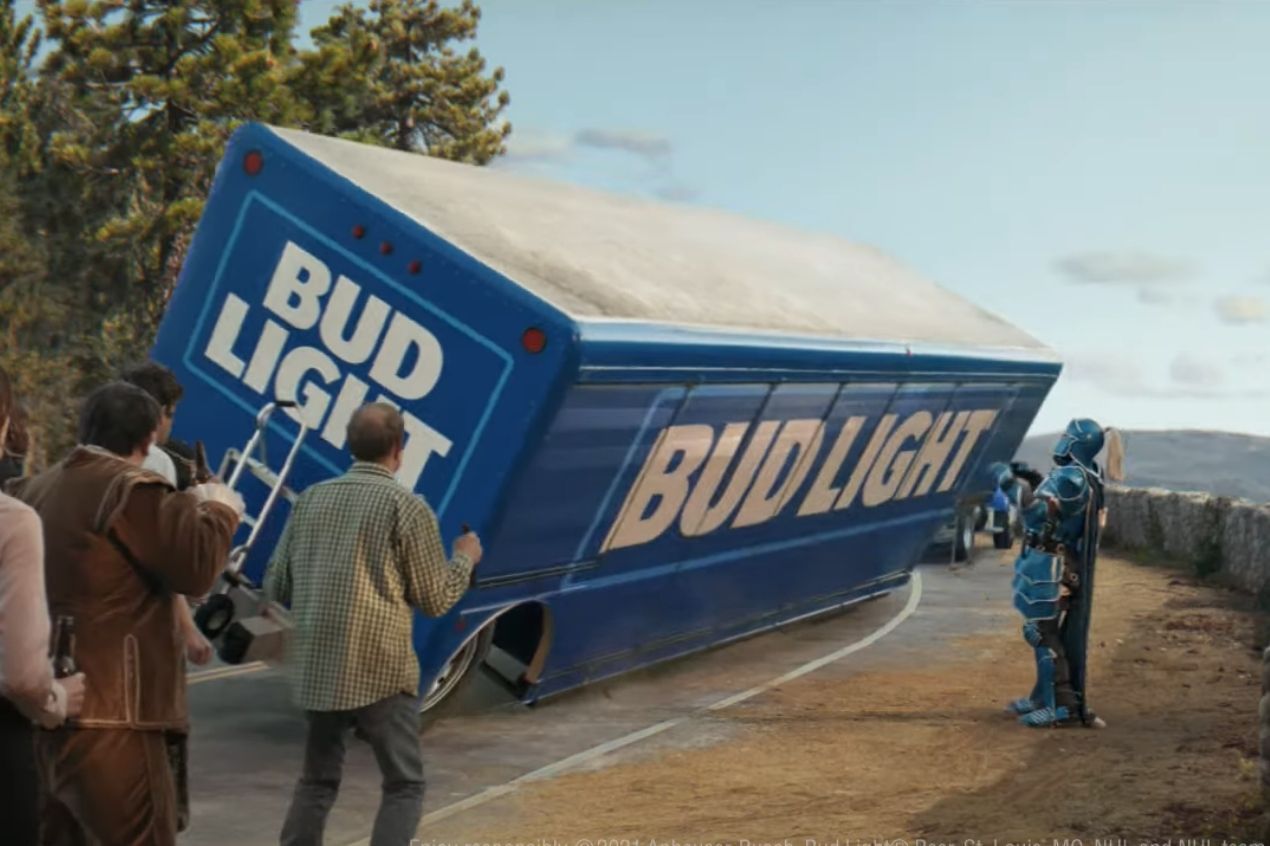 On a day when Tom Brady cemented his legacy as the greatest NFL player of all time with his seventh Super Bowl victory and his first with the Tampa Bay Buccaneers, we were not glued to the TV for the ads alone. The regular Budweiser ads that are a staple at the Super Bowl sat this one out while a few others made heads turn their way through commercials that cost around $5.5 million for a thirty-second spot.
Here is a round-up of the greatest drinks commercials that came on completing a historic Super Bowl LV line-up.
Michelob ULTRA: Riding first on this list is the Michelob ULTRA commercial that featured sports greats like Serena Williams, Anthony Davis, and Peyton Manning in a cowboy hat. The commercial makes us wonder about the joy and happiness in our lives. It is a fuel that ignites our wins and not the other way around. An ad that asked us deeper questions without the heaviness. What if we were wrong this whole time, that joy happens only in the end, after the sacrifice, commitment, and the win. What if joy is not the distraction, not just the end game. Are you happy because you win, or do you win because you're happy!
#joywins
A light lager brewed from Herkules hops and a citrus aroma and wholesome grains. It has a refreshing finish similar to its refreshing take on how the greats think.
Michelob ULTRA Organic Seltzer: Promoting #RealIsBetter, the Michelob ULTRA Organic Seltzer commercial featuring Don Cheadle and other "famous" lookalikes like Megan Fox, Usher, Serena Williams, Sylvester Stallone, Lucy Liu, and Maluma points out a recurring detail in our lives, not everything is what it seems like.
The Seltzer, however, is among the few things that are just like they seem! A USDA Organic certified seltzer, Michelob delivers a clean and refreshing drink perfect for any occasion available in three flavors.
Bud Light: Disaster strikes when the store is out of Bud Light. Legends like the Bud Knight and Oracle Susana, Grammy-nominated artist Post Malone, Cedric the Entertainer, the "I Love You, Man" guy come together to save the day. They bring the requisite Super Bowl beer back to the store in time.
Made with four simple, high-quality ingredients, Bud Light is among the list of favorite light beers in the USA of all time. The clean, crisp taste is refreshing and every bottle, can or draft comes with the deeply ingrained love of the brand.
Bud Light Seltzer Lemonade: 2020 was a lemon year for all of us. So what did Bud Light do with all those lemons? They took the ball and rolled with it in this hilarious commercial as it launched its Bud Light Seltzer Lemonade. Talk about making an excellent topical commercial that shined a bright yellow light on a tumultuous year!
The Bud Light Seltzer Lemonade is a terrific mix of sweet lemonade and the bubbliness of a seltzer. Available in the flavors of Original Lemonade, Strawberry Lemonade, Peach Lemonade, and Black Cherry Lemonade, it is all but a great advertisement for what should be done when life gives you lemons!
Stella Artois: Lenny Kravitz stars in The Life Artois commercial that tells us we're all billionaires with the 2.5 billion heartbeats we are all born with. Invest those heartbeats in your people and in the moments that you share with them.
Anheuser-Busch's Stella Artois is a mix of lagers that scream celebration. With over 600 years of brewing heritage, the brand has amassed millions of loyal drinkers in their pursuit of excellence and perfection. Just like the commercial states, Stella Artois is a billionaire on the back of those who loyally pour their beers when it's time to celebrate!
Samuel Adams Wicked Hazy IPA: With Budweiser conspicuously missing in action at the commercials for the first time in 37 years, Samuel Adams reimagined their Clydesdales wrecking havoc in Boston. Genius and wicked smart way of showcasing what the best beer from Boston is all about.
As far as their Wicked Hazy IPA is concerned, it is a beer with a blast of tropical fruit that ends on a silky, smooth note. Fruits like pineapple, mango, and peach make up this juicy beer.
Anheuser-Busch: The iconic brand's first-ever Super Bowl ad hit it out of the park. They made a moving piece on how it is not about the beer, but the moments in which we drink it. When "Let's Grab a Beer" means having a laugh together, being with someone when they're down, saying "I'm glad we're stuck together", "you deserve to be here", "shake it off", or even "I'm sorry". Those meaningful moments exchanged sipping an Anheuser-Busch that bring hope and joy. And if you need any more hope post seeing the commercial, David Fincher was in the producer's chair for this one!
Wanting to drive the beer industry forward, Anheuser-Busch has constantly innovated how they make beer. They, however, have honored the timeless traditions and kept the purpose of brewing the best beer at the center of it all. All their brands bring something unique to the table and are all relatable in their way. Perhaps, the right time to come out with your first-ever commercial Super Bowl ad.
Cutwater Spirits: From one first-time advertisement to another, Cutwater Spirits also debuted with their first-ever advertisement at the Super Bowl LV. The commercial does a meaningful wordplay with "cut" - time to cut out, cut to it, cut loose, cut slack, cut back, and cut open a Cutwater can. It is about savoring time, doing more, spending time with friends in nature doing the things you love, and shutting that laptop as you go. It calls attention to give emphasis to the little things in life that go a long way in bringing you joy.
The ad is the perfect reflection of the brand itself. Cutwater Spirits are all about bringing joy to the lives of people through their spirits and canned drinks. The most awarded canned spirit brand in the world, some of which came at the 2020 USA Spirits Ratings, Cutwater Spirits has made its mark in the drinks industry and is here to stay. They now have the Super Bowl commercial stamp of approval.
Guinness: At a time when Tom Brady was preparing for a historic night, Guinness went about their business with another footballing great Joe Montana. What does it mean to be the GOAT (Greatest of all time)? Games won, the numbers or how you come back from a bad play or the hardest year ever.
A timely ad about thinking about what's to come next and not dwell on what has happened already. It is about the day that hasn't come and the beer that one hasn't sipped yet. The greatest year is truly yet to come.
From their humble beginnings in 1752 to present-day greatness, Guinness has crafted an unforgettable legacy. When a brand that has seen it all and done it all tells us to look forward, there isn't much left to debate. It is Made for More.
This year's commercials were different from last year and from all the years before. Because last year has been different from all the years before, especially for the hard-hit hospitality industry. Many of us have lost jobs, livelihoods, legacies built over a lifetime, and most importantly loved ones.
As we have spent much more time with our families than we ever have before, it brings home the point of cherishing this time, difficult as it may have seemed. This year's commercials were infused with the spirit of living the best moments, relishing them, meaning them, and knowing that the year to come will be better than ever.
Header Image Credit: Bud Light, Source: Youtube