Are you drinking your weed yet?
Calling all beverage entrepreneurs, cannabis enthusiasts, and experts, to come to meet and network with the creme de la creme of the industry.
Gone are the days when the word cannabis was related to a group of young people smoking up in the corner. Today, the world of cannabis is full of passionate entrepreneurs and cannabis enthusiasts from all over the globe.
The overall consumption of cannabis continues to increase as people are getting more into the roots and realizing the potential and benefits of Ms. Mary Jane.
While smoking is still reigning in the canna world, edibles and drinks have also become major powerhouses. Not only are regular canna-consumers dipping their toes into newer cannabis categories, drinks and edibles are also a great way for newer cannabis users to get in on the action without the whole smoking part of it.
From candies and gummies to full-fledged cannabis-infused restaurant menus, the edibles sector is moving ahead in full force. But one of the most sought-after categories in cannabis right now is cannabis drinks. Cannabis drinks have successfully started becoming the 'ideal social drink' for many consumers in the US.
One of the main reasons the cannabis drinks category is budding right now is due to its rapidly changing technology. No more will you see a weird texture, eccentric tasting cannabis beverage. The birth of nanoemulsion (which breaks down the oil particles into microscopic sizes to blend with water), now allows brands to offer us a myriad of cannabis-infused drinks like tonics, seltzers, beers, wines, and more.
One of the biggest brands in the cannabis drinks spectrum is Tinley Beverages. Based in Long Beach, California, Tinley Beverages was birthed with a mission to help people enjoy cannabis in the form of drinks. Their current product line includes a total of seven cannabis-infused drinks, with four of them being ready-to-drink tonics, and the remaining three being cannabis-infused elixirs that can be had on the rocks or mixed in a drink of your choice.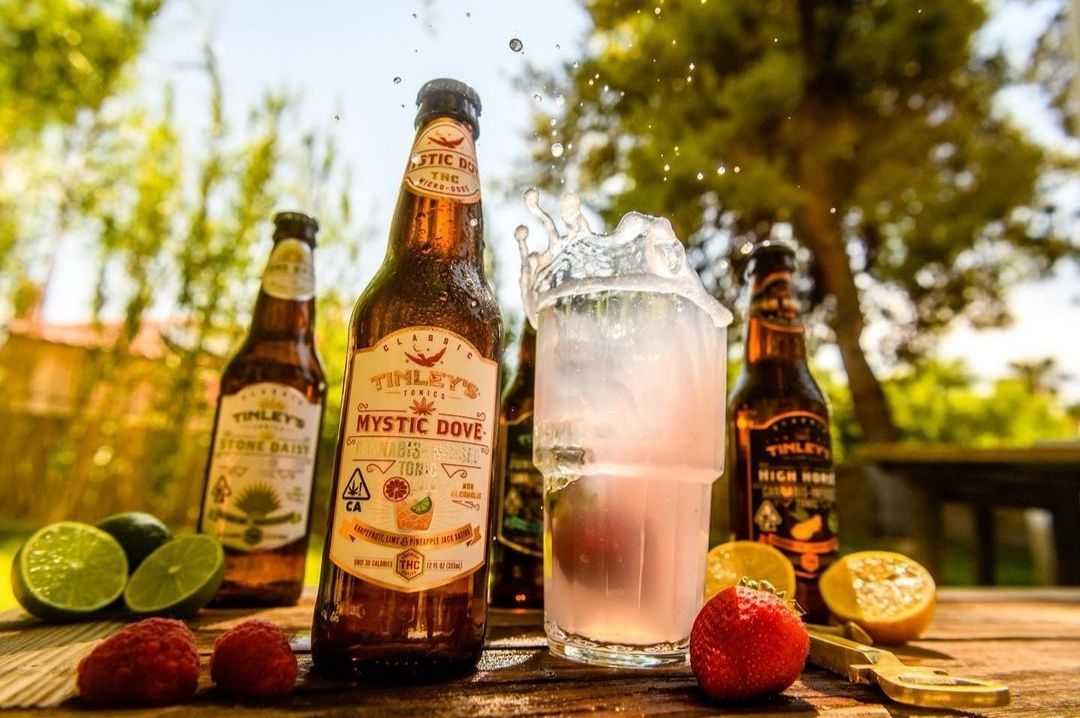 Tinley Beverages, source: Instagram
All of Tinley's non-alcoholic cannabis-infused drinks are crafted with premium distilled botanicals and cannabis grown in California's Emerald Triangle. Leading the pack at Tinley is Rick Gillis, President of Tinley Beverages.
Gillis comes with decades of experience and knowledge. Previously, Rick Gillis was the President of Young's Market Company, one of the USA's largest beverage alcohol distributors, with a presence in virtually every market in the Western United States.
Another brand making its mark in the eyes of drinkers and experts is cannabis wines pioneer Rebel Coast. Rebel Coast was actually one of the first brands to craft a cannabis-infused wine. Founder and CEO Josh Lizotte established Rebel Coast's THC-infused wine in 2017, with the aim of giving Californians two things they love - cannabis and wine.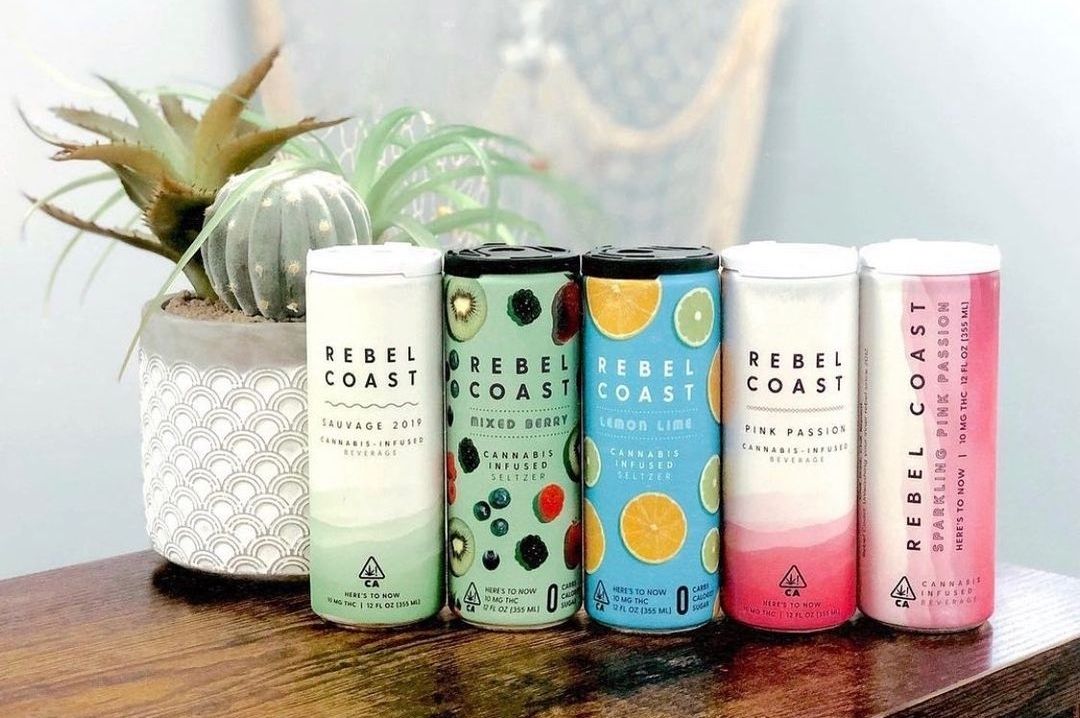 Rebel Coast cannabis-infused drinks, source: Instagram
Even though Josh and the team started out by making cannabis-infused wine, today, Rebel Coast is also home to three flavors of cannabis-infused seltzers, namely, Mixed Berry, Lemon Lime, and Black Cherry.
While we're on the topic of cannabis-infused wines, we can't forget House of Saka. Owned by Tracey Mason (wine industry veteran) and Cynthia Salarizadeh (cannabis industry expert), House of Saka is a brand for women by women. Together, Tracey and Cynthia have been successful in giving us two cannabis-infused wines (a pinot noir rosé and a chardonnay), and a non-alcoholic cannabis-infused mimosa.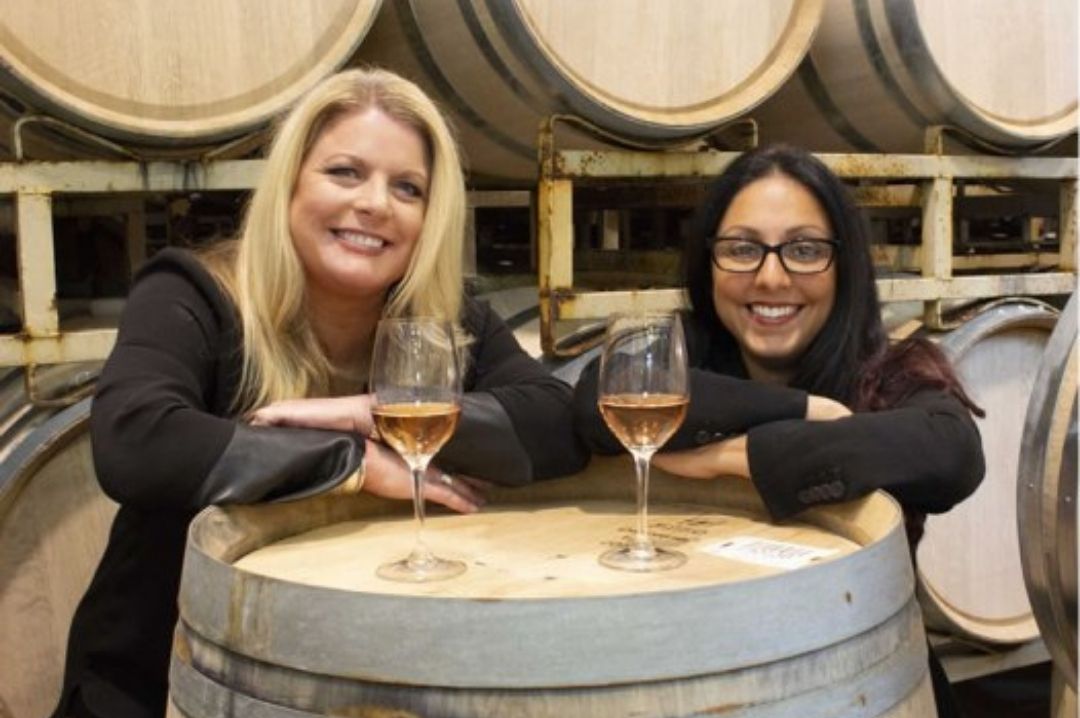 Tracey Mason (left) and Cynthia Salarizadeh (right), owners of House of Saka
The three canna-preneurs, Rick Gillis (Tinley Beverages), Josh Lizotte (Rebel Coast), and Tracey Mason (House of Saka), will be speaking at the 2021 Cannabis Drinks Expo conference in San Francisco, along with other experts by their side.
The Cannabis Drinks Expo (CDE) brings cannabis entrepreneurs and cannabis enthusiasts the ultimate platform to learn, teach, and network with the US cannabis industry. The Cannabis Drinks Expo is set to take place in San Francisco for its second edition on November 11, 2021. And for the first time ever, the expo will also be taking place in Chicago on November 15, 2021.
Along with the main expo floor, where brands from around the US will showcase their products, Cannabis Drinks Expo is also set to hold a conference, where industry experts will share their knowledge and expertise.
The morning in San Francisco will kick off with Rick Gillis, who will speak about contract manufacturing for cannabis-infused beverages. Following suit will be Dr. Alexey Peshkovsky (President & CSO, Industrial Sonomechanics, LLC), who will talk about "Water-Soluble" Cannabis: Ultrasonic Production of Liquid and Powdered Nanoemulsions of CBD, THC and/or Other Cannabinoids.
Tracey Mason will be talking about why cannabis will steal share from the alcohol occasion, meanwhile, Josh Lizotte will give us the skinny on effective ways to market your cannabis beverage brand from dispensary to internet.
They will also be accompanied by other industry experts like Joy Hudson (Founder and CEO at Nimble Distribution), Aaron Silverstein (CBA President, VP of Production & BD of House of Saka), Bradley Mora (CEO at Spacestation), and many more.
Check out the full schedule for CDE Conference - San Francisco 2021
Many of these speakers will also head to Chicago on November 15 for the conference and will be joined by other experts out there like Lisa Weser (The Cannabis Publicist, Founder at Trailblaze.co, CPG Marketer & Brand Strategist), Tara Rozalowsky (Tara Rozalowsky, VP of Beverages and Edibles at Canopy Growth), and more.
Check out the full schedule for CDE Conference - Chicago 2021
The Cannabis Drinks Expo is calling all beverage entrepreneurs, cannabis enthusiasts, and experts, to come to meet and network with the creme de la creme of the industry.
That's not all. You can skim the expo floor and meet cannabis beverage brands such as California Dreamin', DayTrip, Ray's Lemonade, Ceria Brewing Co., Good Stuff Beverage, and more.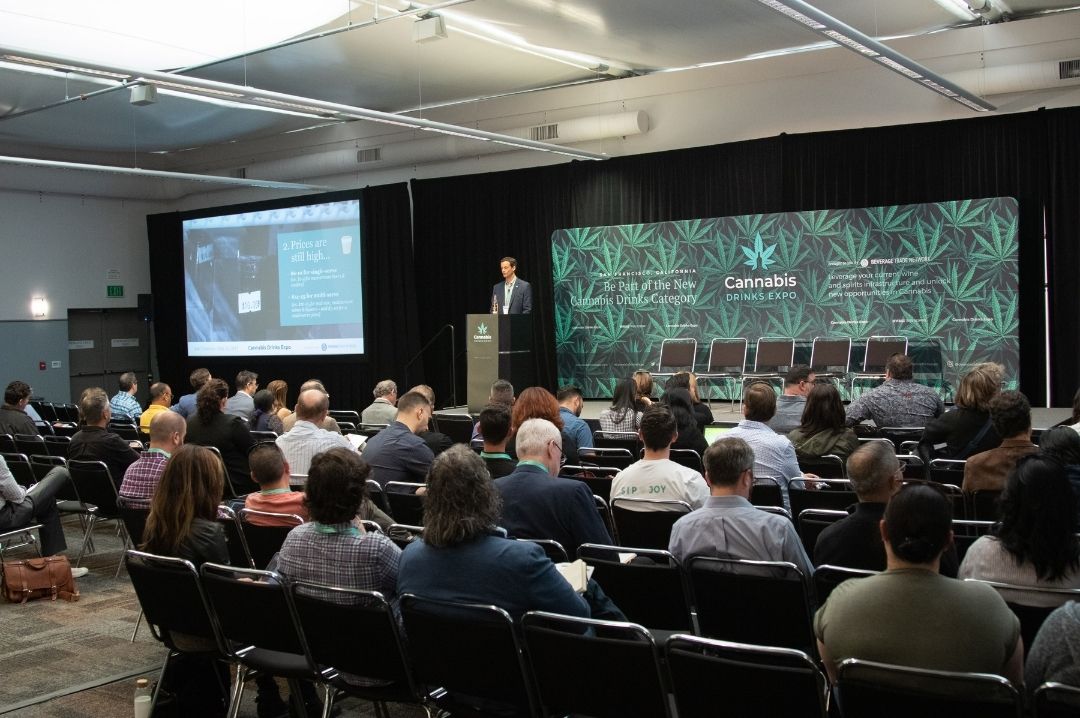 Cannabis Drinks Expo conference in San Francisco, 2019
Whether you're looking to start your own cannabis beverage brand, already own one, or are just interested in the works of it all - then the Cannabis Drinks Expo is the perfect way to start and grow.
Book your visitor passes for San Francisco
Book your visitor passes for Chicago